If you want to successfully sell your products on Amazon, you most importantly need one thing: visibility.
This means that your product listings need to rank as high as possible in the search results for the keywords relevant to your product. To achieve such high rankings in the search results and to prevail against your competitors, you need to take care of your SEO on Amazon – your search engine optimization.
Good thing you're here, because in this easy guide, we will explain the basics of Amazon SEO, how the Amazon algorithm works, how you can take advantage of its ranking criteria and how to make sure that you will always outrank your competitors by optimizing your listings the right way. 
The One Basic Principle of SEO on Amazon
Before we dive deep into the world of search engine optimization and thus Amazon listing optimization, let's start with the most important principle of ranking.
To understand how to rank well on Amazon, it is important to know what Amazon primarily wants to achieve with the way it designs its rankings. And that is easy to answer: sales, sales and more sales.
Since Amazon earns money on every single product sale made by third-party sellers on its marketplaces, they are obviously interested in seeing as many products being sold as possible.
And since a sale (aka conversion) is most likely to happen when the product offered perfectly matches the search intent and is thus most relevant to the searcher, these relevant product listings are placed in the most visible – i.e. highest – positions in the search results. Amazon doesn't care if you are a huge established company or a small seller, as long as you deliver decent sales numbers.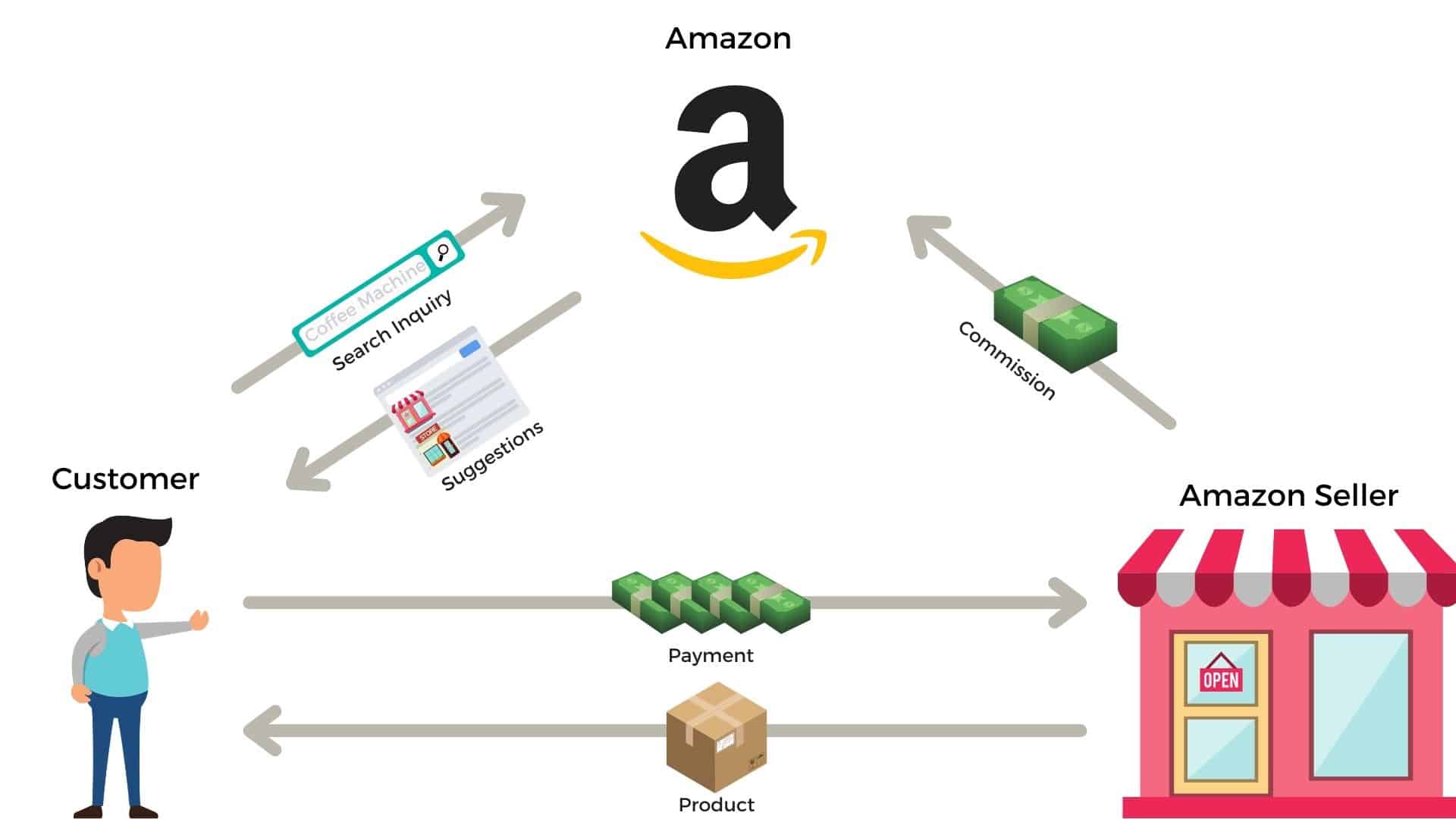 So if you do a good job optimizing your listings for relevant keywords and convince customers of your product, Amazon will be on your side and reward your efforts with a good ranking.
The A9 Algorithm – Amazon's SEO Foundation
As of now, there are over 350 Million products being sold on Amazon. Such an incredibly large product catalog certainly needs a very sophisticated classification system to ensure that customers can quickly find what they are looking for. And this is where the A9 algorithm comes into play. Understanding how the algorithm works is essential in order to master SEO on Amazon.
The A9 algorithm is a software responsible for deciding which products are displayed to customers for particular search terms. As mentioned, Amazon's primary goal is to present the customer with the listings that are most relevant to them, i.e. where the likelihood of purchase is highest. If a customer is looking for a white iPhone charger and only sees listings for black Android chargers, the likelihood of purchase will be close to zero which is why you'd never find such a product in the first spots of the search result page.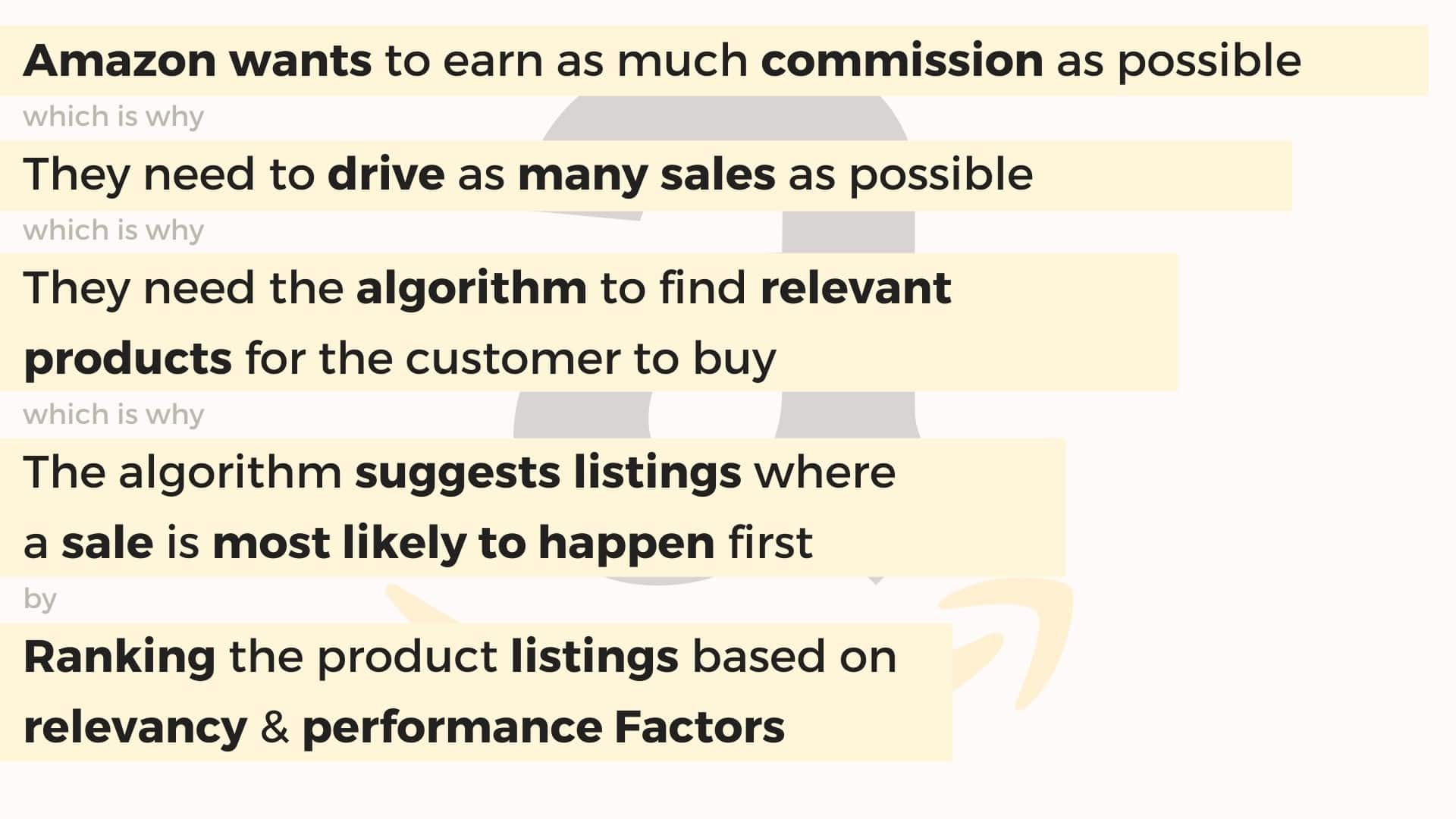 One of the most important factors in categorizing the products are the search terms or keywords that the algorithm associates with your listing. Each product is indexed by Amazon on the basis of the keywords that are included in the listing.
The listing is shown to the customer if the search term entered by them is related to these assigned keywords. Accordingly, it is essential for your Amazon SEO performance that you find out what Amazon customers are searching for and to add these words to your listings.
As explained above, the more sales a listing generates for a specific keyword, the more it will be considered relevant and the higher up it will be placed in the search results. That's why the Amazon listing optimization is so important when you're launching a new product as you have zero sales speaking for your relevancy at this point.
The last thing you should be aware of is that the algorithm is constantly changing – what works today may not work tomorrow.
Amazon is constantly testing new algorithm changes and this can massively affect the rankings of your listings. Nevertheless, there are some basic Amazon SEO factors that will help you achieve and maintain a high ranking.
How To Rank High Up In The Search Results
All methods used to improve your rankings on Amazon that we're about to discuss are essential elements of the art of Amazon SEO.
Basically, all these factors and their associated optimization methods can be classified into at least one of the following three categories:
Relevance
Performance
Attractiveness
However, it should be noted these categories and ranking factors cannot be strictly separated from each other, but rather they influence each other. Good reviews, for instance, increase a product's attractiveness which in turn, will drive conversions – a performance related ranking factor.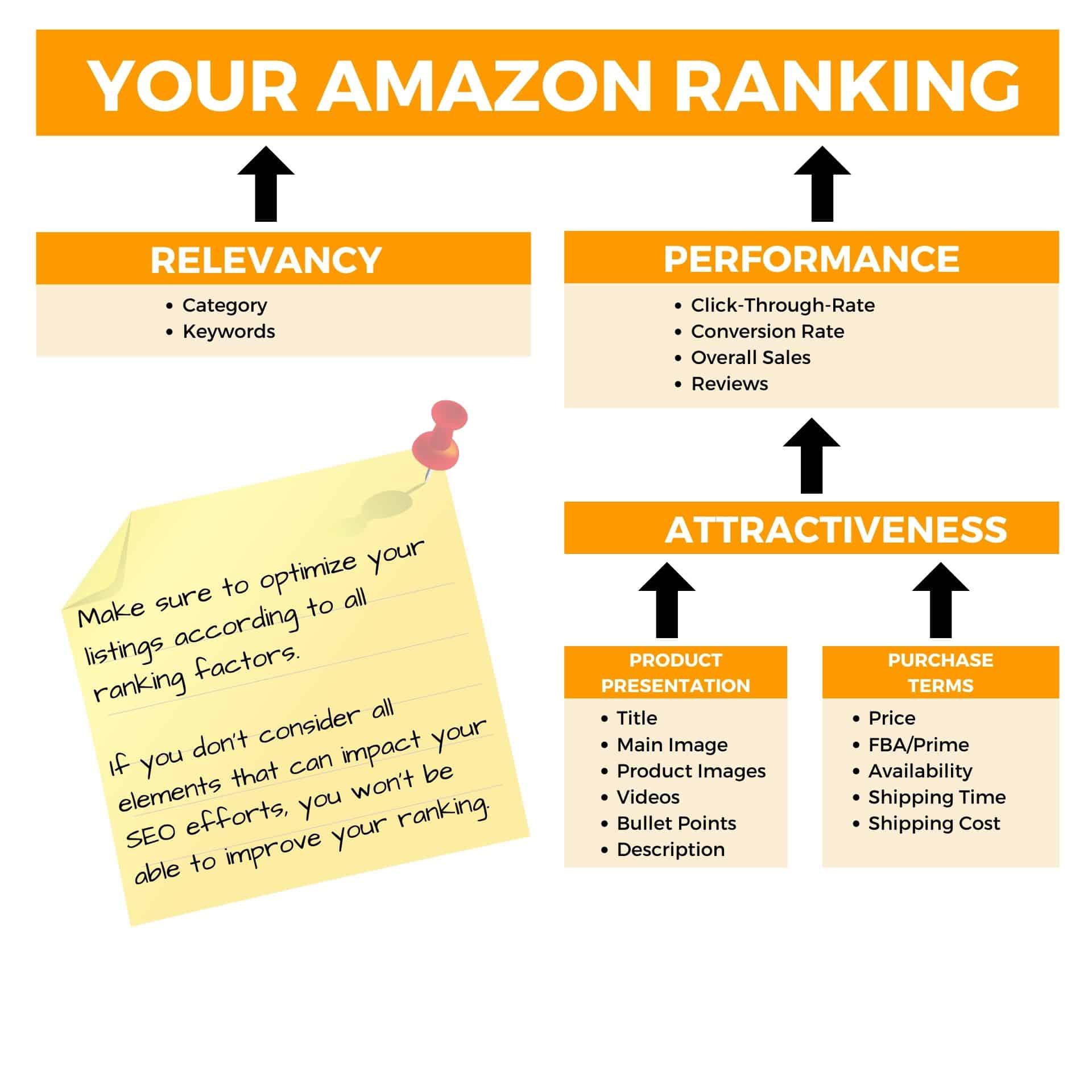 Amazon SEO Ranking Factor #1: Relevance
As mentioned, Amazon's ultimate goal is to show customers products that are most relevant to them. To be successful with your SEO on Amazon, you need to find out what your customers consider relevant and thus, what they search for in order to find the kind of product you're selling.
The aim is finding keywords with the highest search volume and to use them in your listing. More specifically, you should determine one primary (or main) keyword and a few secondary keywords. The primary keyword should be used in your listing title and sprinkled throughout the description, while the secondary keywords should only be used in the latter.
When you're optimizing your Amazon listings, there is one important thing to remember: never try to rank for keywords that are not relevant to your product, as this will only harm you. Maybe more visitors will click on your listing, but the conversion rate will be very low (and the bounce rate very high), because the customer is looking for something else than what you offer him.
The algorithm doesn't like it at all when the customer is being misled because they will have an overall bad user experience on Amazon and as you know, customer centricity is the absolute core value of Amazon. So as a result, Amazon will punish you with a worse ranking which can even affect your ranking for keywords that are actually relevant to your product.
It is also important to know that your ranking is always on a keyword-specific level. In other words, you can have a different ranking for different search queries that match your product listing. So, for example, while you may rank first with your product for the search term "bikini women", you may only rank 20th or not even on the first page of the search results page at all for the search term "women swimwear".
How And Where To Find Relevant and Highly-Converting Keywords For Your Amazon Listing
How you conduct keyword research is up to you. There is no Amazon SEO or keyword research tool from Amazon itself, but there are some other options:
Amazon Search Bar Auto Suggestions
Using Amazon Search Bar Auto Suggestions is a rather basic and superficial, but nevertheless effective way to find keywords. You simply type in your relevant product in the search bar and see what autosuggestions Amazon comes up with. Since customers usually have specific product requests, such as a particular color, material, function or texture, it is worth exploring that feature.
Let's say you want to sell a knife set on Amazon. So you go to Amazon.com and type the most obvious keyword in the search bar: knife set. However, instead of hitting "enter" right away, you now look at what completions Amazon suggests to you.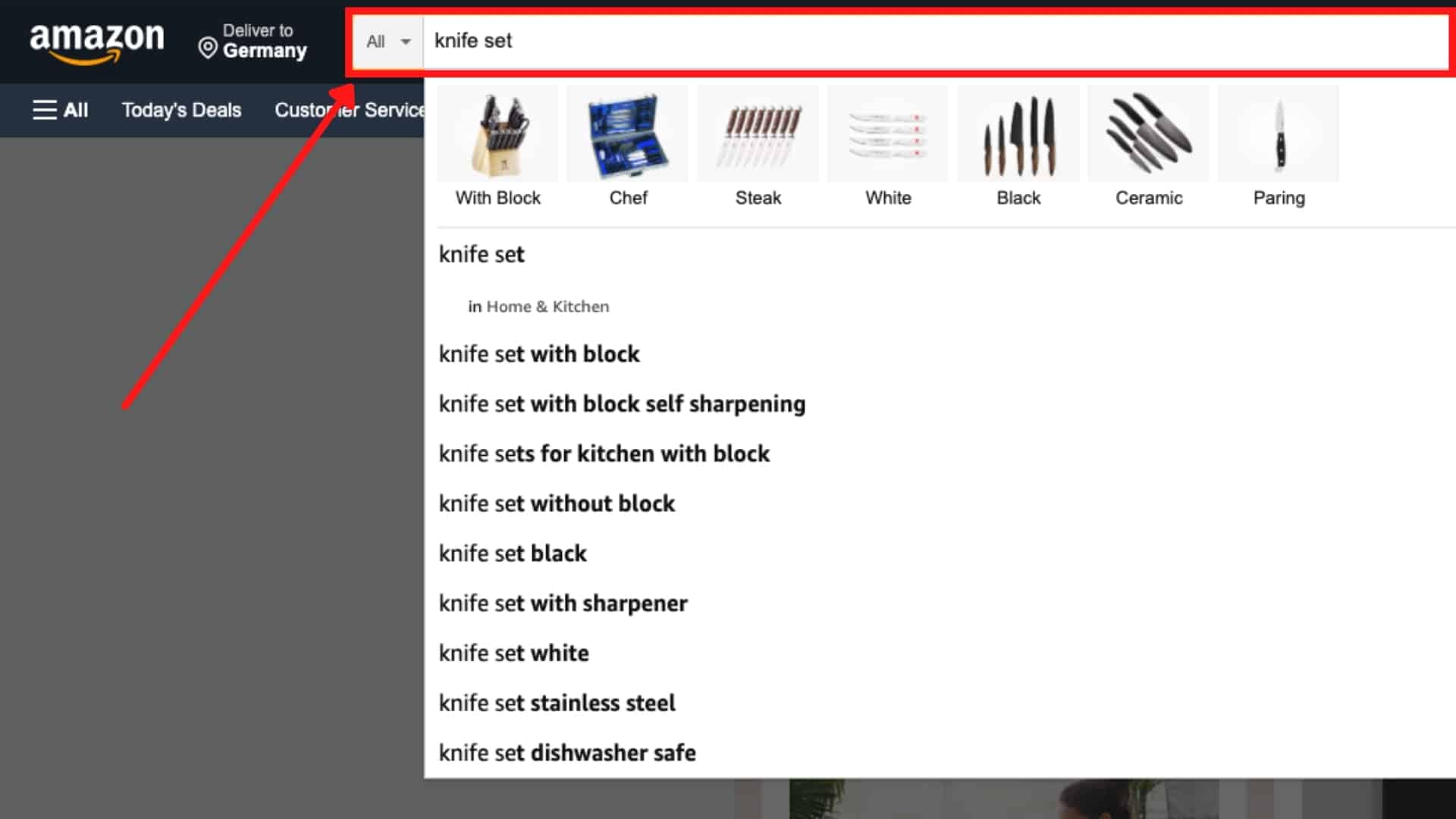 Our example shows that many customers like to buy knife sets that come with a (self-sharpening) block, that some explicitly do not want a block, that black, white, and red knife sets are very popular, and that knives made of stainless steel are in high demand.
Now you have a good first overview of the most popular relevant keywords for your product.
To do this, type your most evident keyword + a letter in the alphabet into the search bar, i.e. "knife set" + "a", "knife set" + "b" and so on. It's a longer process, but for (almost) every letter you'll get 9 more keywords that could match your product.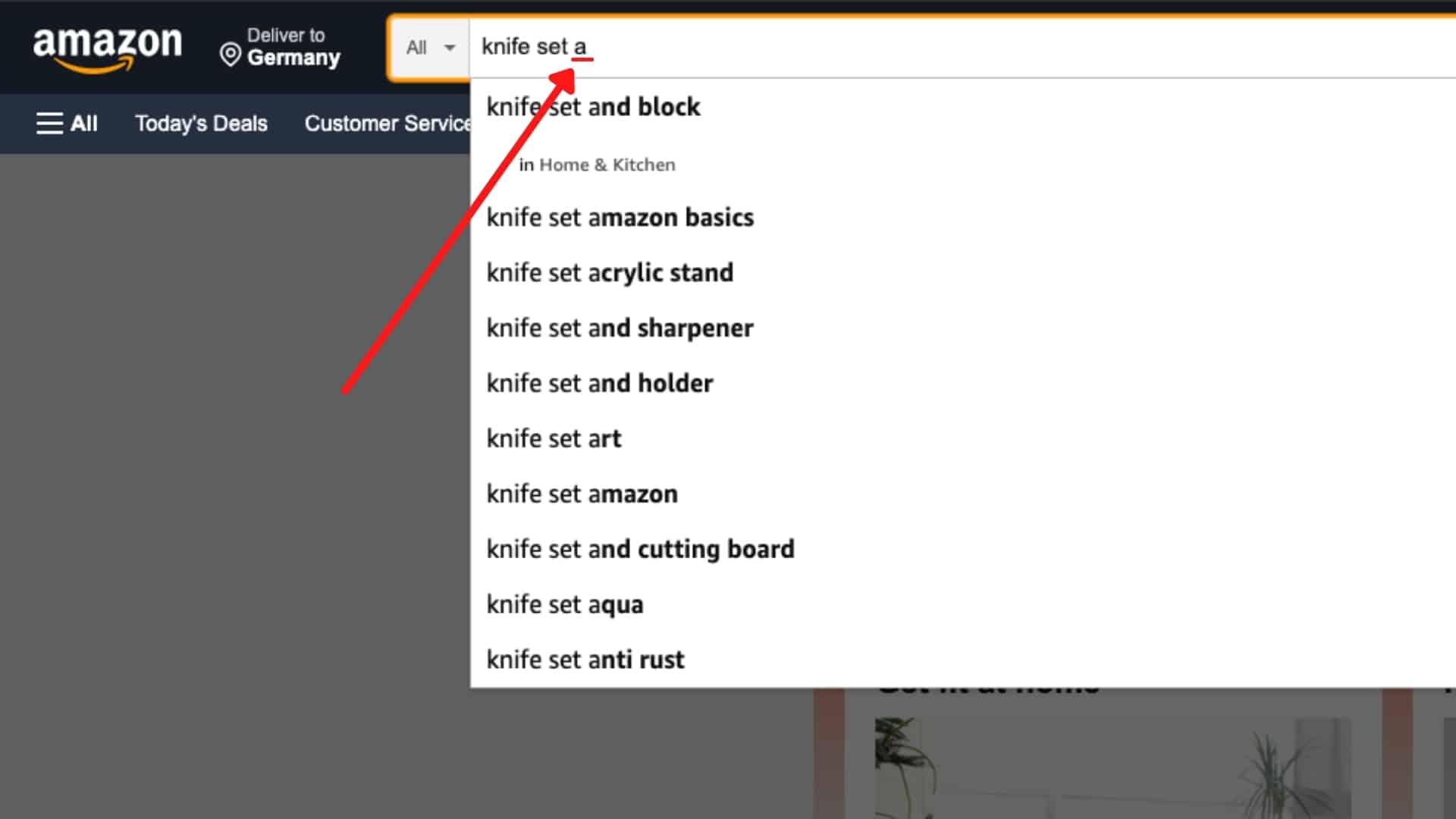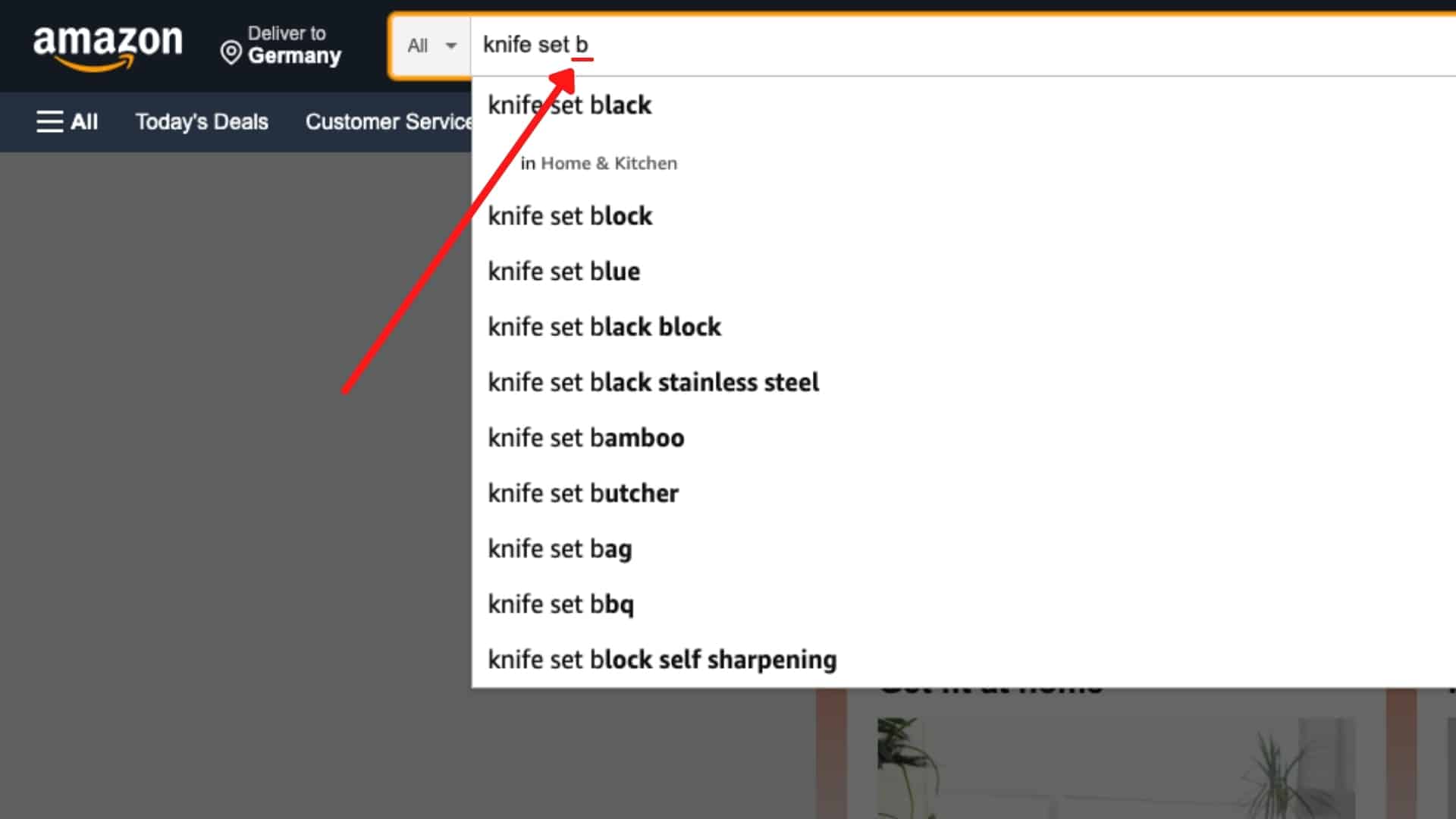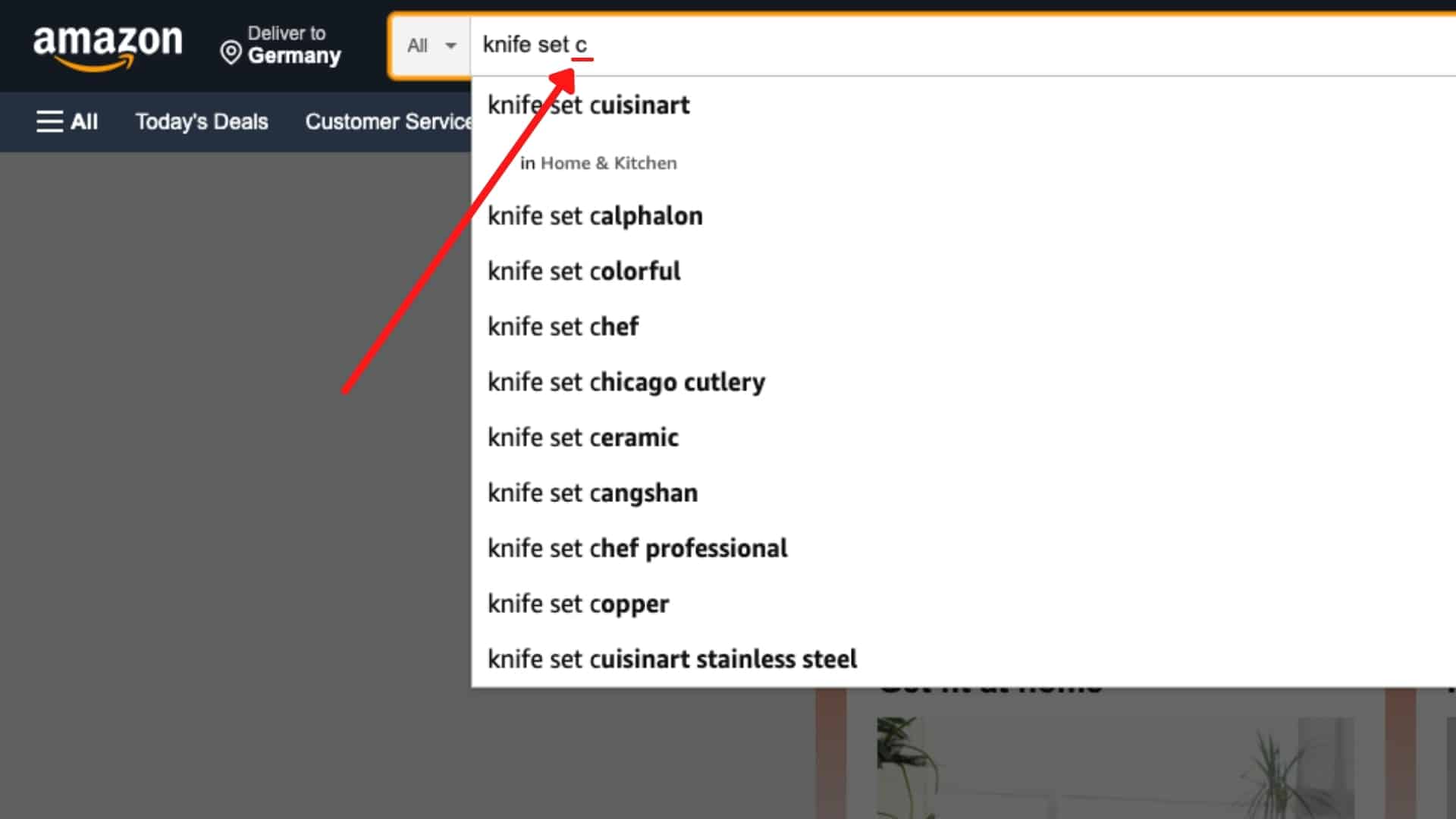 Bottom Line: Amazon Auto Suggest is best used for inspiration and to feed other tools with initial keyword ideas. You get a good first impression of which keywords are searched for most often in your product category, but this method is far from sufficient to conduct a proper Amazon listing optimization.
Various Google Products: Keyword Planner, Google Ads Report, Google Trends & Google Suggest
The search intent on the general Google search can be completely different than on Amazon, which is the main reason why Amazon SEO differs from Google SEO.
While Amazon visitors are looking for a specific product on the marketplace and certainly have the intention to buy a product, many use Google to get general information about a product, its usage, where they can buy the product, and other things.
Nevertheless, the Google keywords can also give a good indication of what people are generally looking for.
The best thing is that Google's products are free, such as Google Keyword Player, Google Ads Report, Google Trends, and Google Suggest (works like Amazon Auto Suggest).
Your Competitors Listings
Competition is not always necessarily a bad thing. In fact, you can make great use of the fact that some competitors have already established themselves by analyzing your competitors' product listings and the respective Amazon listing optimization strategies.
Simply look at the results pages of relevant keywords to see which listings rank high and which product attributes appear frequently in the title and product descriptions. This way you will quickly see how your competitors pursue SEO on Amazon and which keywords they want to rank for. These keywords may also be interesting for your listings.
Your Amazon PPC Campaign Reports
Your reports for sponsored product campaigns (Amazon PPC) are also a good source for relevant keywords. Through the reports, you get a comprehensive insight into the impressions of the search terms used and can optimize your product listings based on the keywords with the highest numbers.
Amazon SEO Tools
As mentioned, the retail giant themself does not provide tools that help sellers improve their SEO on Amazon. However, there are numerous third-party providers that offer Amazon SEO tools. With this kind of software, you can easily check the search volume of your anticipated keywords and get new keyword ideas.
In addition, with good software, you can spy on your competitors even more easily. The Amazon SEO tools show you for which keywords your competitors rank and how well. Thus, you get a good picture of what Amazon SEO strategy the other brands in your industry are following.
Finally, SEO tools make it extremely easy for you to track your SEO progress. The data is automatically processed and presented to you in an easy-to-understand and visual way. This way, you can easily see how your listings are performing and which ones need further Amazon listing optimization measures.
Amazon SEO Ranking Factor #2: Performance
In addition to the relevancy of content, which the A9 algorithm evaluates primarily based on the stored keywords, performance factors have at least as strong of an influence on your Amazon SEO success and overall ranking. The most important performance factors are:
Click-Through-Rate – The click-through rate is a percentage of how many people see your listing in the search results and click on it. If 1000 people come to the search results page and 100 of them click on your listing, your click-through–rate is 10%.
Conversion Rate – The conversion rate is a percentage of how many of your listing visitors end up buying your product, i.e. how many visits end up converting to sales. If one hundred people view your listing and 8 of them end up buying, your conversion rate is 8%.
Sales Numbers – As already pointed out, Amazon is primarily interested in seeing as many transactions take place on the marketplace as possible, because Amazon earns money with every sale. Therefore, the absolute number of sales of your product is an essential factor for your ranking.
Reviews – The amount of your reviews and how good they are will also factor into the ranking of your product listing. The more reviews and the better, the higher your ranking will be. The interesting thing is that reviews are both a performance factor (from an algorithm point of view) and an attractiveness factor (from a buyer point of view).
These four performance factors impacting your SEO on Amazon have one thing in common: they are all extremely dependent on how appealing your listing is to Amazon customers. The more attractive your listing is and the more it stands out on the search results page, the more people will click on your listing and thus, the higher your click-through rate will be.
The more appealing your listing content your reviews and overall offer is, the higher your conversion rate will be and thus, the more sales you will generate.
Which brings us to the third, "indirect" ranking factor: attractiveness.
Amazon SEO Ranking Factor #3: Attractiveness
The attractiveness of your listing is an indirect ranking factor and a "sub-factor" of the performance aspect, so to speak. Only if your listing seems attractive, customers will click on it and buy your product. This, in turn, influences important performance metrics such as the click-through rate and conversion rate, which we have just introduced.
In general, you should have a clear idea of who your buyers are, what their problems and needs are, and what their lifestyle is. Ideally, you have already done this long before even thinking about strategies for your SEO on Amazon. Ideally, before you even developed your product and designed your packaging.
Based on the characteristics of your so-called buyer personas, you can design your listing to appeal to those needs and suggest that your product will help fulfill your customers' desires or solve their problems.
Attractiveness factors can be divided into two subcategories, product presentation and product/purchase conditions.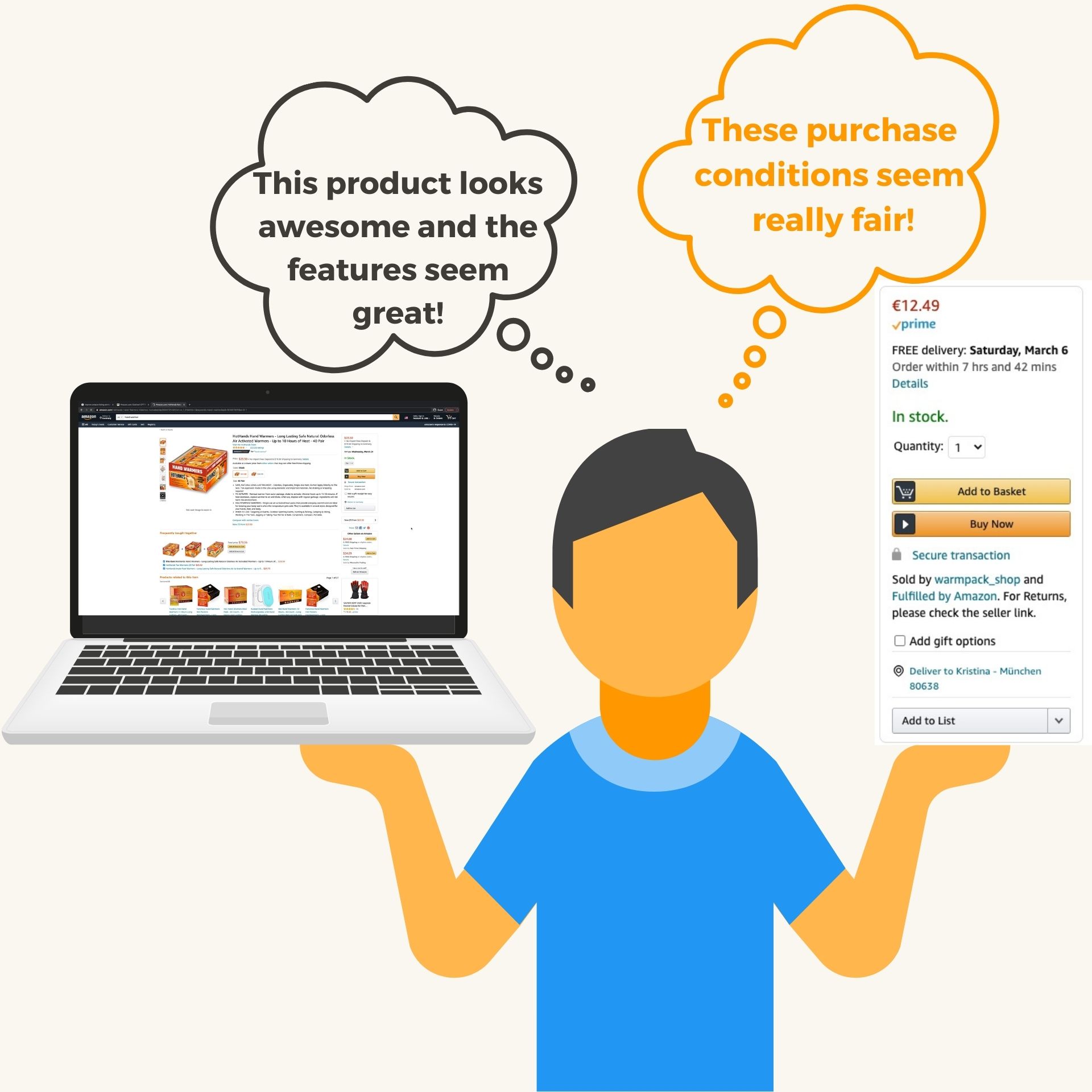 Product reviews and special badges, such as the Bestseller or Amazon's choice badge, are also an important aspect of your listing's attractiveness. However, these cannot be directly influenced by you and thus constitute their own subcategory.
Amazon Listing Optimization Part 1: Product Presentation
The product presentation includes all elements that make the product itself appear appealing and that you can influence directly, including:
Product Title
Main Image
Product Images and Infographics
Product Videos
Bullet Points
Product Description
Let's take a closer look at each one of these.
Product Title
The listing title is absolutely essential and one of the fundamental ranking factors. It should contain your primary keyword and your brand name, as well as the most important product characteristics, such as color and material.
In addition, for many products the size (e.g. diameter of the frying pan), weight (e.g. dumbbells), capacity (e.g. water bottles), or quantity (e.g. toothpicks) can play an essential role and should – if applicable – definitely appear in the title. If you still have characters left, you should also emphasize the benefits and USPs of your product.
The maximum length of the listing title is 200 characters (including spaces). However, it should be noted that Amazon often plays around with different title lengths to see what works best. So it may well be that your listing title suddenly can't be displayed in full length from one day to the next.
Since the trend is moving more and more towards "mobile first" – in 2020, already one-third of all Amazon shoppers bought via mobile – and only 80 characters can be displayed on mobile, it could be that this will soon be the maximum length.
We just have to wait and see. But for now, however, the 200 characters rule is still valid.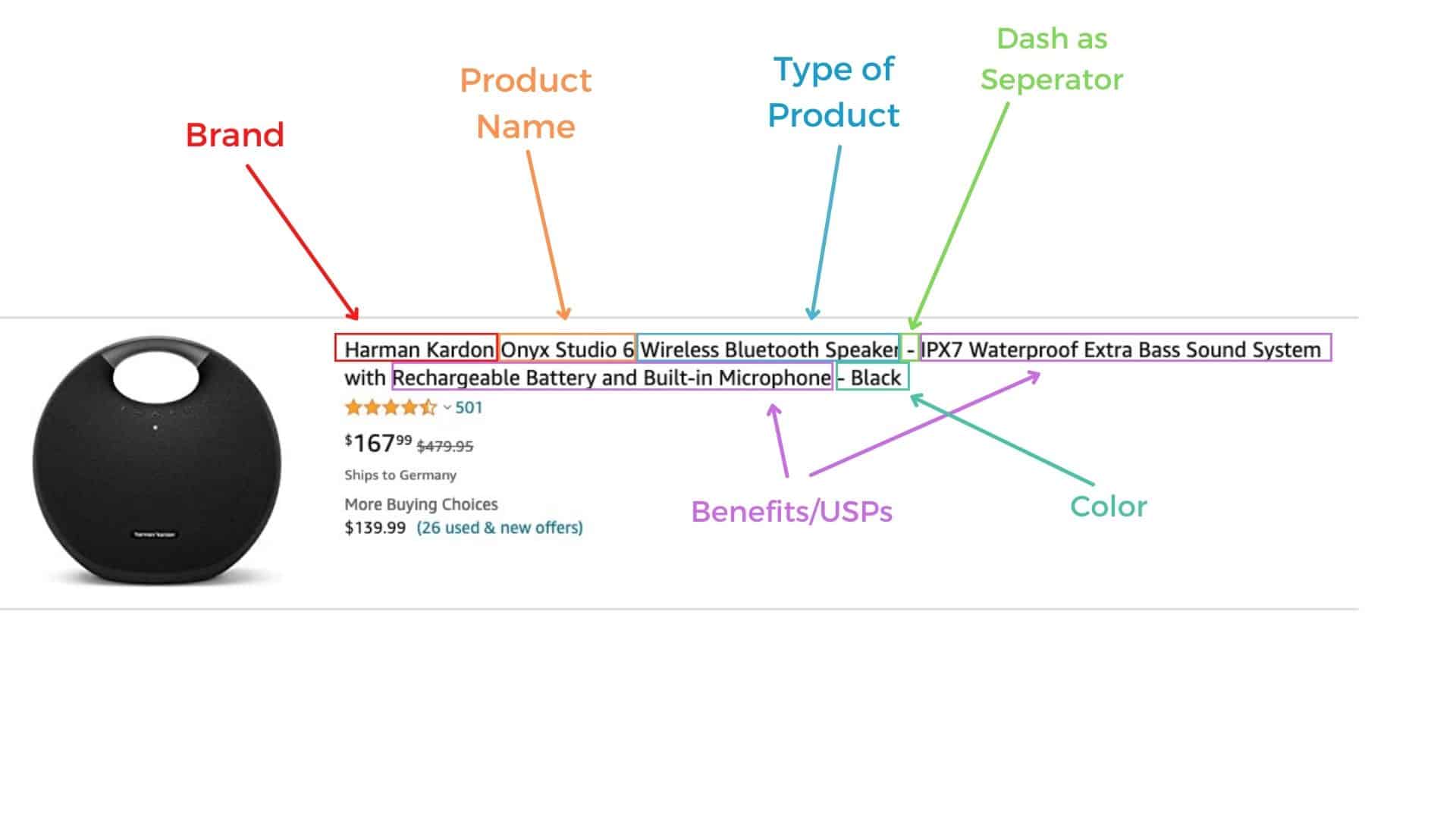 In any case, avoid writing your title in all caps or practicing keyword stuffing (aka writing as many keywords as possible in the title). This will look scammy and repel users from clicking on your listing which will ultimately hurt your CTR and thus, your ranking.
Main Image
Several heatmap studies have shown that on the search results page, customers focus on the listing main images first and only look at the title when the image is considered relevant.
Thus, it comes as no surprise that the main image is the absolute most important element of your listing and a key driver for your rankings and overall SEO on Amazon. If you don't have a designated main image your listing will be suppressed and can't be displayed in the search results and therefore can't be found by customers.
Also, you can have the best product descriptions, bullet points or infographics, but if your main image is not absolutely stunning, customers will not even click on your listing in the first place.
Your product image is the first thing that your potential customers see when they browse the search results page, so make sure it stands out. If your product photos are of low quality, people will think that your product will be of low quality as well.
Both the main image and the other product photos, infographics and videos should thus be professionally produced. The image size should be at least 1,000 x 1,000 pixels. Starting from this size, Amazon enables the zoom function, which means that the image is automatically displayed in greater detail as soon as the customer moves their mouse over the image.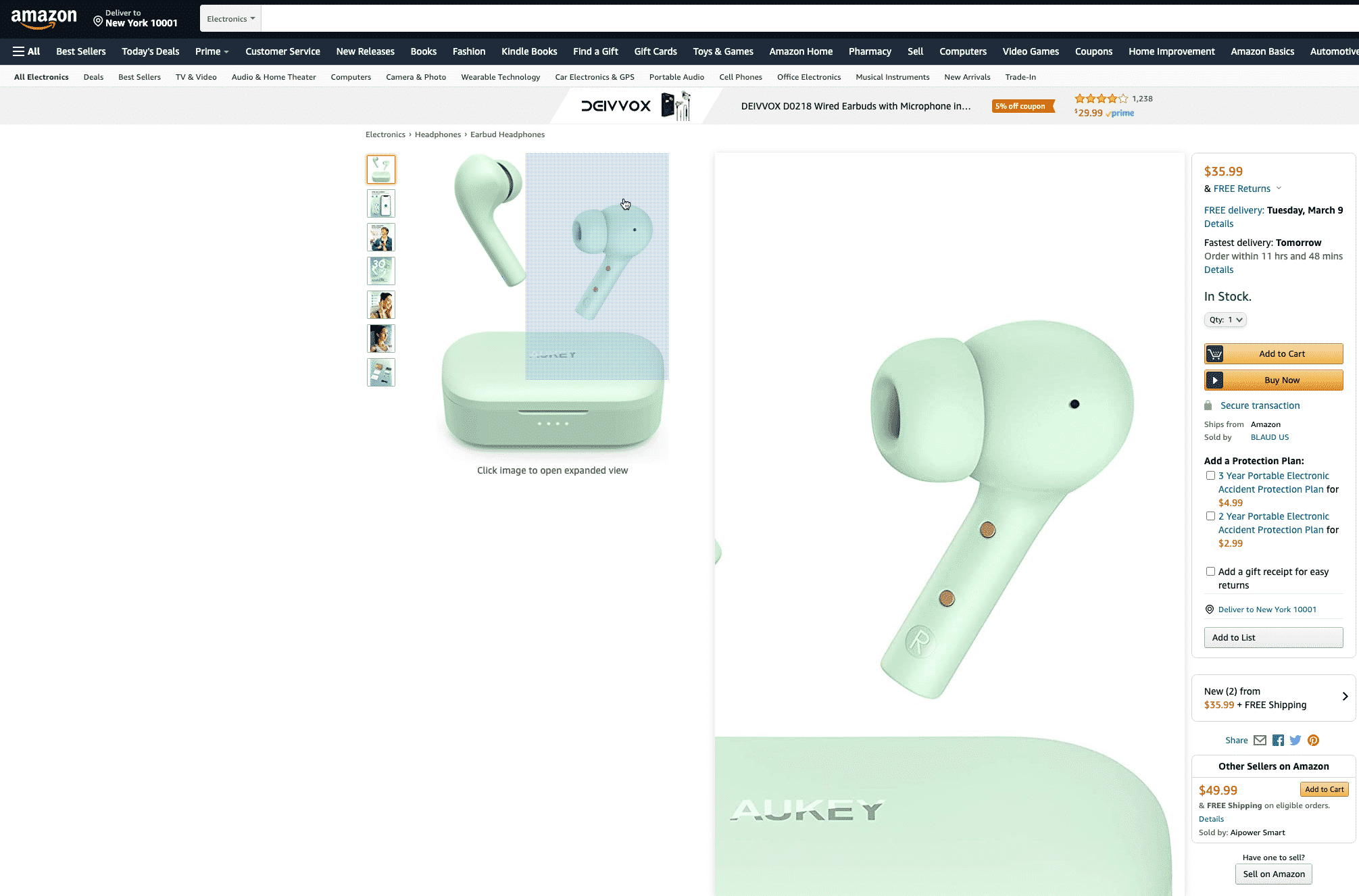 Amazon itself provides clear guidelines for the main image as well as the remaining product images. In addition to technical requirements such as format, size and color codes, it also defines exactly which content is permitted or even required and which kinds of images are strictly prohibited. For instance, each main image must have a white background.
Product Images And Infographics
Since customers can't physically touch and feel the product in order to evaluate it, they have to rely almost exclusively on product images.
To "mimic" the brick-and-mortar experience as much as possible, i.e. to show the customer as much of the product as possible, you should show it from many different angles.
In addition, you should not only use studio images, but also lifestyle images. These show how your product is used in real life.
Infographics are a great way of showing the features and benefits of your product that may not be visible right away.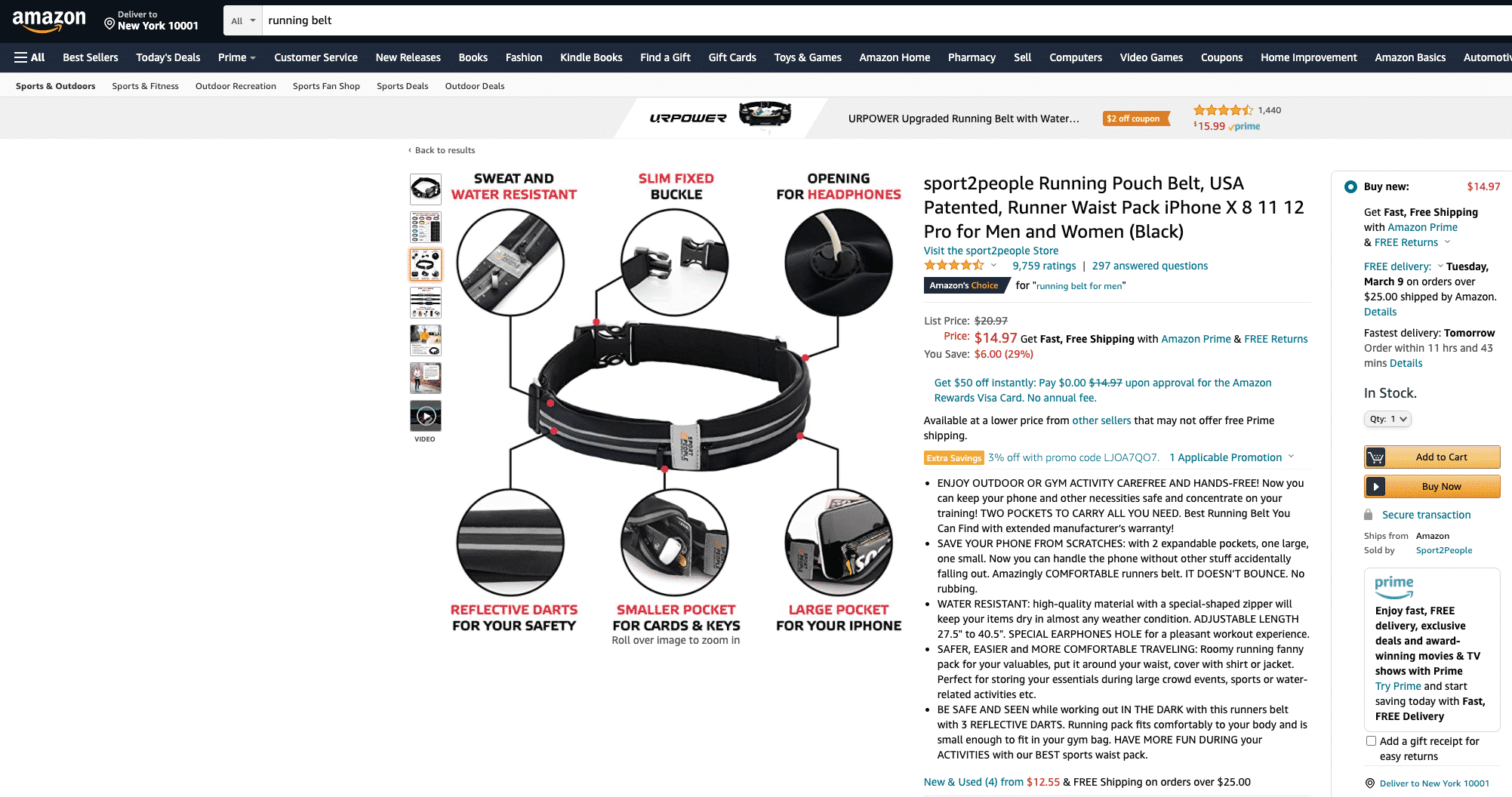 In most categories, you have 7 slots per listing on the main product detail page to present your product.
At the top is always your main image, the remaining 6 slots can be filled with additional photos of your product, infographics, and product videos.
If you use a video, it will be automatically placed on the seventh slot. Please note that this order cannot be changed.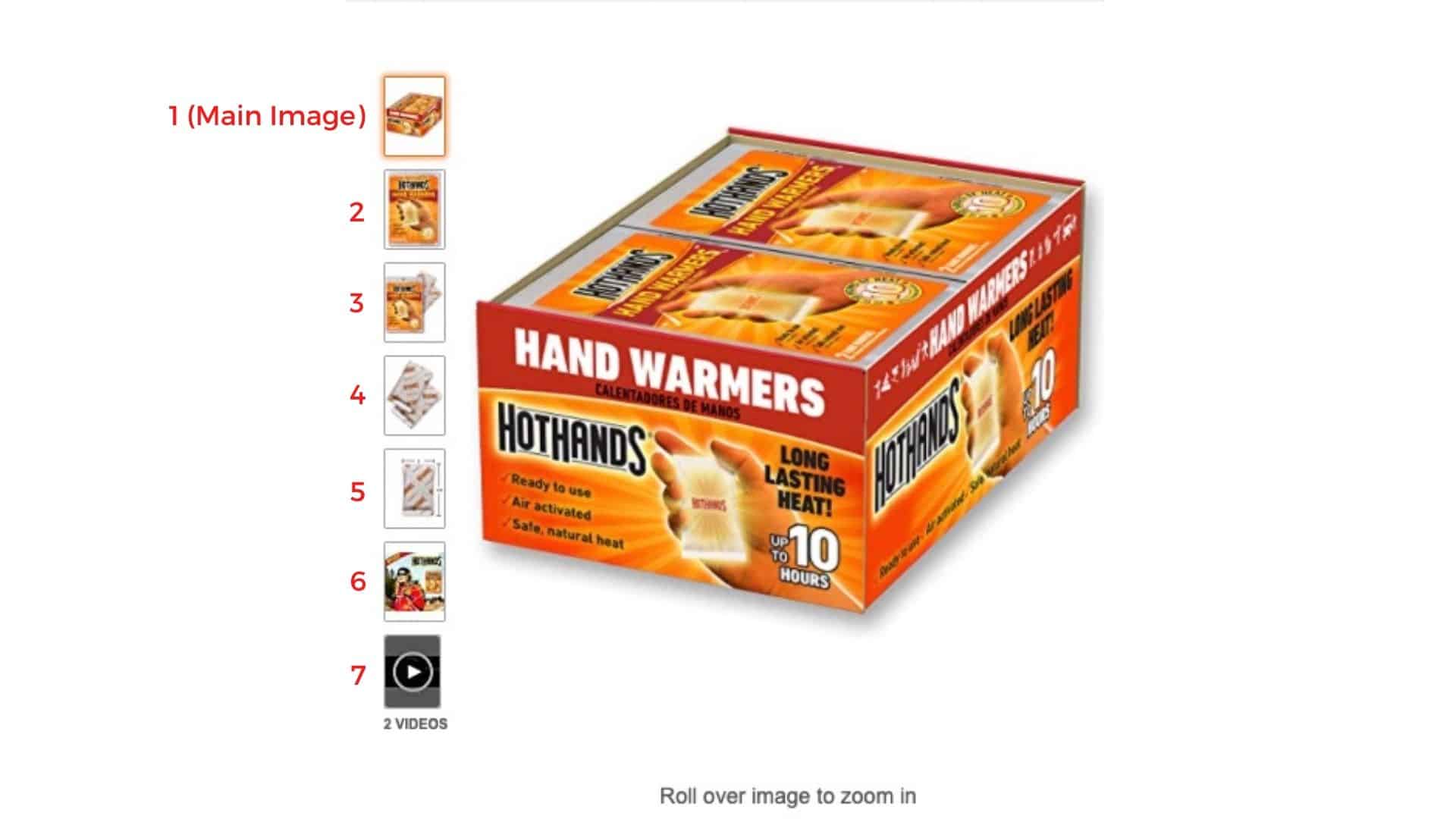 You should definitely take advantage of these seven photo and video placements. The more information about your product you provide potential customers with, the more likely they are to buy it.
In many categories, you have the possibility to upload more than 7 photos or videos. However, the customer will only see these additional images if they click on the media in the last slot.
You should thus make sure that the most important and best images and videos are placed on the first seven slots and that the additional images and videos only show secondary attributes, such as the back of the packaging.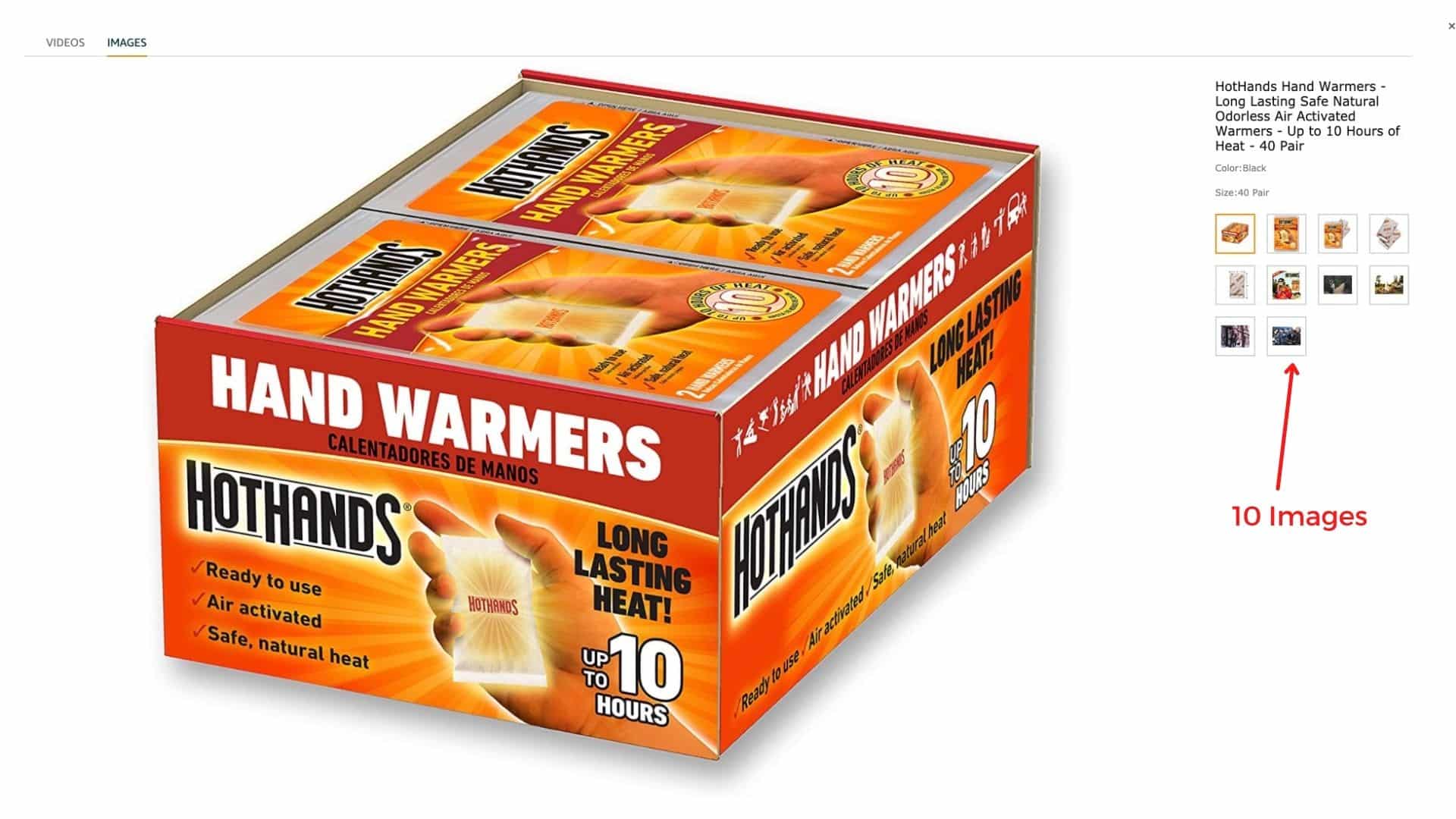 Product Videos
Videos are an incredibly powerful tool to showcase your product, bring it to life and thus, drive conversions. The customer gets a better understanding of the size and feel of your product. Also, the purpose of the product or special features can usually be explained better with the help of videos and animations.
Of course, your product videos – like your product photos – should be of the highest quality, as the customer directly associates the quality of your videos with the quality of your products.
Make sure to hire a professional product photographer with lots of experience in working with Amazon sellers.
We can roughly distinguish between five types of video:
Aesthetic Videos – Aesthetic videos are short studio videos that show your product in great detail and from all possible angles. The primary purpose is to convey the high quality and appealing look of your product, the information value is rather low. Aesthetic videos are especially suitable for high-priced luxury and design products, such as watches or jewelry.
Features and Benefits Videos – Features and benefits videos aim to highlight the special features and key benefits of your product. You can also make comparisons with competitors as long as you remain objective, back up your claims with evidence, and stay compliant with Amazon's product video guidelines.
Explanatory and Unboxing Videos – Unboxing videos are commentary videos and are very popular with customers as they show what packaging the product arrives in and usually show step by step how to get the product ready for use. With these videos, the product features can be highlighted in-depth and additional benefits, such as cool packaging, a quick and easy assembly of the individual components or wide scope of delivery can be emphasized.
Lifestyle Videos – Lifestyle videos show how your product can be used in daily life. This type of video is especially suitable for products that have a specific purpose or solve a certain problem of the customer. In these videos, you should emphasize how practical the product is and how easy it is to use it. Lifestyle videos can also tell a short story but are generally more product-oriented and less emotion-oriented, as opposed to cinematic videos.
Cinematic Videos – Cinematic videos are basically short films, i.e. small commercials. This type of video lives on storytelling. The focus is not on the product itself, but on a story that the video tells. Of course, your product also plays an important role, but the primary goal is to trigger the customer's emotions.
No matter what type(s) of video(s) you choose to include in your Amazon listing, make sure you follow the general community guidelines as well as the product video guidelines.
Bullet Points
Including bullet points are not only essential for your SEO on Amazon keyword-wise, but also incredibly important to keep the customer's attention on your listing. With well-written bullet points, you can persuade them to buy your product within a few seconds, or at least convince them that it's worth spending more time on learning more about your product.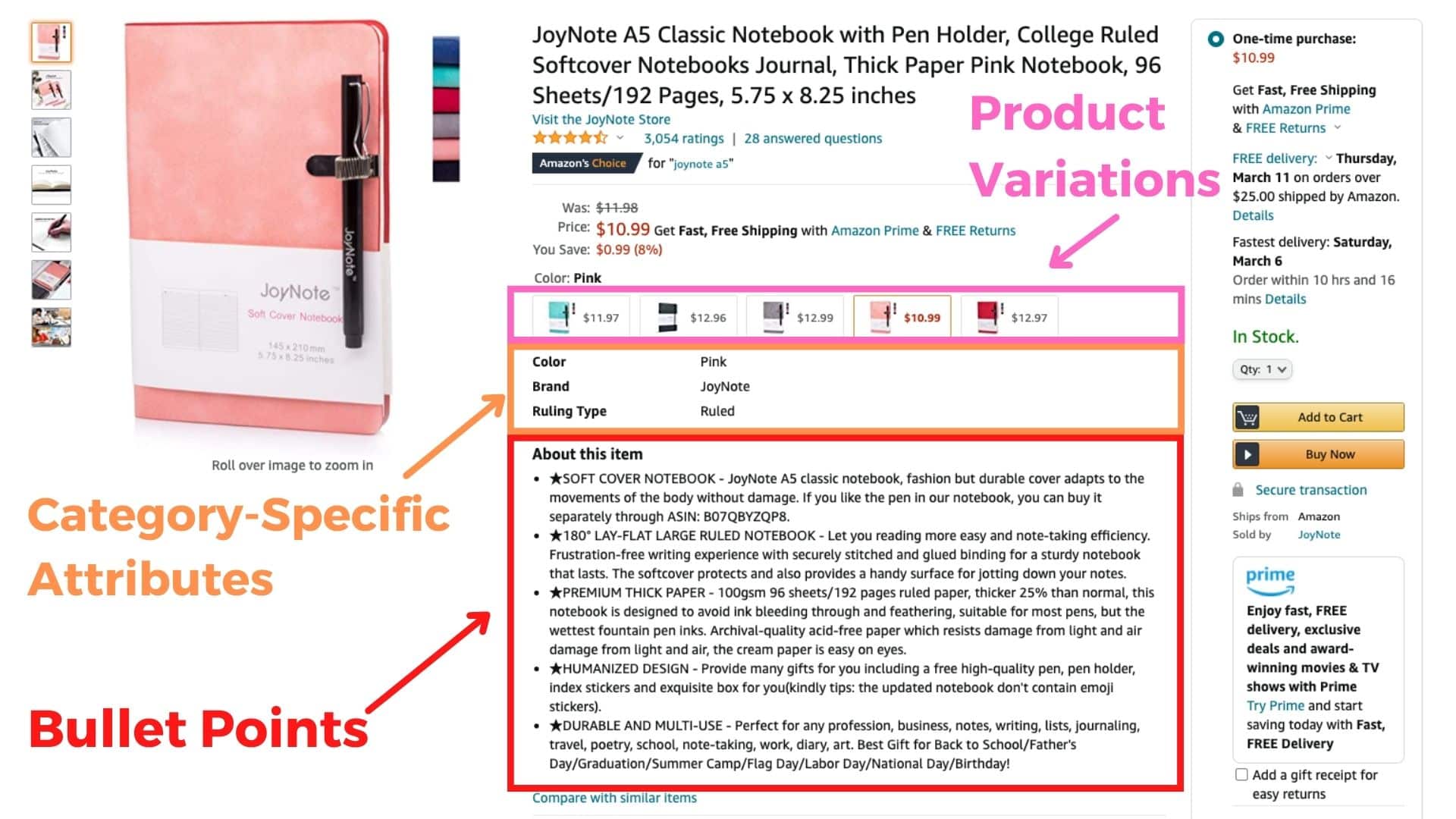 The bullet points are one of the first things your customers see. They are placed diagonally below the product image and below the product versions as well as the category-specific, specified product characteristics.
You should be aware that customers scan the bullet points first before they look at them in detail. Therefore, it makes sense to list the most important features briefly and concisely and to write the most important words for each bullet point in caps.
The easier this section is to read and the more convincing the features and benefits mentioned, the greater the likelihood that the customer will continue to scroll and engage with the rest of your listing – and eventually buy your product.
As a general rule of thumb you should use 5 bullet points. However, it doesn't matter if you use one more or one less, the most important thing is that they look clean, structured and overall appealing, provide useful information and give the customers good reasons to choose your product.
Product Description
The product description is placed quite far down in the listing, which means that customers have to scroll down a good bit in order to see it.
However, if they do so, it means that they already have an increased interest in your product. With a nicely written, persuading description you can now eliminate any doubts the customer may still have and finally convince them to buy.
The emphasis of your product description is not so much on the hard facts and product features such as weight, size or color – you should have already included these in your bullet points – but on reaching the customer on an emotional level.
The product description, which can be up to 2,000 characters long, influences the ranking less than the title or the bullet points, but the most important keywords should be included nevertheless.
If you are not a talented writer yourself, then get help from a professional copywriter. They can write convincing texts for your listing (including bullet points and titles) that are likely to convert.
TL;DR – How To Optimize Your Amazon Listing In A Way That Catches Your Customers' Attention And Drives Sales
Making a listing attractive, both visually and textually, can be a science in itself, but basically it all boils down to these 6 key takeaways:
Make sure you choose a short, well-structured listing title that contains the most important features, USPs and keywords.
Choose an outstanding and professionally shot (!) main image that catches the customer's attention right away.
Upload more high-quality product and lifestyle photos as well as infographics that show your product, its benefits, and possible uses, and make sure that the most important images fill the first slots so that they are directly displayed to the customer.
Product videos can be an absolute game-changer, so register your brand with Amazon Brand Registry and have quality videos produced which you can then add to your listing.
Adding well-structured and easy-to-read bullet points to your listing is a must. They should highlight the most important features, benefits and USPs of your product.
Although keyword-wise your product description is less interesting for the algorithm than the title or the bullet points, it offers an excellent opportunity to reach your customer on an emotional level and convince them to buy.
Of course, the general perception and image of your brand also plays a big role. If you are already established in this product area, you should emphasize your brand name – this can be a great conversion driver.
Amazon Listing Optimization Part 2: Purchase Conditions
Another important factor influencing a customer's decision to buy and thus, indirectly the success of your SEO on Amazon, are your product and purchase conditions. Product and purchase conditions include all elements that – as the name suggests – constitute the conditions of the purchase, including:
Price
FBA/Prime
Availability
Shipping Time
Shipping Cost
Let's take a closer look at each one of these.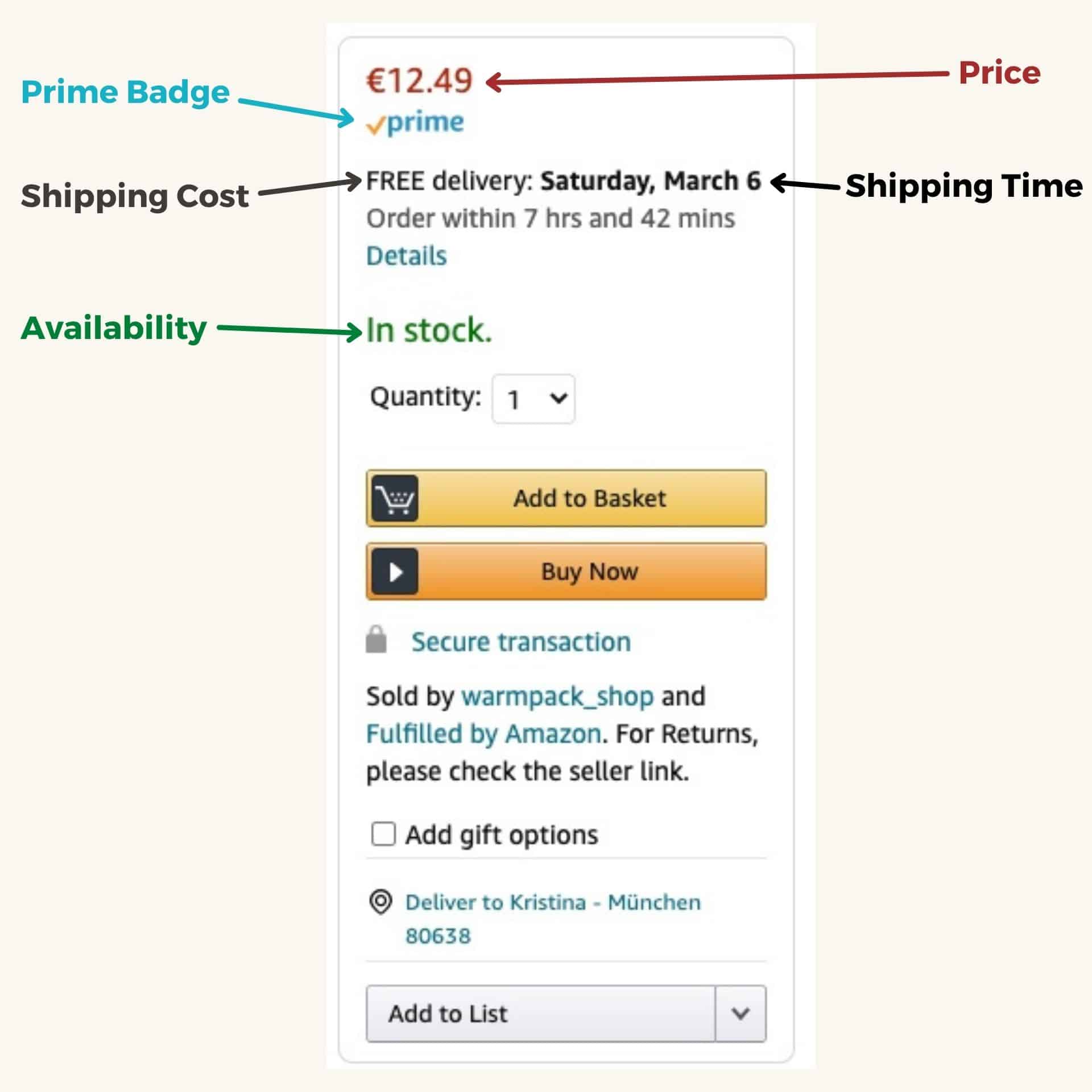 Price
The customer's main goal when browsing through search results and product listings is to figure out which product they are getting the best value for money from. Spending money on something, even if they get a great product in return, causes most people pain – and it's up to you to minimize that pain.
If you quote a price that is much(!) higher than your competitor's without a legitimate reason, customers will choose a competitor's product. This hurts both your click through rate and your conversion rate and, as a result, your Amazon SEO efforts.
Look at the prices your competitors charge for their products and stay within a similar range. If you charge a significantly higher price, make sure that the added value your product offers compared to other products is explained in the title.
FBA/Prime
Amazon has surpassed 150 million Prime subscribers globally in January 2020 and during that year, many more have certainly joined.
Accordingly, Prime listings are very popular on the marketplace. In fact, Prime listings tend to have a higher click-through rate than normal listings without a prime badge.
Technically, you can also get the much-desired badge by joining "Seller Fulfilled Prime", but Amazon doesn't accept every seller into this program and you will usually face a long waiting period. If you are currently doing FBM, you can consider switching to FBA or do both FBM and FBA to boost your overall SEO on Amazon.
Availability
There is no question that your product should be available at all times. If a customer clicks on your listing and your product is out of stock, they will probably leave the listing immediately – this is called "bouncing" – and choose a competitor's product.
The algorithm considers a high bounce rate as a negative signal and penalizes your Amazon SEO efforts and ranking accordingly.
Shipping Time
Shipping time is one of the most important factors in consumers' buying decisions. In fact, almost 25% of all online shoppers cancel their purchase if the delivery is not fast enough. Amazon customers are used to getting the best shipping times and shipping prices on Amazon as compared to other online stores.
So in order to keep conversions high, you should definitely ensure fast delivery (preferably a 3-day delivery maximum), especially if your product is easily substitutable and competitors offer better shipping options.
Shipping Cost & Return Policy
Fair shipping costs are just as important to customers as shipping time. A full 83% of online shoppers stated in a study that free delivery is the most important criterion in their purchase decision.
The same applies to your return policy. Over 50% of online shoppers expect the seller to offer free returns in case the product doesn't meet their expectations.
Thus, in order to be competitive and keep your CTR, conversion rate and overall number of sales high, you should offer free returns. The cost of shipping is ultimately covered by you, so it should be factored into your cost calculation and pricing right from the start.
TL;DR – How To Convince Customers To Buy Your Product
Customers are always looking to get the best value for their money. In order to make them feel that they are getting the best deal from you and not your competitors, you basically have to consider these 5 things:
A low price is one of the most important purchase decision criteria. Set your prices in a way that they are in the same price range as the products offered by your competitors.
What's not there can't be bought, so make sure your product is available at all times. If customers see that you are out of stock they are likely to jump off your listing which will hurt your ranking.
Having the Prime Badge will increase your CTR and can be a real conversion driver, so you may want to consider joining Amazon's FBA program or (if you manage to get into it) the Seller Fulfilled Prime program.
Online shoppers are used to not having to pay for shipping and for their order to arrive within 1-3 days. You should also offer these convenient shipping terms and factor the cost of this into your initial cost and margin calculations.
Many customers are afraid of buying something online and ending up being unhappy with their purchase. To take away their fear of this commitment, you should offer a generous return policy.
In general, you should always observe what your competitors are doing. In a highly competitive environment like the Amazon marketplace, every little detail can be the decisive factor for or against a purchase decision.
Especially if your product has no special, unique features and can easily be substituted by a competitor's product, you should offer purchasing terms and return policies that are at least as good as the ones offered by the competition.
The fees for using FBA are not exactly low, but if you become part of the Fulfillment-by-Amazon program, you won't have to worry about shipping time, shipping costs and handling returns, which is a huge plus.
In addition, you will get the Prime badge which can be a real conversion booster.
Number And Quality Of Product and Account Reviews, Bestseller Badge, And The Amazon's Choice Badge
When customers skim the search results page, they basically pay attention to 5 things that help them shortlist the listings before they even click on them: main image, title, price, reviews, and badges.
We have already discussed the first three elements. Now it's time to look at the things that influence your performance, but that you can't influence directly.
Reviews have an extremely strong impact on customers' buying decisions. Customers pay close attention to how good the reviews are on average and how many reviews you have already received for your product.
Make sure that the product meets (or even exceeds) customer expectations and is of high quality, as this is how you will get many positive reviews.
Your seller performance, i.e. your seller account reviews, also play an important role in making customers trust you and to convince them to eventually buy your product.
If a customer does have a bad experience with your product or shipping for whatever reason, make sure you offer the absolute best after-sales service possible and do everything you can to make the customer happy. Regardless of whether you're in the right: offer a refund, replacement or some other form of compensation.
In the past, a caring and friendly customer service has already made tens of thousands of customers change their 1-star-review to a 5-star-review.
What also strongly influences customers in their purchase decision is the Best Seller Badge and the Amazon's Choice Badge.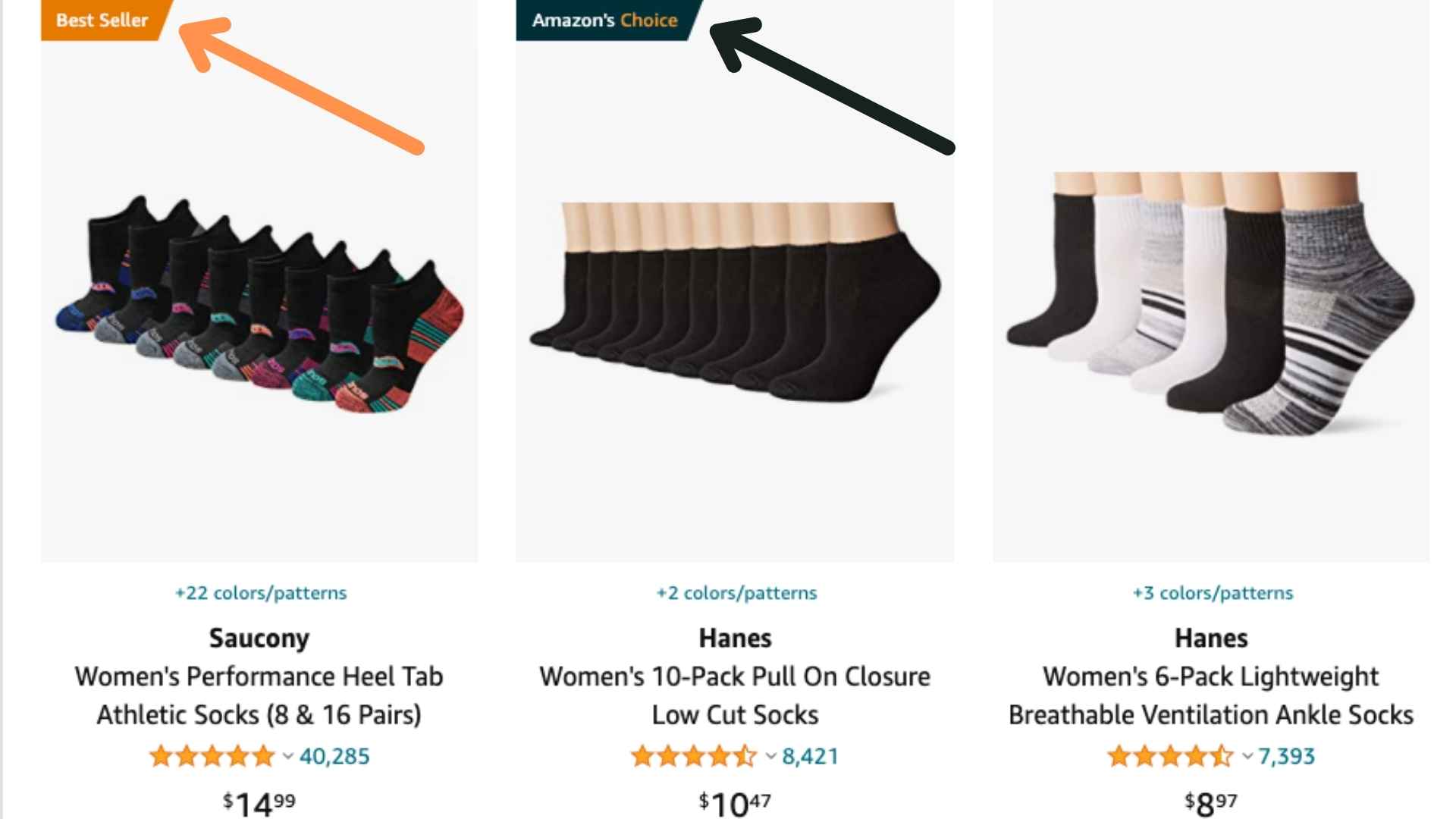 The Best Seller Badge is awarded to your listing if you generate the most orders from all sellers in a specific product (sub)category, for example in the category "Women's Athletic Socks" or "Women's No Show & Liner Socks".
Therefore, multiple Best Sellers may be displayed when a customer searches less specifically for a product, such as just "women's socks".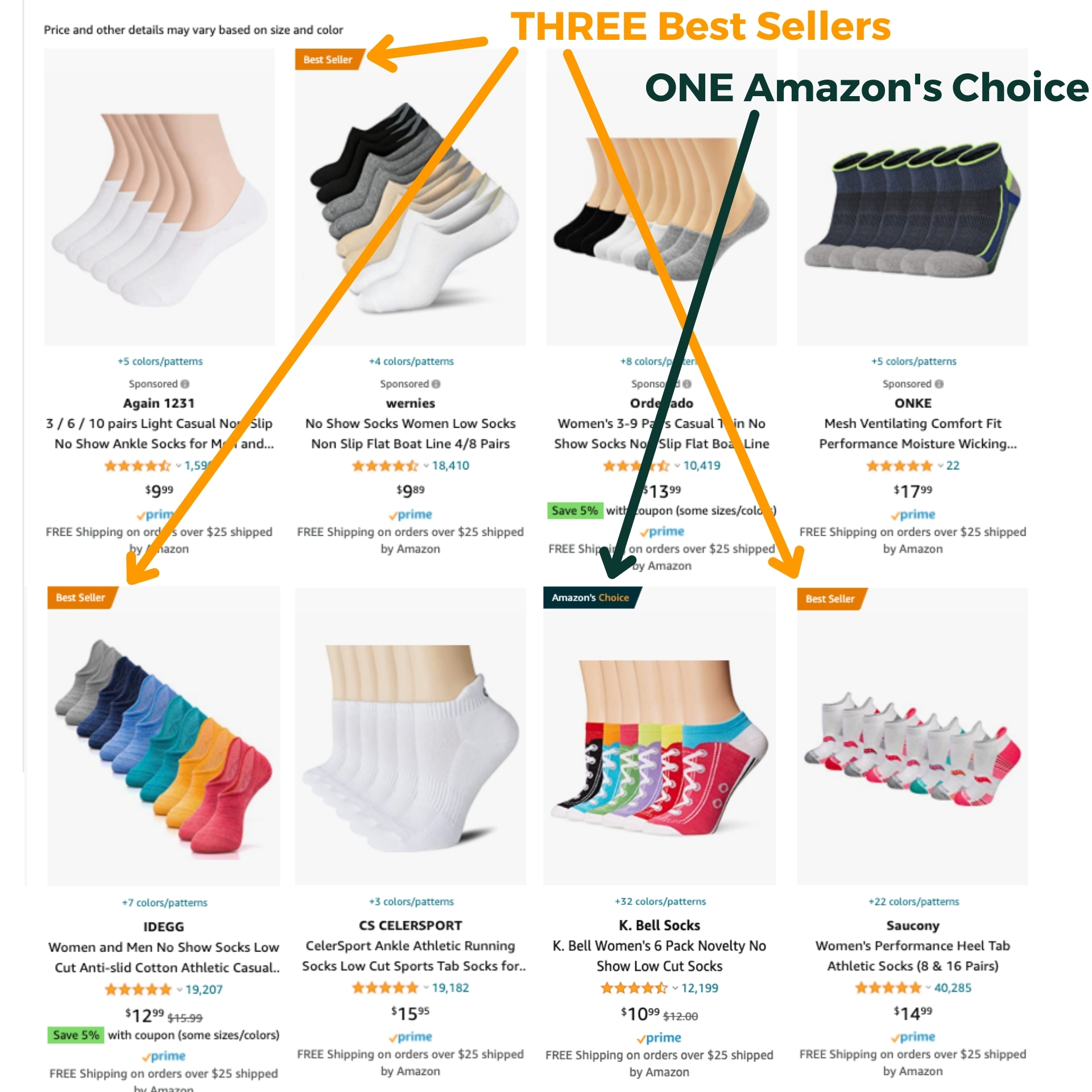 The Amazon's Choice Badge was first introduced in 2015 with the goal of simplifying voice shopping with Alexa. If a customer wants to order a product they have never bought before, Alexa will suggest the product that has the Amazon's Choice Badge.
The Amazon's Choice Badge is not awarded at category level, but at keyword level. This means that for every single search term there is one listing with the Amazon's choice badge. This means that there is exactly one listing with the Amazon's Choice Badge on each search results page.
Amazon customers tend to trust these badges very much. Listings that have been awarded such a badge tend to have higher click-through rates and higher conversions than listings without badges.
If you manage to get your listing awarded with such a badge, it's very likely that this will have a very positive effect on your ranking in the long run.
The Bottom Line – Make Your Customers Happy And You'll Be Rewarded With Great Rankings
When the customer is happy, Amazon is happy too. The principle of customer-centricity should be your "polar star" in all decisions you make regarding your presence on Amazon. This starts with the design and quality of your product. Without a good product no positive reviews, without positive reviews no sales, without sales no good rankings.
There are some ranking factors that you can directly influence in order to improve your ranking. Design your listing in a way that appeals to customers and convinces them to buy your product, and offer them shipping options that give them a risk-free, convenient, and fast ordering experience.
First and foremost, design your product listings in a way that pleases customers, not the algorithm. Try to sell your product to real people, not a machine. The algorithm is smart enough to recognize what your product is and for whom and what search queries it is relevant to. Still, you should make it easy for the algorithm to understand the context of your listing and therefore include the most relevant keywords in the right places.
Yes, it is a tedious and difficult task to achieve good rankings and maintain them in the long run. Nevertheless, don't be seduced by black hat tactics, "shortcuts" or "secret ranking hacks" you find on the internet. Keyword stuffing or buying reviews may go undetected for a while and even work really well for a short time, but you risk getting your listings or even your entire account suspended.
And believe me, sooner or later Amazon will always find out if you are trying to cheat the system. On Sermondo, we get tons of inquiries from suspended sellers looking for reinstatement experts for this very reason.
Patience and serious interest in creating a positive shopping experience for your customers is still the best strategy to succeed on Amazon in the long run. Then you will also be rewarded by Amazon with the best rankings, the much-desired badges, and ultimately, with more sales.
Get started: Use our Matching Service to find your SEO Expert – Free of charge →