After reading this blogpost, you will know what's important when creating your Amazon listing to draw the customers' attention to your product and actually make a purchase.
So you have found a product to sell on Amazon and mastered the import of your product, that means it's time to create your Amazon listing.
This is a very important but also intimidating step in your journey as an Amazon seller. While customers in a shopping mall can actually hold a product in their hands and evaluate whether or not they want to buy it, all customers on Amazon have is the information you provide in your listing. Their impression depends on you and it's up to you to create the desire to buy your product! This is an amazing opportunity but also a lot of responsibility that can be overwhelming for unexperienced sellers.
In this blog post we will walk you through the whole process of creating a listing, so you know exactly where to click on and which information to provide. In addition, you will learn about the most important sales factors and which elements of your listing you need to focus on to ensure a high conversion rate and to actually make sales.
How to Create a Listing on Amazon – Step-by-Step Instructions
To get started and create a new Amazon listing for a new product, you need to log into your Seller Central and click on "Inventory", then click on "Add a Product". On the Add New Product Page, choose the "I'm adding a product not sold on Amazon" to start the actual listing creation process.
1. Select a Product Category
In the first step, you need to choose a category 
by either using the search feature ("Search for a category"), or 
by browsing through the different categories. 
It may be helpful to have a look at your competitors and go with the category that most of them selling the same product use.
2. Fill Out Vital Info 
In the Vital Info section, you need to fill out the following fields:
Product Name – Choose a catchy product name. Keep in mind that it's the first thing people notice about your listing!
Manufacturer & Brand Name – If you are selling your own private label products, then manufacturer and brand name are identical.
Product ID – The product ID is required for almost every product.
Additional Info – There may be additional fields to fill out depending on your product category.
3. Add Variations
In case you are selling different types of the same product, for example different
colors
sizes
quantities etc.,
this tab is to specify the variations you are offering. You can name them and add more info on each variation. Be sure to include a unique GTIN for each variation!
4. Provide Information About Your Offer
In the next step, you can provide further information about your offer.
Seller SKU – Write down your seller SKU here.
Your Price – In this field, write down your selling price.
Condition – As a private label seller, the selling condition is "new".
Fulfillment Channel – Depending on your fulfillment option, click on FBA or FBM.
5. Upload Your Product Images
Next up is product images! Here you have the option to upload up to ten product photos. Choose an outstanding and professional main image that catches the customer's attention right away and include more high-quality product and lifestyle photos as well as infographics that show your product, its benefits and how it can be used.
6. Create Your Product's Description
Once you've created your listing, the product description is up next. It consists out of
Bullet Points – Customers scan the bullet points first before they look at them in detail. Therefore, it makes sense to list the most important features briefly. You should write the most important words for each bullet point in caps.
Product Description – Although keyword-wise your product description is less interesting for the algorithm than the title or the bullet points, it offers an excellent opportunity to reach your customer on an emotional level and convince them to buy. It can be up to 2000 characters long.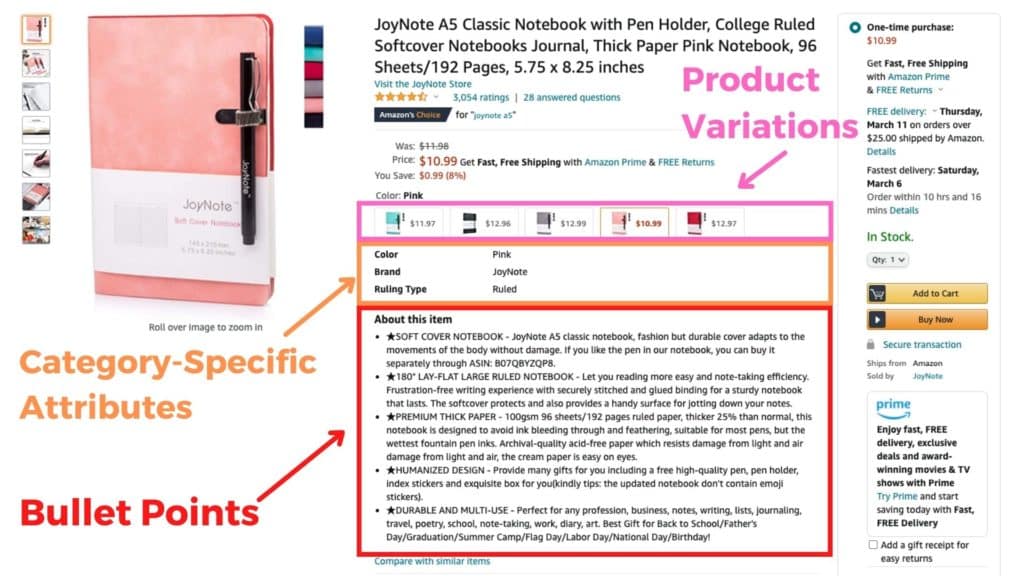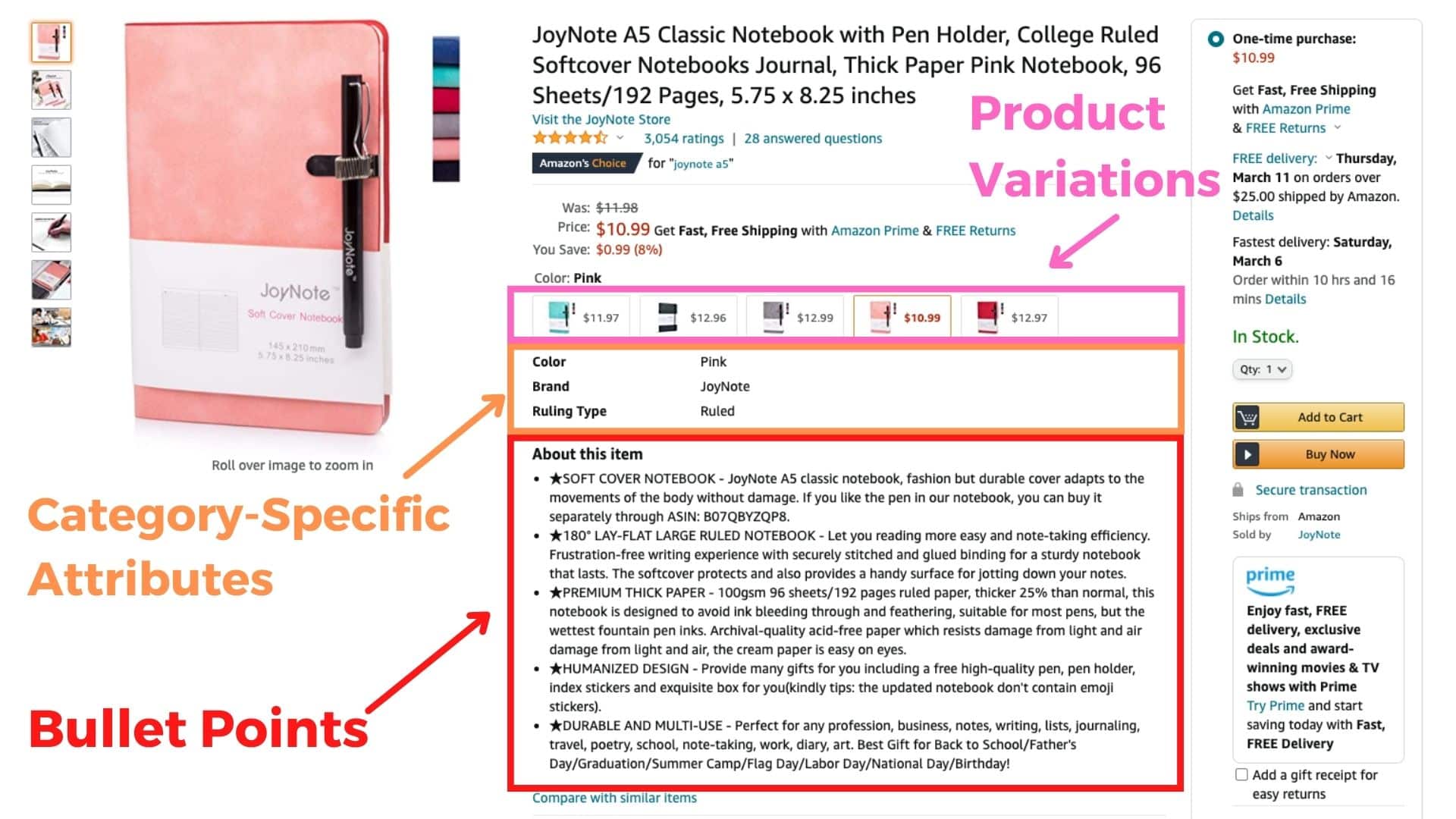 7. Add Keywords to Your Listing
The Keywords tab is for all those keywords that didn't appear in your listing (in the title and description), but are still relevant for your product.
8. Provide More Details
Depending on your product and product category, you will be asked to give more details on your product in this section. Don't worry, this part is easy to fill out on your own. Besides, it's not the most important part of your listing anyway.
After you've made it through all steps, don't forget to click save and finish – and you've successfully created your very first Amazon listing! This means a huge part of the work has already been done. 
3 Important Sales Factors You Need to Keep in Mind for Your Amazon Listing Creation
When creating a product listing, you always need to view it from the buyers' perspective: What's important to them and how will they perceive your listing?
The following three sales factors are crucial if you want to make sales as they have an impact on how attractive customers will find your listing.
1. Realness – Make Sure You Meet Your Customers' Expectations When Creating Your Amazon Listing
First of all, you want to create a listing that exactly meets the customers' expectations. Try to keep in mind what your customers picture in their heads when they start their search on Amazon. If you manage to meet (or even exceed) these expectations, they will buy from you. 
2. Top Products – Only Sell Items With Convincing Features
In addition, if the product's features are really convincing, it will be bought. So only offer top products that you are 100 % convinced of.
Finding a top product to sell on Amazon can be a challenge. What is good or bad always depends on the context. Good quality should always be a priority!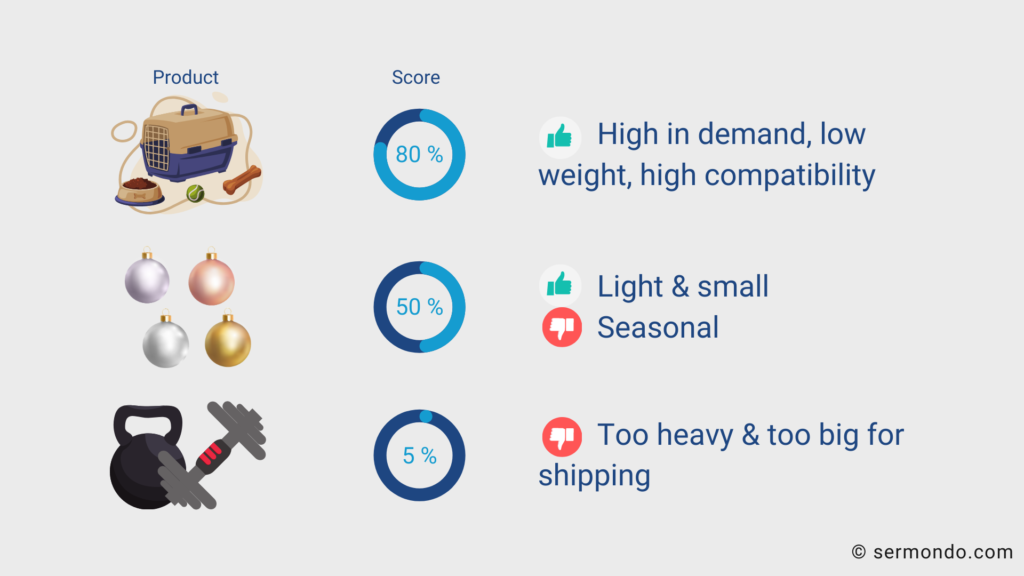 3. Uniqueness – Create a Listing that Makes Your Product Stand Out Among the Competition
Last but not least, you want to be unique. The problem on Amazon is that it's super easy for customers to compare the various offers with each other.
Once a potential customer is on your listing, they are constantly distracted and drowned with other products that are similar to yours (e.g. "You might also like this", or "Customers also bought…" or even Amazon display ads). So chances are quite high they see another product they like and choose to buy that instead of yours. 
If you are unique and different from the rest, you will be remembered, even if a customer looks at other offers. They will come back eventually!
How Can You Implement the Sales Factors in Your Amazon Listing?
So we now know the most important sales factors that you need to focus on when creating your Amazon listing.
But even the best products won't be bought if the presentation isn't good. How do you meet the expectations of your customers, convince them with your product features and stand out?
The Power of Visuals – Optimize Your Product Photos When Creating an Amazon Listing!
Most people underestimate the power of Amazon product photos. In order to convince people of your product, a good presentation is a must.
Use the opportunity to photograph your product from all angles. This way you can give Amazon customers the feeling they are actually holding the product in their hands. If you don't have the right equipment for that, you can hire an Amazon product photographer to do it for you!
Convincing Cover Image – The first impression counts! To make sure people actually click on your listing, you need a good cover image. Since the first thing they see is the cover image, you really need to put some thought into that.
Detailed Presentation – Show the product in as much detail as possible and from different angles so that the customer can visualize tit as if they were holding it themselves. Always keep in mind that online, the product photos replace the customer's hands in a store!
Presentation of the USP – Within the detailed presentation, the product's features should be highlighted, so the customers know that your product is exactly what they've been looking for – and it actually solves their problems.
In-use Photos – To help the customer's imagination, show the product in use. A dog wearing the collar you are selling, the lamp in a living room positioned next to the couch, a mouse pad on a desk, and so on.
Optimize Your Listing's Computer and Mobile View – The views of your listing should be optimized to reach its full potential. How your listing is displayed in mobile search results also has a big impact on click-through rate and conversion rate. 
Detailed Product Description & Amazon SEO 
But it's not only about the photos! Just as important as the product photos is the product description. You want to describe your product as detailed as possible. Don't just list technical data, but translate it into benefits. For example: 
Teapot  with 1 liter capacity → Keeps beverages warm for an extra long time
Dog coat with water-repellent coating → Easy to clean, protects your dog from the rain
Light bulb with 40 watts → For a pleasantly bright home
To ensure that your product appears in the search results, you also need to focus on Amazon SEO. The sales performance of your product depends heavily on the visibility. At the same time, the sales rate is an important ranking factor. 
Therefore, research the most important keywords for your product and include them in the product title, bullet points and product description.
Conclusion on Amazon Listing Creation: Use Your Chance to Tap the Full Potential!
If you want to be successful as an Amazon seller, thoughtfully creating your Amazon listing is very important. Focus on the sales factors mentioned in this post and optimize your listings regularly if necessary. 
Your listing is your opportunity! While selling on Amazon is generally quite standardized, you can decide what you want to do here. Be creative and do what you think will attract customers. 
There are many individual disciplines that need to be mastered in order to get the most out of your listing, for example product photography, SEO and so on.
Your Carefree Solution: Find an Expert on Sermondo
If you prefer to focus on your main business, you can also hire service providers to create your Amazon listing for you.
Use Sermondo's Matching Service and get help from Amazon listing experts →