Global money transfer services enable Amazon sellers to sell internationally and relieve them of many bureaucratic and financial hurdles. Gone are the days of having to deal with complicated and expensive currency exchanges as an Amazon seller who's active on multiple Amazon marketplaces worldwide.
Since understanding how cross-border payments work and how they can help you may be overwhelming at first, we created this ultimate guide for you where we'll cover everything you need to know about global money transfer. You will also learn how to connect your new virtual new bank to your Amazon seller account and how to choose a global money transfer service that provides the best solution for your business
What Is a Global Money Transfer Service?
International money transfer services are virtual global banks that provide local bank accounts in all major markets for you. These bank accounts can be used to receive payments from various Amazon marketplaces in local currencies and easily manage your funds.
Let's say you're an Amazon seller based in the US who is selling on European marketplaces. When you're making a sale on the German marketplace, you will be payed in Euros. Without a third-party payment service, Amazon will automatically transfer your earnings to your US bank account every two weeks – in US Dollars. For the money conversion of the Euros you earn from your sales in Germany into US Dollars, Amazon charges a heavy fee of roughly 4%. So if you have a turnover of €100,000, Amazon charges €4,000 for the conversion of the currency alone.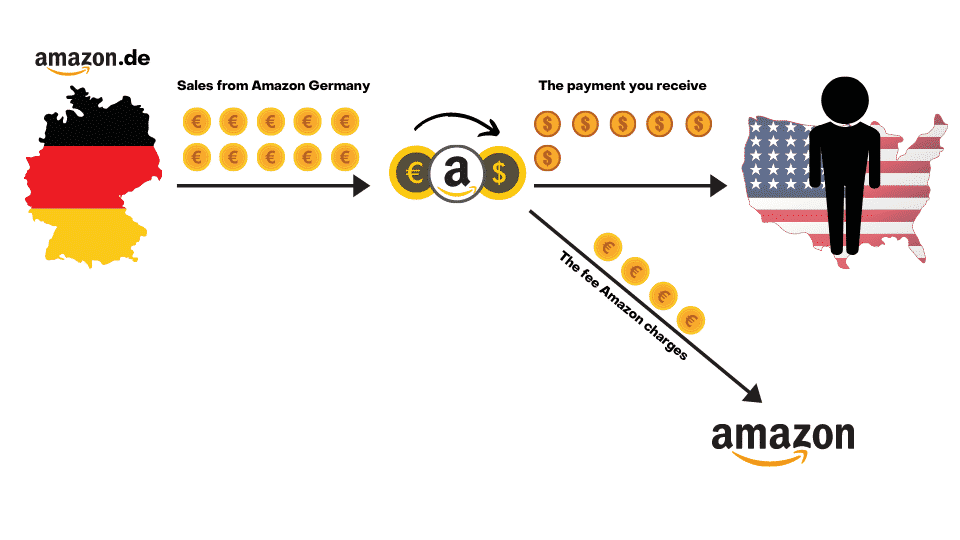 A virtual payment provider allows you to collect your payments from Amazon in Euros and keep them in your virtual bank account.
You can then decide
whether and when you want to transfer your funds to your local bank account – at much lower conversion fees – or
whether you want to keep your funds in Euros in your virtual bank account.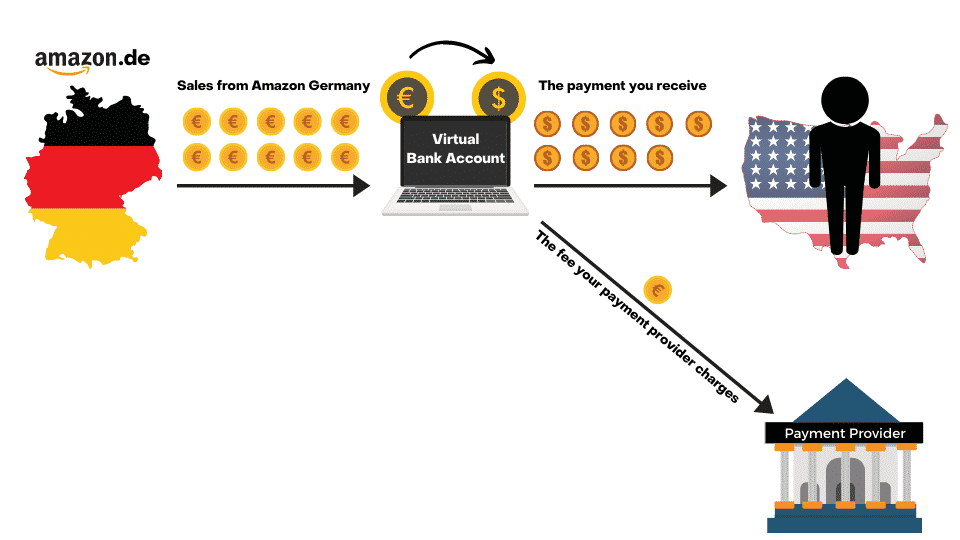 How Can a Money Transfer Service Help Your Business with Cross-Border Payments?
Global payment providers can facilitate your global selling activities in many ways.
How Can US Amazon Sellers Selling Worldwide Benefit?
First of all, with the virtual bank account number they provide you with, you'll be able to sell in any marketplace you like and collect your payments and keep your earnings in the currency you received them in. You can even keep a part of your earnings in your account to pay for your local 3PL or freelancers, your VAT, or for other services.
This way you prevent losing money twice to currency conversion.
Why twice?
Amazon would automatically transfer your earnings and exchange them into dollars at a high fee, and then when you have to pay your 3PL, you would have to exchange them back, which would cost you exchange fees again.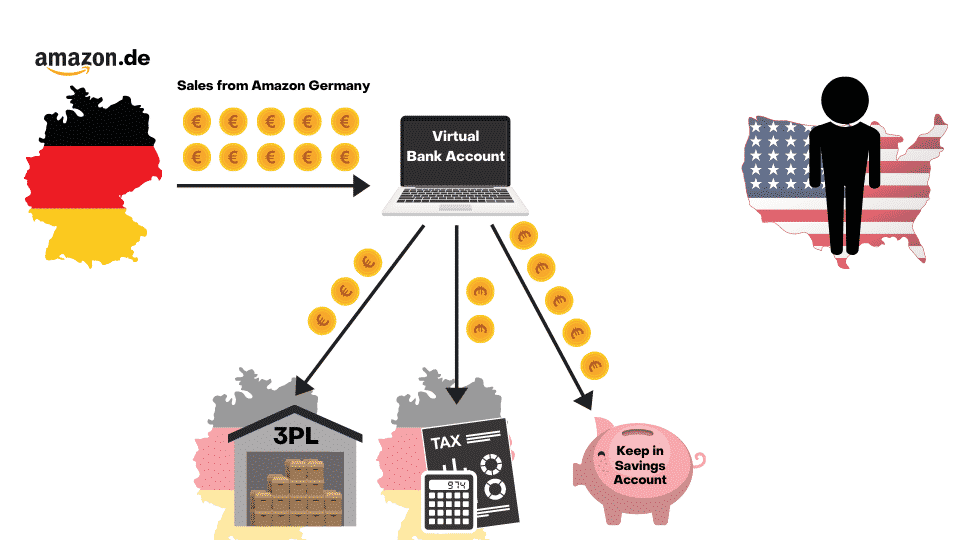 How Can Non-Residents Selling in the US Benefit?
If you are not based in the US but in Australia for example, sell on Amazon.com and source your products in China, you can also benefit from a virtual bank account. Chinese suppliers usually prefer a payment in USD. If you have a virtual bank account, you can keep the dollars you earned in the US and use them to pay your supplier.
If you used Amazon directly, you would receive your earnings in AUD, which will cost you >4% in exchange fees. Then you'd have to exchange your earnings back into USD to pay your supplier, which again will lead to exchange fees.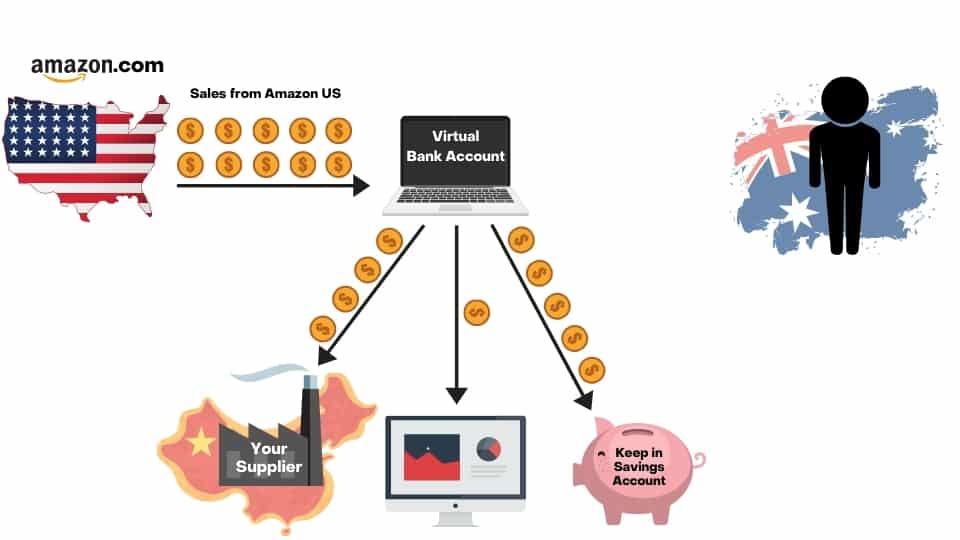 But there are more benefits of virtual bank accounts:
Sell on any Amazon Marketplace as a Non-Resident – Virtual banks allow sellers to expand their business to markets around the world without having to be resident. More marketplaces, more customers, more revenue.
Save fees & Prevent Double Conversions – The main reason for using virtual bank accounts in foreign marketplaces is to avoid the high fees that Amazon charges for cross-border payments. Third party payment services usually charge 1-2% less than Amazon for currency conversions and you avoid having to convert your currency twice if you need to pay for something in the currency you received your earnings in.
Receive Working Capital – Amazon's payout is usually only every two weeks. If you're short on capital, that can be a problem. For a small fee, some payment services offer paying you out in advance to increase your cash flow as they receive your sales data from your Amazon account and now the amount of your next payout.
Pay Your VAT or Other Costs in the Local Currency -If you are a foreigner selling in Europe, you can keep part of your earnings in Euros on your account and transfer the VAT directly to the relevant tax authorities. Additionmany popular software tools and companies charge their services in US Dollars, so it is always a good idea to have some funds available in USD.
How Do Virtual Banks Work?
A global payment management provider sets up a bank account for you in their name. The bank account number will be from a local bank they work with.
If you are an US citizen and you would like to sell on Amazon.de, they will provide a German bank account number. Similarly, if you're not a US citizen but want to collect payments in the US, you will be given a bank account with an American bank.
Each payment service has its own requirements and will perform their due diligence if you want to open an account like any other bank would do it. The documents and information you need to provide will depend on the service you are using, but usually you will need:
A valid government ID of any kind (passport, driver's license..)
A local bank account through which you can receive payments
Proof that your business is legit (supplier invoices, company registration..)
After the payment provider has proof that your business is genuine, all you have to do is fill out a few forms and you're good to go.
If your registration was successful, your payment provider will provide all the bank details to use for your seller account, as shown in the image below.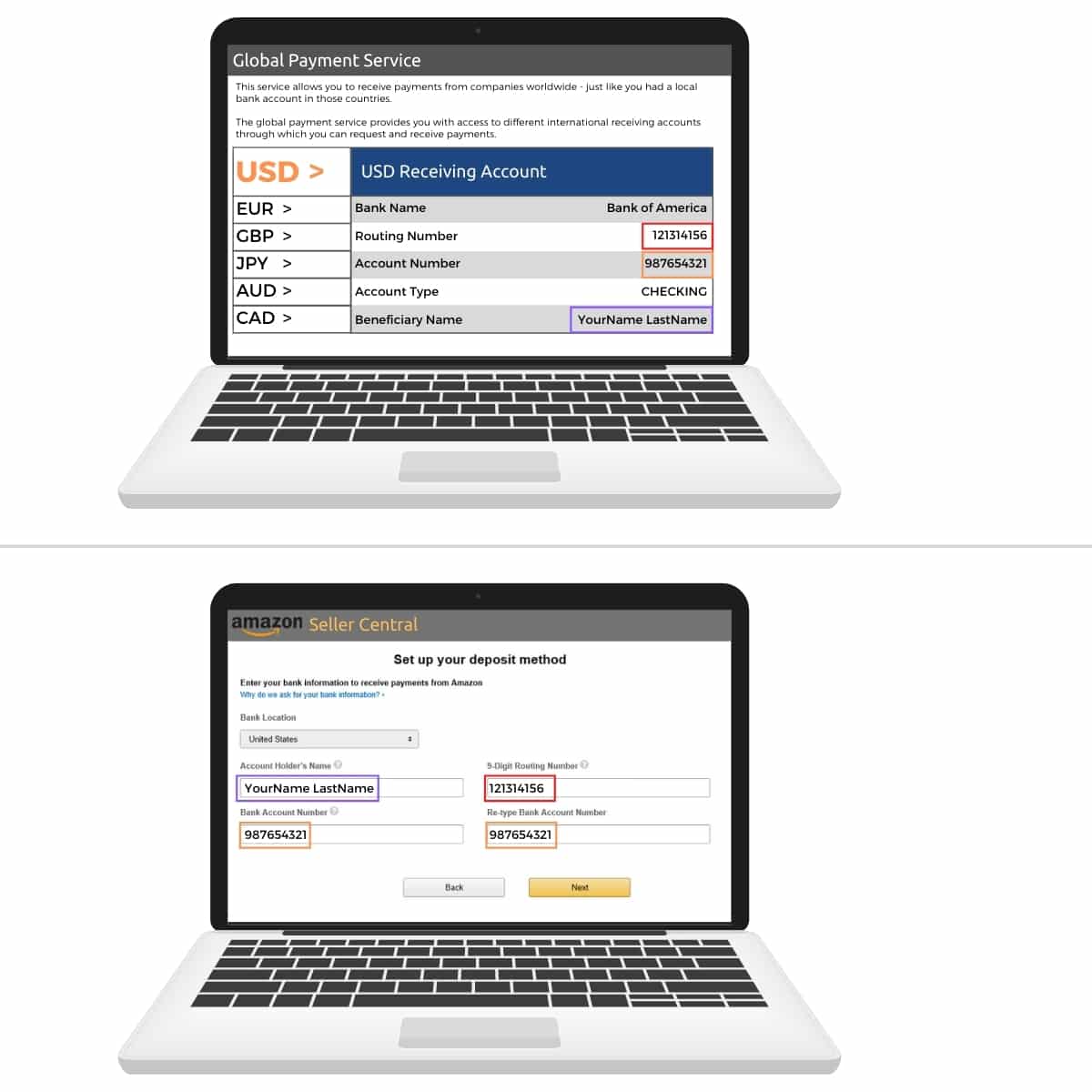 How Long Does It Take to Set Up a Virtual Bank Account for Cross-Border Payments?
If you have all required documents ready, opening an account with a global payment provider usually takes no more than 1 to 2 business days.
If there's a reason why your background check takes longer than usual or if you need more documents for your application, it may take a bit longer. 
How Can a Virtual Bank Account Be Connected to Seller Central?
After you have successfully registered your virtual bank account, you can easily change your bank details in your Amazon seller account.
Simply use the bank details provided by your payment service.
After successfully changing your bank details, Amazon will start transferring your earnings in the respective local currency to your virtual bank account.
In the dashboard, you can see your funds, decide if you want to keep or transfer the money and if you want to convert it into another currency.
How to Choose the Right Amazon Money Transfer Payment Provider for Your Business
Choosing the right provider that best fits your personal needs is important. When choosing a money transfer payment provider for your Amazon business, look out for the following things:
Great Support – The most important feature of a third party payment provider is that they offer great 24/7 support. Managing your finances is a delicate and important matter, which is why the availability of the customer service and the service quality should be the top priority.
Internationality – The service should be available in all major markets and support the most common currencies.
Reasonable Pricing – Since the main reason to use an intermediary payment service is to save fees, the service shouldn't cost too much.
Language Availability – Since managing your funds is an extremely important, but sometimes quite complicated matter, it is best if the payment service is also available in your own language so that you can fully understand all processes and options available.
Additional Features – Some providers offer handy features. A few payment services even provide you with a Mastercard for example, which enables you to withdraw money in local currencies without exchange fees. You could also use it to pay service providers in their local currency.
Use Our Free Matching Service to Receive Your Hand-Picked Recommendation!
As you can see, it's important to choose the right provider matching your personal needs. But you can also let us do the work for you! We offer a free matching service, providing you with a personal recommendation – 100% free of charge!
Conclusion: Start Saving Money on Cross-Border Payments Now!
As you now know, there are many good reasons to use an external payment provider. Save fees, expand internationally and always have full control.
If you are not sure which global money transfer platform is right for you, check out our directory and compare the best cross-border payment providers for Amazon sellers.