Your Amazon business is going pretty well and now you're looking for new challenges and opportunities to grow your business even further.
Expanding to Europe is a great opportunity to achieve such growth.
The good news is that anyone can sell in one or all of Amazon's European marketplaces – no matter where you're from. The bad news is that there's a number of challenges that you have to overcome in order to be able to compete in the market.
To help you navigate through the process of expanding your Amazon business to Europe, we have compiled an ultimate guide.
This guide explains what you need to consider if you want to sell on Amazon Europe.
Let's get started!
What Are the Benefits of Selling on Amazon Europe & Why Should You Sell there Too?
Amazon Europe is a popular choice for eCommerce entrepreneurs looking to scale up their business.
Here's why:
More Customers
First of all, expanding to Amazon Europe gives you the opportunity to increase sales by reaching millions of additional customers.
In Europe, seller central allows you to manage all EU marketplaces you want to sell on from one single dashboard.
Plus, you cannot only sell in the six countries where Amazon has its own site, but Amazon's European marketplaces will actually give you access to 28 countries.
Countries that don't have their own Amazon marketplace yet, such as Finland, Belgium or Austria, can order products from one of the existing marketplaces. The products are then shipped from the closest warehouse to the customer.
And the good thing is, overall retail sales in Europe are still on the rise.
So don't miss out!
Important Markets
Besides, those countries are not just any countries. In fact, Germany and the UK represent some of the largest e-commerce countries in the world.
Plus, in Italy, Spain, France, Germany and the UK, Amazon is the biggest and most popular ecommerce platform amongst online shoppers.
Less Competition
Furthermore, in terms of active sellers, Amazon Europe is a much smaller market than Amazon.com which means less competition.
Bear in mind that many US sellers are afraid of the various hurdles and challenges of expanding into Europe, which is why they do not even try to do so in the first place.
You can use that to your own advantage – be the one who dares to do it!
More Revenue
By selling on other marketplaces you will be able to diversify your revenue stream. That will strengthen your cash flow and help protect yourself from sales fluctuations you may experience in other countries and marketplaces.
Plus, you'll be able to take advantage of European holidays and holiday seasons.
To sum it all up, selling to Amazon Europe will give you the opportunity to make significantly more revenue.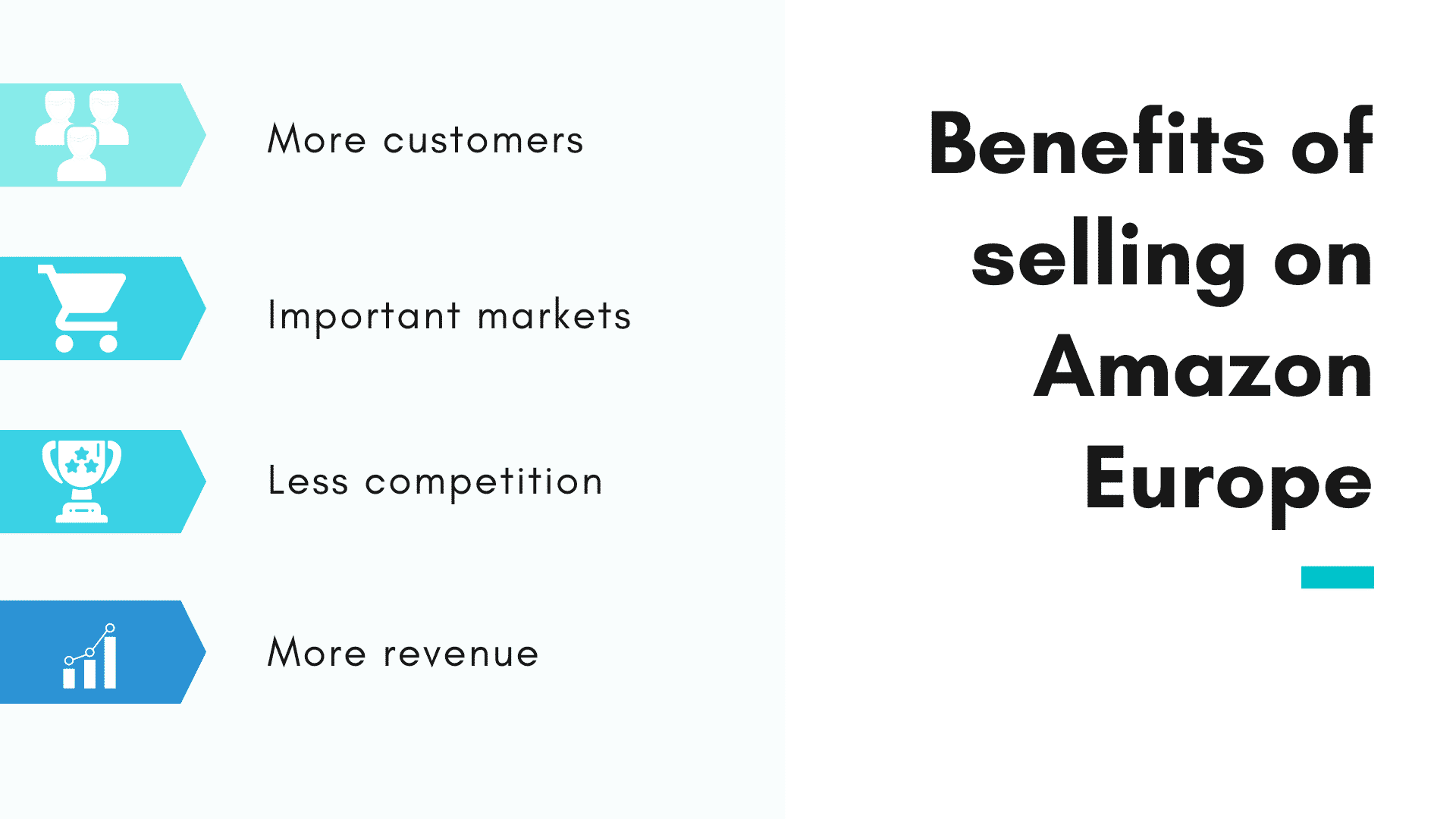 How to Sell on Amazon Europe: Where Do You Start?
We hope you're now convinced that selling on Amazon Europe is a great opportunity. We understand that getting started can be quite a challenging process due to the bureaucracy, local laws, and additional guidelines.
You can't just get started right away, you will have to do some research beforehand or rely on the expertise of an Amazon consultant.
Here are some aspects that you need to consider:
Analysis of Your Current Situation and Goals
Every expansion requires an individual solution. To find that individual solution, you need to analyze your current situation and goals right at the beginning.
Where are you right now and where do you want to be?
Can I Already Afford to Expand?
Before you dive deeper into the topic of entering the European market, you should ask yourself if you can even afford to expand. What seems to be a trivial question is actually crucial for your success. 
As mentioned before, selling on Amazon Europe comes with a lot of challenges, including financial ones. To be able to benefit from your expansion to the European market, you will need to be in the right state with your business. If that's not the case, you will only damage your business.
So be honest with yourself – do you have the necessary resources and is now the right time?
If you're completely new to the Amazon world and have not made any money yet, it is definitely very risky to expand. But if you're already selling successfully in a market like the U.S. and your business is profitable, go for it!
Which EU Marketplace Should I Tackle First?
Next, you have to decide which one of Amazon Europe's marketplaces you want to tackle first. We recommend starting out with only one market rather than launching in all markets right away. Going for all markets at once might be too overwhelming regarding the legal and tax implications of each European country. Besides, even though you can use the unified account to access all six marketplaces, you will have to choose one marketplace as your "home" marketplace.
But Which Marketplace Is the Best One to Start With?
Unfortunately, there is no general answer to this question. There are many aspects to consider, and it also depends on your goals. If you're already selling on one of the European marketplaces, you will most likely choose this marketplace as your "home marketplace".
However, if you're new to the European market, you should ask yourself the following questions to find out which marketplace is best for you:
Which market is likely to be your main target market?
Where will the majority of your products be distributed from?
Which marketplace offers you the best starting point in terms of competition and demand?
Germany is normally a good starting point. It represents one of the largest e-commerce countries in the world. Besides, Germany's geographical location is a major hub for delivery efficiency helping you sell across Europe.
The UK also used to be a good option as it's an English speaking country, which will save you from dealing with potential language barriers. However, now it's safer to choose Germany, because – unlike the UK – it will not be affected by Brexit.
Legal, Tax and Product Safety Compliance Requirements
Once you have analyzed your current situation and decided which marketplace you want to tackle first, you're reaching a very important step that definitely requires some extensive research: Legal, tax and product safety compliance requirements.
Keep in mind that each European country has its own (legal) requirements which might differ from what you're used to. Here are some legal aspects you need to be aware of:
Export to EU: Setting Up a European Company or Hire an Authorized Representative in the EU
To start your Amazon business in the EU could consider setting up a European company.
If you don't want to set up an EU-based company and want to export to the EU, you will need to appoint an authorized representative (AR) who is established in the EU to act on your behalf.
Your AR has to make sure all products sold in the EU are complying with the legal requirements.
Choose your AR wisely! They will be responsible for very important tasks. Therefore, it should be someone who knows the market you want to expand to and its practices well and is able to deal with the legal frameworks that their responsibility entails.
VAT Registration & Accounting
When selling to and within Europe, you need to learn about Value Added Tax (VAT), a tax on consumer expenditure. VAT is collected on business transactions, imports, and goods that move between EU countries.
There are different VAT obligations, depending on where you buy from and sell to. Depending on the marketplace and shipping method you might even be required to register for VAT in more than one country.
We highly recommend hiring an Accounting & Bookkeeping Service to advise you on your tax obligations, as this is such an important and far-reaching issue that depends on your individual situation, and thus, can't be covered in a single blog post.
This should be one of the first things you take care of, as VAT registration is mandatory for opening an account on Amazon Seller Central Europe.
Product Safety Compliance
Another important issue is the product safety compliance.
EU product safety regulations ensure that only products that are safe for users are sold on the European market. Companies are therefore obliged to inform consumers about all risks associated with the products they supply.
As an Amazon seller in the EU, you must ensure that your products comply with all relevant EU regulations before you start selling on any European marketplace.
It is therefore the manufacturer's responsibility to carry out the conformity assessment and ensure that the products comply with the European directives. To ensure that your product is safe for the European market, you must perform a risk analysis. There are certain tests, e.g. laboratory tests and quality tests, which must be carried out. This whole process is called conformity assessment.
Which tests have to be performed depends on your product and the country in which you want to sell it, as different specifications may apply in different EU countries.
In order to prove that you meet all requirements, you must compile a document after the conformity assessment which contains all necessary information and test results concerning your product. We strongly advise you to hire a third party inspection company to ensure that the quality and ingredients of your product meet the regulations – and, of course, your requirements.
Labels and Markings
Depending on the type of product, you might need labels and markings on your product if you want to sell it in the EU, such as:
Full EU-Address
Amazon sellers are required by law to provide the name and address of the manufacturer/importer in order to sell their products in the EU. This ensures that buyers can trace and contact the manufacturer if they experience any issues with the product.
CE Marking/Labelling
CE is short for "Conformité Européenne", which translates to "European Conformity". As the name suggests, the marking indicates that the product complies with EU standards. In particular, it indicates that the product has been assessed by the manufacturer and complies with EU safety, health, and environmental protection standards.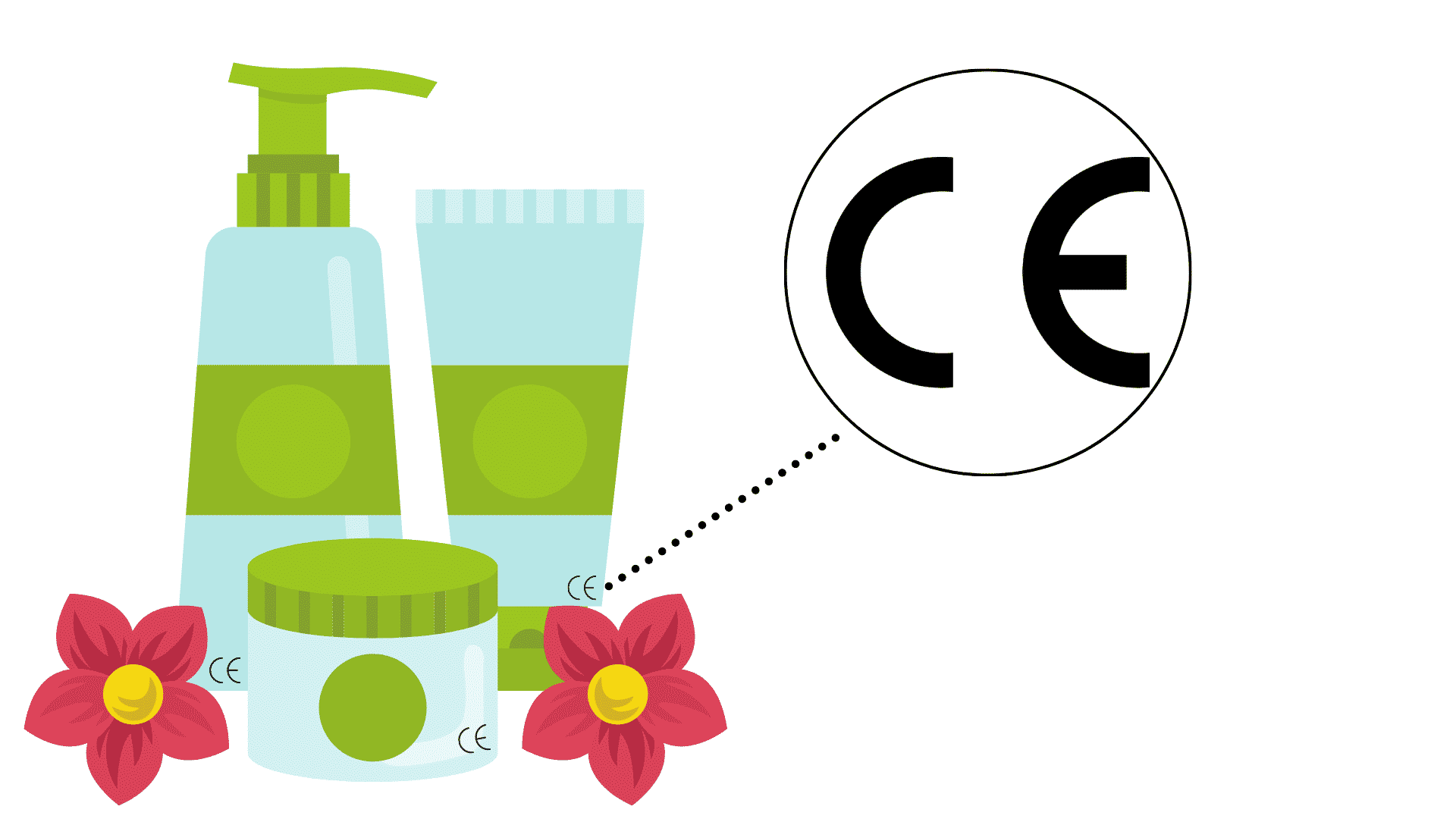 EU Ecolabel
The EU Ecolabel was introduced about 30 years ago and is recognized in all European countries and worldwide. The EU Ecolabel is a label that certifies products and services that meet high environmental standards throughout their production and life cycle.
If your product has outstanding, positive ecological features, it could be eligible for use of the EU Ecolabel.
As sustainability is becoming more and more important to consumers and is a strong selling point, it is worth checking whether you are eligible for the label.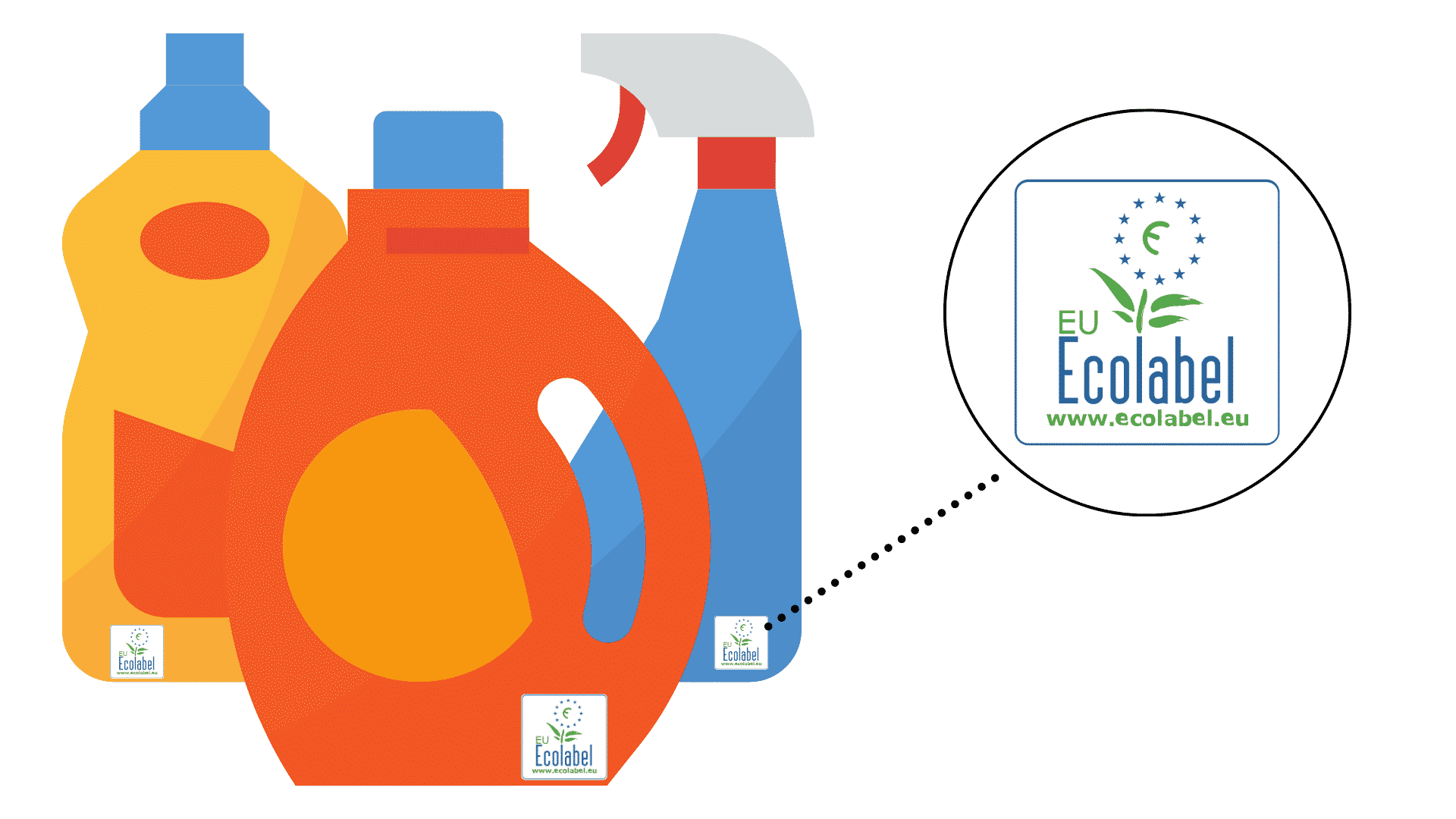 Energy Labels
In many cases, manufacturers of electrical appliances are obliged to affix energy labels to their products.
This label is intended to provide purchasers with additional information and help them make a better purchase decision.
The energy efficiency of products is rated by a series of energy efficiency classes expressed in letters from A to G. A is the most energy-efficient class and G the least efficient.
Thus, if you sell electronic products that are likely to have a direct or indirect impact on the consumption of energy during use, you may need to display an energy label.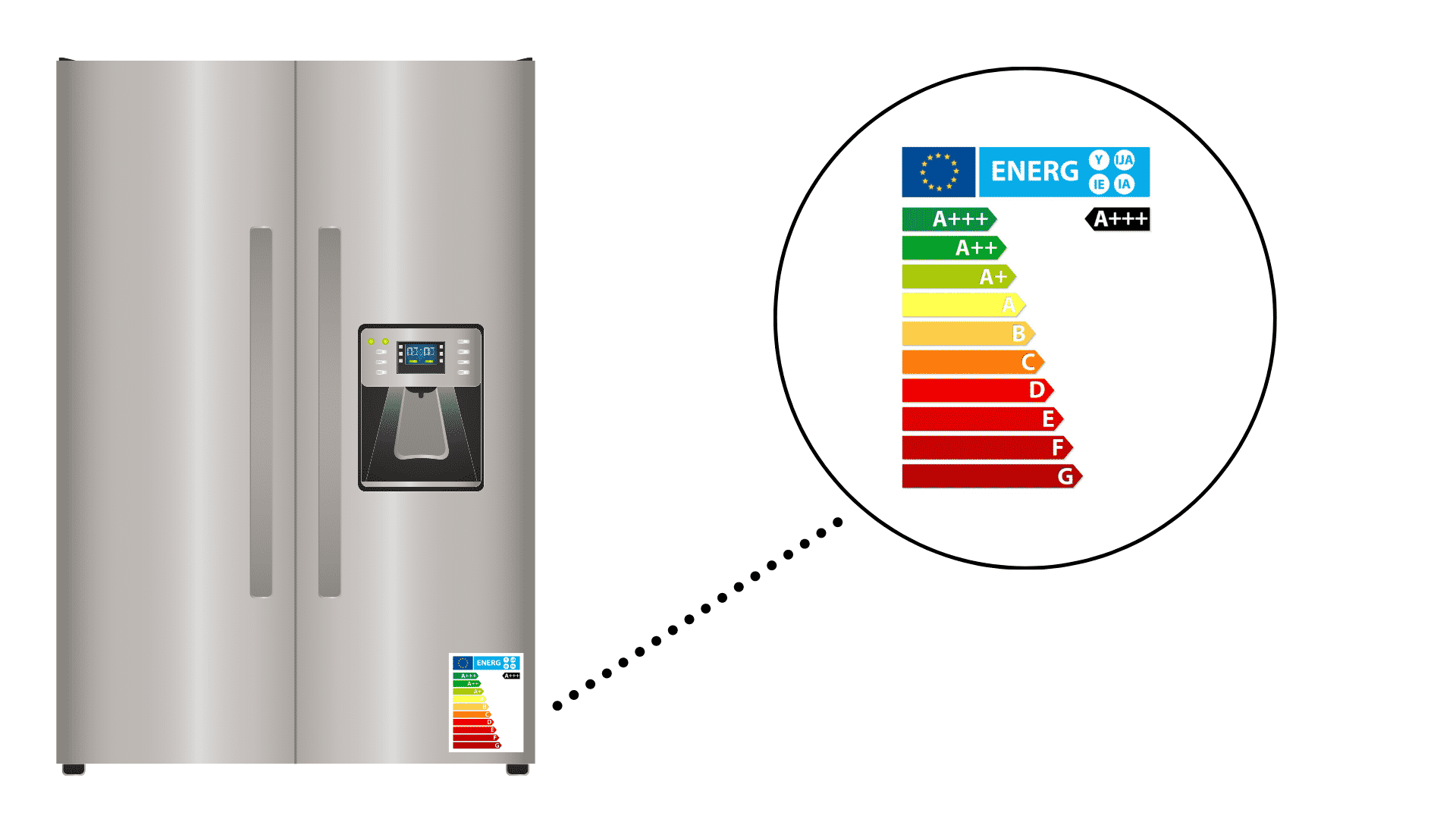 In some cases you'll need additional labels, such as chemical labelling or food labelling.
Packaging
In order to protect the environment and avoid any risk to the health of consumers, requirements not only apply to products marketed within the EU, but also to their packaging.
The requirements vary depending on the country of destination in the EU. When selling to Germany, for example, you must comply with the German Packaging Law.
This law regulates several aspects of packaging, including:
The materials the packaging is made out of
Packaging waste
Package size
and more.
Before you start selling in the EU, you should thoroughly familiarize yourself with the laws and regulations.
Failing to do so can lead to serious problems with the authorities and spoil your plan to expand into Europe.
Let's Talk Logistics: EU Freight Forwarding & Fulfillment Solutions
Freight Forwarding to EU
Further challenges you will have to deal with are freight forwarding and fulfillment. If you import products from a third country, you basically have two options.
Let's say you're from the U.S. and buy products in China to sell on Amazon Germany. You can now either:
1. Have your products shipped from China to the U.S. first. Then, you ship them to Germany yourself
or
2. You have your Chinese supplier ship your products directly to Germany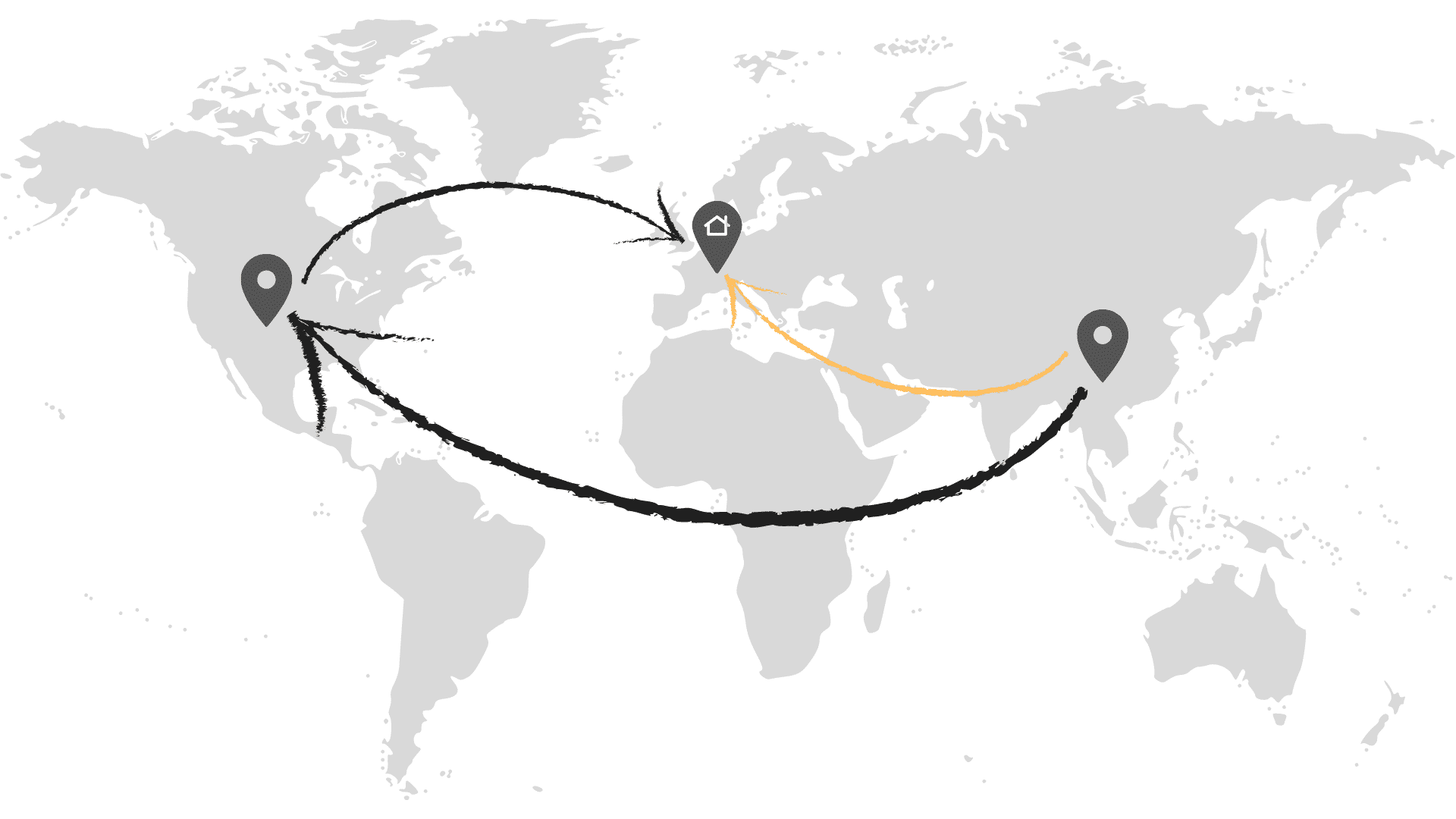 Which option you choose is a question of personal preference and also depends on your current situation as a seller.
FBA vs. FBM
Just like in other markets, you can either use the Fulfillment by Amazon program (Amazon FBA) to ship your products or ship your products yourself with the Fulfillment by Merchant program (Amazon FBM).
We recommend choosing FBA when you start selling into Europe, as Amazon will relieve you of many logistical challenges.
When choosing Amazon FBA in Europe, sellers have three options:
European Fulfillment Network (EFN)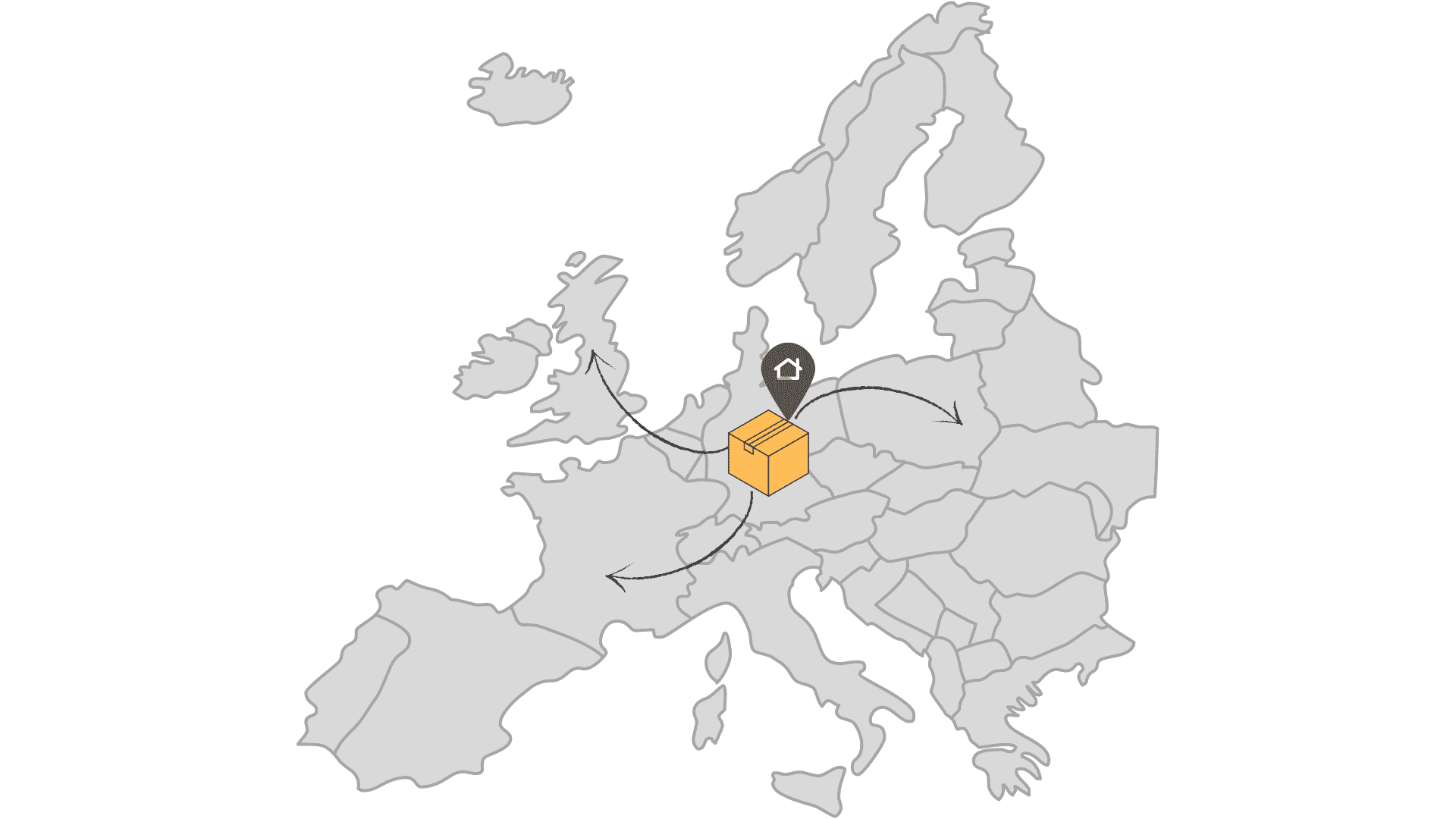 With EFN, your products will be stored in one of Amazon's fulfillment centers and distributed across Europe from there.
This means that you will have to ship your products to only one country's Amazon fulfillment center. Your orders will be packed and shipped from this center to all other marketplaces in Europe.
All products that are fulfilled within EFN are eligible for Prime.
Multi-Country-Inventory (MCI)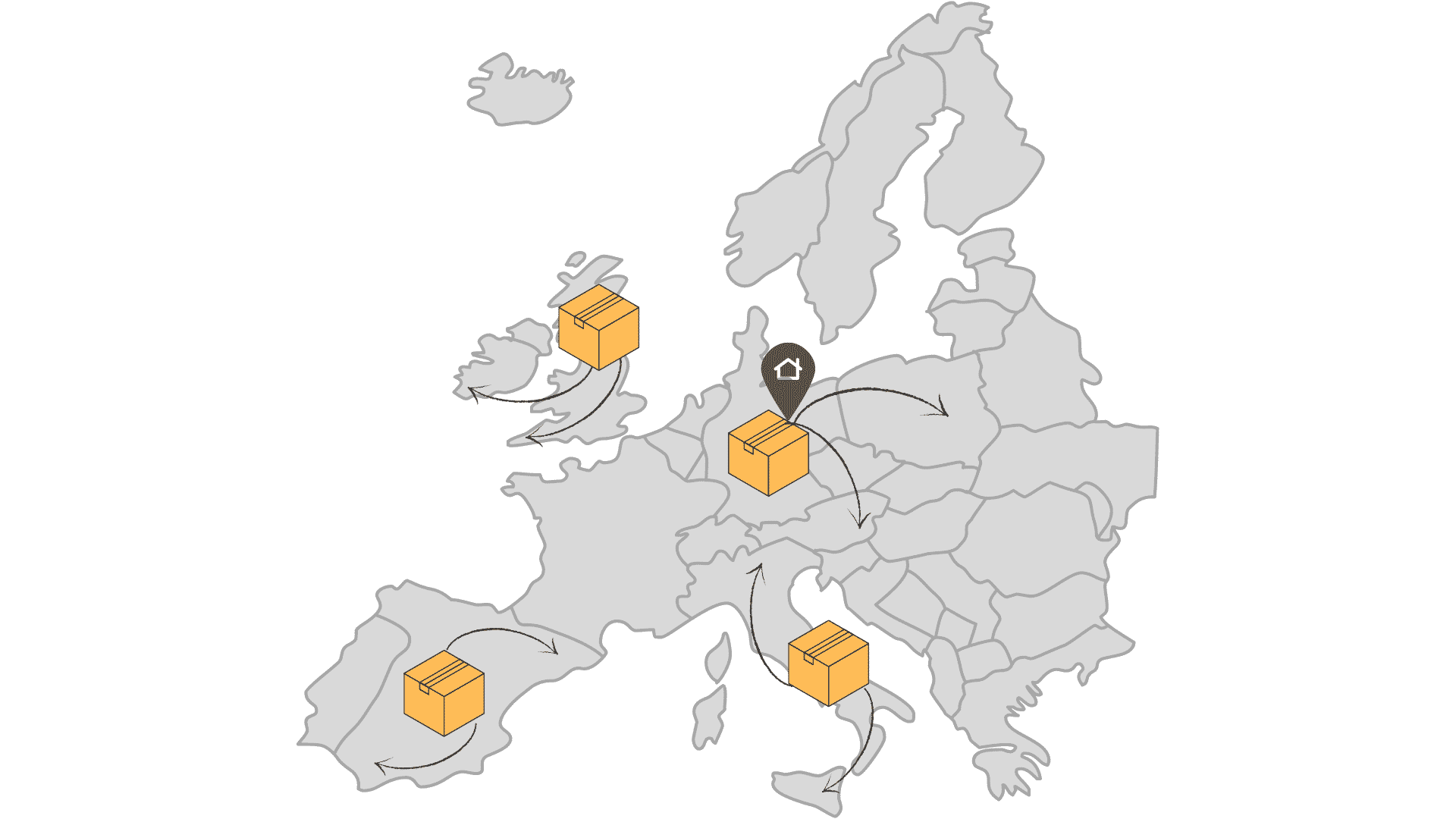 If you prefer to store your products in many different distribution centers throughout Europe, MCI is the right option for you. With MCI, you can ship your FBA stock to Amazon's distribution centers in multiple countries of your choice within Europe.
The Multi-Country-Inventory program has several advantages.
If you distribute your inventory across several countries, customers will receive their orders from their nearest warehouse and thus the delivery time will be as short as possible.
In addition, you save on transportation costs if you send stock in larger quantities to local fulfillment centers rather than sending individual orders across country borders.
Your products will be eligible for Prime in the country where your inventory is stored.
Pan-European FBA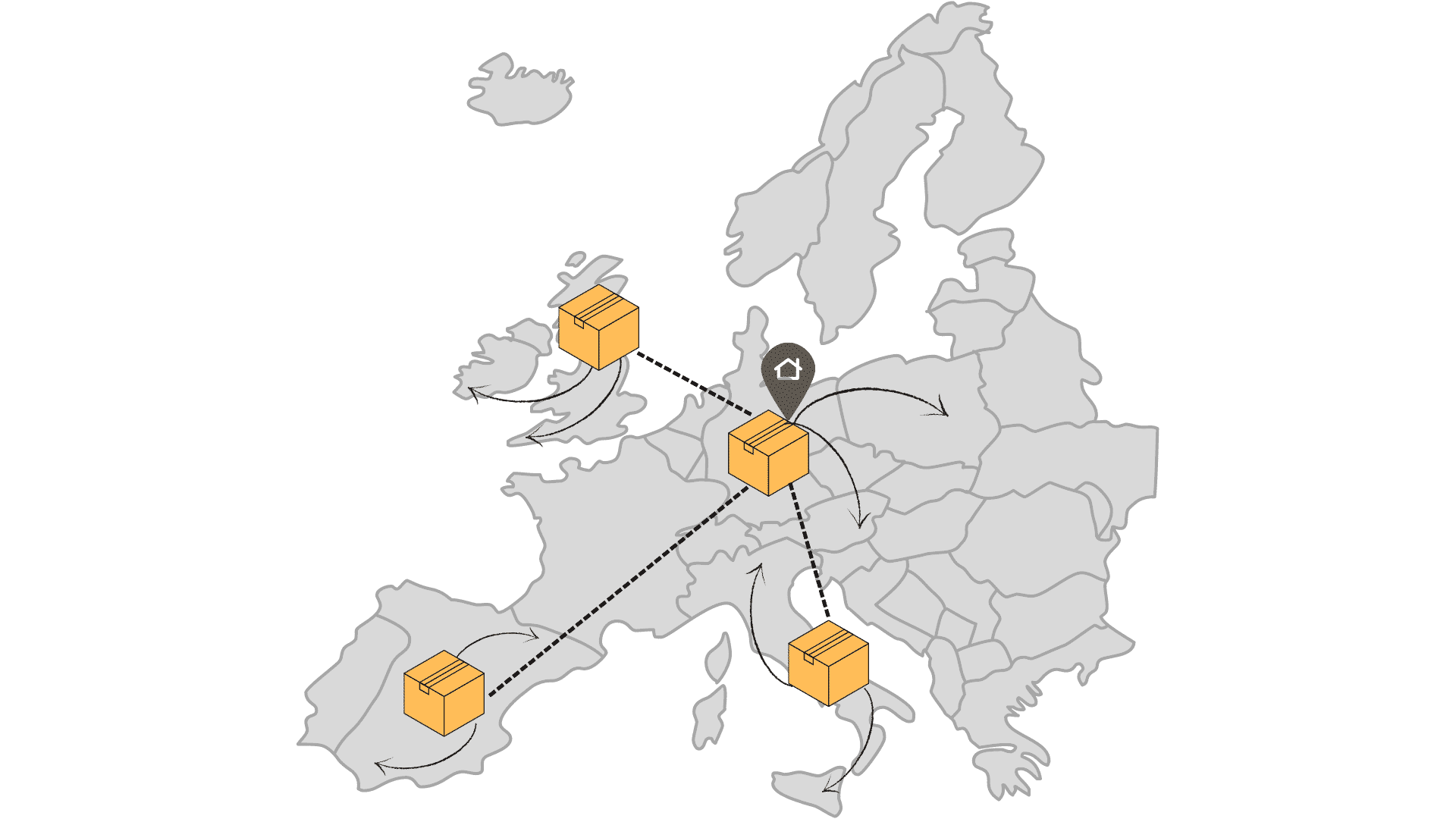 Last but not least, there is also the Pan-European FBA program which works similarly to EFN and is a very useful addition.
You send your products to one of Amazon's fulfillment centers and Amazon will then distribute the products throughout the EU according to the expected demand.
Please keep in mind that depending on the option you choose, you may have to charge local VAT.
Be sure to hire a bookkeeping and accounting service that is familiar with both the European tax laws and the Amazon logistics system. Regardless of the fulfillment method you choose, they can assist you and ensure that you are compliant with tax laws at all times.
When using Pan-European FBA, your products are eligible for Prime in all EU marketplaces.
Localization of Your Listings & Account Management Solutions for EU Marketplaces
Listing Translation Services
If you want to successfully sell your product in a country, your listings need to be translated into the respective language.
Usually, you won't speak German, French, Italian, Dutch, Spanish and Swedish so at some point, you should get help from an agency that specializes in translations of Amazon listings, so called Listing translation services.
If you want to convince them to buy you have to give them as much information as possible.
Buyers in other countries are much more emotional when making a purchase, so the texts are more about nice expressions rather than facts.
PPC Management and SEO Optimization
Usually, you will also need someone to take care of your local marketing strategy. This person should be able to speak the language of the country you wish to sell into fluently.
Also, keywords for listings and Amazon PPC campaigns need to be carefully selected, so it's best to use a native speaker.
We strongly advise you to hire an Amazon PPC agency and SEO agency to take care of the overall development and optimization of your marketing strategy.
Account Management and Support
You should also ask yourself if you want to hire a professional account manager for your EU business.
They can take a lot of work off your shoulders and due to their language skills they are usually better at dealing with day-to-day management tasks and customer support requests.
When selling in several EU countries, it is usually a good idea to hire an agency, as they will provide you with a team of managers with different language skills.
If you're looking for a lower-priced alternative, a virtual assistant might be a better choice for you.
However, when you hire a VA, you need to be careful because virtual assistants differ significantly in terms of their quality.
We have put together a helpful guide that explains what you need to pay attention to when you recruit a virtual assistant.
Conclusion: How an Expansion Consultant Can Help You Enter the European Market
Selling on Amazon Europe can be a total game-changer for you and your business.
You will be able to reach many new potential clients and increase your revenue significantly, but you might have realized that selling internationally isn't always easy.
Indeed, it can be a little overwhelming and challenging at first, which is why it's always best to consult an expansion expert and ask for individual advice. But if you do your research properly and have the right people at hand, expanding to Amazon Europe is a great opportunity.
Sermondo's Expansion Consultants know exactly what you need to successfully enter the European marketplaces. Simply use the free matching service and Sermondo will find the right consultant for you based on your individual needs. Or you can also find the best Amazon Business Global Expansion & International Marketplace Experts here.
Quick. Easy. 100% Free of charge!