If you are importing products from China to sell on Amazon, it makes sense to get support from a sourcing agent. Why? Since you are probably located far away and can't just take a trip to China if you have any questions, a local sourcing agent can make sure all your requirements are met and help you find the best supplier for your bestseller product.
So if you want to hire a reliable and trustworthy sourcing agent, there are a few things to consider. To help you on this matter, you'll find everything you need to know on this topic in this guide. For example: What makes a good sourcing agent and how much does a sourcing agent cost? We got you covered! You'll even find a 7 step checklist. Ready? Let's get started!
What Is a Sourcing Agent and Which Type of Services Do Sourcing Agents in China Offer?
Product sourcing describes the process of finding a source (i.e. a supplier) for a product you want to sell. 
Simply put, a sourcing agent is someone that helps you find the right supplier for you and ensure they meet your requirements. Services provided by sourcing agents include
market research,
supplier selection,
price negotiation,
quality assurance,
quality control,
pre-shipment inspection,
customs clearance,
and many more.
Sourcing agents are usually located close to potential suppliers, speak the same language and are familiar with customs.
One of the most popular countries for sourcing is China as most products can be manufactured very cheaply there. China is the world's largest producer of factory goods and a world leader for many product types. If you want to have a customized product, there is a good chance finding a suitable manufacturer in China for it. 
That's why there are so many sourcing specialists in China and why this blog post will focus on finding a sourcing agent in China.
What Does Working with a Sourcing Agent Look Like?
So here is an example of what working with a sourcing agent may look like: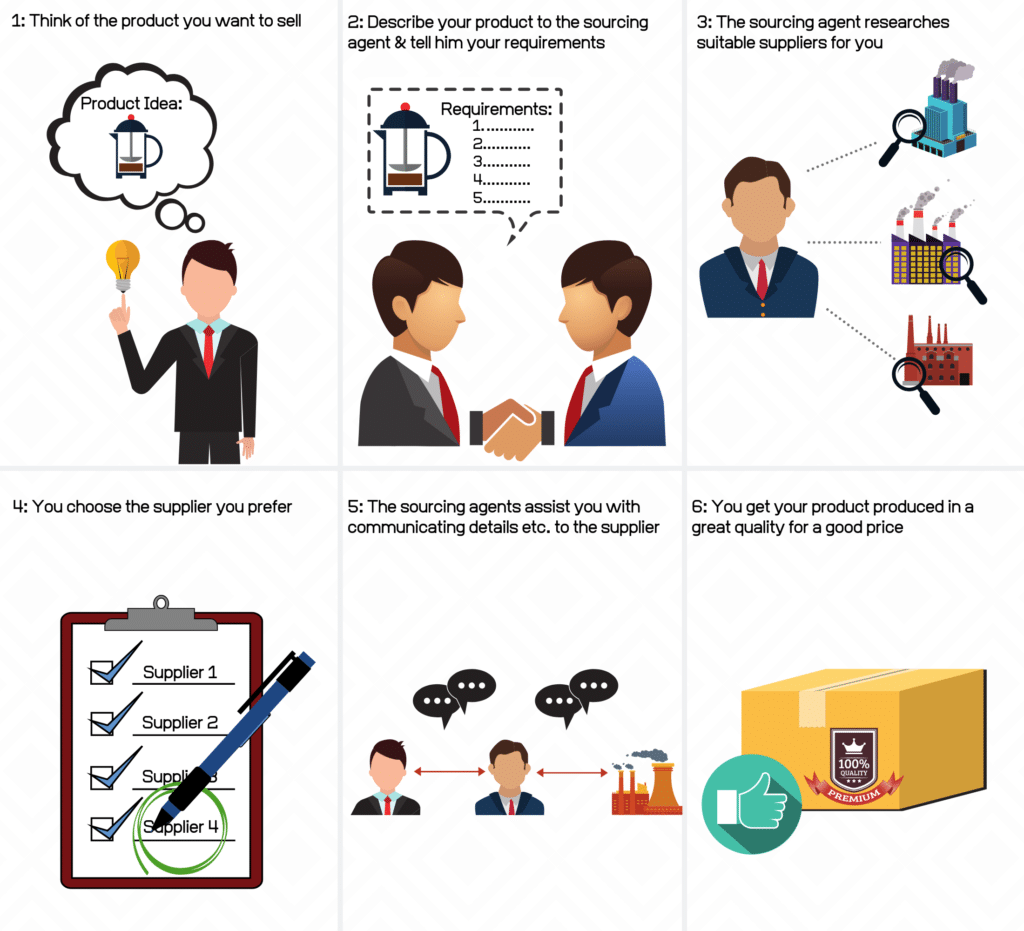 Step 1: You think of a product you want to sell, including material, size, use etc.
Step 2: You describe your product or product idea to the sourcing agent. 
Step 3: The sourcing specialist researches 5-10 suppliers for you that meet your requirements for quality, price, scope of services, delivery time and ethical aspects (working conditions, factory safety etc).
Step 4: You choose a supplier from the list your sourcing agent provides.
Step 5: The sourcing agent acts as intermediary between you and the supplier. The sourcing agent facilitates the communication between you and the supplier.
Step 6: You get your product with all the specifications you wanted. 
Which Types of Sourcing Agents Are There?
As in many other service industries, there are also different types of sourcing agents:
Single Sourcing Agents Who Work Independently
Especially in China there are many sourcing agents who work on their own. They usually don't have many clients at the same time and can therefore build up a very personal relationship with you.
However, there are also disadvantages to working with only one person.
You are 100% dependent on them and it will be difficult to find information about them before you start working together. In addition, their network is probably smaller than the network bigger sourcing agencies have.
Sourcing Agencies
Sourcing agencies are companies that employ several sourcing agents who have different product focal points. For example one for consumer electronics, one for beauty products, one for furniture etc.
These sourcing agencies usually have a large supplier network and the human resources to provide you with a sourcing agent that's experienced with your type of product.
However, in comparison to independently operating sourcing agents, sourcing agencies are usually a little more expensive.
Full Service Sourcing & Logistics Companies
The last type are companies that offer sourcing as one of many different services. They may also offer quality inspections and logistics services such as shipping and fulfillment.
Of all three types, full service sourcing & logistics companies are usually the most expensive. However, bigger companies like that have the advantage that all the tasks from finding a supplier to delivering a product to the Amazon warehouse can easily be handed over.
The in-house communication will also be better compared to hiring many different companies to work together. But in this case you need to be aware that your risk also increases, as you are strongly dependent on one single company if you leave all logistics duties to them.
Why Should You Hire a Sourcing Agent in China? The 5 Biggest Benefits
Many Amazon sellers are deterred from sourcing products from China. Especially if you don't know the culture and the language, importing from other countries seems like an extremely difficult task.
In addition, you hear stories of sourcing agents who are said to have stolen product ideas in order to sell the product themselves or the product idea to a competitor. However, you shouldn't be too afraid of that if you chose a good sourcing agent.  
In the end, there are so many benefits of hiring a sourcing agent, that totally outweigh the risks:
Hiring a Sourcing Agent in China Helps You Save Time
The most important and strongest benefit of hiring a sourcing specialist is that you save a lot of time. 
You don't have to dig through hundreds of pages of suppliers on the internet, spend time vetting many different factories and conducting long complicated negotiations about product specifications. Your sourcing agent will take care of all these tasks for you.
A Sourcing Agent in China Reduces Language Barriers
A sourcing agent will also help you to set up a perfect briefing which you can then provide to the supplier of your choice. This is especially important if there is a language barrier, as it really depends on exact details. 
In addition, the agent knows exactly what needs to be included in the briefing, i.e. everything the supplier needs to know about your product.  
Sourcing Agents Are Negotiation Experts
Some sourcing companies also offer negotiation services. 
They know the suppliers' "pain threshold" regarding the price. This means they can negotiate the lowest price while still maintaining quality. 
A common mistake among Amazon sellers is that they haggle until a point where the supplier "breaks", meaning that they will try to cut costs by reducing the material or production quality – often without telling you. A sourcing agent speaks the language perfectly and knows the culture. This way, negotiations are a lot more efficient and faster.
Sourcing Agent Reduce the Risk of Being Scammed
It is always advisable to see official certificates and licenses from your manufacturer. In recent years, more and more manufacturers have attracted negative attention due to bad working conditions or poor product quality. But what's the point of seeing certificates and licenses if you don't speak the language in which they were issued? There is none.
Although you can have them translated professionally, it's very expensive and you still don't know if the documents are legitimate. 
This is exactly where a sourcing agent can help you. A sourcing agent knows exactly which criteria the manufacturer has to meet, which inspection bodies are responsible and what the official certificates have to look like. 
Sourcing Agents Have Lots of Experience & Network
When you hire a sourcing agent, you are not only paying for the services they actively perform. You also pay for the years of experience and the network the agent can access.
They usually have already worked with several different manufacturers and know which ones are most suitable for which type of product. 
What Makes a Good Sourcing Agent?
As mentioned above, many Amazon sellers are afraid of working with sourcing companies because they are afraid of being scammed.
However, the benefits of working with a sourcing agent are definitely worth it. But how do you know if a sourcing specialist is good or not?
We'll show you the characteristics that make a good sourcing agent and which red flags to look out for:
Business License – A good sourcing agent has an official business license and is willing to show it to you.
Experience & Specialization – Another important quality factor is the experience the sourcing agent has.

Did they just start the job two weeks ago or have they been in the sourcing business for years and already gained experience? Experience is crucial,

otherwise they won't know which suppliers are good and which are bad.

In the end, that's why you hire them.

Their specialization also plays an important role. 

If you sell consumer electronics and the agent only has experience with apparel suppliers, they are most likely not the right fit for you.

Proof of References – The more experience a sourcing specialist has, the more companies they will have already worked with. A good product sourcing agent will present a number of testimonials and referrals.
Language Skills – One of the most important tasks of any sourcing company is to mediate between you and the supplier. 

Thus, it's essential that they perfectly speak a language you know well and the language of the supplier. 

It's useless if they speak perfect Chinese but can't explain to you what's going on in your language. After all, manufacturing is all about details and special characteristics your product should have. 

If they aren't able to communicate those characteristics properly, you won't get the product you want.

Location & Flexibility – Geographical proximity also plays an important role. 

For example, if you want to source a product from Shenzhen, your sourcing company should also be located there.

Supplier Network – A good sourcing specialist is able to present you with several factories that can provide your product. 

Thus, they should have a large network and know exactly which suppliers are best for your product.

Transparency – As with any other service provider, transparency is an absolute must. A great sourcing agent tells you in advance which costs could occur and how these costs are composed.

In addition, they should agree to visiting the factory with you if you want to.

Transparency regarding the supply chain is crucial. 
Red Flags to Look Out For in Sourcing Agents
Just as there are very good sourcing companies, there are also bad and unprofessional ones.
So here are some red flags to look for:
The Sourcing Agent is Paid by the Factory – Don't hire a sourcing agent that is (also) paid by the factory they are referring to you.

Loyalty is usually granted to who pays – and this situation is only causing conflict.

The Sourcing Agent Works on Commission – If a sourcing agent offers to do quality inspections at the manufacturer but works on a commission basis, something may not be right. Some contracts specify that the sourcing agent only gets money if you accept the goods.

If your sourcing agent finds a defect in your product, they would not get their commission. So why why would they tell you about it then?

 
How Much Does It Cost to Hire a Sourcing Agent in China?
Now let's get to the part that's usually of the greatest interest for most Amazon sellers: How much will you have to pay for the product sourcing services?
There are three common ways how sourcing companies usually get paid. Let's have a closer look what they are and what their pros and cons are.
Commission-based Pricing Model 
As mentioned before, sourcing agents often work on a commission basis. 
This pricing model depends on order quantity, order frequency and order value. Usually the commission percentage is between 2 and 10 percent, often around 6%. The smaller your order, the higher will be the commission fee. 
A simple example:
If the order value is only $1,000, you will pay about $100 (10%) for the sourcing service. If your order value is $50,000, you usually won't have to pay $5,000 (10%), but around $2,500 (5%) or less.
Another common structure is that the commission for the first order will be high and for repeating orders lower.
The sourcing company does all the work in finding a suitable supplier for you. As soon as you're ready to place an order, the commission is agreed. You will pay the amount to the sourcing company as soon as the goods are shipped. The problem here is that the sourcing agent has no interest in finding a low priced supplier. The higher the order value, the more the sourcing agent earns from the deal. So why should they suggest a factory that can make your product for $5,000 if they can suggest one that charges $10,000 where they earn a commission that's way higher? So this pricing model may cause a conflict of interests.
Charging an Hourly Rate
In this model, the sourcing agent is paid according to his working hours.
The advantage is that no matter how much the deal with the supplier is worth, you will only pay the fixed hourly rate. However, in this case your sourcing specialist has every reason to take his time. 
You might pay more than the work is worth and will receive the results later than necessary.
Agreeing on a Flat Fee
With this model, you pay a fixed amount that is agreed at the beginning of the project. The sourcing company starts the research right away and you will receive a list of suitable suppliers and an evaluation of which one is best for you. 
There will be no further costs.
The disadvantage here is that you will pay in any case – whether you choose one of the suppliers the agent researched for you or not. The sourcing agent may not put that much effort into the research because they will get paid either way.
Mixed Payment Structure
In the mixed model you will pay a flat fee until a certain amount.
If the order value exceeds that threshold, a commission fee will be charged. The advantage is that you don't have to commit immediately. Instead, you can first order a smaller amount to see how good the supplier is without paying much to the sourcing company. 
This way you can test how well the cooperation with the sourcing agent works without entrusting them with a large amount of money right away. You can see how a mixed model looks like in the example below.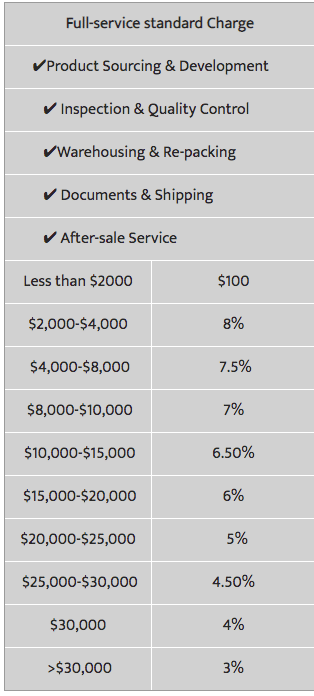 How to Find the Best Sourcing Agent in China  – 7 Steps Checklist:
To help you find the ideal sourcing agent for your business, we compiled this helpful checklist:
Step 1: Define What You Need
The first step is to become aware of what you need and what requirements you have for your sourcing agent and supplier. It's helpful to write down notes describing what is important to you. 
This includes the scope of services, language skills, location, level of experience, payment model, etc. Your requirements to the manufacturer should also be clearly defined: Which working conditions should prevail, which material type and quality should be used, how long should the delivery times be etc.
Step 2: Set Your Budget
In the second step, you should think about your budget.
How many units do you want to produce, how much can you spend on your products and how much can you pay your sourcing agent? It is best not to set a 100% fixed budget, but a range, as unexpected costs can always occur.
Step 3: Choose a Sourcing Agent
As mentioned before, there are different types of sourcing agents. 
Each type has its pros and cons. Decide whether you prefer to work with a single agent, a larger sourcing company or a full service sourcing & logistics company.
Step 4: Research & Compare
Now that you know what you need and what kind of sourcing agent you want to work with, you can start your research.
But don't just Google and use the first result that pops up. On platforms like Sermondo you can get a great overview with all the info you need.
Select 3-4 sourcing agents that meet the criteria you defined in step 1.
Step 5: Get Different Offers & Ask for Business Licenses
Now get offers from the sourcing agents you already included in your selection. 
The offer should include the price for each service you want to use, the pricing structure and how the price is calculated.
Important: Get a copy of the business license together with the offers! Then choose the one that fits your requirements and budget best.
Step 6: Negotiate Payments
Now that you have chosen a sourcing agent, you still have to negotiate payment. While larger companies usually have a fixed price structure, you can often negotiate a better price with agents who work independently.
Step 7: Write Down a Contract
In the last step, you should write down everything that was agreed upon that both parties accept. For example, it must be clear who is responsible in the event of poor production quality or delayed delivery.
The type of payment and the amount should also be written down and confirmed by both parties. 
Bonus: Important Questions to Ask Your Sourcing Agent in China
Conclusion on Finding the Best Sourcing Agent in China: It's Worth It!
Now that you learned everything there is to know about finding a sourcing agent in China, we hope that you feel ready to go out there and find your perfect sourcing agent. It will pay off in the end!
Happy sourcing!