As an Amazon seller, using Amazon PPC software is an absolute must. Amazon's ad system is becoming increasingly complex and it can be hard to keep track of all your campaigns and their key performance indicators.
Trying to successfully run PPC ads with Amazon's Campaign Manager only is fairly hopeless. This is especially true if you sell not just one or two, but many different products on the Amazon marketplaces or if you need to run profitable campaigns on a limited budget.
Fortunately, there are various Amazon PPC software tools out there that are designed to help you set up, manage, monitor and optimize your campaigns. From pure dashboards to full Amazon PPC automation software, there is a wide range of helpful tools to make your life easier.
What to Look For in an Amazon PPC Tool 
Basically, there are 7 things that every good Amazon PPC software tool must have.
Strong Keyword Research Feature – The keywords are the main success factor for your Amazon PPC campaigns. Only if you know what your customers are looking for and if you optimize your campaigns for the relevant keywords, your ads will be displayed for the right search terms and will have a high conversion probability.
Broad Marketplace Availability – It is very important that the tool is also available beyond amazon.com, for example on European or Asian marketplaces. If you, at some point, decide to expand your Amazon business to Europe, you can simply continue to use the tool.
Comprehensive Metrics Dashboard – In the fast-paced world of Amazon PPC, you need to keep track of your key metrics. Any good Amazon PPC tool has a well-organized dashboard from which you can check your KPIs at a glance and see how well your campaigns are performing. If your ACoS is too high or your RoAS too low, you need to be able to see this in an instant so that you can quickly take countermeasures.
Automation Capabilities – Whether based on rules you set or driven by AI, the Amazon PPC tool should be able to take manual work off your hands by automating workflows like keyword management or bid adjustments.
Reliable Support – If you ever experience any issues with the tool, you need reliable support that can help you solve the problem quickly.
Trial Period – Every reputable tool will usually offer the option to test the software first. A 7, 14, or 30 day trial period or a generous money back guarantee is considered standard.
Free Training And Resources – All good Amazon PPC software companies offer free online training and resources in the form of webinars, video demo walkthroughs and detailed blog posts. These are designed to help you understand the tool and its features and learn how to use it to its full potential.
The 10 Best Amazon PPC Management Tools 
In the vast ocean of Amazon PPC software tools available, 10 popular solutions have prevailed over the past few years. Some offer a full software suite with multiple tools that go beyond PPC, some are limited exclusively to their ad feature.
Read on to learn more about the key features and characteristics of each tool and see if they are right for you.
1. Sellics
Sellics is one of the oldest and most popular Amazon advertising tools on the market. It gives you the ability to easily automate your campaign management by either setting rules yourself or letting Sellics' proprietary AI algorithm take care of it.
Smart ad scheduling, easy target ACoS setting and sophisticated keyword and bid management automation take a lot of work off your hands.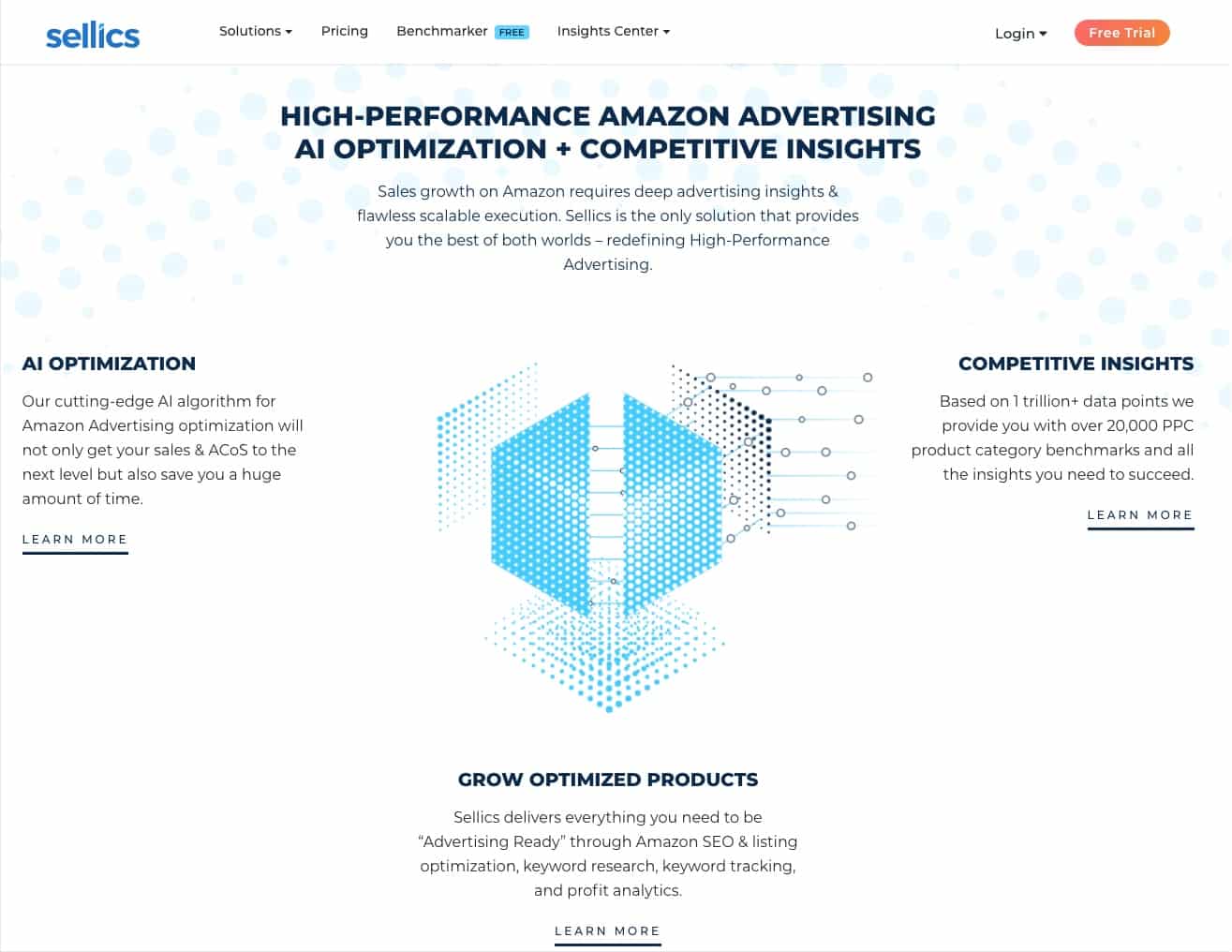 Pricing
Starting at $198/month
Trial Period
Free 14-day trial period
Features That Make Sellics A Great Choice
Artificial Intelligence – Sellics is one of the few tools with a proprietary AI algorithm. It evaluates keyword clusters, sales peaks and troughs, and hundreds of thousands of other parameters and adjusts your campaign based on its analysis.
Competitor Research – The tool lets you spy on your competitors and compare the performance of your own campaigns with those of your competitors.
Mobile App – You can download a convenient mobile app that allows you to check the performance of your campaigns anytime, anywhere.
Full Tool Suite – If you choose Sellics as your Amazon PPC tool you get access to additional useful tools like review management features or SEO optimization tools.
Who Should Consider Choosing Sellics As Amazon PPC Software?
Sellics is suitable for both beginners and advanced sellers as well as large Amazon agencies who are looking for a solid, success-proven PPC solution.
2. Helium 10
Helium 10 is probably the most widely used Amazon tool on the market. With over 20 features, the software suite covers almost every need.
Adtomic, Helium 10's Amazon PPC software feature, provides you with handy predefined campaign strategies and templates to easily build your campaigns according to your goals. In addition, some Adtomic features are AI driven, such as keyword bid management.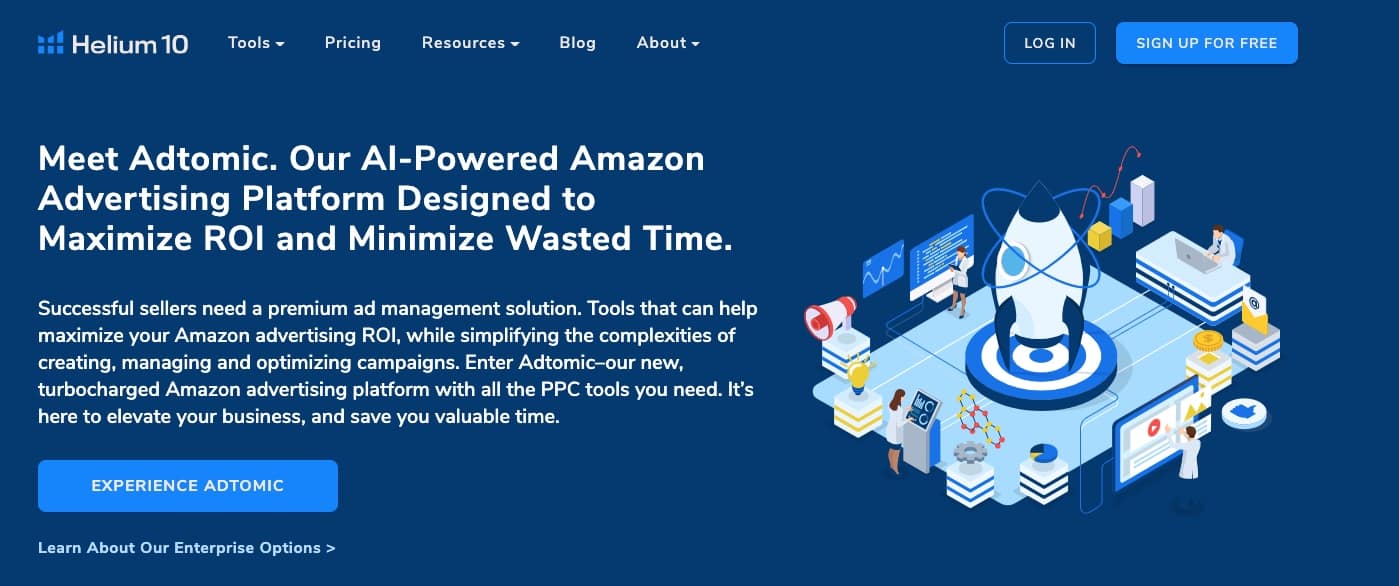 Pricing
Adtomic cannot be purchased separately but only as part of the entire Helium 10 suite. To use the PPC feature without restrictions you need to be at least a subscriber of the Diamond Package, which costs $197/month.
Use the code SERMONDO10 to get 10% off your Diamond subscription every month.
Features That Make Helium 10 A Great Choice
Smart Auto-Suggestions – The automatic keyword suggestions and bid adjustments that Helium 10 provides will save you hours of manual keyword search work.
Handy Templates – The available campaign templates help both beginners and expert sellers to create new PPC campaigns easily and quickly.
Powerful All-In-One Tool – With your subscription you automatically get access to all 23 tools that help you manage all aspects of your amazon business.
Support Groups And Masterminds – Helium 10 publishes tons of educational content on all things Amazon and gives subscribers exclusive access to member groups and masterminds, as well as the Freedom Ticket Amazon course.
Trial Period
If you want to test the full Helium 10 suite with all tools and features, you can fully subscribe to a plan of your choice and make use of the 30 day money back guarantee in case you don't like the software.
Who Should Consider Choosing Helium 10 As Amazon PPC Software?
Helium 10 is a good solution for all Amazon sellers, big and small. With the software suite you have a good tool solution for every aspect of your business, including Amazon PPC.
3. Seller.Tools
Seller.Tools is a full Amazon software suite that also includes an Amazon PPC feature. The software company puts a lot of emphasis on automating processes, so with Seller.Tools you can, for instance, automate your bid management and ad scheduling.
Pricing
To take full advantage of the Amazon PPC feature you must subscribe to the "Professional" package or higher, which starts at $197/month.
Use the code SERMONDO to get 5% off your subscription every month.
Features That Make Seller.Tools A Great Choice
Keyword Harvesting – Seller.Tools has a sophisticated keyword research tool that allows you to quickly and easily find relevant keywords and add them to your campaigns
AI-Driven Suggestions – The tool is capable of machine learning and suggests keyword bids and campaign structures based on its learnings, which you can implement directly
Negative Targeting – The software continuously analyzes your campaigns and identifies not only the best performing keywords but also the worst performing keywords, which you can then negatively target
Ad Scheduling – Dayparting is also possible, you can schedule your budget spend and bid amount precisely to the hour on a keyword level
Trial Period
Free 14-day trial
Who Should Consider Choosing Seller.Tools As Amazon PPC Software?
Seller.Tools is a very comprehensive tool that doesn't focus purely on PPC, but if you love automation and are looking for a powerful all-in-one, you definitely can't go wrong with Seller.Tools.
The tool is made for both beginners and advanced Amazon sellers.
4. Teikametrics
Teikametrics is a pure Amazon PPC software tool. Although other software features will be added in the future, Teikemetrics' polar star is and will always be Amazon advertising.
You can completely automate your bid adjustment, your campaign setup as well as your keyword management and even let the tool's AI make optimization decisions for you.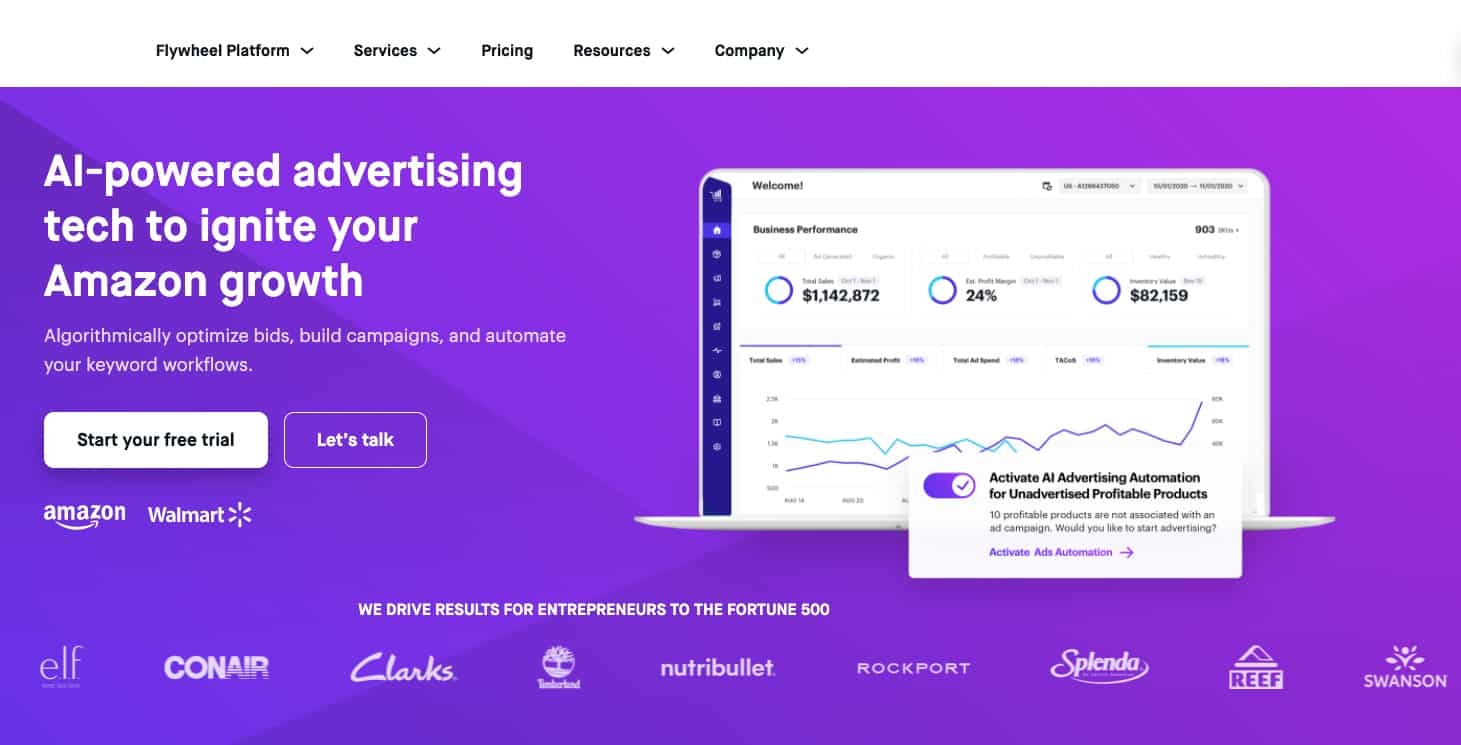 Pricing
Starting at $59/month plus 3% of ad spend (the 3% are only charged if you exceed $5k in ad spend)
Features That Make Teikametrics A Great Choice
Automatic Campaign Creation – You can let Teikametrics automatically create entire sponsored product campaigns with suitable ad groups for you based on your goals and your product lifecycle stage.
Smart Bids – The algorithm is constantly learning and can quickly identify which bids offer the best price/performance ratio for your goals and then automatically adjust them.
Auto-Targeting – The keyword targeting, including the adjustment of the keyword match type, can be done automatically based on your rules regarding CPC or CTR.
Profitability Dashboard – With the in-depth performance analytics and the user-friendly dashboard you always have an eye on your KPIs and profitability.
Trial Period
Free 30-day trial
Who Should Consider Choosing Teikametrics As Amazon PPC Software?
Thanks to the many campaign structure suggestions provided by the algorithm, Teikametrics is perfect for beginners who are not that familiar with PPC yet.
However, Teikametrics is also a great tool for advanced sellers who want to get rid of daunting manual work and take their campaigns to the next level.
5. BidX
BidX is a pure Amazon PPC software tool with many helpful features for setting up and managing campaigns. The core of BidX is the use of a sophisticated machine learning algorithm that supports the automation of their users' campaign management.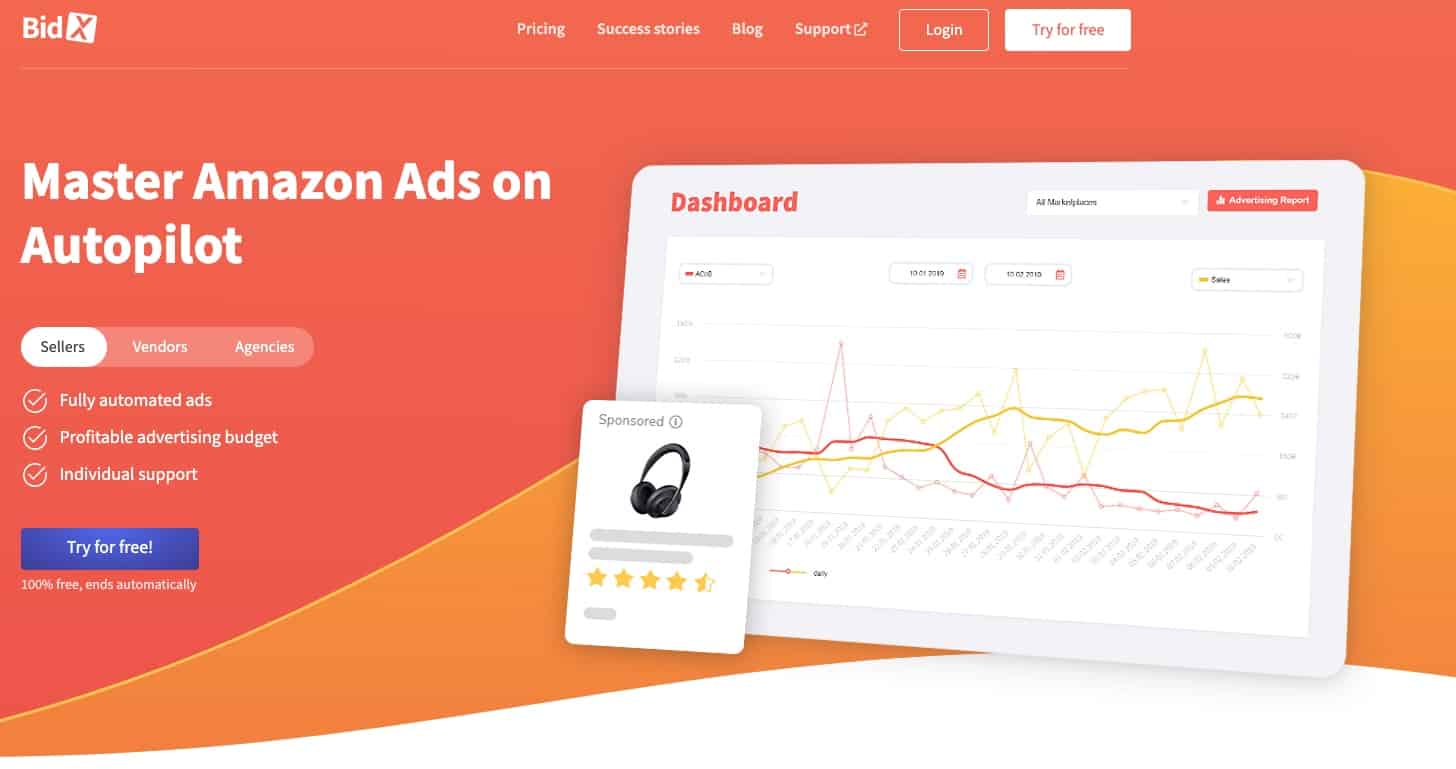 Pricing
Starting at $149/month
Features That Make BidX A Great Choice
1-Click Campaign Creation And Presets – With BidX you can save your campaign settings as presets and create new campaigns based on these presets with just one click.
Automated Keyword Suggestions – BidX scans Amazon's auto campaign keyword suggestions and suggests the most relevant ones to you. You can then directly add these keywords to your campaigns with one click.
Algorithmic Bid Optimization – The tool collects all performance data, automatically identifies the best performing and worst performing keywords of your campaigns and adjusts the bids accordingly.
Profitability Reports – BidX continuously collects and evaluates all important campaign data and makes it available to you in the dashboard and as customizable reports to download.
Trial Period
Free 14-day trial
Who Should Consider Choosing BidX As Amazon PPC Software?
Sellers and Vendors – especially advanced ones – as well as Amazon agencies will be happy with the BidX tool and its advanced features.
6. Perpetua
Perpetua is a multichannel eCommerce tool that allows you to manage your advertising campaigns not only on Amazon but also on other marketplaces such as instacart or Walmart.
It's an AI-powered platform whose algorithm helps you automate your sponsored product and sponsored brand ads as well as your DSP.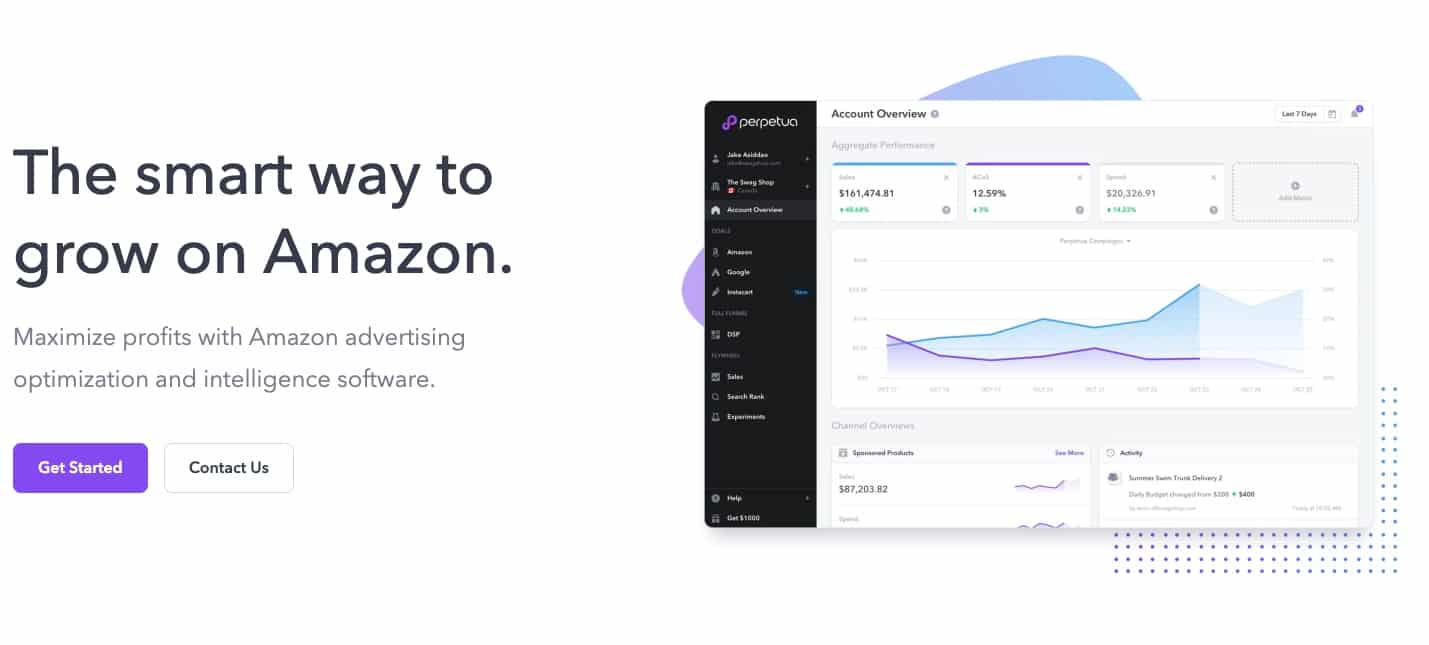 Pricing
Starting at $250/month
Features That Make Perpetua A Great Choice
Algorithmic Bidding – The algorithm analyzes which keywords and keyword match types are most likely to convert and automatically places the most efficient bids on them according to your campaign goals.
Keyword And ASIN Discovery – The tool will automatically search for keyword and target ASINs for you to use in your campaigns.
Multichannel Ad Management – Besides Amazon, you can also use Perpetua to manage your advertising on other marketplaces such as Walmart, Target and instacart.
Targeted Ad Spend Allocation – With Perpetua you can allocate your ad budget to target specific brands, categories, and competitors in order to attract new customers.
Trial Period
There is no free trial, but you can reach out to the sales team to discuss pilot pricing plans.
Who Should Consider Choosing Perpetua As Amazon PPC Software?
The tool is especially useful for agencies and large brands that already sell on multiple marketplaces or plan to do so in the future.
7. Seller Labs Pro
Seller Labs Pro is a full tool suite with which you can manage not only your PPC, but also almost all other areas of your Amazon business. The tool is driven by a powerful AI-driven algorithm that is designed to automatically optimize your campaigns, like your bid management or keyword selection.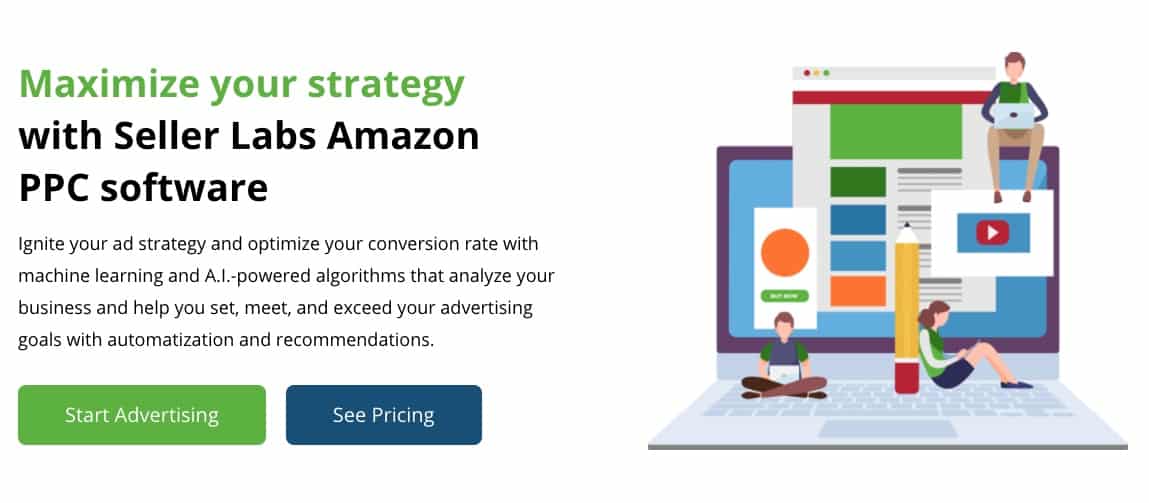 Pricing
Starting at $49/month
Features That Make Seller Labs Pro A Great Choice
Automated Campaign Creation – You can choose a campaign strategy based on your goals, set a daily budget and target and depending on that, Seller Labs will automatically create different campaigns for you.
AI-Driven Campaign Optimization – The campaigns are continuously evaluated by the AI algorithm and based on the analysis results your budget is allocated, your bids are increased or decreased and your keywords are adjusted.
Suggested Actions – If you don't have full AI automation enabled, Seller Labs will still suggest smart actions to take based on your target ACoS, such as increasing your maximum bid or changing the match type of keywords.
Full Tool Suite – With the Seller Labs Pro subscription, you also get access to many useful additional tools such as a product review manager or an inventory management solution
Trial Period
Free 30-days trial
Who Should Consider Choosing Seller Labs As Amazon PPC Software?
Seller Labs Pro is a powerful all-in-one suite and especially suitable for Amazon merchants who do not yet work with any other tools. Both sellers who have just started selling on Amazon as well as experienced big brands and sellers are well off with this tool.
8. Trendle
Trendle is not a pure Amazon PPC software tool, but includes 9 other useful features to help you manage your Amazon business.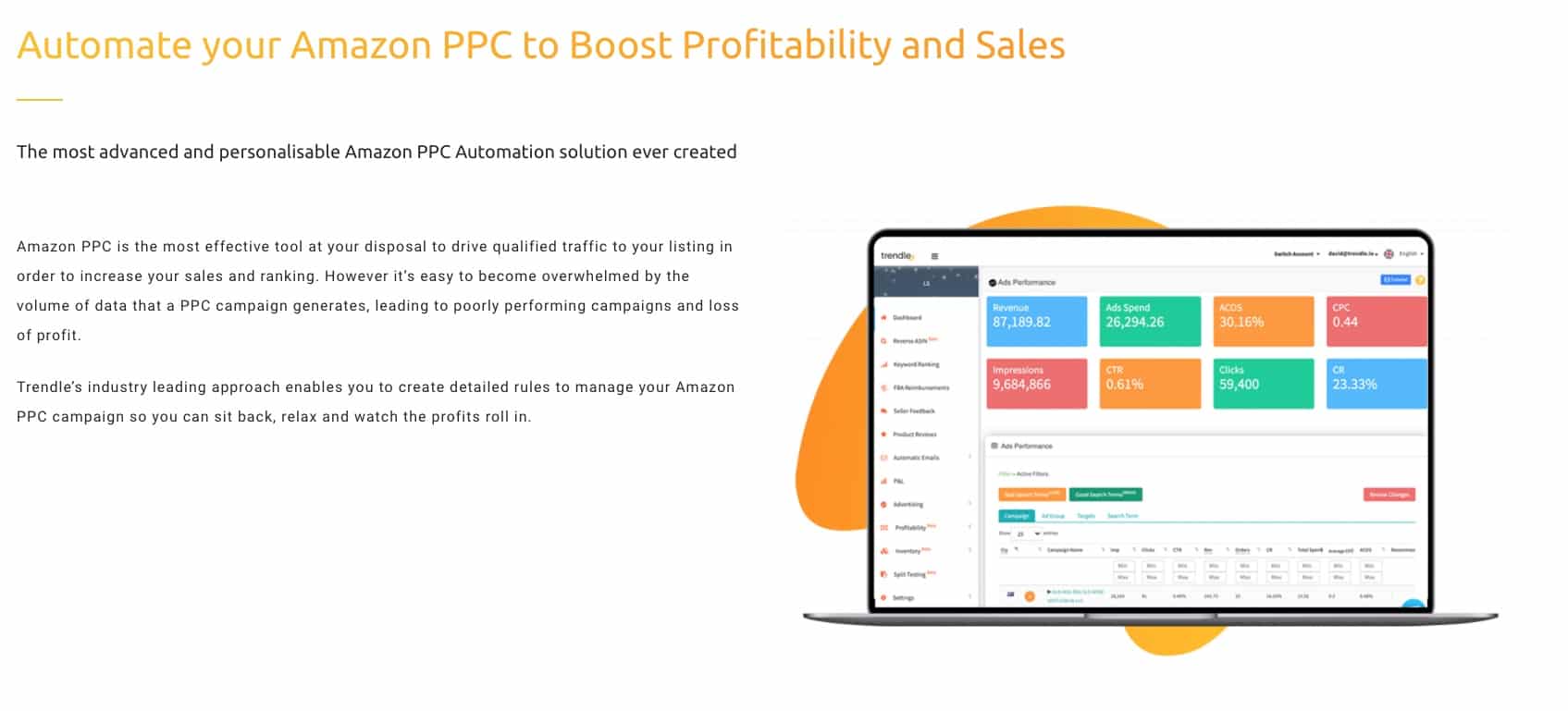 Pricing
Starting at $10/month
Features That Make Trendle A Great Choice
Rules-Based Automation – Simply set parameters and rules of your choice and Trendle will automatically adjust your campaign structure, bids and keywords to match those criteria.
Negative Keyword Targeting – Poorly performing keywords are automatically set to negative targeting in order to protect your ad budget.
Lifetime Data – In your customizable dashboard you can always see all of your historical PPC performance data even up to 60 days before the day you became a Trendle user.
Value For Money – For as little as $10 a month, you get full, unlimited access to all ten features of the software suite, which is very affordable compared to other tools.
Trial Period
Free 14-days trial
Who Should Consider Choosing Trendle As Amazon PPC Software?
Especially if you are a beginner and don't have much budget for software tools Trendle is a great choice with its low subscription fees. The price-performance ratio is really good and both beginners and advanced sellers can manage their business well using the suite.
9. SellerApp
SellerApp is a software suite with both an Amazon PPC feature and other useful tools for product research, listing optimization and more.
In its advertising functions, the suite relies on machine-learning algorithms to simplify the optimization of your campaigns.

Pricing
Starting at $99/month
Features That Make SellerApp A Great Choice
Target-Based Automation – Specify your campaign and profit targets and the machine-learning algorithm will automatically make bid and keyword adjustments for you.
Negative Keyword Targeting – The tool detects and warns you about the worst performing keywords that are dragging down your campaign profitability. They can be removed with a single click
Auto-To-Manual Management – The Auto-To-Manual feature analyzes the top converting keywords from your auto campaign, so that you can transfer them directly into your manual campaigns.
Well-Structured Data Dashboard – The PPC dashboard summarizes all of your key performance metrics in a way that you can see all important information at a glance.
Trial Period
Free 7-days trial
Who Should Consider Choosing SellerApp As Amazon PPC Software?
SellerApp is suitable for both small and large sellers. While it is not a 360° tool suite, its functions cover the most important areas of marketing and sales and give you a good overall view of your profitability.
10. Sellozo
Sellozo is a pure Amazon PPC tool and offers no other functionalities besides its ad features. Powered by AI, you can automate large parts of your campaign management with the software solution.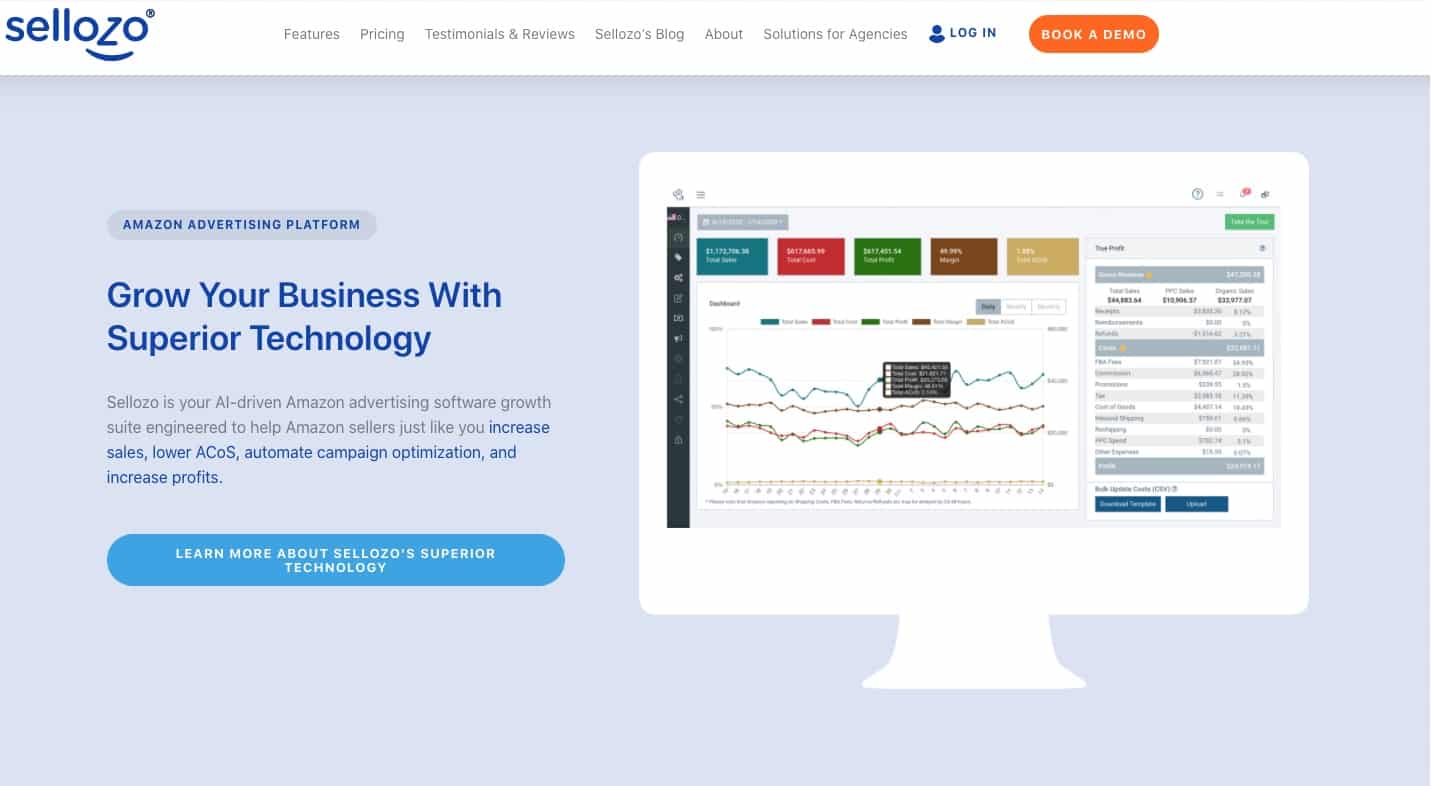 Pricing
Starting at $104/month
Features That Make Sellozo A Great Choice
Ad Dayparting – With Sellozo you can define when your ads should be run and when not. This way you can save your budget at low performing times and take advantage of the best times.
AI Driven Bid Management – The algorithm analyzes which keywords convert best and when, and automatically adjusts the bids accordingly.
Drag-And-Drop Keyword Discovery – A convenient drag-and-drop interface facilitates keyword selection and keyword management.
Machine Learning-Based Keyword Research – The keywords suggested by the tool are evaluated and harvested by the AI algorithm according to profitability criteria.
Trial Period
Free 14-days trial
Who Should Consider Choosing Sellozo As Amazon PPC Software?
Sellozo is an efficient and user-friendly tool suitable for all sellers who want to take their PPC to the next level – no matter if you are a beginner or an experienced seller. The unique features of the comprehensive software make it a powerful automation engine.
Conclusion – Use Amazon PPC Management Software and Tools to Increase your ROI
You can't go wrong with any of the ten tools. Each of the software solutions helps you save hours of manual work and automate your campaign management, either rules-based or based on algorithms driven by artificial intelligence, and provide more or less the same kinds of features.
However, the decision as to which software you ultimately implement should be well-considered. "Tool jumping", i.e. the frequent changing of software, is very expensive and leads to a lot of hassle.
Which one suits you best depends on your individual situation. While we have already written an in-depth guide to help you find the right Amazon PPC software tool, choosing a tool that best fits your needs basically boils down to three fundamental steps:
First of all, you should be clear about what functions the tool needs to have and what other features are important to you, such as ease of use or a customizable dashboard. Once you know what you need, simply shortlist those tools that promise just that and then, in the 3rd step, do one thing only: Intense testing.
As you've seen, most Amazon PPC software companies offer free trials and you can – and should – take advantage of that. If you find a tool that meets all your requirements and feels right during testing, you should choose that one.
Want to compare more tools? Visit our Free Amazon Seller Tools Directory →
Notice: This post contains affiliate links, if you click one of them and sign up for a paid plan, we might receive a small commission. There are no extra costs for you!