You're looking for an Amazon PPC Agency but don't know where to start?
We got you.
Read our guide and find out:
PPC, CPC, CTR, SPA, SBA, ACoS – the acronyms used in Amazon advertising is not the only thing that is confusing when you dive into the science of product promotion.
I guess science is the right term to use here, since it sometimes feels like you need to be a rocket scientist to understand the possibilities and processes of managing ad campaigns.
One solution to avoid all this hassle is to hire an Amazon PPC agency or manager to take care of your PPC management for you. But let's start with the fundamentals first.
What is Amazon PPC & who can use it?
What is Amazon PPC?
The term PPC stands for Pay Per Click and is a form of advertising that is based on a system where you pay for every click on your advertised listing.
So when someone clicks on your sponsored ad, you pay for that click. If no one clicks on your ad, you won't have to pay.
The click prices are different for each product and are determined through in auction for keywords.
The seller who bids most for a click is shown at the top of the Amazon search results page. There are three types of advertising: Sponsored Product Ads, Sponsored Brand Ads (formerly known as Headline Search Ads) and Product Display Ads.
Sponsored Product Ads
Sponsored Product Ads (SPAs) are always marked as "sponsored" by Amazon. They are displayed to customers at different locations. They are either displayed after the customer has entered their search term or on the competition listings below.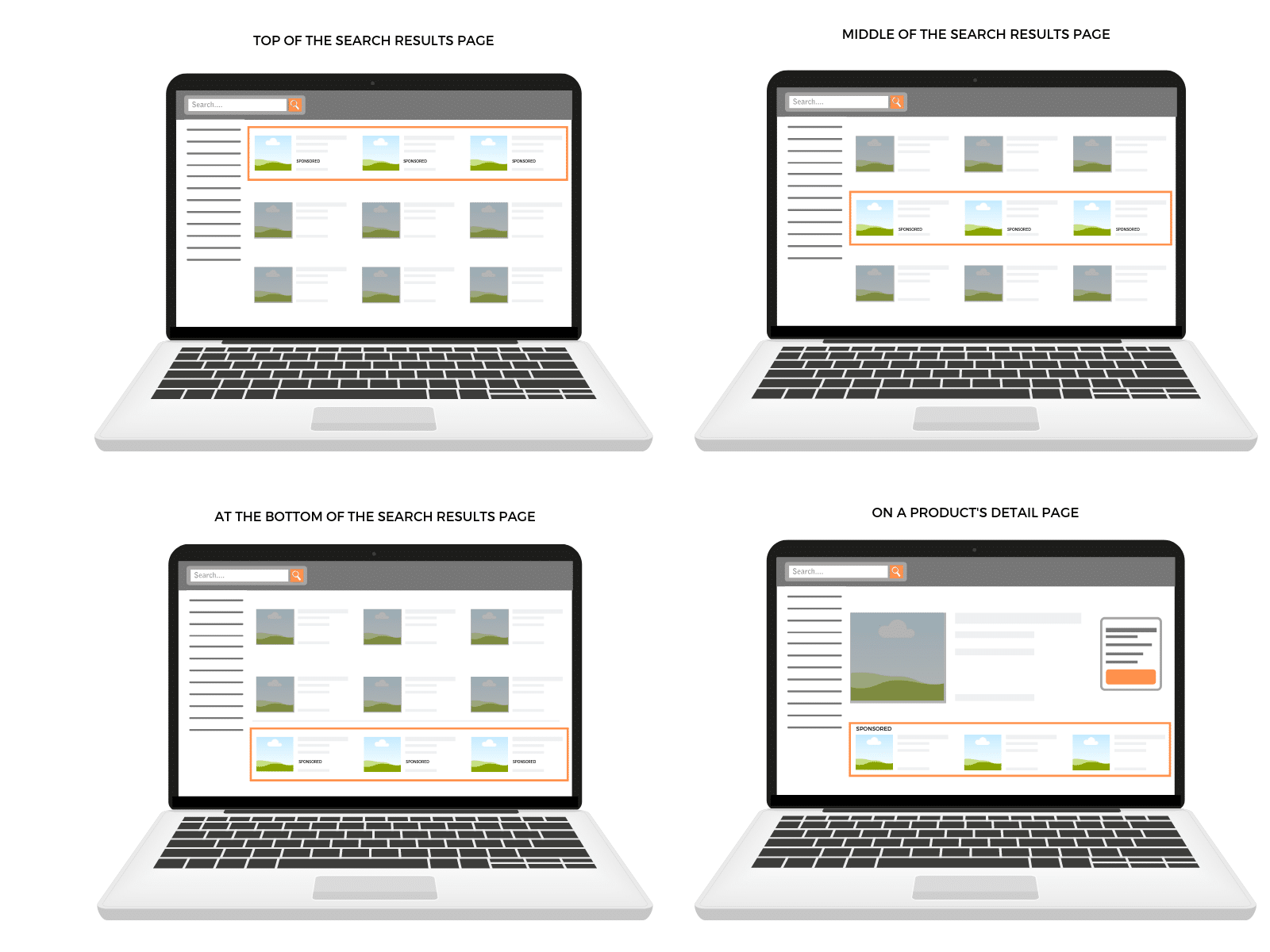 Sponsored Brand Ads
Sponsored Brand Ads (SBAs) appear above the normal search results page and show the sponsored brand's logo, a custom headline and up to three of the brand's products.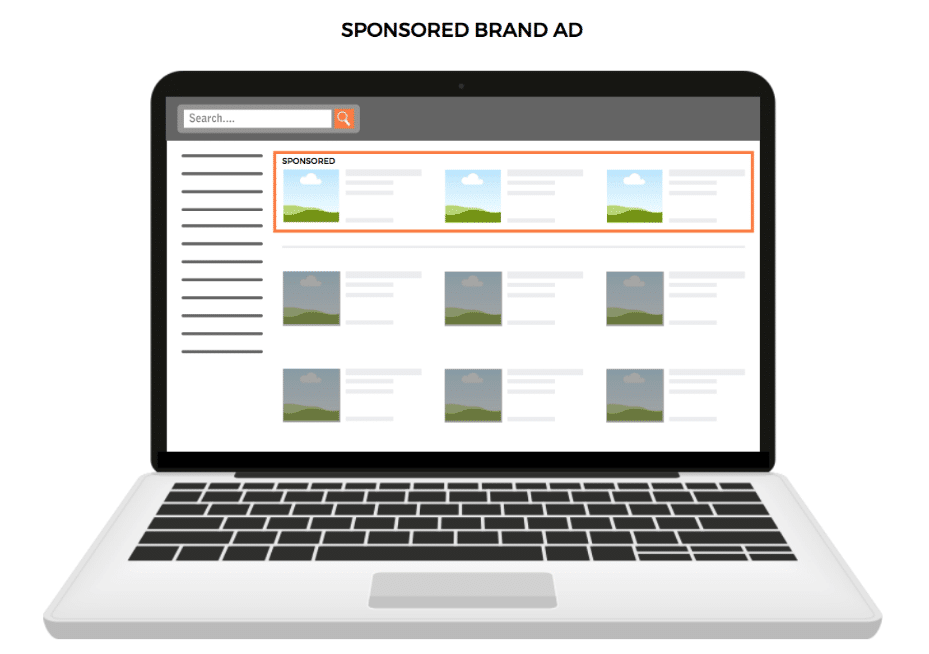 Product Display Ads
The best known placement of product display ads is on product detail pages.
There, the ads are displayed below the buy box as well as below the product attributes.
In addition, product display ads are placed both in the left column and at the bottom & top of the Amazon search results pages.
Amazon Product Display Ads can also be found next to customer reviews.
A big difference to sponsored product ads and sponsored brand ads is that product display ads are not displayed on the basis of search terms.
Product display ads use interest-based targeting or the targeting of specific products or product categories.
Product display ads are systematically played out on other product detail pages.
When placing ads, you can therefore name the ASINs on whose product detail pages the ads should be shown.
That is not possible with SPAs and SBAss, as these are played out on the basis of keywords and not interest targeting.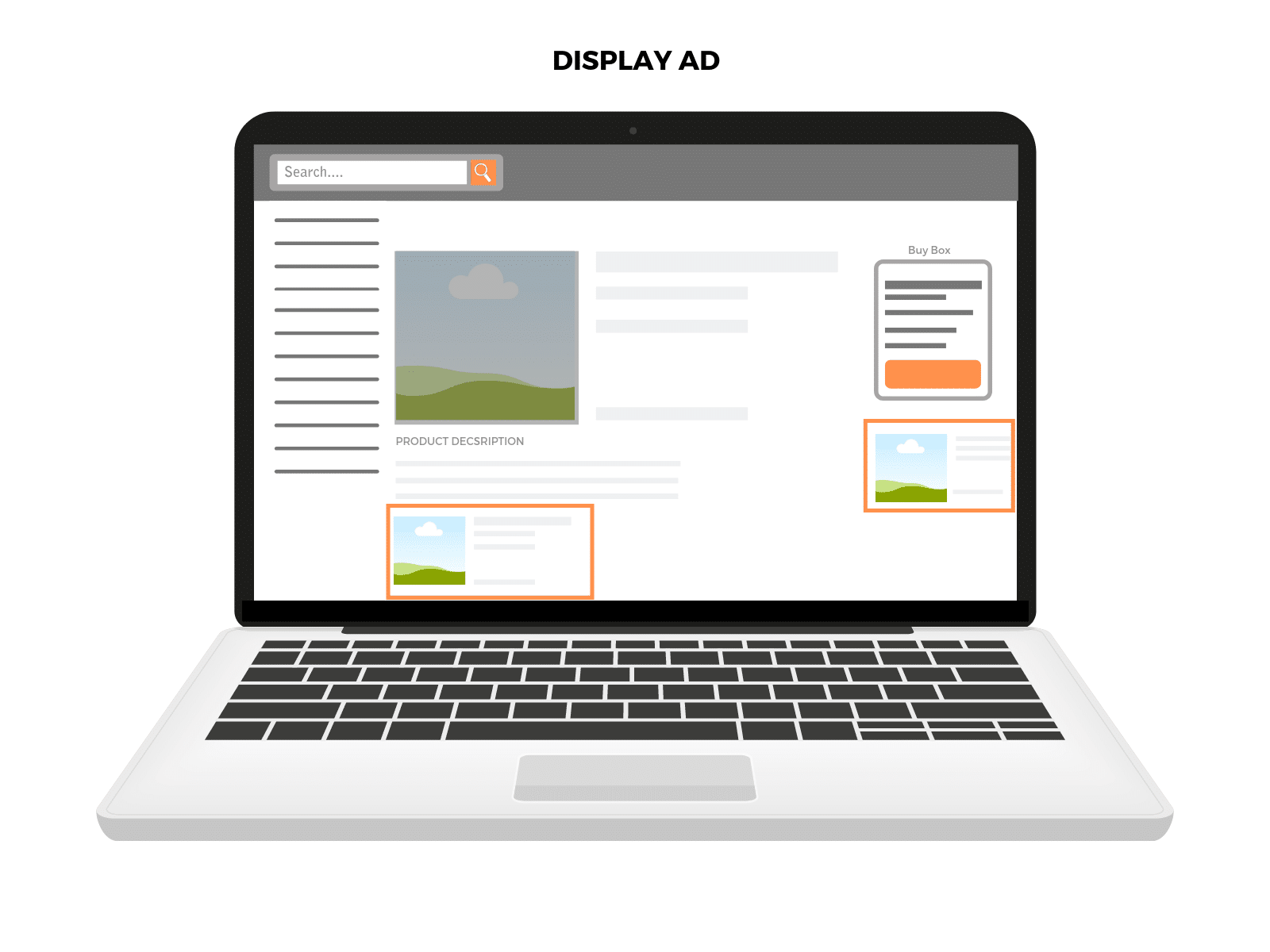 Who can use Amazon PPC?
Amazon PPC can be used by both third-party sellers and first-party vendors. Only which type of ad can be displayed depends on the type of seller.

First-Party Vendors
First-party vendors can use all forms of advertising on Amazon. They can place Sponsored Product Ads, Sponsored Brand Ads and Product Display Ads to promote their products.
Third-Party Sellers
Third-party sellers have limited advertising options. Users of the seller program can run Sponsored Product Ads, but Sponsored Brand Ads are only available to sellers who are brand-registered. Display ads are not available at all.
How does Amazon PPC work?
PPC is an extremely complicated topic and there are hundreds of guides out there. Dozens of different approaches exist on how to manage PPC campaigns successfully, but they all follow the basic principles of PPC.
Amazon PPC is based on an auction system which is based on keywords and products. To appear on the search result page with a product ad, the seller or vendor bids a certain amount for each keyword he wants to be shown for, for example $0.50. This is the maximum amount he is willing to pay for one click on his ad.
Amazon then ranks the ads in the auction according to the bids and assigns the ad spaces. The seller or vendor with the highest bid usually has the best chance of reaching the front position.
So how exactly do those auction processes work? PPC on Amazon works similar to Google Ads PPC: the allocation of the advertising ranks is based on a secondary price auction, which means that the highest bidder only pays the amount bid by the secondary bidder.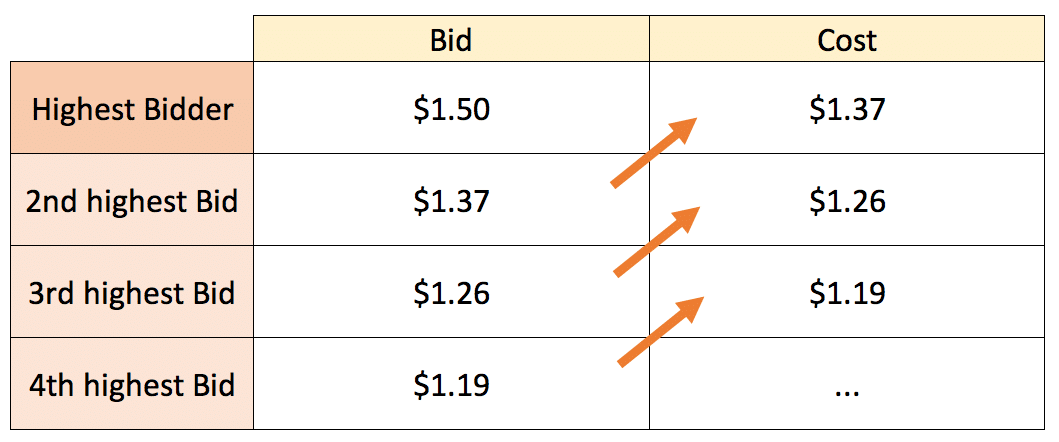 In the second price auction, the highest bidder wins the 1st advertising slot, but only pays the second highest bid.
Why do you need Amazon PPC?
Using Amazon PPC campaigns has several advantages. The biggest advantage lies in increased visibility and awareness of your products, especially when you launch a new product.
After all, this increased visibility leads to increased sales.
As more people buy your product, your organic ranking is also improved and your listing will appear earlier than usual on the top search results pages.
Pushing your organic ranking by making sales using SPAs is also called the Halo Effect.
It is advisable to use PPC not only during the launch phase of a product, but also later on.
You can use PPC campaigns to "protect" the ranking of an existing product or to promote short-term deals and special offers.
Think about what happens if you don't run PPC campaigns. Do you know for whom this is very beneficial? For your competitors.
If you don't advertise your products, you give your competitors' listings a huge sales advantage.
Their products will get more impressions and will be ranked better than your unpromoted product.
You may save a few bucks, but you leave sales, ratings and top rankings to them.
What does an Amazon PPC Agency do & Why do I need one?
Utilize their experience and knowledge
Now that you know the basics of how Amazon PPC works and the advantages of running PPC campaigns, one question arises: Who's got the time for all this?
In fact, it can be very difficult to run your business successfully AND manage your PPC campaigns at the same time.
PPC takes on a lot of your time since the campaigns should be monitored and, if necessary, adjusted several times a day.
A professional Amazon PPC agency can help you out. They analyze your current ad performance and can tell why your campaigns perform well – or why they don't.
Let's say you have high ad spend but a low conversion rate. The Amazon PPCagency will not only take a look at your numbers, but also analyze at your listings.
If your listings are not fully optimized they could be the reason for your low conversion rate. Even better, they have experience and know what with high-converting product listings look like.
Besides optimizing your campaigns, an Amazon PPC agency can also set up new campaigns for you from scratch. This way you can be sure that your budget is spent in the most efficient way right from the start.
They know which budget you will need, how much to spend on which keyword and how to ensure that your ads keep running without you running out of budget.
Another advantage lies in the time that you save on monitoring your campaigns. You always need to be in the loop on what your competitors are doing and adjusting your bids is a must when you want your campaigns to be successful.
A professional Amazon PPC agency will take on those monitoring and managing tasks for you.
Besides managing day to day tasks, you also need to evaluate how well they perform over a longer period in order to learn for future campaigns what works and what doesn't.
That means that you have to be able to not only create campaign reports, but also know how to interpret them to measure efficiency.
To do so, you need to know all the variables involved (NOT only ACoS), how they influence each other and how you can utilize that information to improve future campaigns.
An Amazon PPC agency knows how to read those numbers and what they mean for current and future campaigns.
Be ahead of your competition
If you still think that you rather invest the time to learn how to set up and manage your Amazon PPC campaigns yourself, think about your competition.
Let's say you get pretty good at this whole PPC thing. Good for you. But good is not good enough.
What if your competitors outsource their PPC to professional agencies. Those Amazon PPC agencies solely focus on managing various PPC campaigns, they are top level in this field. Can you keep up with that?
Speaking of keeping up. Since it's their core business, agencies continuously stay up to date with changes happening in PPC.
That's crucial, because Amazon changes the rules and guidelines all the time. What worked yesterday won't work tomorrow.
Agencies will be the first ones to know when changes will happen.
Why is that?
Agencies usually manage bigger accounts which are often chosen by Amazon to test new ad features in their beta version.
Therefore, when a new feature is rolled out to the public, they already know how to utilize that feature in the best way possible while the competition (i.e. you) still needs time to adapt.
Sell worldwide
Having a local Amazon PPC agency at hand also enables you to advertise and sell your products worldwide, in any market you'd like.
Having local support is very important when selling in another country. Only Locals can provide you with an efficient keyword research.
Don't try to just translate your current keyword list. There are dozens of translations for different terms and Google Translate won't tell you which keywords are actually used by local Amazon buyers.
And especially with PPC campaigns it is crucial to bid on the right keywords. Otherwise you will burn your budget faster than you can say "Ad Spend".
Save Money on Tools
You will need software. There is no way to run successful ads without good Amazon PPC tools.
There are some free tools out there, but they quickly reach their limits. Or you can use the full version of a pro tool for a short trial period, but they will eventually cost something if you want to use them in the long term.
So that leads to another advantage of using professional Amazon PPC managers. They already got all the tools you need to set up, manage and monitor your campaigns.
You won't have to pay for any license fees nor invest time and money in learning how to use those tools. Your agency got it covered for you.
Protect yourself from Click Fraud
The last and one of the most important reasons to hire an agency is that they can detect click fraud and save you from spending thousands of dollars on ads that don't convert.
Click fraud means that your competitors are trying to drain your advertising budget by clicking on your ads over and over again without purchasing anything.
There are even click farms that can be paid to do this more efficiently and less obvious by using different IP addresses.
Click fraud does not only drive up your advertising costs, but it also skews your analytical data which you need to rely on to make effective marketing decisions.
Amazon PPC experts can detect if click fraud is going on within a fraction of the time that you would need to figure it out.
They know the patterns and can therefore easily tell when it's happening. Only when you know that it is happening, you can file a complaint to Amazon and get them to reimburse you.
The agency will collect the evidence for click fraud going on. It is also likely that your reimbursement enquiry will be dealt with faster when its submitted by an agency because they usually have connections to the seller support.