If you decide to trade internationally, whether by buying and importing products from other countries or by exporting and selling your products in foreign countries, you will profit from enormous advantages. Sourcing from countries with lower manufacturing costs like China can help you increase your profit margins, and selling abroad will give you access to millions of additional customers.
However, not only the growth potential is significant, but also the effort and regulations involved in international trade. Complicated import and export laws, difficult logistics processes, and the fear of being scammed by their freight forwarder keep many Amazon sellers from engaging in international trade.
Fortunately, if you do manage to find a good freight forwarder, the logistics become child's play. These companies ensure that you comply with trade laws and that your goods reach you, your warehouse, or fulfillment center safely – and we'll make sure you choose the right one.
After reading this guide you will know what tasks a freight forwarder can perform, what you should look for in a freight forwarder and where you can find one that you can rely on.
What Is a Freight Forwarder? Meaning And Definition
According to the International Federation of Freight Forwarders Associations (FIATA), freight forwarders are defined as
"[…] services of any kind relating to the
carriage
consolidation
storage
handling
packing 
distribution
of goods as well as ancillary and advisory services in connection therewith".
Freight Forwarder vs. Carrier – What's the Difference?
The term "freight forwarder" is often used as a synonym for "shipping company" or "carrier", but those terms don't mean the same thing. The freight forwarder does not move your products, but is a person or company that organizes the shipment of your products to you or your fulfillment center.  Generally, freight forwarders do not have their own ships, airplanes and trucks.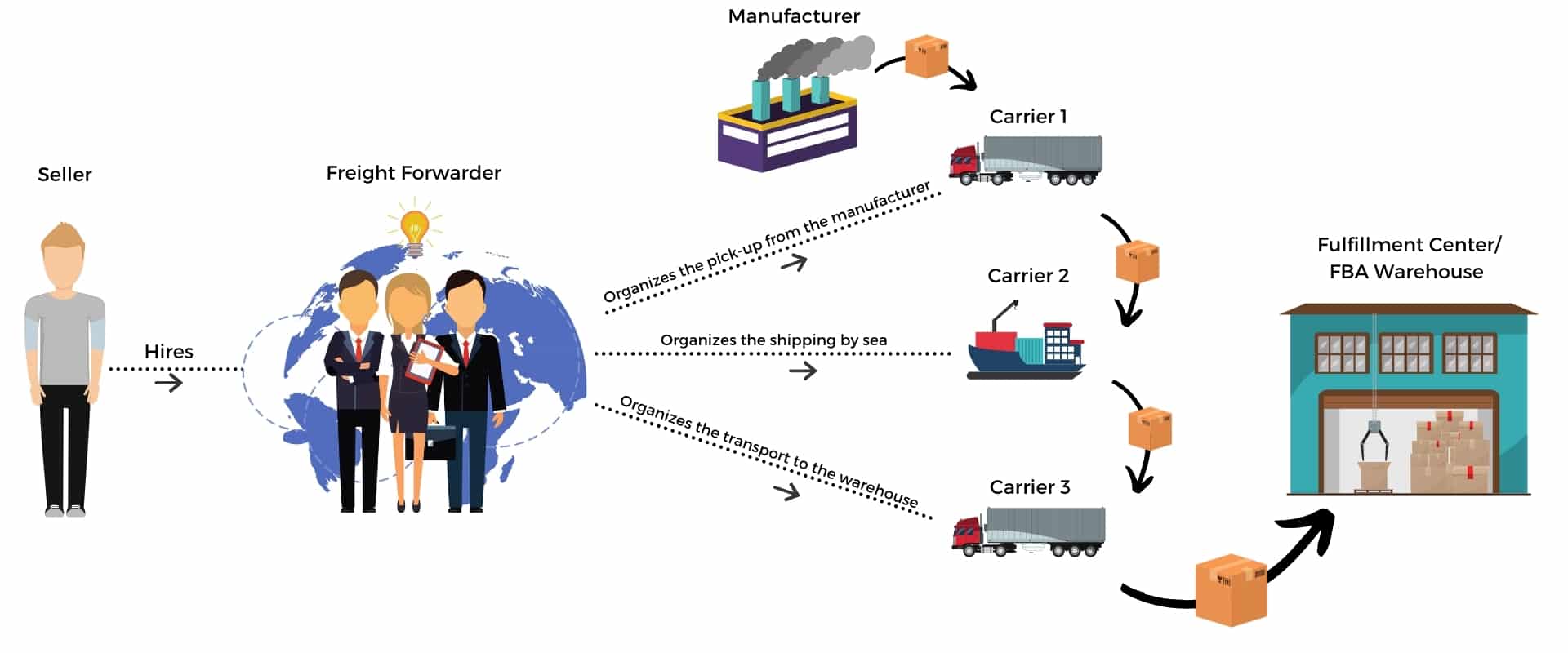 Instead, they have a network of carriers that they use to have your goods shipped. After they've received your shipping requirements, they will find the right cargo companies and route for you.
They have dozens of carriers in their network and usually get cheaper rates and faster routes than if you booked directly with one of the freight companies. In addition, the freight forwarder monitors your shipment 24/7 and ensures that everything runs smoothly.
Why Should You Hire a Freight Forwarder as a Amazon FBA Seller?
Fast & Smooth Shipping – For an Amazon FBA seller like you, fast shipping is crucial because it's important that you never run out of stock. Freight forwarders use their network to ensure fast and smooth shipping. That way, you don't have to send inquiries to many different companies and wait days and days for their offers.
Better Rates – Without a freight forwarder, you wouldn't be able to see all routes available and therefore couldn't tell which route would be the fastest and cheapest.
More Focus on Your Core Business – The coordination of the air, sea, and land routes – often with different transportation companies – requires exact planning. Handling these huge logistical challenges is basically a full-time job. In the world of Amazon FBA, freight forwarders are thus a big help and prevent you from being distracted from your core business.
More Experience with Import / Export Requirements – The last (but not less important) reason for hiring a freight forwarder is that there are some hurdles involved in importing and some risks when you're exporting goods, especially in terms of bureaucracy. A freight forwarder has experience with common documentation requirements and regulations and will handle all the red tape for you.
What Services Can a Freight Forwarding Companies Perform?
A freight forwarder offers consultation on various logistics topics:
Costs – A good freight forwarder advises you on how to keep the costs related to your shippings at a minimum and provides information on what unexpected costs could arise due to strikes, political decisions or other factors, so that you know what costs you may incur in the worst case.
Means of Transport – What is the best way to ship your product – air, sea or land? The answer is that there is no right answer. Which way of transportation is most suitable for your goods highly depends on their material, size, weight and other characteristics. Your freight forwarder will analyze the characteristics of your cargo and then give you advice on the most suitable way to transport your goods.
Packaging, Labelling & Paperwork – Despite the many tasks a freight forwarder takes on for you, you still have to prepare a few things yourself, such as certain documents. Your freight forwarder can tell you exactly what papers you need to provide and why they are important.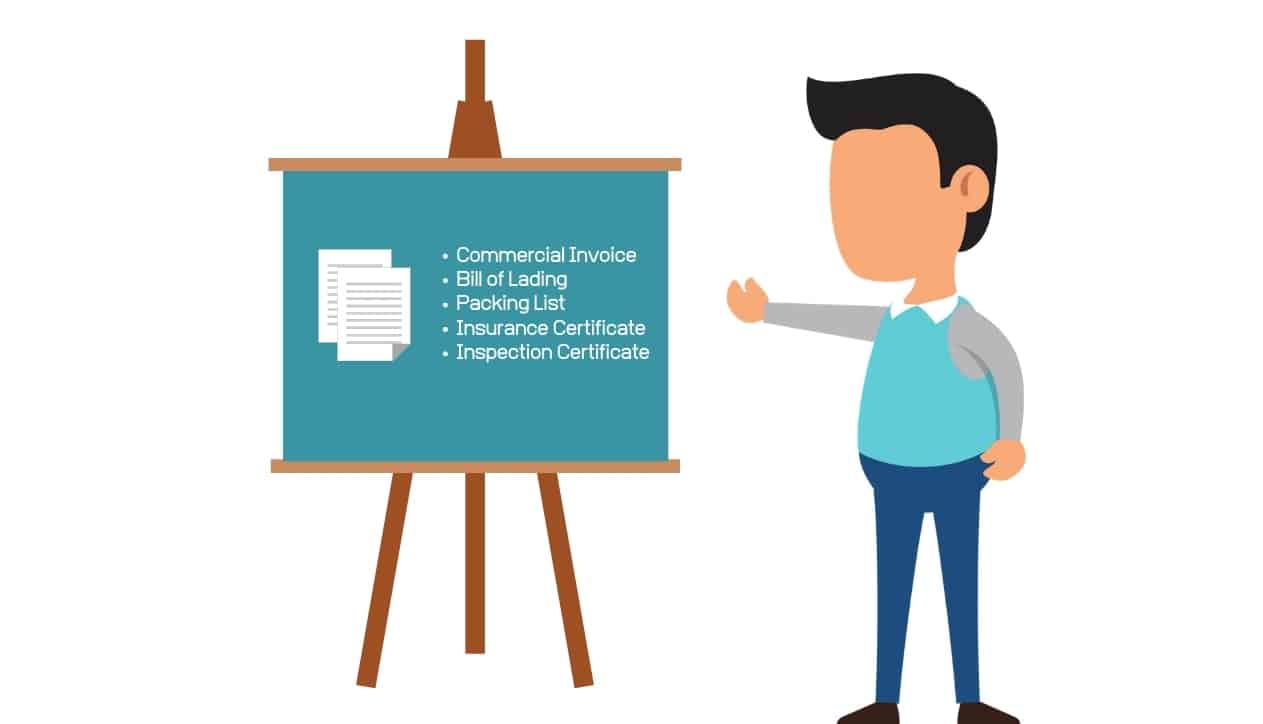 In addition, a freight forwarder will organize the transport of your goods.
Documents – There are many regulations that affect the international movement of goods and they vary from country to country, sometimes even from region to region. Inspection requirements, special licenses, taxes, and the political (and sometimes geographical) climate all influence how fast, easy, and expensive it is to transport your goods. Your forwarding agent will guide you through that "legal jungle" and provide you with a number of documents. Which documents you will need depends on the country of origin, the country of destination, and the means of transportation used to ship your cargo. Some of the most common documents requested are:
Commercial Invoice
Bill of Lading
Packing List
Insurance Certificate
Inspection Certificate
Booking Carriers & Warehouse Space – The most important and central task of the freight forwarder is to organize the actual transport. For this purpose, he negotiates favorable rates and fast routes with carriers from his network. He plans how the different carriers will work together to ensure a smooth process. If your goods need to be temporarily stored on the way from the manufacturer to the destination, your freight forwarder will also take care of safe storage.
Transport Insurance – You won't need to worry about suffering losses from damaged or lost goods. Your freight forwarder will take care of insuring your cargo and, if anything goes wrong during transport, will help you file a complaint.
What Makes a Good Freight Forwarder? 5 Important Things to Look Out For
It's important that you build a good relationship with your freight forwarder. Your freight forwarder is responsible for getting your freight safely to its destination, so you should emphasize on having a good, long-lasting and equally beneficial business relationship.
Now you're probably wondering how to tell whether a freight forwarder is a good one or not. You should pay attention to five main factors: Network, experience, specialization, transparency and service portfolio.
Big Network of International Carriers – By hiring an internationally well-connected freight forwarder, you can get the best shipping rates for your goods and ensure that your products reach their destination on time.
Years of Experience – Experienced forwarders have encountered a number of problems throughout the years, so they are able to quickly and professionally resolve any problems and difficulties that may occur.
Specialization in a Certain Type of Cargo -There are freight forwarders who specialize in handling the shipping for one or only a few types of goods. So if you sell a particular type of product that requires a specific form of transportation, it makes sense to use a forwarder who employs a team of specialists who are used to handling a cargo similar to yours.
Full Transparency – You should only work with a company that will keep you updated on the status of your goods throughout the shipping process. That way, you will always be able to quickly react in case your shipping is delayed or freight gets damaged. Internet technology and satellite systems allow real-time tracking of the transport of your goods. In addition, the freight forwarder should be transparent about the costs.
Broad Range of Services – Before you start your research, think about what requirements you have and what tasks the freight forwarder should definitely take on. Plus, be sure to find out what extra services your freight forwarder has to offer. Even if you don't have to use them yet, it is always good to know which additional services you could use in the future.
Where Can You Find a Reliable Freight Forwarder With Experience in Amazon FBA?
On Sermondo, you can find and compare freight forwarders from all over the world and easily contact them via the contact form.
The map shows you exactly where the different freight agents are located. This way you can easily find one in the area where you buy or sell your goods.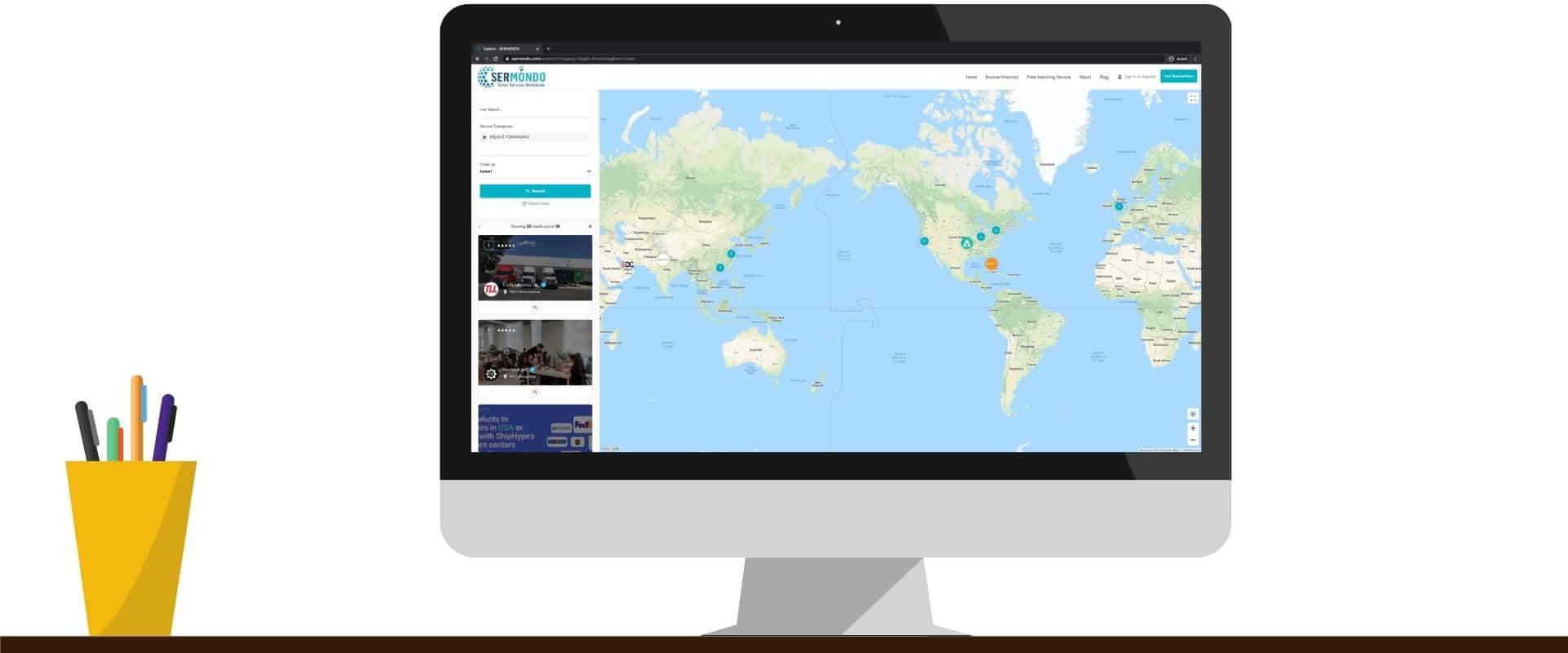 You can also use our convenient and free matching service!
Simply fill out our matching form, tell us what you're looking for in a freight forwarder and where they should be located. We will then review your inquiry and introduce you to a suitable, vetted forwarder from our network.
Conclusion – Conquer New Markets by Partnering With the Right Freight Forwarder!
We hope you enjoyed reading this guide and now feel well prepared for finding a suitable freight forwarder.
Smooth and trouble-free logistic processes are the foundation of any trading business. If you work together with a good forwarding company and streamline your logistics and shipping activities in the most efficient way, then there is nothing standing in the way of rapid and enormous growth. Especially when expanding internationally, a strong forwarding partner is one of your most important assets.
If you try to organize and coordinate all shipments without professional help, you constantly face the risk of running out of stock and hence losing a substantial amount of revenue. So save yourself a lot of money and use our platform to search for vetted forwarding specialists and find the company that best fits your needs. 
Get started now: Try our Matching Service 100% free of charge →