Are you looking for an e-commerce fulfillment center to safely store your products and handle your order processing, but don't know how to choose a good one?
That's what we're here for.
In this simple step-by-step guide, we'll show you everything you need to know in order to find the best fulfillment center for your business. You'll learn how to efficiently work with your center and how to simplify all your ordering and warehousing processes so you can scale your sales quickly and smoothly.
Here's what we will cover:
After ordering a product from your store, your customers should never have to wonder where their package is or why it arrived much later than the agreed delivery date. A recent study conducted by BigCommerce shows that about 58% of consumers would probably never order from an online retailer again with whom they had a poor shipping experience.
That's why more and more sellers are opting to outsource some or all of the processes involved in processing customer and purchase orders to Amazon FBA prep services and fulfillment centers. With ever faster and better shipping options, the expectations of customers increase.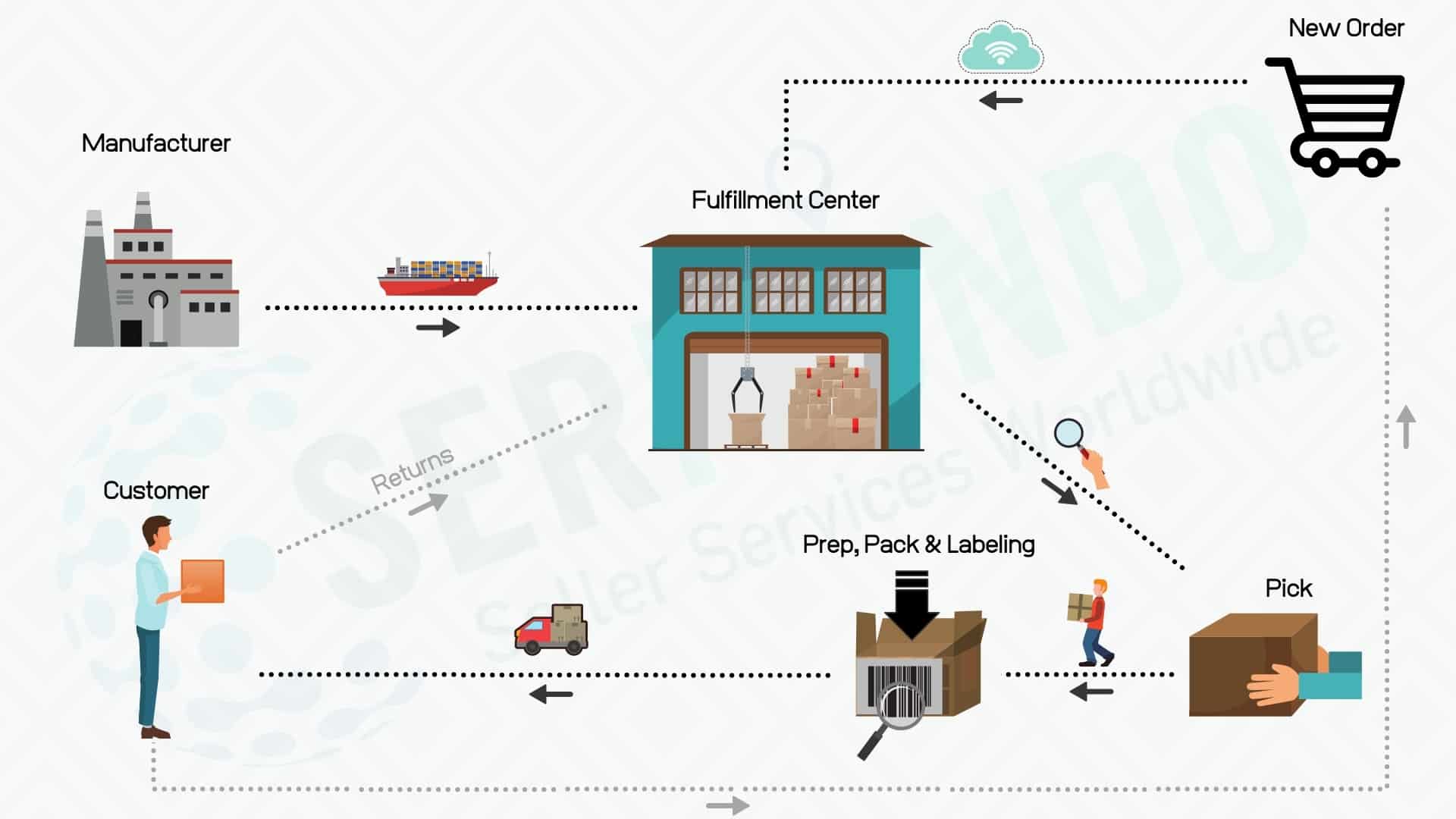 What Can a Fulfillment Center Do For You?
Nowadays, fulfillment is about more than just packing and shipping orders. A good fulfillment center takes on many more tasks and adapts flexibly to changes and current market conditions. Fulfillment centers usually use modern warehouse management systems with a seamless shop integration which makes it easy for them and you to monitor and manage your orders and inventory. 
FBA Prep & fulfillment centers take on some or all of the following tasks:
Goods Acceptance & Warehouse Logistics
Warehousing is one of the basic tasks of any fulfillment center. The use of a fulfillment center saves you the high costs of renting your own warehouse and, with good inventory management, you always have your products on hand.
The first step is to deliver your products to the fulfillment center, where they are received and stored in the warehouse. Labelling the pallets and boxes is extremely important at this stage. A clearly visible labeling accelerates the process and thus the dispatch of your products.
A fee is charged for the delivery and storage of goods, depending on the number of products. However, the cost varies greatly from fulfillment center to fulfillment center. The storage fee for the goods depends on the size of the required storage area and the period for which the products are to be stored. The storage costs are usually charged on a monthly basis, similar to a rental.
Order Acceptance, Picking, Packaging & Labeling
If the fulfillment center offers online store integration, data from incoming orders is automatically transferred to the warehouse. The employee responsible for picking receives this data and order details and can see where the relevant products are stored in the warehouse. The picking team then bundles the products required for the order and forwards them to the FBA preparation and packaging team. Once all goods are bundled, the shipment is securely packed to ensure successful delivery without damage.
The packaging process is typically priced per parcel, depending primarily on the parcel size and your branding requirements, as well as the type (e.g., material) of products. The packaging of fragile products, such as those made of glass, costs more than robust plastic products.
Delivery & Returns Management
Unfortunately the distribution process is not a one-way street.
No matter how beautiful, valuable or practical your product is, there will always be customers who want to return their products. According to Shopify, the average return rate in ecommerce is 20% but can be significantly higher depending on the type of products you sell. When a customer returns a product, you obviously face additional costs, so it's important to make the return management as cost-effective as possible.
A fulfillment center with a well thought-out returns management system will ensure that returns are processed quickly, that products are re-prepared for sale as quickly as possible and that the customer gets their money back quickly.
It is important to remember that processing returns will always be a struggle. There will always be discrepancies between what the customer said they returned and what the warehouse said they actually received. For this reason, it is important that you and the fulfillment team understand exactly how the different types of returns should be handled.
In other words, it must be clearly defined what criteria will be used to assess the quality of the returned goods, what happens if the products are returned too late, and so on. After all, although the customer is always king, the economics of shipping and returns must not be neglected.
Product Repair & Product Disposal
Depending on how large a fulfillment center is, how many employees it has, and how well the staff is trained, fulfillment centers also offer minor repairs if your products arrive or are returned in a damaged state.
Whether your product can be repaired depends primarily on the complexity of your product. Complex technical items can rarely be repaired on-site, but simple products can usually be repaired at the fulfillment center.
If products are damaged in a way that they can no longer be sold, or if you want to destroy parts of your inventory for some other reason, the fulfillment center will usually take care of that as well.
Why Do You Need a Fulfillment Center?
Using a 3PL has the advantage that no infrastructure is required on your part since the fulfillment firm takes over the entire fulfillment process after your customers have ordered the goods.
When you sell in another country, hiring a local fulfillment center ensures short delivery times and quick customer support. And since modern technology and efficient working methods are used, you save the entire costs for the handling of logistics. Plus, you profit from the fulfillment center's experience and reliability.
As seen above, a solid logistics management system involves dozens of tasks and requires a high level of expertise. In most cases, it is thus better to have these tasks carried out by a professional so that you can fully focus on other areas of your Amazon FBA Business.
Do FBA Sellers Need a Fulfillment Center Too?
Even if you are part of the Amazon FBA program, you should sooner or later start looking for a suitable fulfillment center.
If you want your business to grow, you will eventually be confronted with order quantities that you can no longer handle on your own – apart from the fact that your house or apartment would turn into a chaotic warehouse. If you're selling with FBA, the fulfillment center primarily functions as an intermediate warehouse, which always sends more inventory to the Amazon Warehouse as soon as you run the risk of being out of stock.
The storage costs in an independent fulfillment center are usually much lower than those charged by Amazon. By leaving a part of your goods in a fulfillment center, you can thus save storage costs.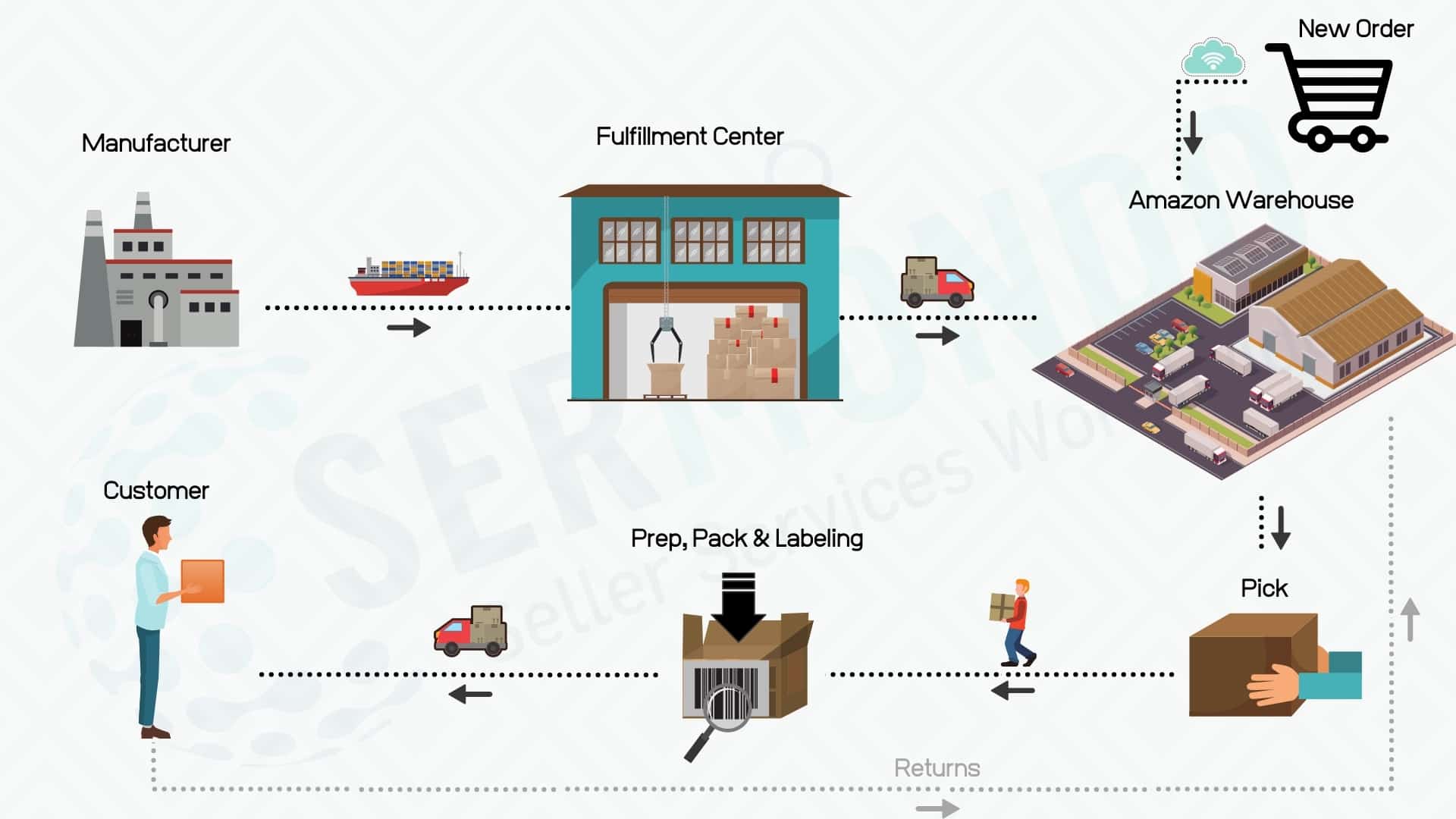 What Makes a Great Fulfillment Center?
What defines a good fulfillment center strongly depends on your requirements, but there are 3 characteristics that every eCommerce fulfillment center should have:
Flawless shipping logistics & short delivery times
Fast and good communication
Reliable return management & agile problem-solving workflows
Always focus on the basic requirements first: that the delivery arrives at the customer within the shortest time possible, that the customer finds the right product when unpacking his parcel, that they are happy with the packaging and that, if necessary, returns can be made quickly and easily.

How To Choose The Right Fulfillment Center
It is important to keep in mind that there is no such thing as "standard fulfillment". As an online seller, you need to know your own requirements and those of your customers precisely. So ask yourself in advance:
Location of the Center – Where should the fulfillment center be located?
Type of Products – Which types of products are involved?
Scope of Service – For which logistics processes do I need support?
Personal Preferences – What is especially important to me?
Only after you have clearly defined your requirements and goals, the fulfillment center can assess if they can get the job done, what measures need to be taken, and what support and additional services are required in order to be able to offer your customers the best possible shopping experience.
You should also make sure that you work with a reliable freight forwarder who can coordinate and handle the entire shipping process with your chosen fulfillment center.
Since the Amazon FBA prep & fulfillment center is an important business partner in the storage and shipping of your products, it is important that you consider every aspect of the future business when making your decision.
The best way to find out which 3PL provider is right for you is to ask the questions mentioned above. Hiring a fulfillment center requires a high level of trust and usually involves a long-term business relationship and commitment.
Thus, try to collect as much information as possible in advance to eliminate any doubts.
Where To Find The Best Fulfillment Center
There are thousands of great fulfillment centers out there, but it can hard to find the right one for your business, especially if you sell your products in another state or country.
On Sermondo, you can find dozens of fulfillment companies that are familiar with the special characteristics of Amazon FBA logistics. From all around the world – all in one place. 
You can either browse, compare and contact the fulfillment centers yourself or – if you don't want to search for yourself – you can simply use our matching service and tell us about your requirements. We will then find the a vetted fulfillment center from our network that can best meet your requirements.
Conclusion – Find a Great 3PL, Streamline your Fulfillment and Grow Your Amazon Sales!
We hope you enjoyed reading our guide and now feel perfectly prepared to find the best fulfillment center to work with.
Working with a professional and reliable e-commerce fulfillment center can take your business to the next level. Thanks to the 3PL's experience and expertise, you benefit from well-organized, streamlined fulfillment processes, allowing you to focus on other things in your business that you are more passionate about and that add maximum value to your growth.
Taking care of your own fulfillment tasks without any help from outside can be very damaging to your business. If things don't go smoothly, angry customers and bad reviews are the result. The consequences are less sales and overworked support staff.
Thus, in the long run, you should definitely outsource your delivery and return processes to a professional, Amazon specialized eCommerce fulfillment center.
Start now: Try our 3PL matching service – 100% free of charge!