Sponsored Display Ads was launched in 2019 (formerly known as Product Display Ads) and since then, more and more Amazon sellers have been trying it out – and become fan of this fairly new advertisement tool.
So what's this advertising tool all about, how do Sponsored Display Ads work exactly and are they really worth it? Read on to find out more (including a step-by-step guide for your first campaign)!
What are Sponsored Display Ads On Amazon? 
Sponsored Display Ads is an advertisement method from Amazon that allows you to show your ads to users who have recently clicked on your listing, have previously bought from you, viewed similar products or used search terms related to your product. 
This tool is very powerful – because the users' purchase intention is quite high already!
Sponsored Display Ads can appear anywhere but are often found under the right sidebar's buying options.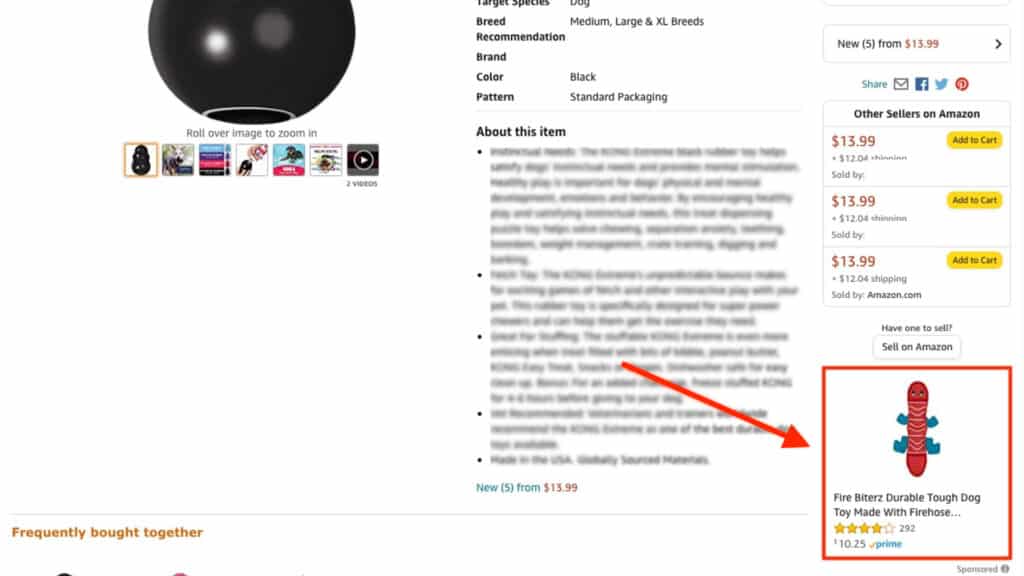 But that's not the only place you'll see them. They may also appear on product detail pages or on customer review pages – both desktop and mobile!
The special feature about Sponsored Display Ads is that just like Amazon DSP Ads they are not limited to Amazon itself – in addition, they can appear on any other website owned by or partnered with Amazon – mostly in the form of banner ads.
They are automatically created with the product data of the advertised ASINs and have the typical "Amazon look" to them.  But you can create your own headlines and edit some features manually if you wish. 
How Do Sponsored Display Ads Work And What Type of Targeting Options Are There?
Unlike Sponsored Brands and Sponsored Products, Sponsored Display Ads doesn't target keywords – instead, Amazon handles targeting based on its data from millions of real search and purchase data. 
You can choose between three types of targeting options:
Product targeting 
With this option you can target products and categories with ads that appear on relevant product detail pages.
Audiences: Views remarketing 
With this option you can reach users who have already clicked on your listing or a competitor's listing with similar products within the last 30 days without having purchased the product.
Audiences: Interests 
Here, you can reach customers who have looked at products within the last 90 days that fall within a specific interest segment. 
When a user clicks on a Sponsored Display Ad, they are taken directly to the corresponding product detail page.
Who Can Run Sponsored Display Ads On Amazon?
There are three different targeting options for Sponsored Display Ads but not every targeting option is available for every seller. 
Eligibility is as follows:
Product targeting – Product targeting is available for third-party sellers enrolled in Amazon Brand Registry and Vendors.
Audiences: Views remarketing – This is also available for both third-party sellers enrolled in Amazon Brand Registry and Vendors.
Audiences: Interests – This option is only available for Amazon Vendors. 
How Much Do Amazon Display Ads Cost?
Just like it is with all advertising tools on Amazon, Amazon Display Ads are purchased on a pay-per-click basis. 
Amazon determines the costs with a second price auction. So each seller places a bid that they are willing to pay. The bidder with the highest bid will win – and only pay 0.01 USD more than the second-highest bidder would have paid. 
There is no minimum investment required. Simply choose your daily bid and budget and bid against your competitors for ad placements. You can change or pause your campaign at any time.
How To Create An Amazon Display Ad Campaign – Step-By-Step Guide
Creating an Amazon Display Ad Campaign is quite simple.
Log in to your Seller Central account.
Go to "Advertising".
Click "Campaign Manager".
Click "Create campaign".
Go to "Choose your campaign type" and click on "Continue" under "Sponsored Display".
Enter in your campaign name, the start and end date of your campaign, your daily budget and an ad group name.
Next, choose one of the targeting options mentioned before.
Depending on your choice, just follow the next steps.
As always, it is important to develop a strategy!
Conclusion – Are Amazon Display Ads Worth It?
If Amazon Display Ads are worth it is up to you to decide. After all, it's always a matter of personal preference and finding a strategy that works best for you. Even the best advertising methods won't deliver any results if you don't know what you are doing and can't recreate your success.
So if you are a Vendor or enrolled in Amazon Brand Registry, definitely try out Sponsored Display Ads. Start out with your best selling product and make your own experiences from there!
For the best results, get support from an Amazon PPC Management Agency →