Having outstanding listing images is absolutely crucial to successfully sell your product on Amazon. It gives the customer the first impression of your product and – as always with first impressions – it should be perfect.
To ensure that your product photos are flawless and reflect the characteristics of your product, you can rely on the experience of a professional product photographer.
There are hundreds of product photographers out there. So how can you be sure you're choosing the right one? What do you need to look out for and where can you find the best studios? We'll answer all these questions and more in this ultimate guide.
What Is an Amazon Product Photographer?
In the simplest sense, a product photographer is a photographer who specializes in capturing images of products rather than nature, fashion, animals or other things. Product photography is a part of promotional photography and, as the name suggests, is used to promote the sale of products.
An Amazon product photographer is a product photographer who specializes in working with clients who sell their products on Amazon. They are familiar with Amazon's specific image guidelines and know what it takes to produce great listing images.
Why Should You Hire a Professional Product Photographer to Shoot Your Listing Images?
Since your customers on Amazon can't touch, smell, feel, and inspect your products from different angles, photos are by far the most important tool to help them understand their features.
Product photos are the first thing your potential customers look at. As they scroll through the product search results page, they make split-second decisions about which offerings are relevant to their purchase intent. The first thing they look at are the listings' main images. Only after they look at the listing title, whether the listing has a Prime badge, and how good the reviews are. In fact, 75% of online shoppers mainly rely on product images when deciding on a potential purchase.
Therefore, it's important that the product images reflect exactly what makes your product special and that the photos look professional. After all, you wouldn't walk into an ugly, run-down retail store to buy luxury products, simply because you wouldn't expect the products to be high quality and luxurious. It's a similar story with your Amazon listing.
Your product photos need to reflect the quality and benefits of your product. High quality product photos will show the customer that your product is also of high quality. And that's the reason why you shouldn't go cheap with your pictures, but rather invest in a professional photo service.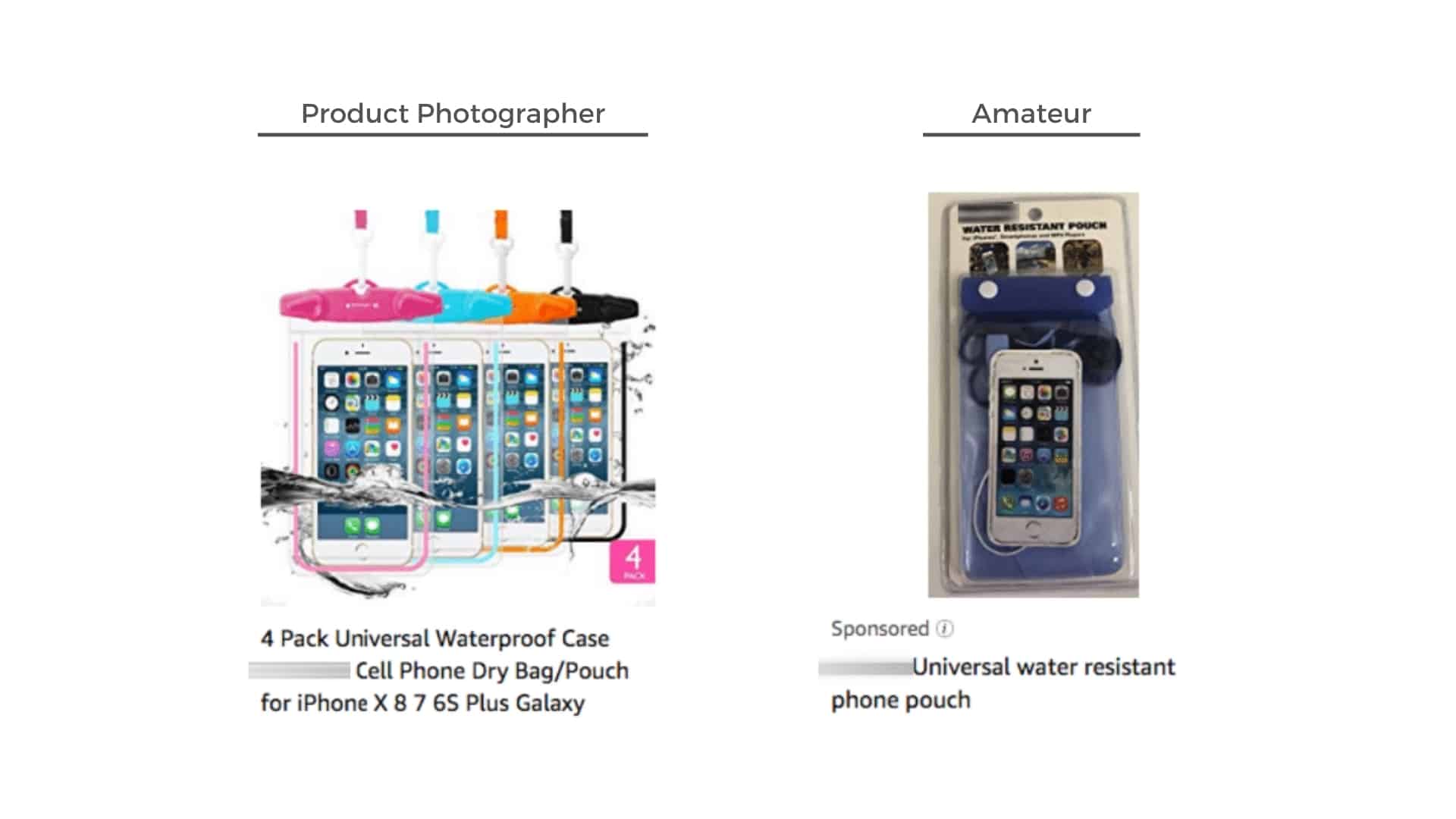 Take a look at the example above. If you were looking for a waterproof phone pouch and scrolling through the search results page, which one would you rather buy? Exactly.
The left image has definitely been taken by a professional Amazon photographer. The buyer can see right away what the product is, how to use it (put your phone in the case), its proportions (fits an iPhone 8), what colors the product is available in (pink, blue, orange & black) and what features it has (that it is waterproof and has a cord that allows you to wear the phone around your neck).
The images are of high quality, the product is nicely presented against a white background with no other distractions in the picture, and attention has been paid to perfect lighting.
The picture on the right, on the other hand, has almost no positive features. The product was photographed in its packaging, and it is not clear whether there are other variations of the product available in terms of size, colors, etc. In addition, the lighting is very weak and the proportions are confusing.
But not only the main image is crucial for your sales success, but also the other images. Amazon's guidelines for the main image are very strict, while you have more leeway with the other images. Here you can include infographics that explain how your product works or what benefits it has and add lifestyle images that demonstrate how your product makes the customer's everyday life easier and more enjoyable.
To sum it all up, there are 5 main reasons to hire a professional product photographer.
Save time – It takes a professional photographer a tiny fraction of the time it would take you to produce images of the same quality. They have spent all their time learning how to produce perfect photos. You, on the other hand, have other aspects of your business that need to be taken care of.
Save money – Great product images require proper equipment – camera, tripods, softboxes, stage elements, etc. – and expensive editing software like Photoshop. If you want lifestyle images, you need to pay for models. It's way cheaper to pay a photographer than to invest in your own equipment.
Get the skills – It takes a lot of creativity and talent to produce decent photos. A professional Amazon product photographer knows exactly how to properly portray a product and capture its value on camera. He has the skills to visually communicate the benefits that make your product special.
Benefit from others' experience – Product photographers have spent years perfecting their skills and workflows, learning which photos resonate well with clients and which ones don't. Since they usually have experience with all kinds of products, there is a high probability that they know your type of product and how to portray it perfectly.
Grow your network – If you hire a product photographer, you can benefit from their network. They usually know great graphic designers, videographers, and professional models that can help you create a perfect listing. You often get their service at a better rate than if you hired them independently.
How Much Do Product Photographers Usually Charge for Amazon Listing Photos?
Product photographers vary widely in terms of the services they offer and their prices. Thus, there is no universal answer to the question of how much a product photographer charges.
The cost of your product photos depends on many different factors, such as:
Location – Photographers in low-wage countries can offer their services at a much lower price than, for example, photographers in the USA or Germany
Type of photographer – You can either hire a freelancer, a small studio, or a full-service listing optimization agency. A freelancer is cheaper than a studio, a studio is usually cheaper than a full-service agency. 
Types of Images – If you only order studio images, you will pay less than when ordering lifestyle images, videos, or infographics as well
Product size and weight – If you need heavy or bulky products to be photographed, a product weight surcharge may apply since they are more difficult to lift and position
Preparation effort – The photographer could also ask for a surcharge if they have to assemble, clean, or iron your product before shooting it. The easier it is to simply unpack your product and start shooting, the cheaper the shoot will be for you.
Special requests – If special equipment needs to be rented, a complex set design has to be developed or a very complex retouching of the pictures is necessary, the costs for your product images are consequently higher.
Generally speaking, the price you are willing to pay for your images is usually directly reflected in the image quality. Especially if you're not selling a generic run-of-the-mill product, you should budget a reasonable amount for product photos.
Where Can You Find a Quality Product Photographer for Your Listing Images?
On Sermondo, you can find and compare service providers that specialize in working with Amazon sellers. Among the twenty categories, there is one specifically for Amazon product photography services.
On a large world map you can immediately see where exactly the service providers are located and you can contact them quickly and easily using the contact form in their listing.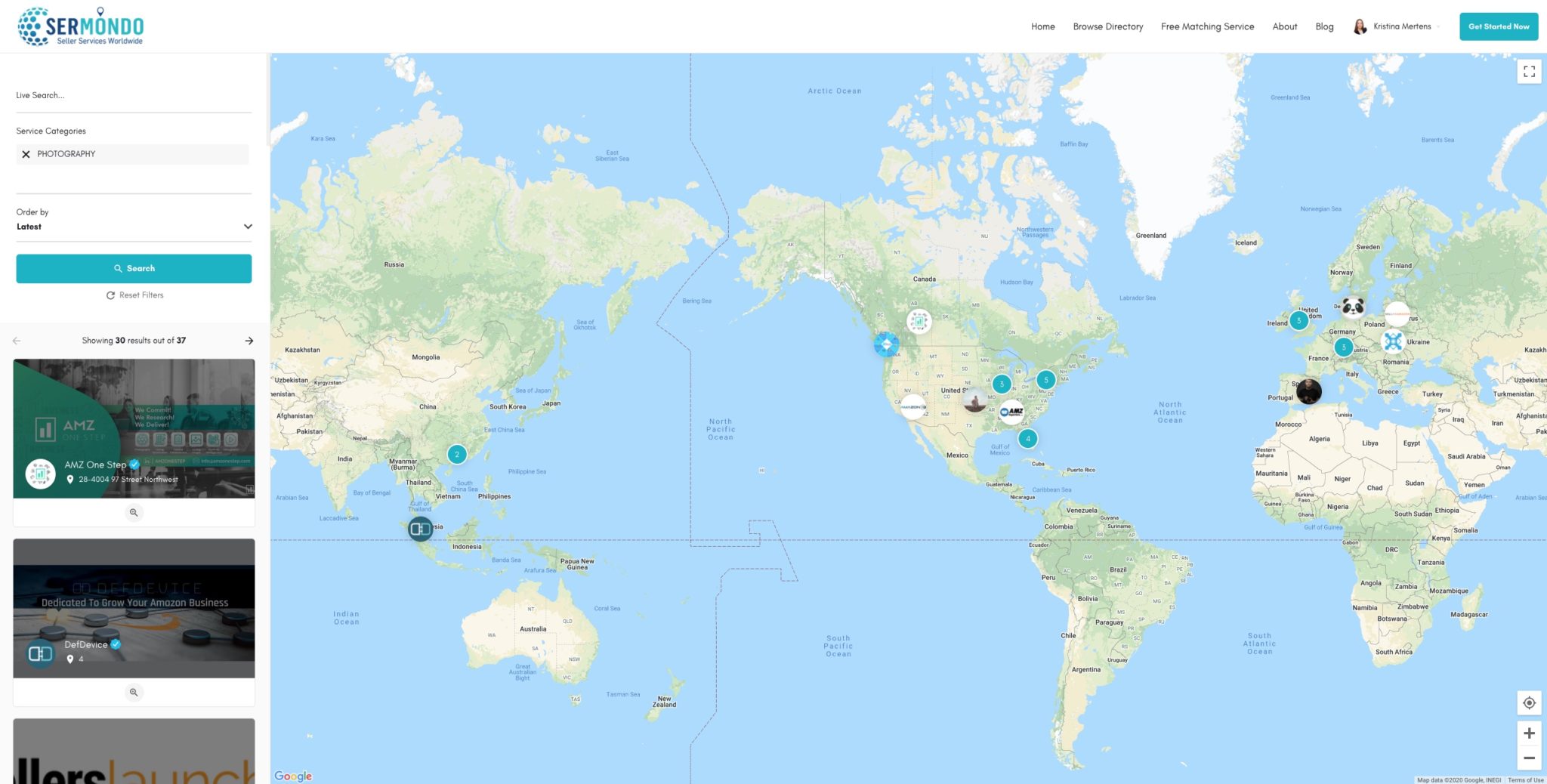 Sermondo also offers a free service provider matching service. Simply fill out our matching form where you describe which kinds of product images you need, where the photographer should be located and what is important to you. We will then find the perfect Amazon product photography service for your needs. If you want us to, we can also provide you with more than one suggestion.
Questions to Ask a Photographer Before Hiring Them
For how long have you been practicing photography?
What equipment do you use?
Is your studio suited to shoot my product?
What services do you offer? (Studio images, lifestyle images, videography, infographics etc.)
How much do you charge for your services?
What is included in your pricing?
Are there any additional costs I should be aware of?
Do you have experience with my or similar products?
How much experience do you have working with Amazon sellers?
What do former clients say about you?
How would you present my product?
Can I see your work portfolio?
How big is your team?
Do you offer all services in-house or do you outsource any?
If you outsource some of the work, what do you outsource to other service providers and to whom?
If I choose to work with you, how will our collaboration look like and what are the next steps?
What is your turnaround time?
What file format(s) will I receive the images in?
What does the copyright agreement look like? Who gets the rights to the images?
Besides the product, do you need anything else from me?
Conclusion: Boost Your Sales by Adding Professional Product Images to Your Listing
Adding professional product photos to your Amazon listing can be a real game-changer for your conversions and sales. While there are many guides that tell you how to take product photos yourself, we strongly advise against attempting to do so. It is easy to tell the difference between amateur and professional shots. So unless you are a born exceptional talent in photography and Amazon graphic design, better leave it to a professional.
Thus, always include the cost of good product photos in your listing creation or optimization budget.
Get started now: Try our Matching Service 100% free of charge →