Third party quality inspection companies are companies that visit your supplier's production facility and inspect the quality of your products on site before they are shipped. Especially if you are sourcing your products from countries with low production costs like China, India or Vietnam, you should definitely hire an independent company to inspect your ordered goods as suppliers often have a different perception of quality than you do.
This article will give you 5 reasons why you should invest in quality inspection and how it can save you from legal trouble.
1. Quality Inspection Helps to Increase Customer Satisfaction
One of the most important reasons for hiring a quality inspection company is to increase customer satisfaction. Amazon claims to be the most customer-centric company in the world. Accordingly, you as a third-party seller should also follow this principle.
Amazon obviously has a vested interest in customers continuing to shop on its marketplaces, so it wants them to have an excellent experience with both the purchase process itself and the products they buy.
If you fail to deliver this kind of customer experience to your buyers' full satisfaction, not only will you receive a bunch of 1-start customer reviews, but Amazon will also penalize you accordingly – with lower organic rankings and lower visibility for your product listings.
A high return rate not only hurts your brand and customer loyalty, but also your seller rating. So if your supplier promises high-quality workmanship and the product ends up looking cheap or doesn't fulfill its advertised functionality, your product is likely to be returned frequently because your customers wanted something different.
Many customer complaints over time, especially if they are related to poor product quality, will result in a lower seller rating. So even if the reason for the return is not a defect per se, but simply that customers don't like it, you will be punished with a lower customer rating.
Long story short: Make your customers happy or you won't do well on Amazon.
2. With Quality Inspections You Can Reduce Your Financial Risk a Lot
Investing in a professional inspection company can actually save you money, or at least protect you from losing money. Especially if your supplier is located in another country.
Even if you've found a great supplier to manufacture your products, blindly trusting them to adhere to all of your design, functionality, and quality specifications could cost you dearly. Once your goods have been paid for and shipped and you discover that the goods are of poor quality only at the point of arrival or even worse, when your customers have already received the goods, you have a number of problems.
Returning the goods to the supplier is usually not an option due to the high shipping fees and long shipping time, and since you have already paid the full amount by the time the goods were shipped, they have no incentive to send you new goods or refund your money.
Consequently, you are sitting on a huge mountain of unsaleable products that you have already paid thousands of dollars for and will not make a profit on.
It is therefore advisable to arrange a split payment agreement with your supplier before placing the order, where you pay for a part of the goods in advance or during production (for example 50%), but transfer the second part of the payment only after an independent quality inspection company on site has determined that the products meet the agreed requirements.
This way you reduce the risk of financial loss due to bad products to a minimum.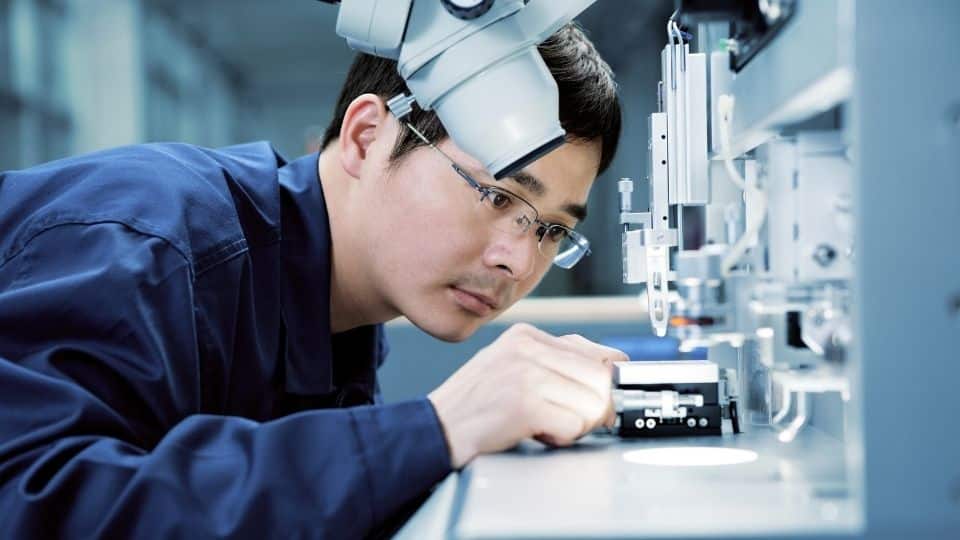 3. Ensure Compliance with Amazon's Guidelines to Prevent Getting Suspended
Another important aspect that many sellers do not consider is that the sale of inferior goods can (and probably will) result in the suspension of your seller account.
Amazon defines in their guidelines that they may suspend you if you exceed an order defect rate of >1%, so even if you sell 10 other products that have an average rating of 5 stars, one bad product can jeopardize your whole account.
Thus, you won't only miss out on sales for the low-quality product, but also lose tons of money by not being able to sell your other products once your Amazon seller account is suspended, at least until your account gets reinstated.
4. Quality Inspections Ensure Conformity With Amazon Warehouse Guidelines
The loading, packaging and labeling guidelines for FBA products are quite strict. If your products were not properly packaged and labeled according to these guidelines by your supplier, they will be rejected by Amazon at the warehouse, causing significant critical time delays and additional costs for you.
Amazon FBA inspection companies ensure compliance with Amazon guidelines before your goods are shipped to their destination and thus hassle-free acceptance and storage of your products at the warehouse.
5. Quality Inspections Help to Protect Your Business From Legal Issues
Not only your Amazon sales channel, but your entire business can be hurt or even ruined by defective products. After all, it's not only Amazon that doesn't want you to sell inferior goods to end customers, but also legal authorities. You have to comply with the regulations of the respective countries and these regulations are strictly enforced.
Every product category has its own requirements. In the case of electronic products, these regulations include wattage, frequency height and the like, in the case of beauty products, ingredients, hygienic filling and packaging etc.
If you import products that don't comply with the standards and thus, violate the law, you have to destroy your products entirely and usually pay extremely high fines. In some countries, you may even have your business license revoked.
Conclusion – A Quality Inspection Will Save You A Lot Of Money And Headache
Saving a few hundred dollars for a quality inspection can cost you dearly. If you import and sell low quality or even illegal products on Amazon, you will receive negative customer reviews, run the risk of having your seller account suspended or worse, face legal consequences that will put your entire business at risk.
Hiring a third party quality inspection company to inspect your products before they are shipped from your supplier protects you from such severe consequences and ensures that your goods meet all your quality specifications.
You will find the most experienced and reliable third-party inspectors specializing in product testing for Amazon FBA sellers on Sermondo. Our extensive partner network features quality inspections in China, Vietnam and virtually every other country in the world.
Simply use our free matching service and receive a hand-picked selection of suitable quality inspections or browse the listings of the different providers yourself.
Get started: Use Our Free Matching Service To Find Your Third-Party Inspection →