Your Amazon seller or vendor account is suspended?
Your product listing was deactivated?
You're looking for the best Amazon appeal service to get reinstated quickly?
We'll show you how to find the right one.
This guide covers:
When can Amazon suspend you?
Listing and account suspensions are definitely one of the biggest threats to Amazon sellers and vendors.
Especially if you're dependent on the revenue coming from one listing, a suspension can break your neck.
Even worse, when Amazon is your only sales channel and you get suspended, your whole business can go down.
Every second that you're suspended, you miss out on sales and thus, revenue.
You can get suspended for a couple of reasons, such as:
Intellectual Property Complaints
If you're accused of using registered trademarks or hurting patents, you can get suspended for intellectual property violation.
Product Authenticity Complaints
If you're suspended due to product authenticity complaints, Amazon accuses you of selling knock-offs.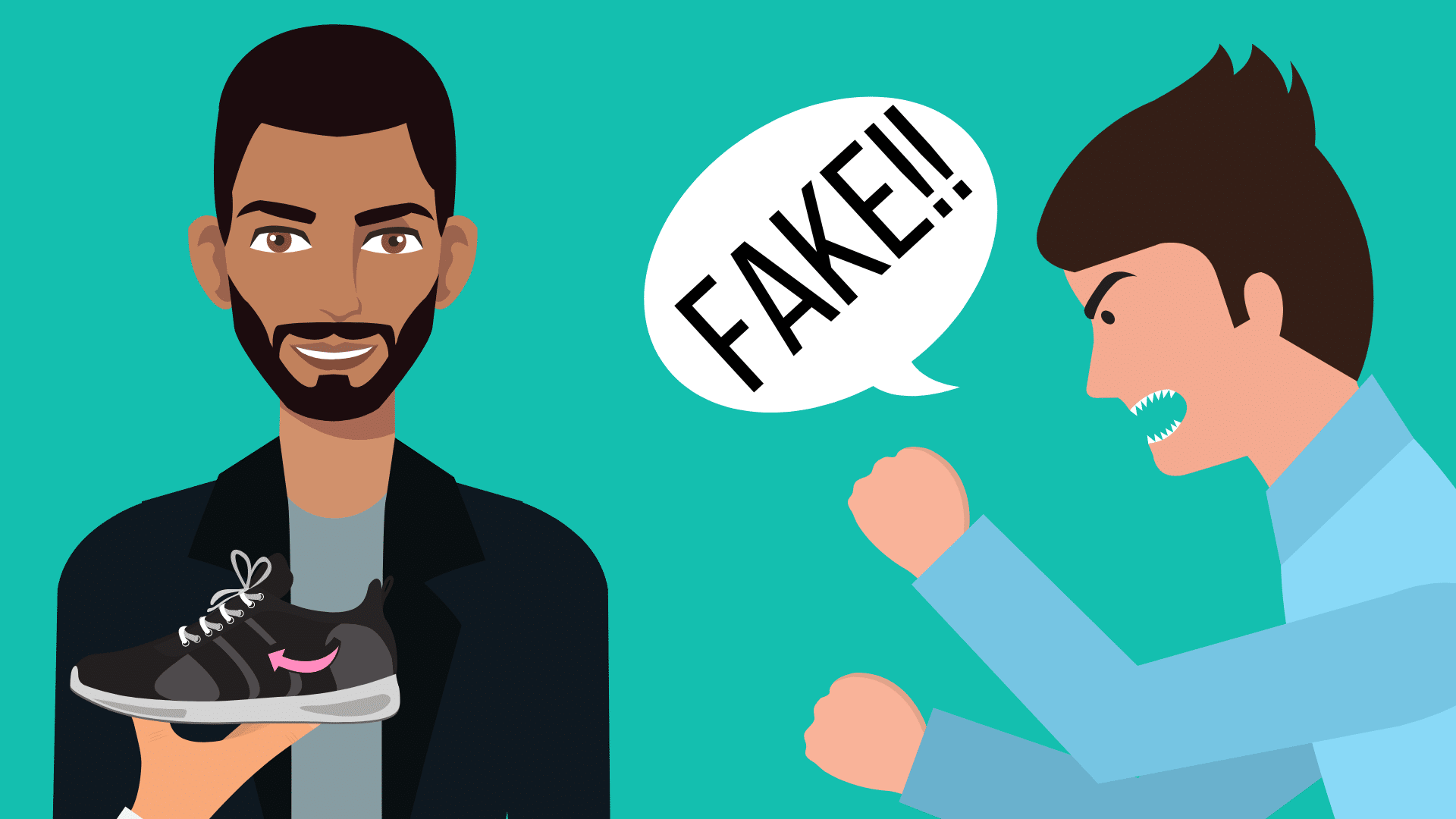 Your listing will likely be suspended immediately until you cleared the situation.
An example would be if you claim to sell original Nike sneakers, but instead, you're accused of selling cheap fake ones.
Having more than Seller Account
Many sellers don't know that, but having more than one seller account is violating Amazon's guidelines.
As with any other guideline violation, Amazon can (and probably will) suspend you for that.
If your account gets suspended and you open another account because you're too impatient, the new one will get suspended immediately too and your initials account's chance of getting reinstated drops down to 0%.
Changing your bank details
It sounds like a joke, but one of the most common reasons for suspension is actually a simple change in your bank details.
Amazon views that as suspicious activity.
To prevent fraud or other criminal activities, they suspend the account.
In this case, it's relatively easy to get reinstated.
However, depending on how fast the support team is able to review your case, the consequences of your suspension can be severe too.
Copyright Infringement
If you're accused of using images or product texts that were created by someone else without having permission, you can get suspended for copyright infringement.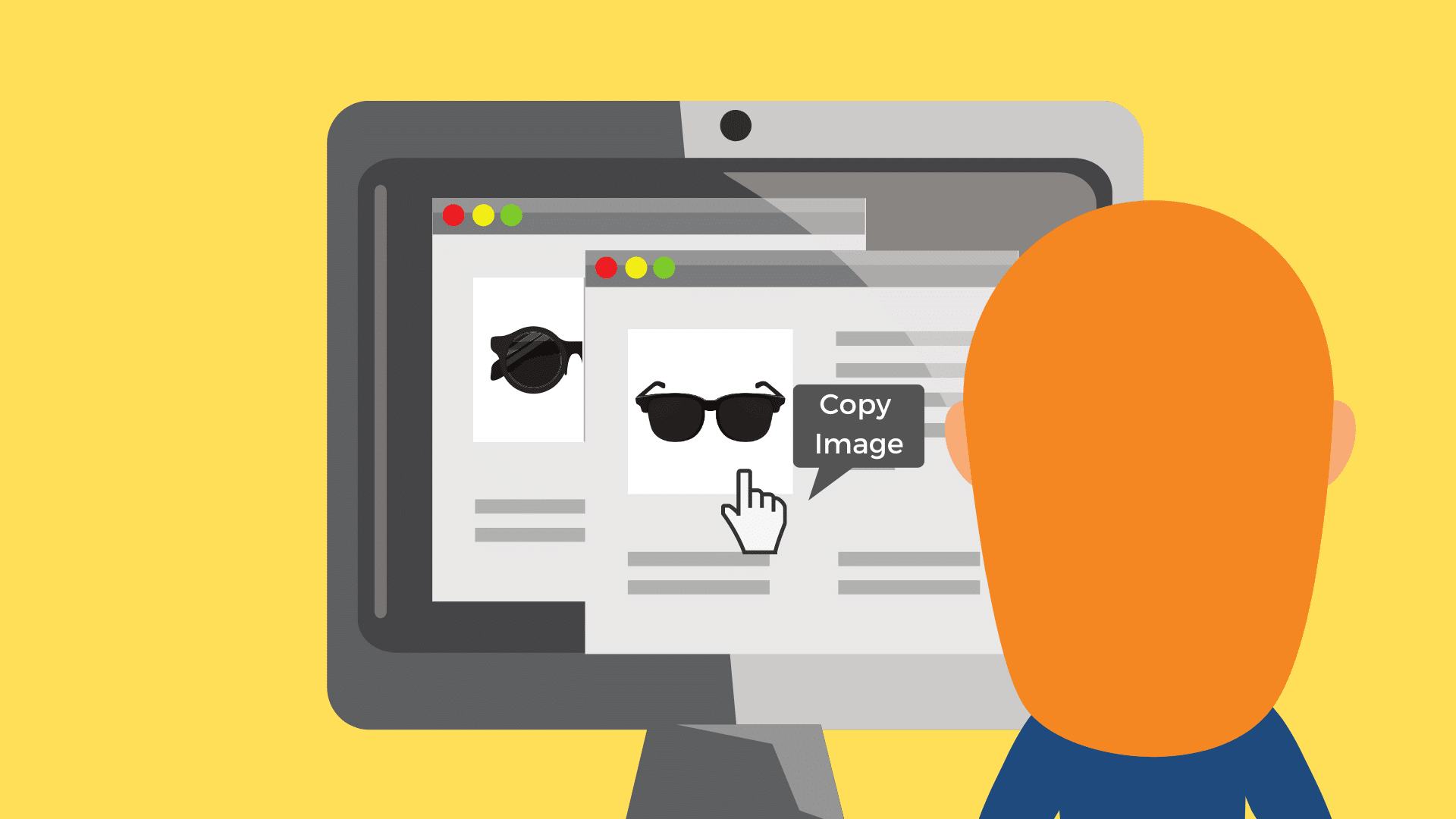 Better play it safe and hire your own Amazon product photographer and copywriter.
Unauthorized selling of products
Another reason for suspension is getting accused of selling products you're not allowed to.
Many brands carefully select their resellers and don't want other third parties to sell their products.
Even if you have the permission of the brand, your listing can get suspended until you show Amazon the documents with the permission.
Law compliance issues
This is a quite recent topic.
Amazon has to make sure that local laws are followed by all sellers selling on its platform because in some cases, they are held accountable instead.
A recent example would be that all sellers selling on Amazon Germany had to register for a specific tax certificate (22f).
All sellers that didn't register within the deadline were suspended by Amazon because otherwise, Amazon would've been held accountable for them.
IP Address conflicts
Another "rookie" mistake that gets many sellers suspended is having two seller accounts that belong to the same IP address.
Basically, Amazon prohibits that two sellers use the same network and thus, having the same IP address.
So if you and your significant other both want to sell on Amazon under your own accounts, make sure you're not operating in the same network.
Otherwise, both accounts will be suspended.
Getting attacked by a Hacker
One of the many reasons why sellers should worry about cybersecurity are hacker attacks.
If you get hacked, there is not only the risk that you lose money, but also that your account will be suspended.
Similar to changing your bank details, Amazon considers it suspicious activity when all your funds are suddenly transferred or unusual logon activities take place.
The fact that Amazon reacts quickly and freezes your account has, of course, several advantages.
However, getting your account reinstated can take a loooong time, which means that the suspension might do more harm than good.
Selling Prohibited Goods
Selling what is forbidden by law is of course also forbidden on Amazon.
This includes for example drugs, weapons and the like.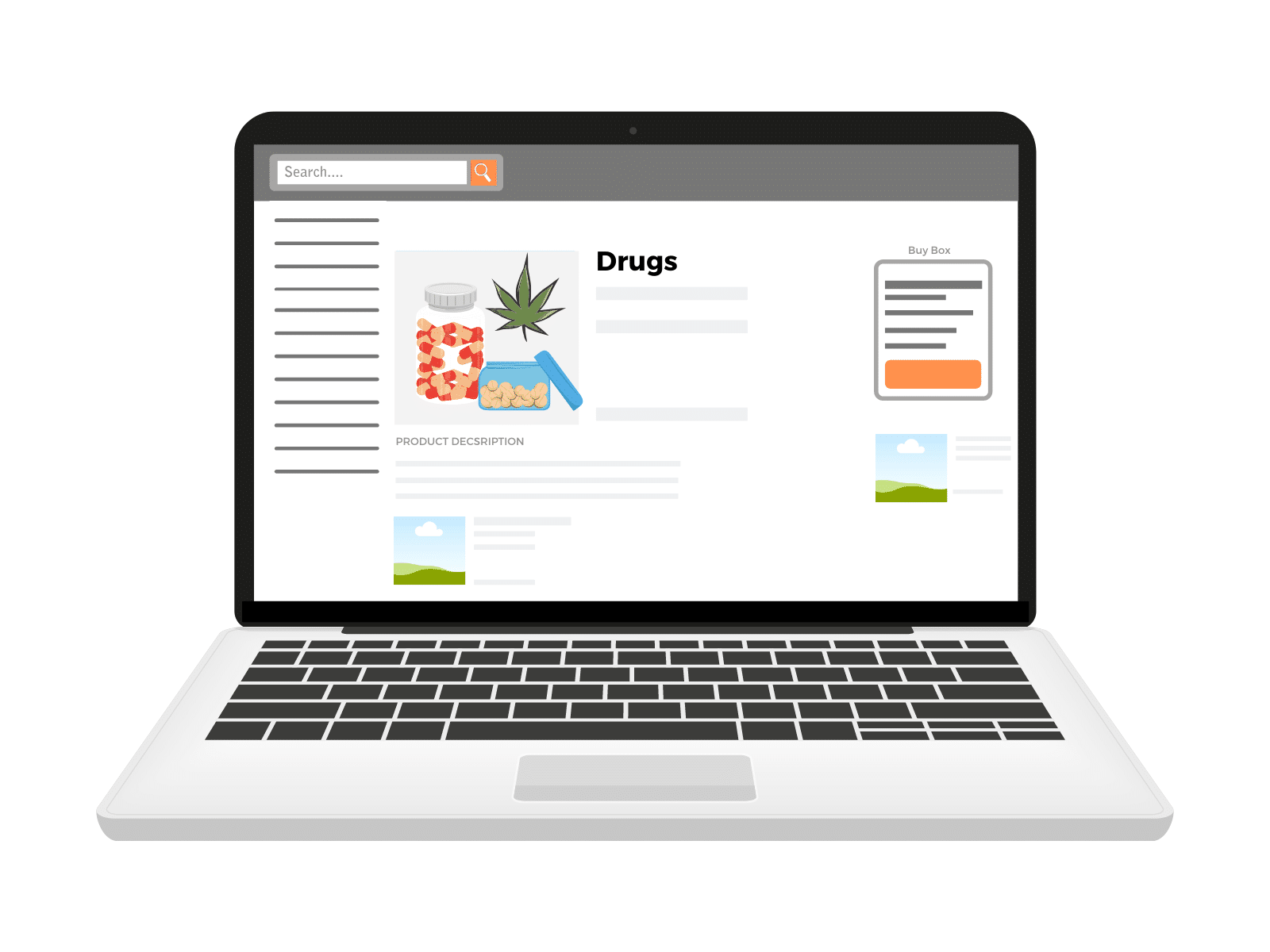 A well-known case was the sale of CBD products in the USA.
CBD, short for Cannabidiol, is a compound from the cannabis plant.
As opposed to THC, it doesn't get you high.
Many entrepreneurs jumped on the CBD hype train and start stelling CBD products on Amazon.
However, the legal situation was (and is) not clearly clarified, so Amazon suspended all listings in the USA that contained CBD.
Negative Reviews
Another reason to get suspended is having too many negative ratings.
With bad product reviews, your listing will be suspended, with bad reviews regarding your performance as a merchant (shipping, customer service, etc.) even your whole account.
If your products are badly rated on a regular basis, your account can also be suspended.
The worst thing is, a lot of times sellers get suspended without even doing anything wrong.
Competitors can play dirty and bombard your listings with bad reviews which will most likely lead to a suspension – at least temporarily.
What is an Amazon Appeal Service?
An Amazon appeal service is a person or company that helps you get your product listing or account reinstated after it has been suspended by Amazon.
Often, they have well-established relationships with people on "the inside", i.e. people working for Amazon.
Their services include:
Analyzing the reason for your suspension
Amazon is often not clear about why you were suspended.
You get a notification that informs you about your suspension due to one of the reasons I explained above.
Unfortunately, their emails are often very generic and vaguely written so it's already hard to assess why you got suspended in the first place.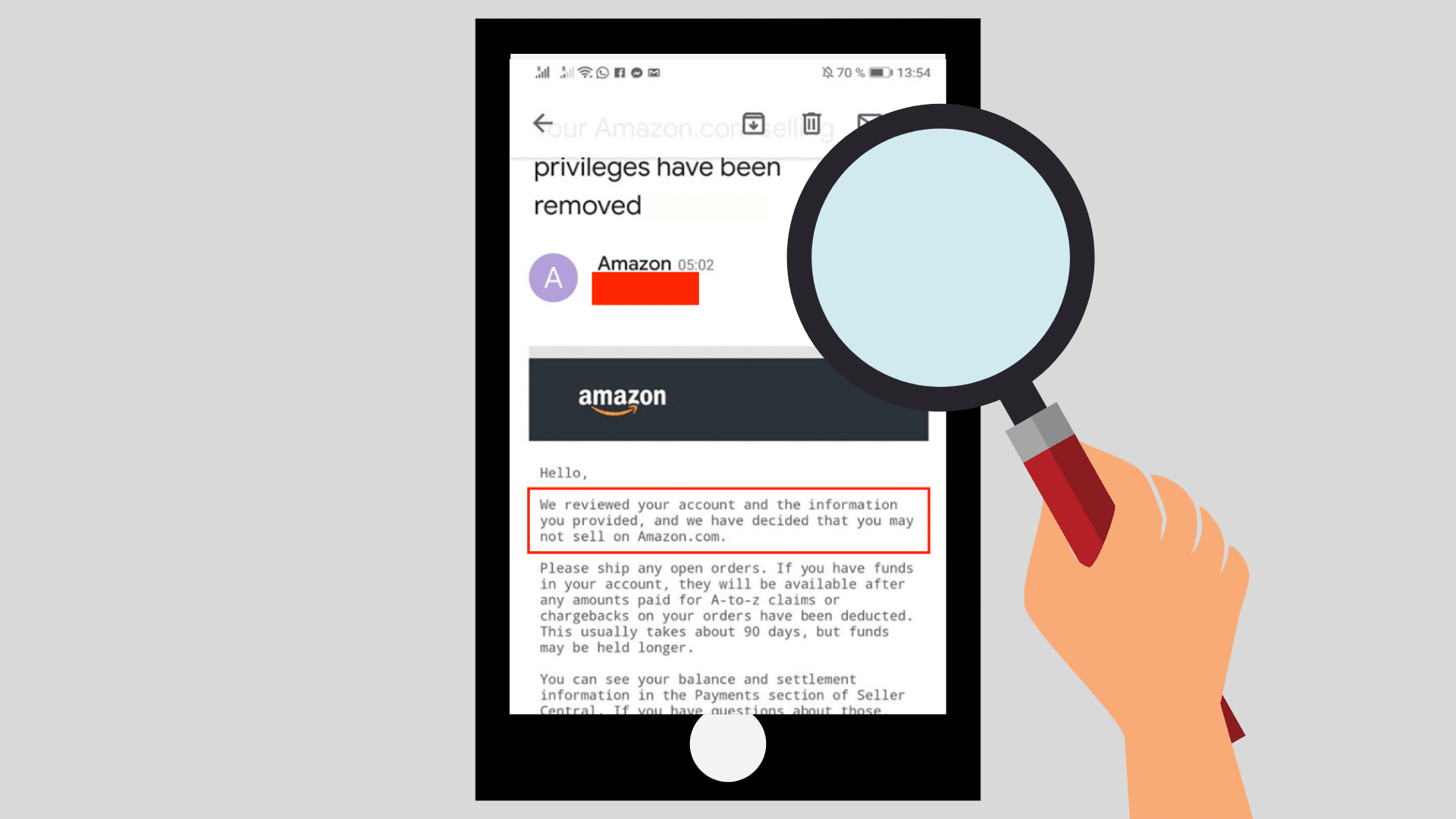 An Amazon reinstatement service knows the key phrases and statements made by Amazon by heart and can quickly find out why your listing/account was suspended.
If any ASINs were specifically named in the notification mail, they will check the products' sales history and feedback.
Writing an Appeal Letter & Plan of Action
The first thing your Amazon appeal company will do is write an appeal letter.
Amazon wants you to acknowledge what you've done wrong and wants to see that you have a plan in place on how to prevent that from happening in the future.
The most important thing: You need to swallow your pride.
Even if you did absolutely NOTHING wrong, just tell Amazon what they want to hear.
They don't have the time, patience or manpower to listen to every seller's "bUt I dIdN't Do AnYtHiNg WrOng" complaints.
If you try to convince them of your innocence by saying you didn't do it, you will most likely make this impression: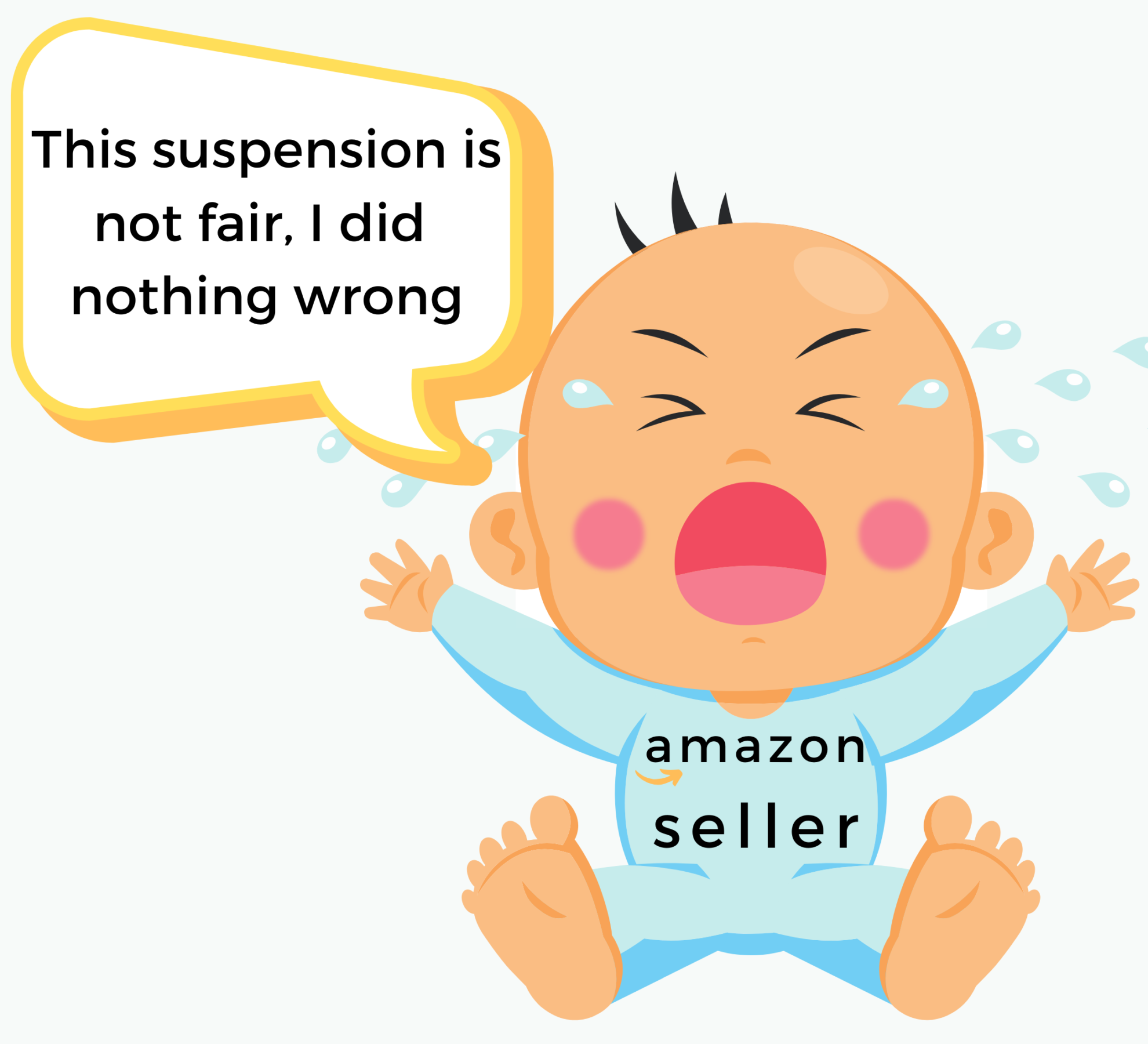 Instead, it often makes sense to admit to the mistake that has been made or simply provide the necessary documents to prove your innocence.
The Amazon suspension experts will know exactly how to find the right words.
Suspension appeals should be as brief as possible and straight to the point.
It's not a dissertation.
See it from an Amazon employee's kind of view.
They have to read through hundreds of appeal letters every day so they don't want to read a novel.
That's why your whole appeal letter and especially your plan of action needs to be brief and concise.
A plan of action should be the main part of any suspension appeal.
The POA describes how you plan to prevent the mistake you made in the future.
It consists of three parts:
What is the issue and what went wrong
What measures have you already taken to fix the issue
What measures will you take in the future to prevent the issue from recurring
An Amazon appeal help service will help you write a successful, convincing plan of action that is neither too short nor too long.
Suspension Prevention
Another huge advantage of working with a professional Amazon appeal service is that they not only help you fix your current suspension but also advise you on how to prevent suspensions in the future.
They'll tell you what to do differently in the future.
After all, if you get reinstated but don't change anything about your behavior, you'll be suspended faster than you can say amazon.
For example, if you run a dropshipping model and are suspended due to poor delivery times, you should not run dropshipping in the future, but rather store your products yourself.
How long it takes to get you reinstated depends on several factors, such as
How many times you have been suspended in the past
How severe your guideline violation was
How good your appeal letter and POA are
If there's someone "on the inside" that will help you
Obviously, the longer you're suspended, the worse the consequences of your suspension because you miss out on a lot of sales.
How much does it cost to get reinstated?
The costs of getting reinstated are not always the same.
Let's say you try to get reinstated all by yourself, without using an Amazon suspension appeal service.
The costs for a professional Amazon appeal service usually range between $300 and $800, depending on the scope of services as well as the location and experience of the reinstatement company.
So you would probably argue that you save that money by not using a professional Amazon appeal service.
Here comes the big BUT:
You probably have about 0 experience with writing successful appeal letters or POAs.
Thus, it will take you much longer to get reinstated than it would with a suspension expert – if you get reinstated.
Maybe it will take only a week longer if you appeal all by yourself.
But you will miss out on all the sales you could've made that week.
Thus, you may save the costs for the appeal service, but lose way more money by being suspended longer than necessary.
Not every suspension appeal company has the same pricing model.
Some charge a flat fee, regardless of the reinstatement success.
Some only charge a fee if your listing/account gets reinstated successfully.
However, those companies are obviously extremely selective about their clients.
There are also companies that mix those pricing models.
This means that you pay a part of the fee in advance – let's say 50% – and the remaining amount only if the appeal was successful.
Why should you work with an Amazon Appeal Service?
By now you could certainly see some advantages of working together with a suspension company.
Let's summarize.
Due to their experience with hundreds or even thousands of suspension cases, they have experience with all kinds of suspensions.
Thus, they will likely be familiar with the situation you're in and know exactly what to do.
Therefore, by using a professional appeal service you will get reinstated much faster than when you try to do it on your own.
What makes a good Amazon Reinstatement Service?
Experience
Obviously, the more experience your suspension expert has, the better they will be able to understand your situation.
Of course, any situation is unique and different circumstances come into play.
But if the appeal service is already familiar with a similar situation it sure helps.
Fast Turn-Around Time
Especially when it comes to suspensions, time is money.
Therefore it is important that the amazon appeal service works fast.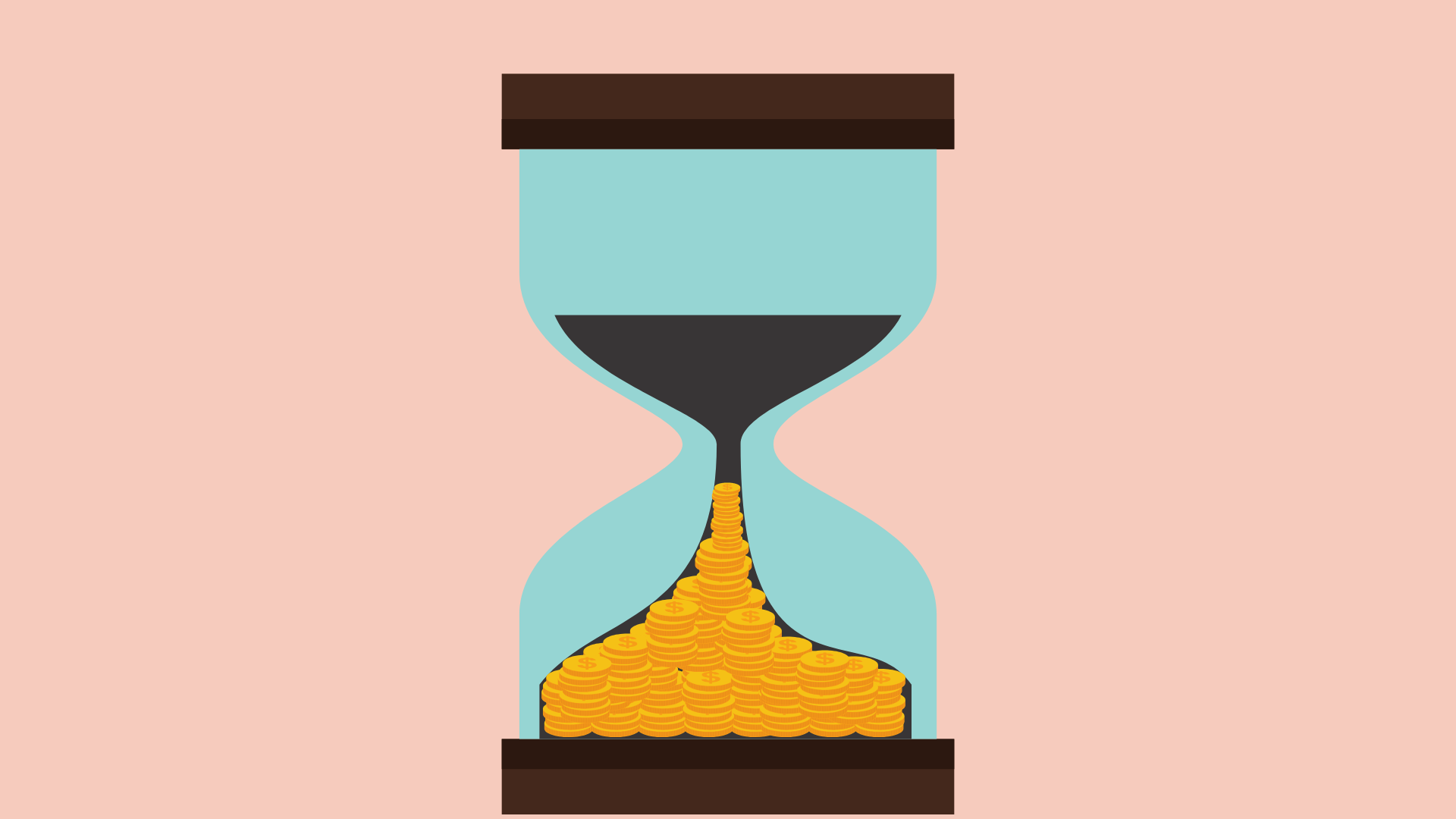 Every day counts.
Often there are different prices depending on how fast the company takes care of your request.
No Guarantees
No reputable, trustworthy suspension appeal agency makes utopian promises or gives 100% guarantees.
No one on earth (except Jeff Bezos himself) can give you a hundred percent guarantee that your listing or account will be reinstated.
So if you find a suspension appeal company that makes such promises, don't work with them.
This is the first indication that they are dishonest.
Big fat red flag.
Track Record
A good suspension service provider has happy customers.
That is why another quality feature is a good track record.
The company should already have successfully reinstated many accounts and listings.
Legal Team
The fact that an appeal service has legal advisors or lawyers in its team is another quality feature.
Especially when it comes to trademark or copyright issues, it is obviously a great advantage to be able to consult proper legal experts.
If the appeal service does not employ its own lawyers, they should at least have lawyers in their network with whom they can work with if necessary.
Where can you find a good Amazon suspension expert?
You can find suspension experts from all over the world in our directory.
You can read reviews from other sellers who have already had experience with the service providers.
Best of all, you have all the information you need at a glance.
For example, which markets and products the service provider has experience with, which languages they speak, which certifications they have and much more.
No more tedious clicking through dozens of websites – with us you have everything you need in one place.
You can also simply fill out our Sermondo matching form and we will find – according to your needs – the perfect appeal company for you.
Checklist – 6 Steps to finding your ideal appeal service:
Swallow your pride & resist the urge to respond immediately to the suspension notification
Go to sermondo.com to find the best suspension appeal services
Compare the service providers yourself or fill out the matching form and let us find the right company for you
Have a (video) call with them
Ask in advance how much experience they have, if they are familiar with your situation, how likely it is that you will be reinstated, how much it will cost, etc
Get a written statement on what conditions you have agreed on so you have a document as proof in case of non-fulfillment
Conclusion
We hope that this guide helped you understand what an appeal service does and how working with them looks like.
With our checklist, you are now ready to find the right suspension appeal service.
But first, we want to know from you:
What experience have you had with appeal agencies?
Do you have any tips that we didn't mention?
Let us know and leave your comment below this post! 🙂