As a designer wanting to sell products with your design it can be quite hard to gain a foothold in the industry – especially if you have no prior experience with e-commerce. Tasks like sourcing, production and logistics are usually not what you are familiar with and can be a little bit overwhelming for most. 
But not anymore. With Merch by Amazon (MBA) starting a design business is easier than ever before! All you have to do is take care of the design part and Amazon will do the rest for you.
Are you a designer looking for an easy way to sell your own product line without having to invest a lot of money right away? MBA is the right solution for you!
In this blogpost we will provide you with all the information you need to know to get started with your own design business on Merch by Amazon. What is it, how does it work, which products can be sold and how much does it cost? Just read on and find out all the answers you've been looking for!
What is Merch by Amazon (MBA)?
Merch by Amazon (or short "MBA") is an on-demand platform by Amazon that allows sellers to create and list products with their own designs.
And it's very convenient, as sellers don't have to worry about a thing.
All they have to do is upload an image with their design and Amazon will take care of the rest – with no upfront costs! When the designs are sold, the designers get paid royalties.
So MBA is a great way for everyone who doesn't have experience with e-commerce and is looking for a risk free way to try it out.
How Much Does Merch by Amazon Cost and How are Royalties Calculated?
With Merch by Amazon you have no upfront costs. You get paid royalty for every product you have sold. Your royalty is based on your product's price less applicable tax and Amazon's costs such as materials, production, fulfillment, customer service and so on. You can find a list of examples of Amazon's royalties for the merch here.
Royalties vary from product and marketplace. Here are some examples for the US marketplace:
Standard T-Shirt – $15.99 purchase price, $2.21 royalty 
Pollover Hoodie – $39.99 purchase price, $10.78 royalty 
Phone Case – $14.99 purchase price, $0.80 royalty 
Amazon Merch Products – What Can be Sold over the Merch by Amazon Platform?
At the moment, MBA includes the following products: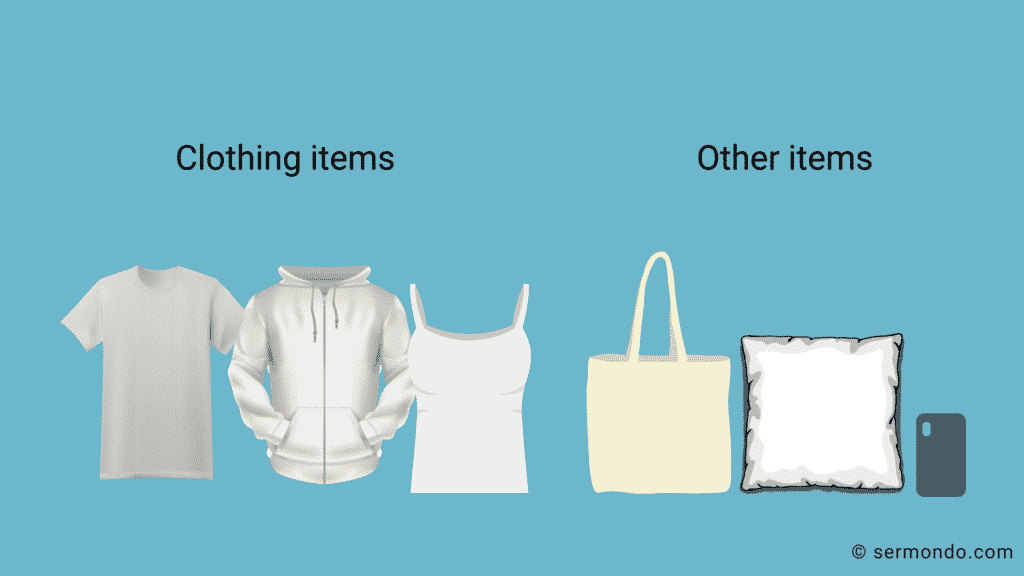 Standard t-shirts
Women's v-neck t-shirts
Baseball t-shirts
Tank tops
Long sleeve t-shirts
Crewneck sweatshirts
Pullover & Zip Hoodies
PopSockets
iPhone and Samsung Phone cases
Tote bags
Throw pillows
Who is Merch by Amazon for – Designers, Amazon sellers or other e-commerce experts?
Designers – Merch by Amazon is the perfect platform for designers that want to make money out of their art skills and buid of their own brand – without having to invest a lot of money right away or needing a whole lot of knowledge how e-commerce works.
Amazon sellers – The same applies to Amazon sellers or other e-commerce experts who are looking to diversify their income stream. However, experienced Amazon sellers probably are probably better off when selling their designs on the standard Amazon marketplaces because they don't need the help provided by the MBA platform, as they already know how e-commerce works.
Influencers and bands – But it's also an interesting opportunity for people who have their own brand that want to sell actual merchandise (like influencers or bands for example). In this case they can hire an artist to make the designs for them.
How Does Merch by Amazon Work? Step-by-Step Guide to Get Started
It's super easy. To sell your designs over Merch by Amazon, you simply have to go through the following steps: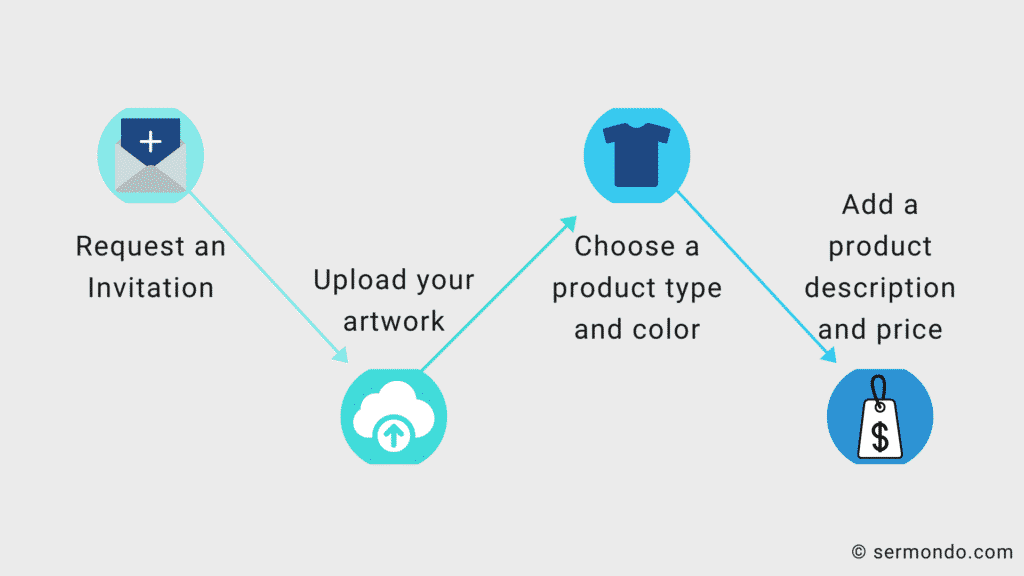 1. Request an application
Merch by Amazon is an invite-only system, meaning that you can only use it after receiving an invitation by Amazon. To be considered, you can request an invitation here by giving a few details about your background and experience.
2. Upload your artwork using the Amazon merch template
Next, you have to upload your artwork, e.g. a sketch or a painting, to be printed on a t-shirt. 
Make sure that you are using the supplied Photoshop, Illustrator and Gimp templates. Also your design needs to be in good quality to ensure it prints well. 
Amazon has very strict requirements for the uploaded files. They have to be 
15×18 in
300DPI
with transparent background
PNG
no more than 25 MB in size
As a designer, it is not only important to have great designs, but also to find lucrative niches beforehand. Always keep that in mind!
3. Choose a product type and color
After uploading your artwork, you have to decide which product type you want to sell and in which color.
Be aware that certain designs are only suitable for certain products! So make sure you keep that in mind when making a decision for the product type.
Also, as mentioned before, royalties differ depending on the product type. So do the math and find out which products make sense for you financially.
4. Add a product description and price
Once you are done with that, add a product description and price. 
This is a very important step, as you will have to research suitable keywords for your listing and then integrate these into appealing sales texts so your products will actually sell! This step is not much different to selling on the standard Amazon platform.
So we definitely recommend to read deeper SEO and finding keywords or hire someone who can take care of this step for you. In this article, you will learn how to find the best Amazon SEO Service!
5. Let Amazon do the rest for you
Amazon will then create a product page for you and take care of the production, shipping and customer service.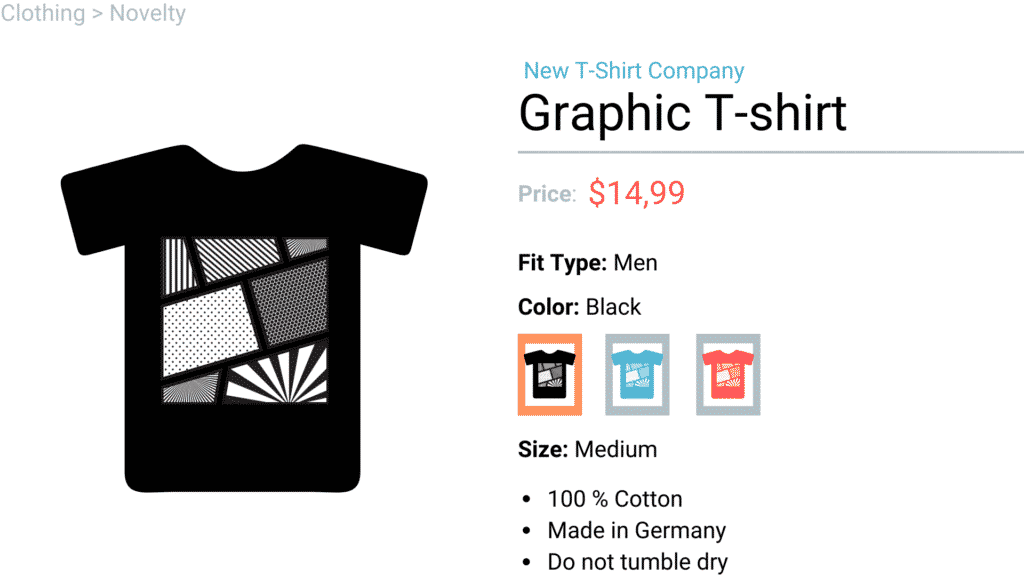 Merch By Amazon vs Amazon Seller Central – What's the Difference?
If you are already selling on Amazon, you might ask yourself, what the difference between both platforms is.
The biggest difference is the need (or no need) for inventory. While Sellers using Amazon Seller Central need to purchase their inventory from a manufacturer, list it, price it and so on, Merch by Amazon Designers only have to make the designs and upload them – and that's it! So MBA is a lot more convenient and risk-free.
As you can see the business model for Merch by Amazon is quite simple, allowing you to concentrate on your artwork only rather than sourcing and production. But of course you are also much more limited in what you can do – because Amazon sets a very fixed framework. Not only your options are limited, but of course your margin as well.
To find out the differences between Seller and Vendor Central, check this post!
Why choose Merch by Amazon Over Other On-Demand Design Platforms?
Of course Amazon is not the first one with the idea of an on-demand platform for designs. So you might ask yourself why you should choose MBA and not try one of the other platforms.
The answer is simple: Amazon's reach is unique and you can benefit from it.
Countless customers worldwide are already using Amazon frequently. They trust Amazon and value their customer service and the fast and Amazon's well thought-out logistics (especially when using prime shipping which is also available for MBA). 
Conclusion on Merch By Amazon: Easy starting point for Designers!
Merch by Amazon is ideal for designers, who are new to this kind of business and want to start selling their products online.
While options may be limited, it is a safe and risk-free environment that allows you to make your first experiences in the e-commerce world while Amazon takes care of most tasks for you.
Even though you might be able to earn more when organizing everything yourself, it's a very convenient starting point. It's simple to use and does not require a lot of preparation. And you might even enjoy it so much that you start listing on the standard Amazon marketplace too. You never know unless you try it out!
So what are you waiting for? Get started!
Find an MBA expert to help you get the most out of your designs →