You want to find the best Amazon SEO Service for your business. We'll show you how.
Simply follow these 7 Steps:
What is Amazon SEO & why is it important?
The three letters S, E and O stand for "search engine optimization".
Search engine optimization includes all measures aimed at improving your organic ranking on the search results page.
Organic search results refer to search results that have not been paid for (such as ads).
In other words: When a customer searches for a specific keyword, you want to be the first or at least one of the first search results the customer sees.

Amazon is not only a marketplace, it is also a search engine. More precisely, a product search engine.
In fact, when it comes to online shopping, it's the most important search engine in the US.
According to an article by The Business Insider, 66% of all US online shoppers start their product search directly at Amazon.
That's two out of three people.
Let that sink in.
Let's say you sell premium knife sets on Amazon's US marketplace. Each set costs $100.
And let's say that every month, 10,000 online shoppers in the US want to buy a nice knife set.
That means that 6,600 people will go to amazon.com, type "knife set" in the search bar and hit enter.
Let's assume you don't really believe in all that talk about the importance of Amazon SEO and you don't really put much effort into optimizing your listings.
That's why your knife set ranks on page 3.
Too bad – you just lost almost half of your potential buyers.
The reason is that 44% of the Amazon users don't look further than the 2nd page of search results, as Feedvisor found out in their 2019 Amazon Consumer Behavior Report.
That means a loss of $290,400 in potential sales.

Now let us emphasize the importance of Amazon SEO in a positive way.
According to Feedvisor's report, 26% of US Amazon users frequently buy the first product listed on the search results page.
26% of 6,600 people = 1,716 people.
So if you had invested more in your listing optimization and would rank on #1, you'd already have sold over 1,700 knife sets.
ONE – THOUSAND – SEVEN – HUNDRED.
Katching! That translates into a nice revenue of $170,000! (1,700 x $100)
If that's not motivation to improve your SEO efforts, then we don't know what is.
How does Amazon decide how my products rank?
Sometimes it feels a bit arbitrary how Amazon ranks products, right?
But Jeff Bezos is not sitting in his office playing with a random generator after which he decides for which position your knife set will rank today.
Instead, the positioning on the SERPs (search engine result pages) is based on Amazon's A10 search Algorithm (formerly known as A9 algorithm).
The algorithm's purpose is to find the product that seems to be most relevant for the Amazon user.
As you know, Amazon is obsessed with customer satisfaction.
Thus, the algorithm is designed to find a product or brand that best meets or exceeds the customer's expectations.
It analyzes all data that your seller account, ad campaigns and your product listings provide.
To determine which product the customer should see first, the algorithm considers DOZENS of factors.
Conversion rates, seller performance, feedback ratings, listing impressions and PPC sales are just a few of them.
If you want to learn more about these factors, there's a great guide by WordStream that provides detailed information about what helps you get a high ranking at Amazon.
But as you might have noticed by now, SEO is a highly complex topic and achieving great rankings requires a lot of knowledge about all the factors that come into play.
How can Amazon SEO Companies help me?
Phew. So Amazon SEO sounds like a lot of work, right?

Lucky you, there are companies that specialize in helping Amazon sellers and vendors rank better.
Hiring an Amazon SEO service is a worthwhile investment because they will help you sell more products and generate more revenue without you having to invest your time.
But how exactly does that look like?
With so many ranking factors to consider, it's obvious that every good Amazon SEO expert must have a holistic approach to improving your rankings.
Stuffing your product descriptions with keywords won't cut it.
Replacing some product images is not enough either.
Here are some of the services Amazon SEO experts usually perform:
Account & Listing Audit
The SEO expert first analyzes your current situation and strategy (if you have one).
After all, there is no point in trying to find out where you want to go if you don't even know where you are.
You get the point.
So in the first step, your current product rankings, performance data, sales history etc. will be evaluated.
Then, your keywords and listings will be analyzed.
Are you including keywords that users actually search for?
Do your listings consist of compelling bullet points and product descriptions?
Or, in a few words: Are your products easy to find and do your product listings trigger a desire to buy?
Yes? Good.
No? Not good. How can that be improved?
Competitor Research & Analysis
If you want to know how you can do better – look at people who do better.
That's what an Amazon SEO service provider does for you.
They will conduct a thorough competitor analysis for you, which includes finding out:
Who your competitors are How their product listings look like
Keywords your competitors target and rank for
What buyers say about competitors' products in the reviews
What kinds of questions buyers ask about competitors' products
Your competitors' pricing & monthly sales
How and where they advertise
Keyword Research & Strategy
If you want your product to sell successfully, you need a good keyword strategy.
Thus, keyword research is an important step on your ladder to sales success.
Bad news: without proper software and lots of experience, there is only little chance that you will find the right keywords for your product(s).
Good news: keyword research is every Amazon SEO expert's core ability.
They use their tools and experience to find high-volume keywords that will increase your listings' visibility.
The keyword research and elaboration of a keyword strategy form the basis for many next steps, such as the creation of product descriptions, bullet points etc.
Overall Listing Creation or Optimization
Title
The listing title is one of the most crucial factors affecting your ranking and thus, visibility, on Amazon.
The maximum length is 100 characters, but keep in mind that your title shouldn't be too long.
Oh, but also not too short.
The focus should be on the user experience and readability, but the most important keywords must also be included.
You should make sure that the title contains the:
Brand and product name
Product's material
Quantity (Single product, 2-Pack, Multi-Pack etc.)
Color
There's a fine line between keyword optimizing your title and overstuffing it.
Your Amazon SEO specialist will make sure that your title contains the main keyword, is descriptive and appealing to potential buyers.
Description + Bullet Points
Once the keyword strategy is defined, it's time to add those keywords to your product listings.
That does not mean that your listings should randomly be stuffed with all your cool new keywords, but carefully sprinkled all over your listing.
The difficult part is combining convincing copy, the right keywords and the product features in just 2,000 characters.
A professional Amazon SEO service will provide you with compelling, keyword optimized product descriptions.
Another important aspect of your listing are your bullet points.
They should address your potential customers' main concerns and briefly describe your product's main features and benefits.
An experienced Amazon SEO consultant will know how to stress those benefits in just a few words.
Images
It's not only the text that counts, but also the visual impression. Especially the first one.
Your product image is the first thing that your potential customers see when they browse the search results page.
If your main image looks like you took it at night in your garage with a Motorola Razr, chances are pretty slim that anyone will click on your listing.
If your product photos are of low quality, people will think that your product will be of low quality as well.
Take a look at this example: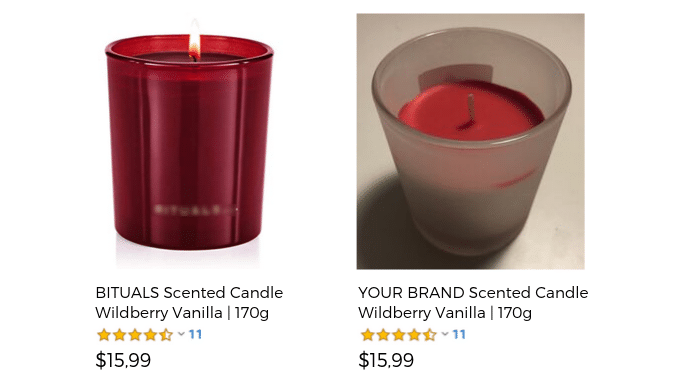 If you were looking for scented candles, which one would you buy?
Exactly.
Your Amazon SEO company will tell you exactly if and how your images need to be improved.
They often have a great network of other service providers.
So if you don't know how to find an Amazon product photographer, your SEO agency can refer you to one they trust.
Regular Development Analysis & Reporting
Implementing all the new measures is one thing, evaluating how they perform is another.
A lot of A/B testing is necessary to see which listing styles perform better, dozens of numbers need to be analyzed (sales numbers, best seller rank, conversion rate etc.).
Good thing we live in the 21st century, so there are plenty of tools out there that facilitate monitoring.
However, choosing the right tools and learning how to use them, can take a long time.
Your SEO specialist will advise you on which tools are best for your business and explain how you can assess how your optimization efforts are developing.
Which Types of Amazon SEO Service Providers exist?
Now that you know what an Amazon SEO expert can do for you, let's dive into the different types of companies that can help you with your search engine optimization.
The two main types that exist are freelancers and agencies.
Agencies can be further divided into Amazon SEO Agencies and Full Service Agencies.

Freelancers
Usually, Amazon SEO freelancers usually work entirely on their own and have no employees.
The term freelancer basically refers to a single person, whereas an agency (which we will talk about in a bit) employs multiple people.
When working with a freelancer, you will communicate with the freelancer directly.
The freelancer sets the rate for your project and will receive your payment.
Many of them are ex Amazon sellers or still actively selling on Amazon.
In many other cases, they have gained their expertise and experience from working in an Amazon SEO consultancy or agency.
Pros & Cons of Hiring A Freelancer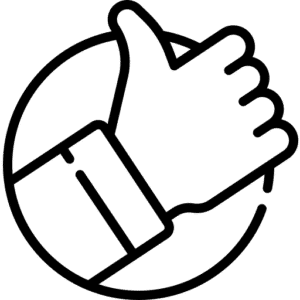 Lower Pricing:
Services of a freelancer are usually much cheaper than those of an agency because they have lower costs
Focus:
Freelancers are generally highly focused on their core skill and know every task that needs to be done by heart so they can provide you with a holistic view regarding search engine optimization.
Flexibility:
Freelancer are more flexible than agencies when it comes to working hours, changing deadlines and adding workload.
Faster & easier decision making:
They don't need approval from their boss, financial department or whomever.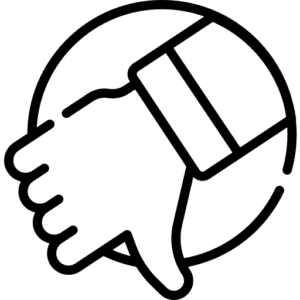 Higher Risk & Dependency:
If your freelancer gets sick, has a family emergency or some other unforeseen event that hinders their work, your project will come to a halt.
You only get one point of view:
There might be better approaches to make your Amazon SEO a success, but you will only receive input from one person. So if your freelancer's approach sucks – who is there to come up with another one?
Less Information available:
Of course, any freelancer will claim that they are the best in their field, always meet deadlines and can handle some extra work. But freelancers usually aren't as known as agencies or other bigger companies and therefore, it will be a bit more difficult to find information and reviews about them.
Pure Amazon SEO Agencies
As opposed to freelancers, Amazon SEO agencies consist of multiple people (usually freelancers) who work together on the same accounts and projects.
In an agency that is specialized in Amazon SEO, all of the people working for the agency are specialized in search engine optimization.
When working with an agency, you will usually communicate with the agency owner or one project manager who coordinates your project.
However, how and with whom you communicate during the project can be individually negotiated before you start working with the agency.
The pricing is set by the agency and your payments will go to the agency, not to the individual employees and freelancers working on your project.
The agency handles internally when and how much everyone gets paid for their work.
Pros & Cons of Hiring a pure Amazon SEO Agency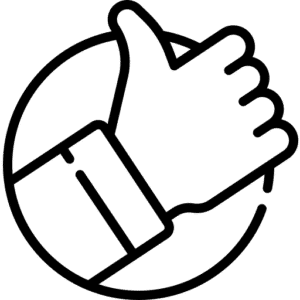 Team Work:
If you hire an Amazon SEO agency, you hire a whole team of talents that is used to working together. If a team of three people comes together to take care of your SEO, you get triple the manpower, triple the experience and triple the knowledge.
Different Ideas:
Having more people work on your project means that there will be more ideas, different points of views and different kinds of experiences influencing the success of your project – which is a very good thing.
Quick Trouble Shooting:
Solutions to problems can be found more quickly when a whole group works on them and not just a single person.
Lots of Information available:
If the agency is well-known in the Amazon industry, there's a good chance that you will easily find reviews from previous clients and information on their performance.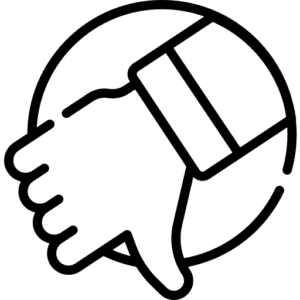 Slow Decision-Making:
You may think that everything will be done faster when several people are involved in your project.
Ironically, working with many different people sometimes makes it harder to move fast.
Proposals need to be approved, tasks need to be delegated, costs need to be discussed and so on.
Higher Pricing:
In addition, hiring an agency is usually more expensive than working with a freelancer.
The reason is that agencies have higher costs which is reflected in their pricing structure and level.
Amazon Full Service Agencies
Full service agencies are very similar to SEO agencies, but differ in their range of services.
Full service simply means that these kinds of agencies provide their clients with various other services they may need in order to grow their business.
Thus, they do not only offer Amazon SEO Services, but also services like Amazon PPC Services, Branding Services, Product Photography etc.
Pros & Cons of Hiring an Amazon Full Service Agency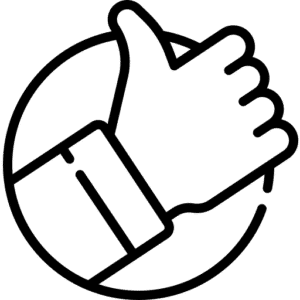 They see the Bigger Picture:
The biggest advantage of working with a full service agency is that they see the bigger picture and can help you develop a coherent, holistic overall strategy for your business.
Consistent Brand Communication:
When hiring an Amazon full service agency, your brand image will be communicated clearly and consistently across all marketing channels.
One source for different services:
You don't need to find a service provider for each area of your business, you only need to find one great Amazon full service agency. They got you covered for any service you may need besides SEO in the future.
All of the SEO Agency Benefits:
Apart from those major benefits, all the advantages of having a team working for you (which we have covered in the SEO agency section) also apply to working with full service agencies.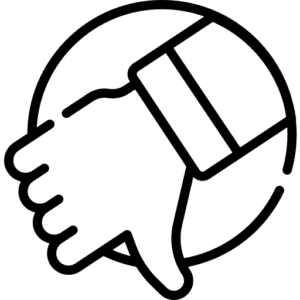 More expensive:
Like SEO agencies, full service agencies are more expensive than working with a freelancer is.
Even slower Decision-Making:
Plus, if you outsource more than your search engine optimization tasks to a full service agency, decision making processes are even slower than when working with a pure SEO agency.
The reason is that different departments need to come together to work on strategies and next steps.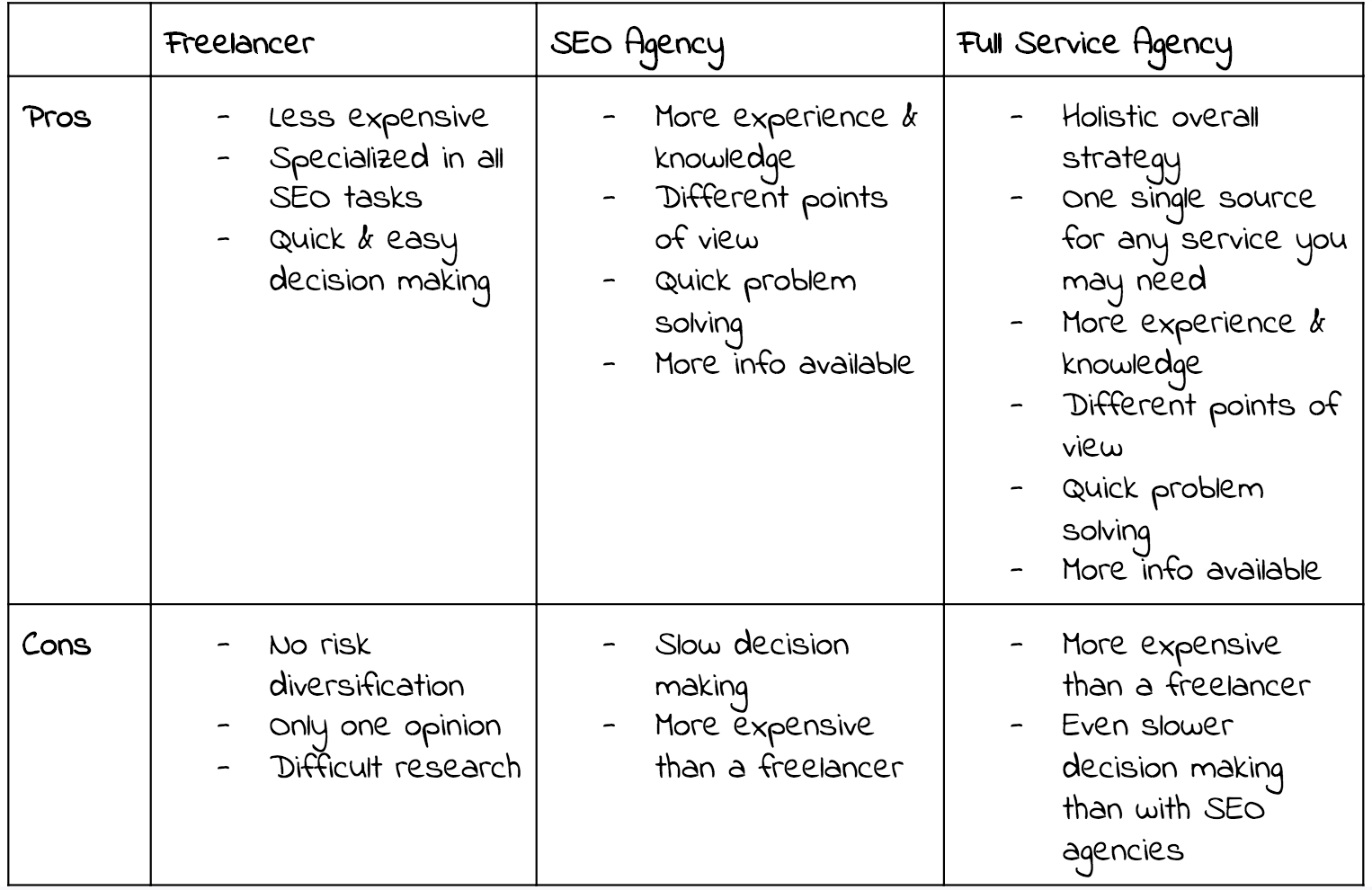 What makes a good Amazon SEO Specialist?
No matter which type of Amazon SEO service provider you choose, you want your investment to be worthwhile.
Every good Amazon SEO business should, therefore, meet all of the following criteria:
Experience
Unless you want to be the guinea pig for a service provider that is new to the industry, you need to use a company or freelancer who has a lot of experience in helping Amazon businesses like yours improve their SEO.
What we mean with "like yours"?
That the SEO company has worked with Amazon sellers or vendors who sell products in the same category as you.
Each niche and category has its own special characteristics and things that need to be considered.
Experience is important because it means that your SEO expert has seen plenty of different strategies and approaches and has seen what worked well – and what didn't.
They can apply that knowledge and experience to your situation and business.
Transparency & Honesty
Transparency and honesty are as important as experience.
The company you're working with needs to be upfront with actual costs, costs that could occur during the project and the time it will take.
A good Amazon SEO expert sets realistic expectations and doesn't promise you anything you want to hear.
If the results they promise sound too good to be true, then they probably are.
Reputation
Reputation is another great indicator for performance.
A company that served its former clients well and delivered the work that was agreed on will always have a good reputation in the industry.
You will learn later on if, where and how you can find out if a company has a good reputation.
Communication
In any kind of (business) relationship, communication is key.
A good SEO company gives you different ways to reach them and the details of more than one contact person.
They will set up a regular meeting schedule to inform you about results, next steps, changes of plan and so on.
This way, you will always be in the loop of what's going on and how (well) your budget is spent.
Flexibility
Changes can happen anytime.
Maybe the warehouse your products are stored in will burn to the ground and your insurance won't cover it.
Maybe your account will be suspended for whatever reason and you will have no sales and no revenue for weeks.
And that's not all.
Employees can quit.
Amazon can change its guidelines.
Wait! That actually happens every week.
The point is, unexpected extra costs can shrink your budget.
And as you can see, there are a zillion things that can happen.
Your Amazon SEO expert needs to have the ability to adapt to those changes and to react quickly to the new circumstances to keep the project running smoothly.
Up-To-Dateness
We already talked about it (like 3 paragraphs above): Amazon changes its guidelines very often.
Methods that are allowed today might be banned as black-hat methods tomorrow.
That might lead to a listing or account suspension without you purposely doing something wrong.
Let us give you a recent example:
This week the character maximum of your listing title may be 100 characters, next week only 80.
If you listing title is 95 characters long, your listing will be suppressed because it doesn't comply with the new guidelines.
Those kinds of punishments can hurt your visibility and thus, your sales.

That's why it's important that your SEO service provider is constantly up to date to prevent things like that from happening.
White-Hat Methods Only
NEVER – we mean NEVER EVER work with a company that claims to know "shortcuts" to a better ranking or uses methods that are not 100% allowed by Amazon.
Black-Hat strategies are not worth it.
I don't know how Amazon does it, but let us tell you: they will catch you eventually.
And if there is one thing that Amazon doesn't want its sellers and vendors to do, then it's hurting their rules.
A good Amazon SEO service provider would never put your account and your listings at risk by trying to cheat on the system.
They use white-hat strategies only.

Where do I find the best Amazon SEO Experts?
Facebook Groups
In general, Facebook seller groups are great. But only for finding answers, solutions and advice to particular problems you face.
They are NOT great for finding the best SEO expert for your Amazon business.
Let's look at this example: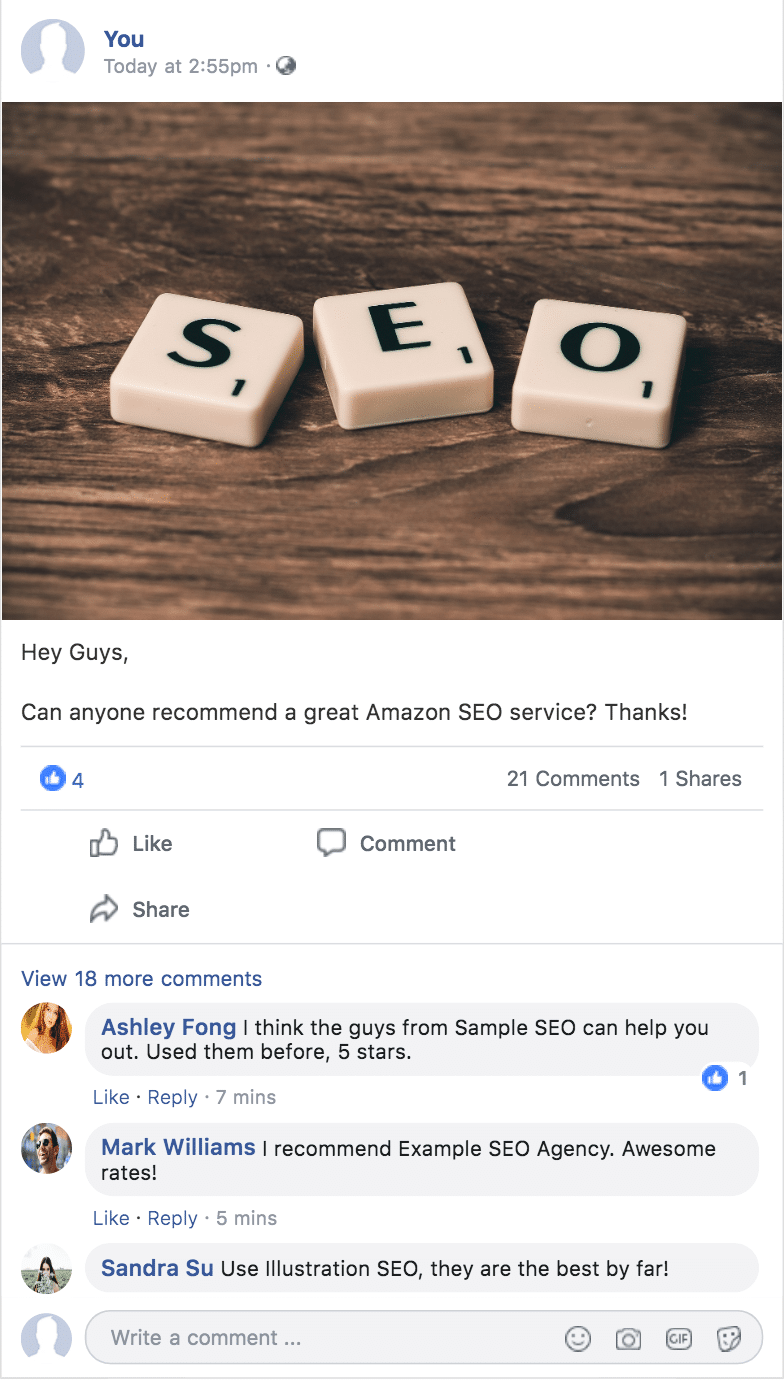 Awwww, it's so nice of Ashley, Mark and Sandra to give you their recommendations, right?
Wrong.
Chances are pretty high that each one of them gets financial benefits by referring you to the company they suggest.
In most cases, they are either the founders of the company they recommend, employees of the company they recommend or, which is most common, they are part of an affiliate program where they get a commission for every successful referral.
In a few cases, you may actually get a good recommendation.
In many other cases, you will end up working with a mediocre company that is not a good fit for you.
And – in the worst case – you will pay money to a scammer without receiving anything in return.
What we're trying to say is: Be careful!
You don't know the people that comment on your post.
So why would you trust them with finding the right business partner that you will give hundreds of dollars to?
Recommendations by Friends
Not ideal, but better than asking random people in Facebook groups: Asking sellers you are friends with.
It is unlikely that they would refer you to a bad agency or freelancer. That's a plus.
But only because they had a good experience with them doesn't mean that they are a good fit for your business and product too.
Only if your business is alike in many aspects – the same kind of product, a similar business size, having similar requirements – the recommendation may be a good one.
Search Engines
Many people use Google (or any other search engine they prefer) for basically any kind of search on the internet.
Therefore, it seems natural to use Google to search for Amazon SEO service providers as well.
The issue with search engines is that you can't know whether the companies that show up in the search results are good at what they're doing.
All of them will claim that they are the #1 at Amazon SEO and offer the best Amazon listing services you could wish for.
Unfortunately, there is no way you can directly see if that's true.
Of course, you could research every single company that Google suggests. But that will take forever.
You'll probably get tired of researching after going through the first page results.
You decide to go with one of the first companies that you looked at.
But maybe the agency that is perfect for you is listed on page three and now you'll never get to work together.
Sad.
In addition, you will probably only find bigger agencies as they have the financial means to invest in their Google SEO.
Small agencies and freelancers often don't have the manpower or money to be able to compete with the bigger fish.

Fairs & Events
In general, Amazon fairs and events are a great way to find service providers.
You get a chance to talk directly to the founder or other representatives of the company.
You will get a great impression of the people behind the firm, but there are two problems:
First, most seller conferences are expensive.
At some events, tickets cost more than $1,000. Don't get us wrong, you will get a lot of value from attending these events (read more about how Amazon seller conferences benefit your business).
However, it's still a lot of money.
And, obviously, not every conference will take place in the city you live in.
This means that you will have additional expenses for traveling, accommodation and eating out.
The second problem is that you can't just find service providers from any country you may need, but many of the companies you will meet there are local.
Let's say you're located in the US and you want to expand globally.
You decide to tap into the German market and you need a local Amazon SEO agency.
Chances are little that you will find your ideal German Amazon SEO agency anywhere else than Germany.
Thus, you'd need to attend a German seller event, which brings us back to problem number one, the high travel and accommodation costs.
Marketplaces
You can also browse online marketplaces to find an agency or freelancer.
There you have some handy filter options which you don't have when using Google.
Plus, you will find both agencies and freelancers.
However, on most marketplaces you can't filter by location, which makes it hard to find a good service provider when you're looking for one outside of the US.
In addition, you will end up paying more when you contract your SEO agency through a marketplace.
The reason is that marketplaces usually take a commission (around 20%) of every business deal that is made on the website.
Let's say a freelancer usually takes $150 for a one time keyword research.
Thus, the marketplace will charge around $30 commission.
To compensate for the commission, the freelancer will charge roughly $190 for their service ($187.5 to be exact).
The biggest drawback of marketplaces, however, is that you can usually only buy fixed service packages.
Those packages are usually divided in "Basic", "Standard" & "Pro" or "Premium".
Each of those packages includes a different scope of services.
For smaller standard tasks (let's stick to the keyword research example), buying standard packages is totally fine.
If you want to have someone to elaborate an individual, ideal SEO strategy for your Amazon business, it's almost impossible to find a standard package that applies to your requirements.
The service providers calculate their package prices on the basis of the average time they need for their service and the amount of money they want per hour.
When you purchase a service on a marketplace, there is no individual initial assessment of the project effort.
If your project requires more effort than the service provider has calculated for their average, they will reduce the service quality to maintain their hourly rate.
If your project is an easy one and requires less work effort than the average, you will pay more than you would have paid with an individual negotiation.
So if your business and your requirements don't exactly match the average client of the company/freelancer, you will be off worse than when negotiating an individual rate.
Either in terms of quality or in terms of price.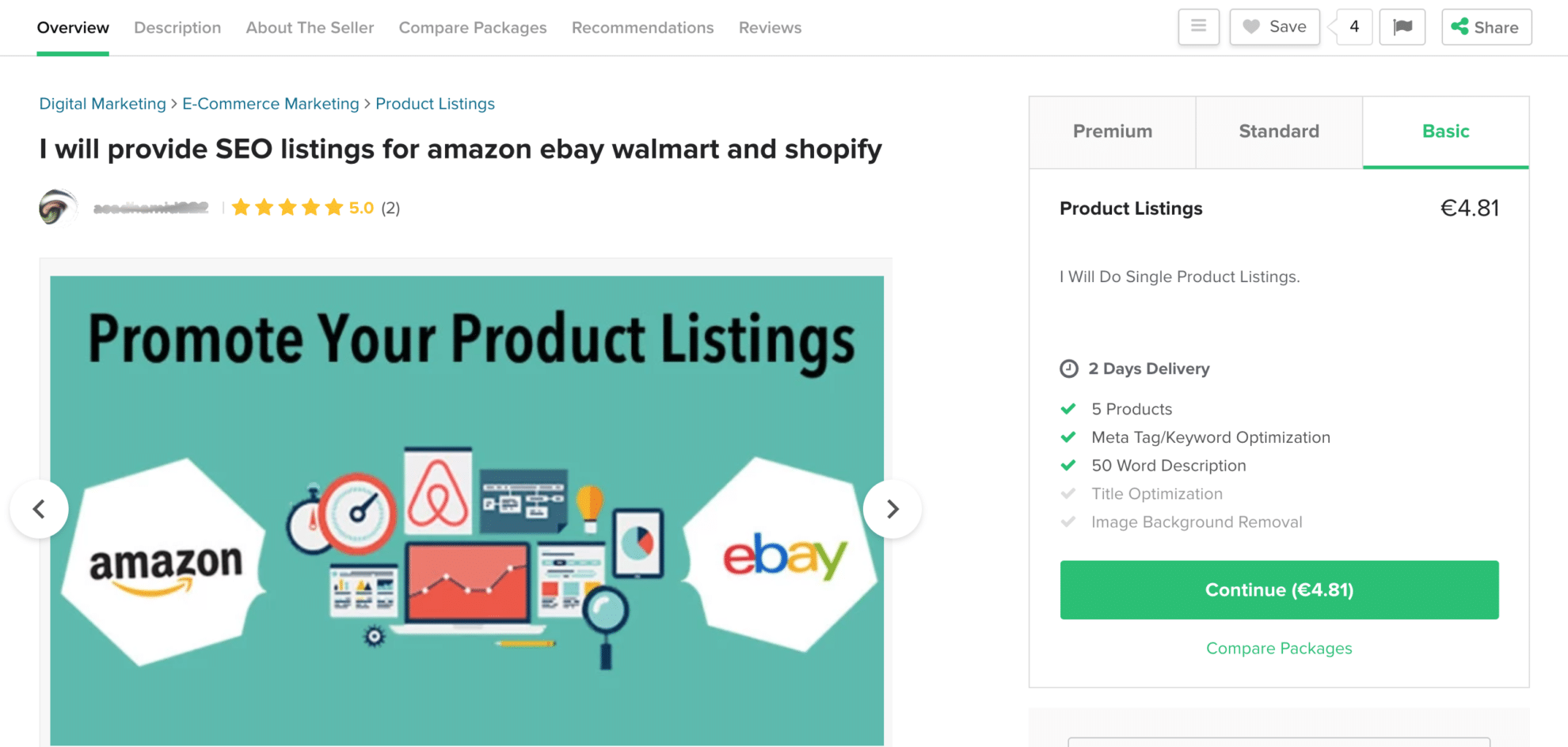 Rating Platforms & Directories
The most transparent, fastest and cheapest way to find the best Amazon SEO service for your business is looking for them on rating platforms and directories.
On those websites, you can easily filter the results according to your individual needs.
You can read reviews from other sellers that have used the companies' services before.
Sermondo even provides you with a map on which you can instantly see where exactly all companies available are located.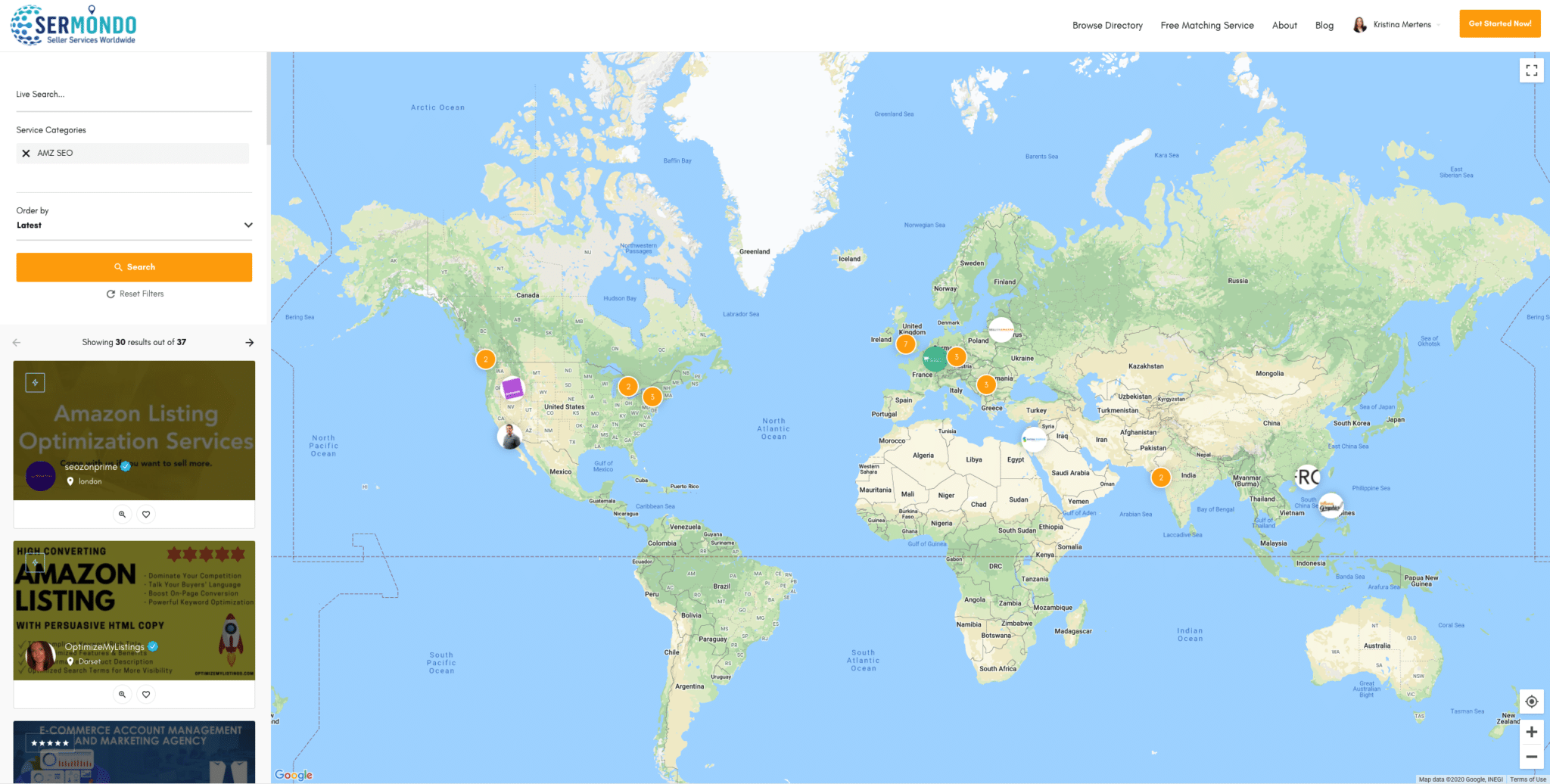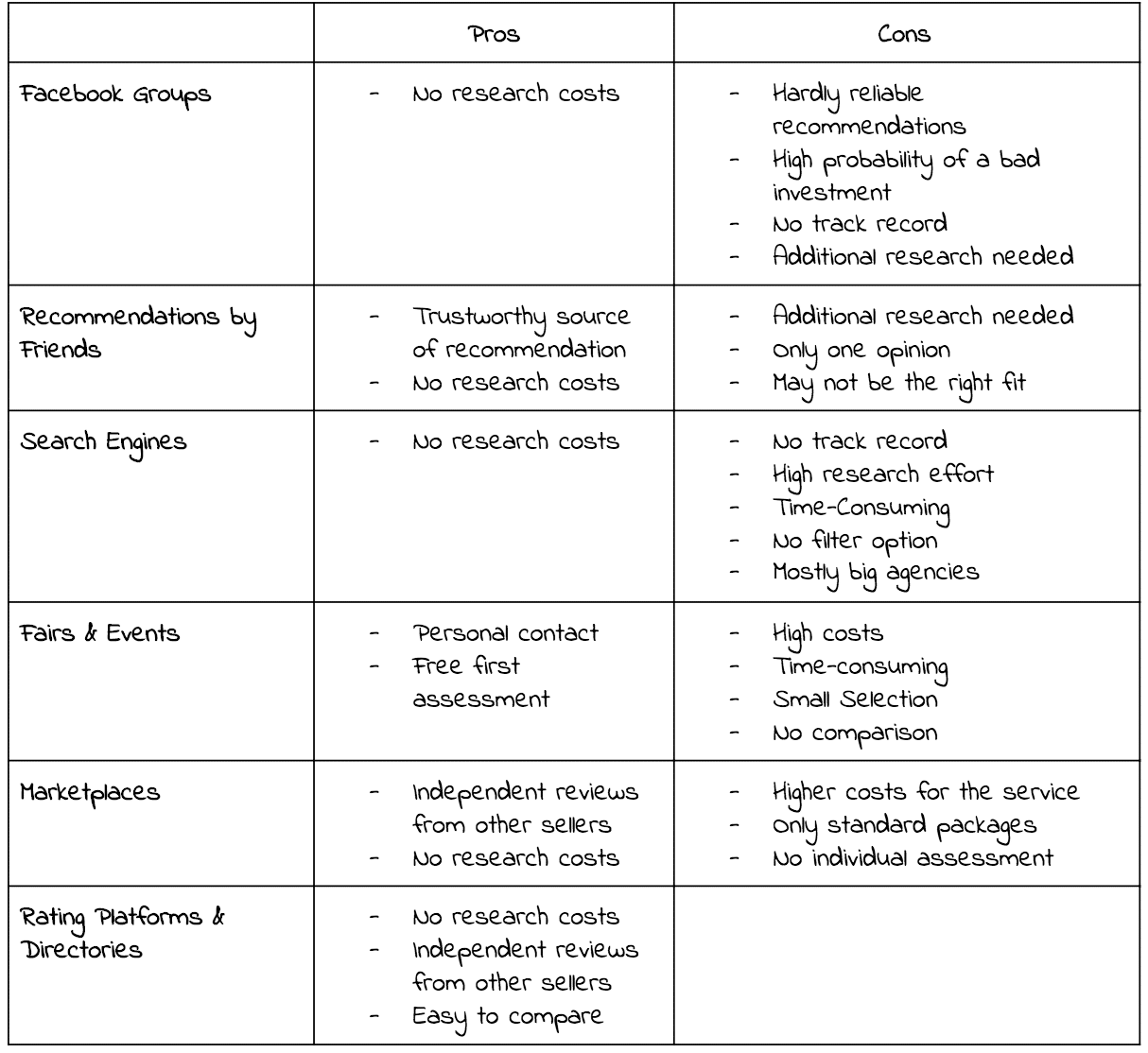 How do I choose the right Amazon SEO Expert to work with?
Now that you know where to find Amazon SEO services, it's time to learn how you can choose the best one for your business.
Specify your goals and budget
Before you start researching SEO service providers, think about what you want and if you have the financial means to afford it.
Do you only want a few optimizations of your listings or do you need a comprehensive Amazon SEO strategy consulting?
Then, determine your budget, but don't set a fixed amount.
Instead, think of a range you can afford, since unforeseen extra costs can occur during the project.
Example: Don't say your budget is $3,000, but between $3,000 – $5,000.
Or, if $3,000 is your absolute maximum, set your range between $2,000 and $3,000.
Freelancer, SEO Agency or Full Service Agency
We already covered above what the differences between freelancers and the different agencies are.
If you're not sure which type of SEO support you need, you can use the following recommendations:
Go with a Freelancer if..
..you have a basic understanding of Amazon SEO and can judge whether the freelancer is doing a good job or not
..you only need one-time listing optimizations
..you're on a tight budget and have other investments planned

Go with a SEO Agency if
..you already have employees or freelancer for the other areas of your business
..you have no knowledge about Amazon SEO
..you're budget is high enough to afford working with an agency

Go with a Full Service Agency if
..you need other marketing areas to be improved
..you want a hassle-free all-in-one solution
..you have a large budget

Search, Compare & Interview
Now that you know which services you need, how much you can invest and what kind of expert(s) you're looking for, you can start researching.
Go to Sermondo, filter by your preferred location and carefully go through the results. Read the companies' descriptions, what services they offer and what kind of experiences other sellers had with them.
You can bookmark the ones you want to include in your shortlist to compare at the end.
Pick 3-4 companies and contact them.
Then, schedule a call with them to learn more about their company and ask questions about their work flows.
Here's a list of questions you should ask:
When was the company founded?
Why was the company founded?
Do they have their own experience with selling on Amazon? If not, how did they gain their expertise?
How big is the team? What's the team's background?
How do their project processes look like?
When will you see first results?
How expensive are their services?
How do they charge for their services? Fixed prices or hourly rates?
How much experience do they have with your categories and/or product(s)?
What kind of success stories can they tell? Could former or current clients verify that stories?
Can they show you examples on Amazon?

Pay close attention to not only what they answer, but how they answer your questions.
Are they avoiding to give clear answers? Are they trying to change the topic when you ask about past projects or costs?
If so, then they either don't know what to answer (which is bad) or, they know exactly what they would answer, but know you wouldn't like it (which is even worse).
You need an honest partner.
Keep that in mind.
After talking to the different companies, choose the two that you liked best and let them send you an offer.
Then, make your final decision.
You shouldn't simply choose the one with the cheaper offer, but the one you have a good gut feeling with.
A harmonic business relationship is worth more than the few bucks you would save on the service end.
How do I work with an Amazon SEO specialist?
Hurray, you chose someone you want to work with!
Now you will learn how to work with them.
Initial Assessment & Contract
Most Amazon SEO experts will give you a free initial assessment of the scope of your project.
This means they'll tell you what the project's tasks are, how small or large the project is, how complex it is, what the costs are, and so on.
Keep in mind that you pay them and you have the right to ask questions.
So if you don't know certain terms or feel like you understand only half of what is said, ask questions.
Then, make sure that you have a good contract.
The contract should include:
Your company name and details
The service provider's name and details
How the services will be charged: fixed prices vs. hourly rateThe payment schedule: weekly vs. bi-monthly vs. monthly vs. one-time paymentThe aim of the project
What services will be included
What you will provide: access to your seller/vendor account, permission to change your listings, permission to use images etc.
Timing of delivery: when the project will start and end, deadlines for certain tasks
Cancellation terms
Name, date & signature of both parties

Usually the service provider will set up the contract.
It will probably look similar to this SEO services contract template provided by Moz.
After receiving the contract, read it carefully, mark any wordings or sections that are unclear and ask what they mean.
When in doubt, consult a legal advisor who will explain all the details to you.
Reporting Schedule
Before starting the project, ask for regular updates.
That means that you should agree on a reporting system and weekly, bi-monthly or monthly calls where your SEO expert will give you an update on how the project is developing.
They should send over reports in advance so you can go through the numbers together.
Facts are facts. Numbers don't lie.
If everything's going as planned, there will be numbers to support that.
Communication
Always – and we can't stress this enough – always tell your SEO partner if there is something that bothers you, if you're not sure about something or if you have any doubts.
For example, before you worry because your ranking has dropped, talk to your SEO experts first.
Once your listings have been modified and need to be re-indexed, it is normal for the listings to rank lower for a short period of time. No reason to freak out.
You should therefore always discuss these and other doubts directly with your SEO specialist.
In a healthy business relationship, communication will be smooth.
Conclusion
We hope you enjoyed our guide and you feel ready to go look for your perfect Amazon SEO specialist.
You can jump right into your research and find the best Amazon SEO agencies and freelancers from all around the world on Sermondo.
But first, we want to ask you:
Which Amazon SEO expert will you work with? Freelancer, SEO agency or Full Service Agency?
Let us know and drop a comment below.