A good Amazon SEO strategy is absolutely essential if you want to be among the best sellers on Amazon. Unlike paid advertising, where you only have visibility on Amazon while you continue to pay for it, a top position in the organic search results can drive huge numbers of buyers to your listing for free and guarantee a wide reach in the long run.
However, successfully doing Amazon SEO comes with many challenges and hurdles and it can take years to master this Amazon marketing discipline. On top of that, you need to stay up to date with all the rules and guidelines so you don't lose your hard-earned rankings.
With all the other things you have to take care of on a daily basis to keep your business running it can quickly become overwhelming to have to take care of your SEO as well.
Hiring a professional Amazon SEO Service and handing over the responsibility for ranking optimization to them is often the best solution in this case. By outsourcing the SEO related tasks you will have more time, focus and energy for other things while your business continues to grow.
We'll show you how you can find the Amazon listing service, including where to find good agencies and consultants, what to consider when selecting one, and what questions you should ask before hiring them.
1. Be Clear About What You Want
Only if you know exactly what you want and what you want them to do for you, you can assess whether an agency can help you or not.
Think about the following things.
Required Services – Do you need the Amazon SEO service exclusively for product listing optimization or could your PPC campaigns also be in need of professional management? Would you like to have a new storefront design or new listing images? Do you need SEO optimized listing translations?

Think about what services the company needs to be able to provide. There are Amazon SEO agencies that provide such additional services and it's better (and usually cheaper) to work with a single agency than to coordinate working with many different service providers.

Size of the Agency – The size of the agency also plays an important role. Do you feel more comfortable working with a small boutique agency or would you also consider hiring a large Amazon agency with +30 employees?
Location of the Agency – Is it important to you that the agency is physically close to you or could they also be all the way across the country?
Duration of the Project – Would you like to have only a one-time analysis and optimization of all your Amazon listings or would you like to hire the agency for ongoing SEO management, including ranking monitoring and listing maintenance?
Pricing Model – Would you prefer to pay a profit share to the Amazon agency or is a fixed flat fee the only acceptable option for you?
If you are clear about all these things you will be able to shortlist the different Amazon SEO service providers more easily in the later hiring stages and ask more specific and relevant questions in the interviews.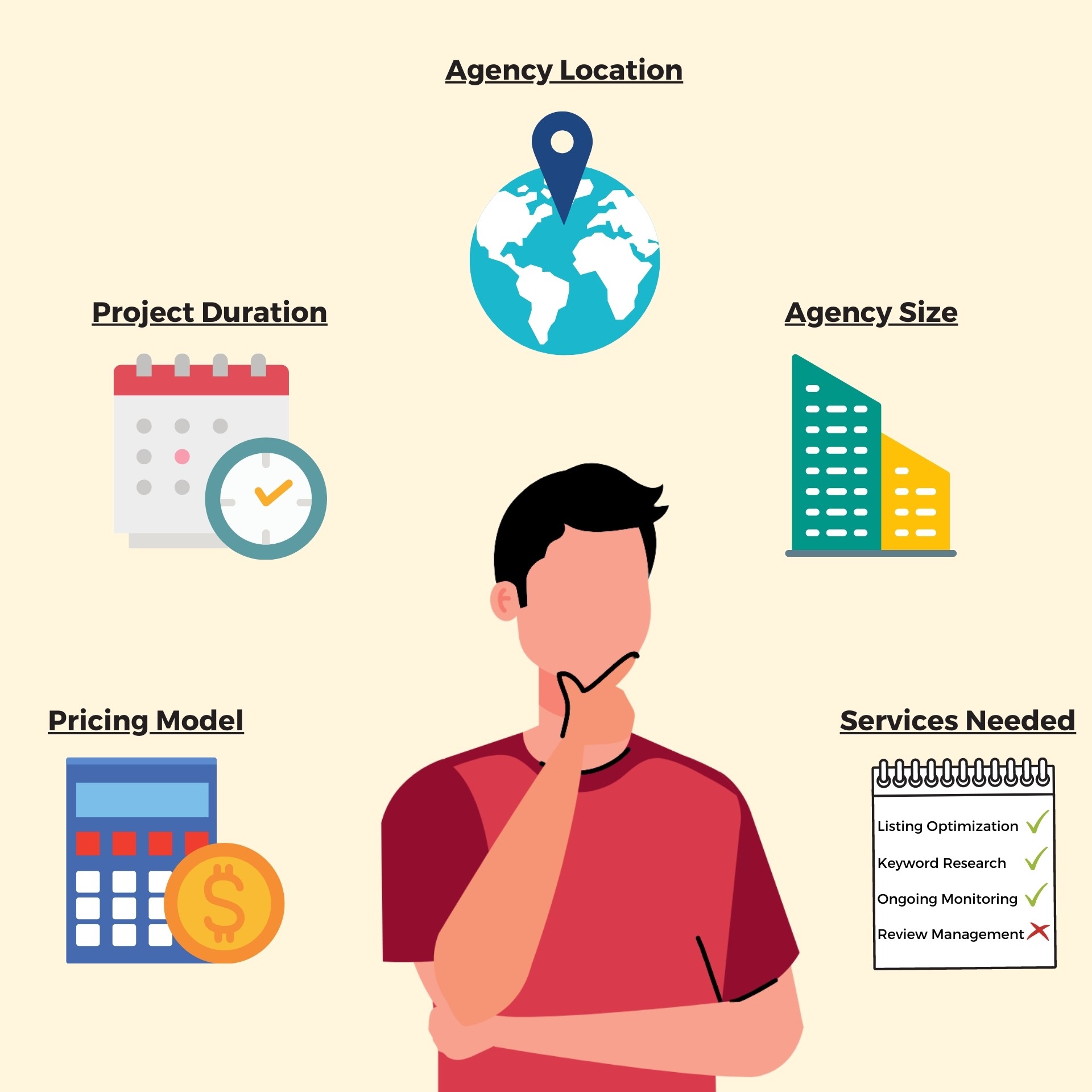 2. Set a Realistic Budget
It is very unlikely that you will have unlimited access to capital for SEO activities, so it is important that you set your approximate budget. Otherwise, you run the risk of wasting your time interviewing overly expensive Amazon agencies whose services you eventually can't afford.
There are no universal price lists, but these are the normal ranges for the most common Amazon SEO services:
Keyword Research – $50 – $200 per listing, depending on how comprehensive the research is
One-time Analysis And Amazon Listing Optimization Service – $99 – $1000 per listing, depending on how much needs to be optimized
Ongoing SEO Management And Monitoring – $350 – $2000 per month, depending on the number of listings that need to be managed and monitored
Copywriting – $30 – $500 per product, depending on how much experience the copywriter has, how much text they write and if keyword research is needed
Product Images – $20 – $2000 per product, depending on the effort required, number of images, retouching work and infographics
Don't be put off by the prices, most Amazon agencies offer service bundles where they offer you a combination of different services at a discounted rate.
When thinking about your budget, we recommend a little flexibility. Do not set a fixed amount down to the penny, but instead think of a price range you can afford. This makes it easier to find agencies that can meet your budget requirements and gives you more leeway when negotiating.
3. Look in the Right Places for Amazon SEO Services
One of the biggest mistakes sellers make is looking for Amazon SEO service providers in the wrong places. Typically, they simply pick one of the first search results hits on Google.
The problem with Google is that you will usually not find any information about whether the company is legitimate, does a good job and what experiences other sellers have had with the agency. However, all of these are important factors when choosing the right Amazon marketing agency.
The best Amazon SEO services are not found on Google, but on Sermondo. Sermondo is the largest international platform for finding all kinds of service providers that specialize in working within the Amazon ecosystem and with Amazon sellers.
On our website you will find companies from around 20 different categories, from logistics to finance and legal firms to Amazon marketing agencies, including those specialized in Amazon SEO services.
You don't even have to look for the agencies yourself, you can simply use our matching service. You tell us what requirements you have for the agency of your dreams, we evaluate your inquiry and forward it to a carefully selected selection of suitable agencies.
4. Interview More than One Amazon Agency
To find out which one is the best for you, you should interview several Amazon agencies and compare them with each other. The different interviews will give you a good insight into their different processes and pricing structures and give you a good feeling for what you can expect from an agency in general.
If you talk to five agencies about a possible collaboration and one of them charges twice as much for the same service, you can already rule them out. If you had only interviewed that one agency, you wouldn't have had any sense that you were being overcharged.
Even if you are quite sure that you want to work with one agency right from the first interview, it doesn't hurt to get prices and services from a few others and compare them. With the information about the pricing of other companies, you may be able to negotiate a better rate with your preferred agency.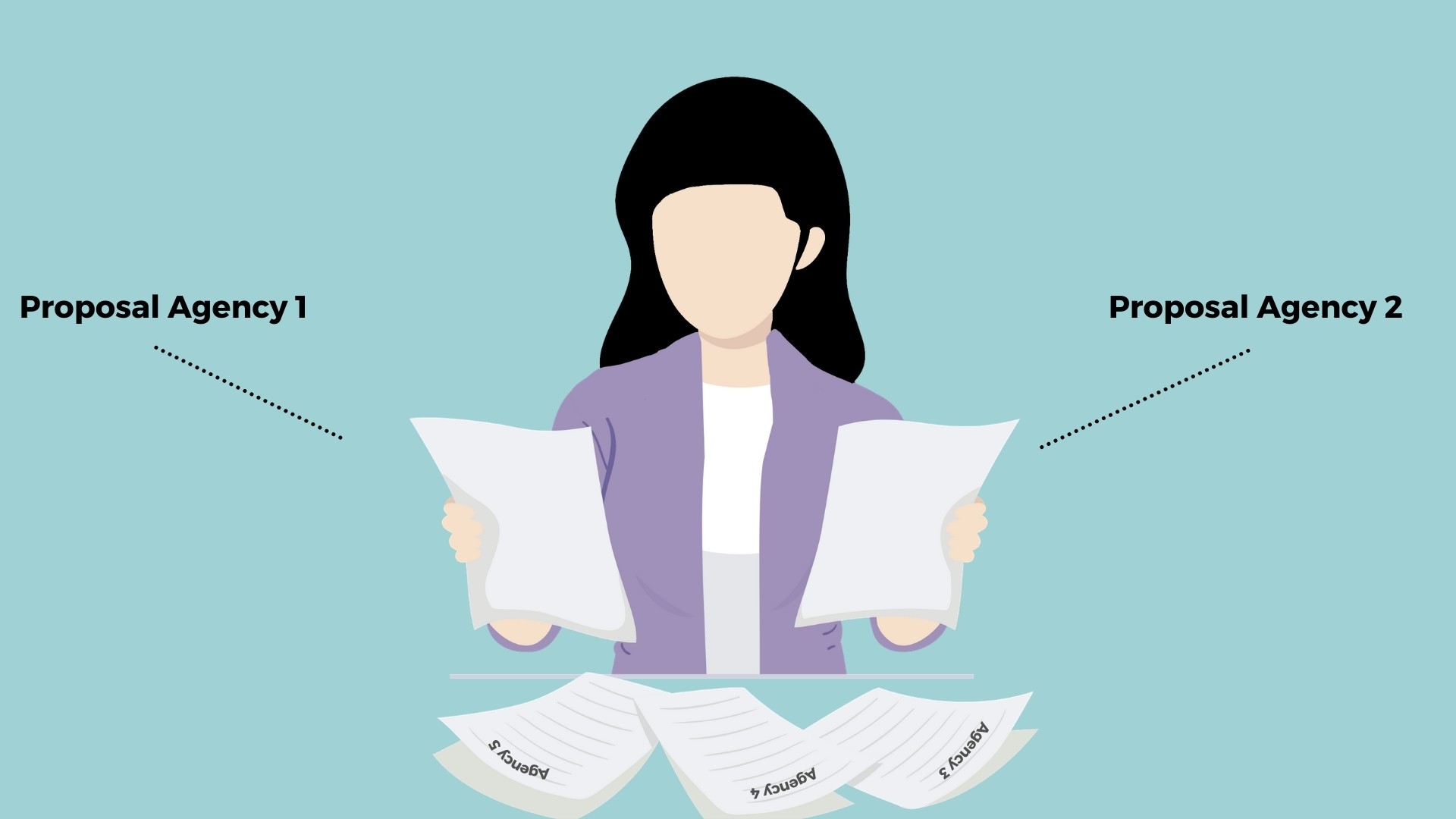 There are seven basic qualities you should look for in an Amazon agency:
Experience – The agency should have a lot of experience in providing Amazon SEO services in general, but especially with your niche, similar products, the marketplace you're selling in, and clients of your size.This way you can be sure that the agency already knows what strategies are likely to succeed in marketing your product and what approaches to avoid.
Transparency – Transparency and honesty are just as important as experience. The company you're working with needs to be upfront with actual costs, costs that could occur during the project and the time it will take to get your listings optimized. A good agency providing Amazon SEO services sets realistic expectations. If the agency promises or guarantees that your listings will rank first, that is a red flag. No SEO expert, no matter how good they may be, can guarantee that. In Amazon marketing, or online marketing in general, there is one golden rule: If the results they promise sound too good to be true, that's because they probably are.
Reputation – Reputation is another great indicator for performance. A company that served its former clients well and delivered the work that was agreed on will always have a good reputation in the industry. Usually, you can ask any Amazon agency for references.
Communication – In any kind of (business) relationship, communication is key. A good Amazon SEO service provider gives you different ways to reach them and the details of more than one contact person. They will set up a regular meeting schedule to inform you about results, next steps, changes of plan and so on. This way, you will always be in the loop of what's going on and how (well) your budget is spent.
Flexibility – Changes can happen at any time. Whether Amazon issues new policies or you make changes to your product, a good Amazon marketing agency is flexible enough to quickly react to such changes and, if necessary, adapt your SEO strategy to the new circumstances as quickly as possible.
Up-To-Dateness – Amazon changes its guidelines very often. Methods that are allowed today might be banned as black-hat methods tomorrow which might lead to a listing or account suspension without you purposely doing something wrong. Even small, less dramatic changes like in the allowed listing title length or restricted keywords can cause your listing to be suppressed. That's why it's important that your Amazon SEO service provider is constantly up to date to prevent things like that from happening.
Honest Business Practices – You should never work with a SEO company that claims to know "shortcuts" to better rankings or uses methods that are not 100% allowed by Amazon. A good Amazon SEO service provider would never put your account and your listings at risk by trying to cheat on the system, which is they use white-hat strategies only.
During an interview, the goal is to find out whether or not the agency has these characteristics you are looking for. Therefore, you need to ask specific questions to test these qualities.

This is why we have compiled a list of questions that you should definitely ask in every interview.
11 Questions to Ask an Amazon Agency Before Hiring Them
When was your company founded?
Why was the company founded?
Do you have your own experience with selling on Amazon? If not, how did you gain your expertise in Amazon marketing?
How big is the team? What's the team's background?
What do your project processes look like?
When can I expect to see the first results?
How expensive are your services?
What's your pricing model? Fixed fee, profit share, hourly rates or a hybrid model?
How much experience do you have with my category and/or type of product?
What kind of success stories can you show me? Could former or current clients verify those stories
Can you show me examples of your client work on Amazon?
Pay close attention to not only what they answer, but how they answer your questions. Are they avoiding to give clear answers? Are they trying to change the topic when you ask about past projects or costs?
If so, they either don't know what to answer (which is bad) or, they know exactly what they would answer, but know you wouldn't like it which is why they won't tell you (which is even worse).
If the answers come quickly, are open and honest, and it seems to you that the agency has nothing to hide, that is a very good sign and speaks for this company.
5. Specify the Scope of Services & Pricing
Once you have decided on an Amazon SEO service, the first step is usually a listing and/or account audit to determine what needs to be improved. Afterwards, ask for a detailed list of the optimization measures the agency plans to take and a quote for each service as well as other costs involved.
Don't settle for vague statements. It's okay for the agency to quote an approximate range if it's not yet clear how much time and effort will be required. Nevertheless, you should not be satisfied with too imprecise price quotations.
6. Agree on a Regular Reporting Schedule
Before starting the project, ask when and how often you will receive updates on the status of the project and performance of your listings. Agree on a reporting system and weekly, bi-monthly or monthly calls where your SEO agency will give you an update on how the project is developing.
They should send you reports in advance so you can go over the numbers together during these calls. Facts are facts and numbers don't lie. So if everything is going as planned, there will be numbers to support it.
7. Put Everything in Writing
This last tip is essential. Before you start working with your Amazon seo agency, make sure that you put everything you've agreed on in writing and have a contract signed by both parties.
Every good contract includes:
Your company name and details
The service provider's name and details
How the services will be charged: fixed prices vs. hourly rate
The payment schedule: weekly vs. bi-monthly vs. monthly vs. one-time paymentThe aim of the project
What services will be included
What you will provide: access to your seller/vendor account, permission to change your listings,
permission to use images etc.
Timing of delivery: when the project will start and end, deadlines for certain tasks
Cancellation terms
Name, date & signature of both parties
Usually, the service provider will set up the contract. After receiving the contract, read it carefully, mark any wordings or sections that are unclear, and ask what they mean. When in doubt, consult a legal advisor who will explain all the details to you.
Conclusion – To Find the Best Amazon SEO Service Provider Preparation Is Key
If you want to hire an Amazon SEO agency, you should not rush it, but rather invest some time in preparation. This will save you a lot of trouble, disappointment and money in the long run.
Be clear about what you expect from the agency, what you want them to do for you and what your budget is. Then pick 3-5 agencies on Sermondo or use the convenient matching service to get in touch with a handpicked selection of first class SEO agencies.
Conduct several interviews to get a feel for what approaches the different agencies take, what pricing structures seem normal for your project scope and to see which agency you feel most comfortable with.