Have you recently started selling on Amazon or are you considering starting to sell on Amazon? Or have you been an Amazon seller for a while now, but want to take your sales to the next level? If you answered any of these questions with "yes", then it definitely makes sense for you to take an Amazon FBA course.
Amazon FBA courses are a great way to understand the essential ways Amazon works and master the most profitable growth strategies – from product research to launch strategies, SEO and PPC management.
These days, however, Amazon FBA courses are a dime a dozen. While on one hand it's good that you can choose from a wide range of courses, on the other hand a large number of choices also makes it difficult to find the course that's right for you.
We'll save you from investing your money in lousy courses and instead we will show you in this blog post how to find the best Amazon FBA course that fits your business, your product (category) and your budget.
Is Buying an Amazon FBA Course Worth It ?
First things first: You don't have to buy an Amazon FBA course. There are endless free resources online like YouTube videos, blogs and podcasts that you can use to educate yourself about Amazon.
BUT: The free content you consume is unstructured and doesn't follow a clear direction, making it extremely difficult for you to absorb the knowledge. It takes a lot of time and mental capacity to come up with a course curriculum yourself.
Also, there are tons of different approaches on how to make your Amazon business successful, for example when it comes to PPC campaign design. If you don't know your way around and end up mixing up the different strategies instead of following one strategy consistently, you will end up even more confused and may even perform worse than before.
A good paid course is worth buying primarily because the course creators have put a lot of work into thinking about what content, what approach and what structure is best to convey the knowledge to you in the most effective way.
A step-by-step structure is especially important for helping "newbie" sellers to understand the course material.
Basics: Different Types of Amazon Courses
There are different types of Amazon courses. Which is the best Amazon FBA course type for you depends on
your personal preferences,
your business model and
your skill level.
We primarily distinguish between offline and online courses, group and individual courses as well as beginner courses, advanced courses and masterminds.
Amazon FBA Offline Courses & Seminars
Offline courses usually are held in the form of conferences and seminars.
What Are the Benefits of Offline Amazon FBA Courses?
You Can Ask Questions – Unlike pre-recorded online courses, a huge advantage of offline courses is that you can immediately ask the course creator questions in case you don't understand something.
Networking Opportunity – Offline events also allow you to network with the other participants and share ideas as well as discuss problems, challenges and success stories. You can then apply the experiences and learnings of others to your own business. In other words, attending seminars and summits will inspire you to consider and try new approaches and strategies.
What are the Downsides of Offline Amazon FBA Courses?
More Expensive – The downside is that offline courses are usually a lot more expensive than online courses, as the organizer has to bear additional costs for renting the event location and catering for the course participants.
Fixed Time Schedule – Also, you have to be physically present and can't choose the time and place of the event. This makes attending an offline course very inflexible. If, for example, you are unwell, have an emergency, or something else unforeseen comes up, you will not be able to attend.
One Time Opportunity – In addition, you can only take the course once. Professional video recordings of the course content are hardly ever provided to the attendees, and in case they are made available, these recordings usually cost extra.
Live Amazon FBA Online Courses
Online courses, on the other hand, are either pre-recorded courses, which you can play back at your convenience, or live courses (also known as webinars), of which you usually get free course recordings to download after the course. This way you can watch the course content over and over again and easily jump to the parts you didn't understand during the webinar.
What Are the Benefits of Live Online Amazon FBA Courses?
Place – and Time-Independent – The big advantage of online courses is that you don't have to be physically present, which allows you to attend courses moderated by experts from other countries at any time. This is especially beneficial if you are entering a new market and want to learn about local customs such as buying patterns, cultural aspects, etc.
You Can Ask Questions – In live courses, all participants can ask questions that will be answered during or at the end of the course.
What Are the Downsides of Online Live Amazon FBA Courses?
Fixed Time Schedule – One disadvantage, however, is that the times are set by the organizer, making you somewhat inflexible. But at least you get the recording and course content even if you couldn't make it to the live date, as opposed to offline courses.
Pre-recorded Amazon FBA Courses 
In this case, the course creator comes up with a course structure and then records explanations of various topics for their audience.
What Are the Benefits of Pre-recorded Amazon FBA Courses?
Skippable – One major advantage compared to live courses is that you don't have to sit through the whole course, but can skip the parts you already know. So if there is a chapter explaining how to set up PPC campaigns, and you already know how to do that, you can just skip to the next chapter. This will save you a lot of time.
Flexible Time – Plus, you can flexibly incorporate the course lessons into your workday schedule.
Usually Less Costly – In addition, recorded courses are often cheaper than live webinars or in-person seminars.
What Are the Downsides of Pre-recorded Amazon FBA Courses?
You Can't Ask Questions – However, there are also a few points on the "cons" list, such as the fact that you can't ask questions during the course. So if you want to know if a piece of advice or a rule is also suitable for your specific product, you can't just ask, but you have to do extra research.
Sometimes Outdated – Also, especially with pre-recorded courses, you have to be very careful which course you purchase, as many Amazon courses out there are outdated. However, the Amazon environment and rules of the game are constantly changing. A course from 2017 is rarely suitable if you want to sell successfully on Amazon today. This is why up-to-dateness is one of the most important quality indicators of any Amazon FBA course.
A great option is to purchase a course that's a combination of pre-recorded lessons and Q&A sessions with the course creator. This means you buy the course and work through the course content on your own, but periodically have the opportunity to ask the course creator questions about their content in a live Q&A.
Usually these Q&A sessions are already included in the course fees.
Amazon FBA Courses For Beginners & Advanced Sellers
There are different Amazon courses for different skill levels.
Beginner courses cover all the fundamentals of selling on Amazon. They provide you with an excellent first overview of the different aspects of selling on Amazon, such as Amazon SEO and listing optimization, the basics of Amazon PPC or inventory planning.
However, these courses usually cover these topics rather superficially. Thus, you usually need to do further research or take additional beginner courses to delve deeper into the different subjects and gradually acquire expert knowledge.
Advanced courses cover everything beyond the basics and deal with the different Amazon FBA related disciplines in depth. In the process, you'll learn more sophisticated techniques and strategies to grow your business.
So if you already have a basic idea of how selling on Amazon works, but don't feel like a pro seller yet, these courses are for you.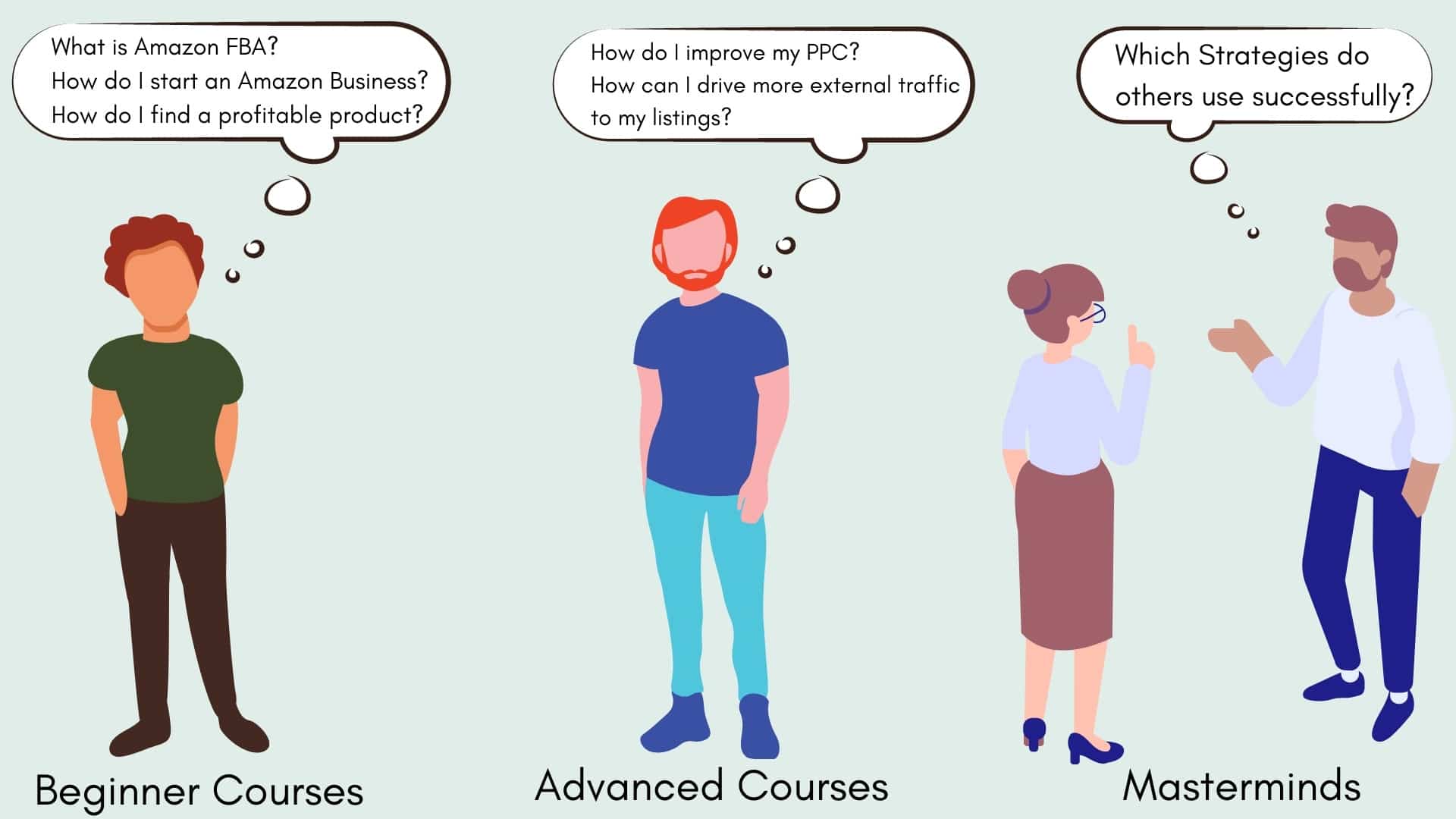 Finally, there are also suitable courses for already very successful sellers, often called "masterminds".
In a mastermind, Amazon sellers who have perfected certain strategies, such as external traffic generation or listing optimization, come together to exchange ideas and growth techniques.
Since most pro sellers sell worldwide you can also get valuable tips on how to launch your Amazon FBA products successfully in other marketplaces such as Europe or Japan.
These masterminds are usually very exclusive and require a very detailed but at the same time broad expertise. Thus, you should only consider joining a mastermind if you feel that you already have a great deal of knowledge.
What Makes a Great Amazon FBA Course?
There are some features and characteristics that any high-quality course should have:
Competent & Experienced Course Creator
High Quality & Up-to-date Content
Reasonable Structure & Learning Milestones
Fair Course Fees & Good Value For Money
High Level Of Support & Assistance
Competent & Experienced Course Creator
Would you take diet and weight loss tips from someone who is extremely overweight? Or tips on how to get rich from someone who is constantly broke?
For this reason, you should not book a course from someone who has no experience selling on Amazon, because they obviously have no qualifications to advise others on how to become a successful Amazon seller.
High Quality & Up-To-Date Content
One of the most important characteristics of any decent course is high content quality. The information must be up-to-date and practical application tips from the real world should be provided.
You need hands-on knowledge that you can put into practice immediately after completing the course, not theoretical rambling.
Reasonable Structure & Learning Milestones
A good Amazon course is characterized by a logical structure.
There is no point in learning how to optimize a PPC campaign if you have not yet fundamentally understood how Amazon advertising works in the first place.
Accordingly, the course modules should build on each other so that the things you learn in one chapter can be applied in later, more in-depth chapters.
Fair Course Fees & Good Value For Money
There are some course providers who charge several hundred or even thousands of dollars for their lessons. Expensive courses are not necessarily rip-offs, some are so packed with valuable knowledge, strategies and resources (such as templates you can use) that they are definitely worth the money.
However, especially for beginner sellers, money is a critical factor in deciding which course to take. The price-performance ratio should therefore be appropriate.
High Level Of Support & Assistance
Whether there are regular Q&A sessions or even just the ability to ask any small questions by email, student support in one form or another is crucial.
Support can also be provided through private Facebook or WhatsApp groups where course participants can share ideas and advice. Such groups are usually moderated by the course creator and his or her staff.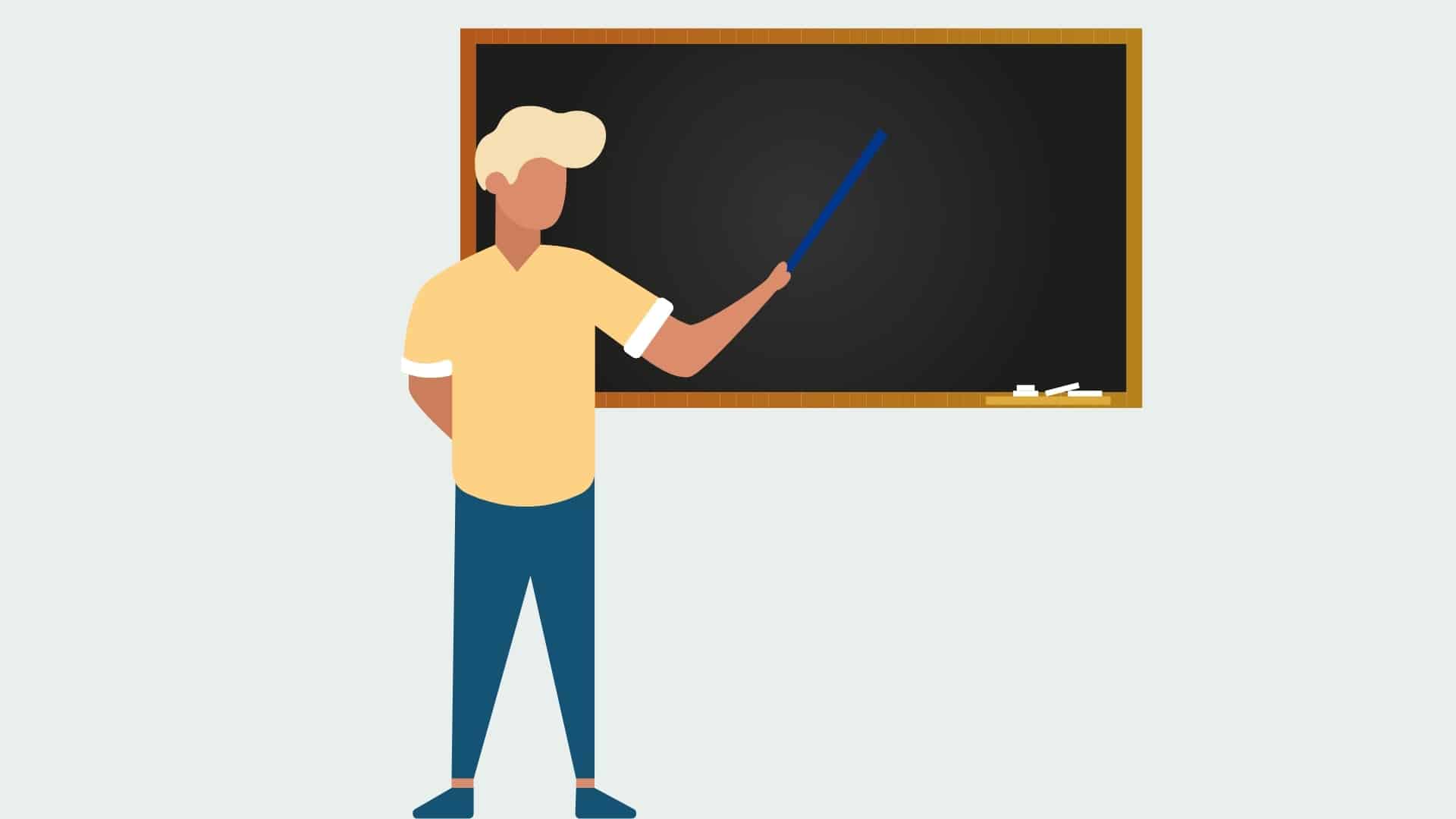 How Much Do Amazon FBA Courses Cost?
There are free courses, one dollar courses, $200 courses, and $5,000 courses. Theoretically, there is no upper limit, being part of a mastermind can cost up to 10-15 thousand dollars.
The course prices depend on how well known and experienced the course creator is, how extensive and how in-depth content is covered in the course, how up-to-date the course is, and what kind of support is offered.
For instance, courses with weekly, in-person Q&A sessions cost more than courses that "only" have a member support group or forum.
Which One Is The Best Amazon FBA Course?
There is no such thing as the best Amazon FBA course. While there are many great ones out there, which course is the best depends on you and your personal requirements, such as:
Your Budget
The Time You Can Invest
Your Learning Style
Your Experience
Your Knowledge and Skills
Your Support Preferences
The more precisely a course fits your current business situation and skill level, the better. After all, the more precisely the course content suits your needs, your skill level and your learning style, the faster and easier you can apply the things you learn to your business.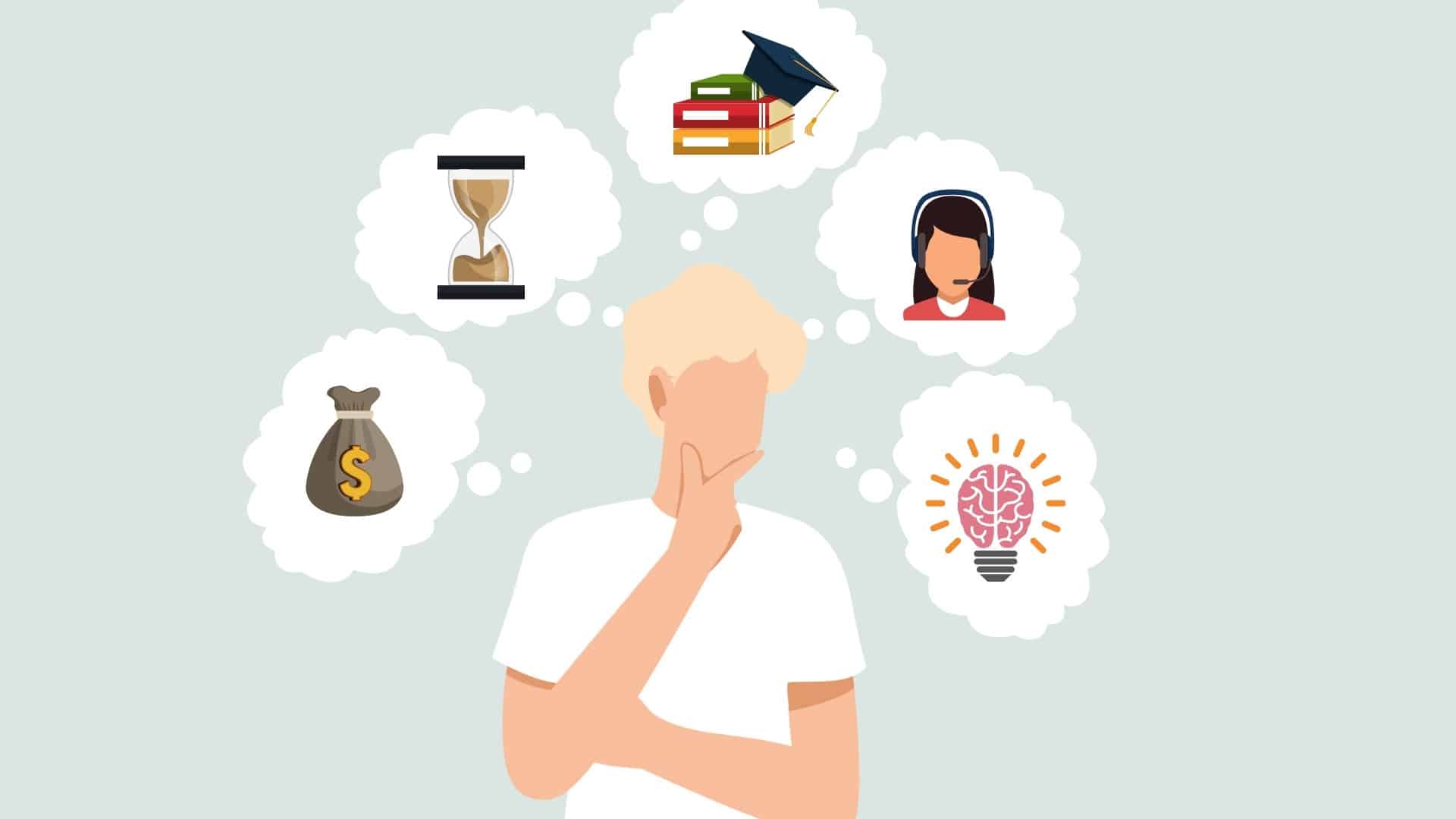 Checklist: Find the Best Amazon FBA Course For Your Business in Just 5 Simple Steps
1. Determine Your Budget
The first step is to determine how much money you can invest in a course.
If you are a beginner and only have $5,000 to spend, it makes little sense to spend $3,500 on a course, as the $1,500 you will have left after will most likely not be enough capital for a proper product launch.
You will still have to pay for your products, shipping and warehousing, product photos, PPC and so on. So if you are on a small budget, it might be better to choose a less extensive Amazon course that is more affordable.
2. Pin Down Where You Are In Your Seller Journey
In the second step, you should honestly reflect on your level of know-how and experience. Ask yourself what you already know, what you still need to learn, what you need to perfect and so on.
Afterwards you can decide if an Amazon FBA beginner course, an advanced course or even a mastermind is right for you.
If you're just starting out, a beginner training is the right choice for you. If you already know the basics and how to apply them, then you should consider joining more advanced courses. If you feel that you have already mastered all the different eCommerce and Amazon disciplines and could even teach your strategies to other Pro Sellers, you should opt for a Mastermind.
3. Define You Requirements
It is essential to know exactly what is important to you in a course. We recommend writing a checklist with the criteria that the course should fulfill and what you expect.
Are you the "lone wolf" who likes to learn on their own and doesn't need much support? Or are you more the kind of person who likes to have a personal contact person and prefers to have subjects explained to you instead of doing your own research? Do you feel more comfortable going through a course by yourself at home or would you rather be face-to-face in a room with the course creator?
The clearer you are about what you want, the easier it will be for you to find suitable courses and shortlist them.
4. Research and Read Reviews
The most crucial part is a thorough and proper research for suitable courses. In general, we advise against asking for recommendations in Facebook groups or Quora.
Many people who give you course recommendations in these forums give you an affiliate link or they otherwise have a financial stake in the success of the course. Therefore, it is very difficult to get honest and objective recommendations on websites like these.
On Sermondo, on the other hand, you can compare the best Amazon FBA courses for all skill levels, read verified reviews from real sellers and directly contact the course creator in case of any questions.
5. Carefully Read The Conditions
The last, but no less important step, is to carefully read the terms and conditions once you've found a course you are interested in. Many course creators like to promote their training with benefits like weekly Q&As or access to exclusive VIP masterminds.
However, these things are often only available if you purchase a premium version of the course. So make sure you know in advance what's included in the course package you want to buy.
If you are not sure what is included in the course of your choice, ask the support team.
Conclusion – The Best Amazon FBA Course Is the One that Best Fits Your Individual Needs
Investing in a decent Amazon FBA course is definitely worth it, as you can soak up a lot of valuable knowledge in a very short time and learn strategies that will help you increase your sales in no time.
No matter if you are a beginner, advanced or pro – every seller can benefit from the new impulses and lessons of a competent and experienced course creator.
There is not one best Amazon FBA course, but the best course is the one that best suits you and your individual needs.
Nevertheless, in any case you should make sure that the course content is up to date, that there is proper support offered to the students and that the investment in the training doesn't break your bank.
If you're not sure which course is the right fit for you, simply use our free matching service, tell us what you need and we'll find the best Amazon FBA course for you.
Use our Matching Service to find your Amazon FBA Course – Free of Charge →