If you are running an Ecommerce business, you are always working towards growth and becoming more successful. There is only one downside to that goal: The bigger your business gets, the more complex it will get, leaving you with new challenges.
Luckily, there is great ecommerce software that will help you in all kinds of areas of your business. One example: Ecommerce ERP software.
In this blog post, we will cover what it is, what its advantages are, if you really need an ERP software in Ecommerce and how to find the best ERP software for your business. Read on to find out more!
What Is Ecommerce ERP Software?
ERP stands for Entrepreneur Resource Planning. It's a cross-functional centralized software that connects different departments of a business to increase its efficiency. It makes real-time data accessible to everybody within the company at all times and helps the different departments to easily work together. 
Ecommerce ERP software is a term used for ERP systems that focus on typical Ecommerce features or are popular amongst Ecommerce businesses .
3 Advantages of Ecommerce ERP Systems
An Ecommerce ERP system will have many advantages for your business, including access to valuable data, increased productivity and process transparency.
Increased Productivity – An ERP system increases overall productivity by automating everyday tasks such as tracking inventory deductions during fulfillment. Especially when all employees use the ERP system as the centralized system of record, productivity can be taken to another level.
Process Transparency – With the help of an ERP, reports can be generated that will show you how your business is currently doing. Valuable insights on sales, returns, inventory and who is in charge of what within the company will help you plan the next move and make smart business decisions.  
More Revenue – The optimization of administrative processes enables more efficiency – and this will lead to more revenue in the long term!
Do Ecommerce Businesses Really Need an ERP System?
There is no universal answer to this question, as every Ecommerce business is different and it's always a very individual decision. 
An ERP system can simplify many processes. However, it's important to keep in mind that there are also downsides. Integrating an ERP system comes with a lot of effort as it can be quite costly, time consuming and also technically challenging.
You need to be at the right place in your business journey in order to really benefit from an ERP System. 
When Is the Right Time for an Ecommerce ERP?
Most Ecommerce businesses eventually reach the point where they have been growing a lot but now are struggling to grow even more due to poor processes and workflows that lead to a waste of time and money every day. Problems that often occur at this state are for example
Miscommunication within the Company – Nobody knows what others are working on exactly.
Time Consuming and Faulty Manual Work – Data must be entered manually or is not up-to-date. Certain tasks are carried out twice.
No Overview – There is no reporting or controlling whatsoever.
If you are facing some of the problems mentioned above or if you are active on more than one platform, investing in Ecommerce ERP software might be the right next step.
With the help of a multichannel system that every team member is using, it will be a lot easier and faster for you to manage all sales channels through one central system. It may take some time to get used to, but if done right, you can benefit in the long run.
Which ERP Features Are Important for Ecommerce Businesses?
ERP systems usually offer a huge variety of features. In order to get the results you want, you should choose an ERP system that can be tailored to your exact needs and which fits the organization, structure and size of your company.
Here are some of the most important features an Ecommerce ERP should have:
Finance 
Inventory Management 
Shipping, Distribution & Warehouse Management 
Product Information Management 
CRM 
The 5 Best ERP for Ecommerce Businesses
It can be overwhelming picking the right ERP for your Ecommerce business as there are quite a few out there to choose from – and they all have different features. In the end it's a matter of personal preference and choosing a system that satisfies your specific needs.
We've outlined 5 ERP systems for Ecommerce businesses to assist you with your decision making. Read on to learn more about the key features and characteristics of each ERP system and see if they are right for you.
1. Sage 300
Sage has been in business for over 40 years and, with over 250,000 customers, it is now one of the market leaders for business management software.
With Sage 300, the provider offers flexible software for small and medium-sized businesses. All features are uniquely positioned to help your company grow.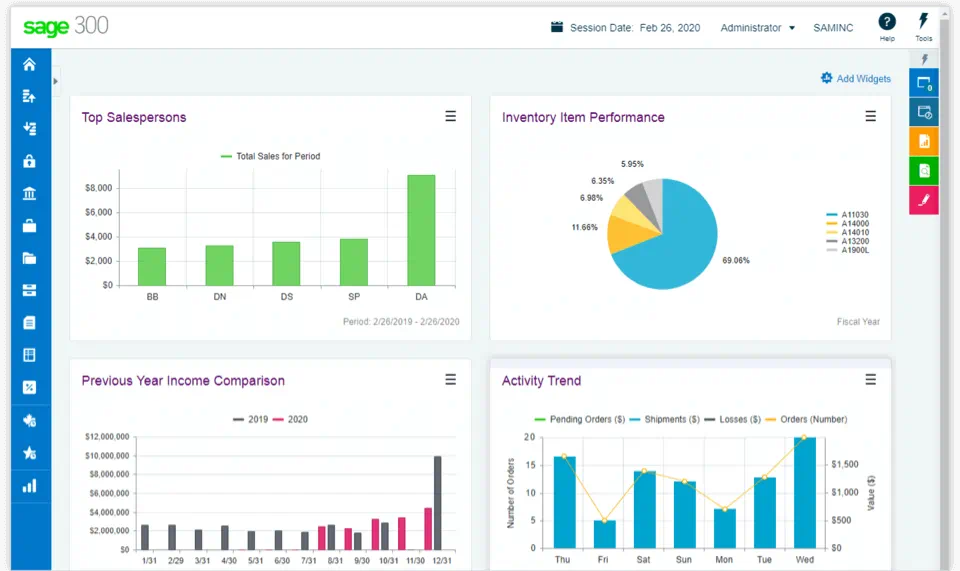 Features that Make Sage 300 a Great Choice for Ecommerce Businesses
The software's core functions include the following areas so you can start managing your accounting, operations, and distribution processes right away.  
Finance Tools – With Sage 300, unrecorded transactions and differences will be auto-detected. 
Sales Order Management – Transactions can be managed throughout the sales cycle and purchase order procedures automated.
Inventory Tools – For full visibility and stock control, use Sage 300 to manage and keep detailed inventory records .
Integrated Payments – Process credit and debit transactions directly in Sage 300. 
Who Should Consider Choosing Sage 300 as Ecommerce ERP Software?
Sage 300 is mostly suitable for small and medium-sized Ecommerce businesses. 
2. SAP BusinessOne
SAP is probably one of the best-known ERP providers on the market. ERP system development has been the company's core business for a long time already but the product portfolio is continuously growing. SAP now offers a wide range of solutions designed to enable cross-company collaboration while meeting the most demanding requirements.
BusinessOne, SAP's newest ERP solution, is aimed primarily at small and medium-sized multinational companies. It helps to automate processes within finance, operations, human resources and more.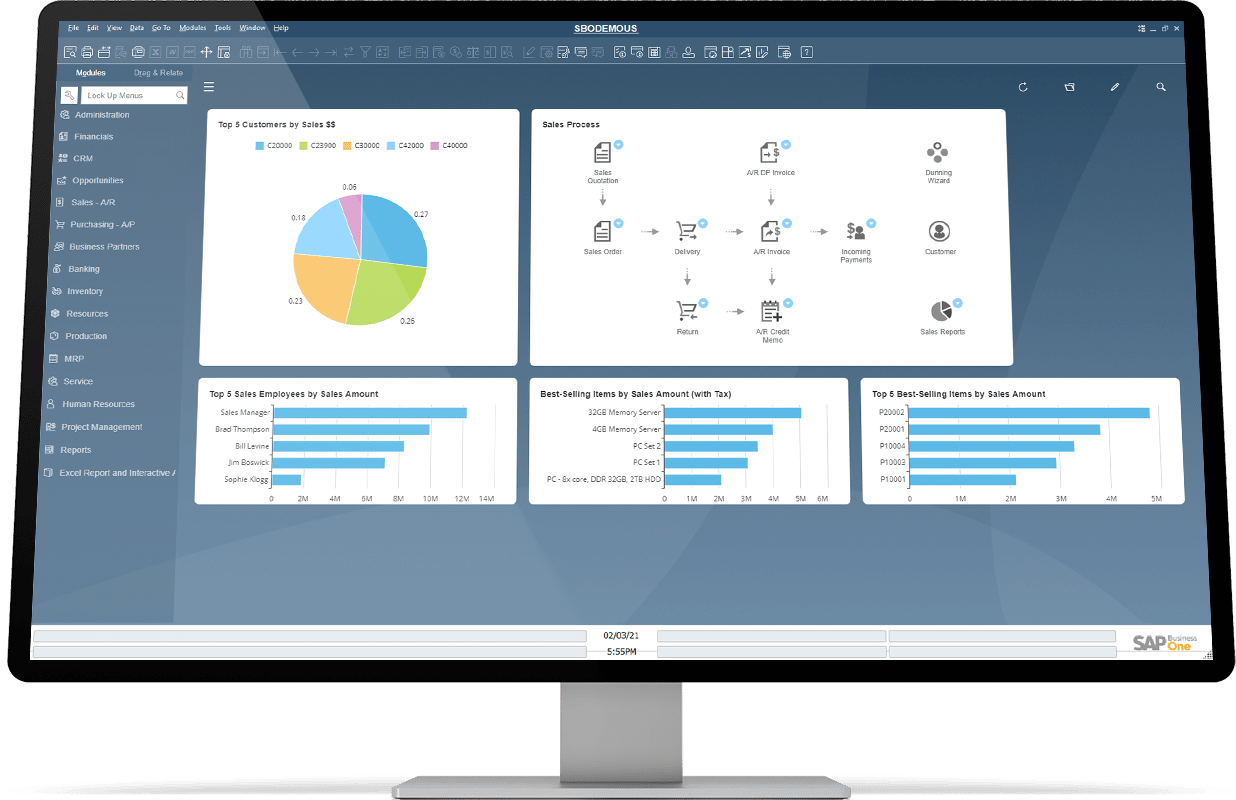 Features that Make BusinessOne a Great Choice for Ecommerce Businesses
Besides other helpful features for sales, customer management and financial management, Ecommerce Sellers will mostly appreciate SAP's purchasing and inventory control features:
Procurement – With SAP BusinessOne, you can streamline procurement processes such as requisition requests, purchase order and good receipts creation and returns management.
Warehouse and Accounting Integration – Real-time synchronization of goods receipts and inventory levels in the warehouse allow you to easily plan purchases and create an accounts payable invoice automatically from a purchase order or goods receipt.
Reporting – Real-time data reportings help you to gain an overview and make informed decisions.
Who Should Consider Choosing BusinessOne as Ecommerce ERP Software?
SAP BusinessOne is best suited for small and medium-sized multinational companies. 
3. Blue Link
Blue Link's all-in one system is primarily aimed at retail and wholesale businesses. It provides many features like accounting, inventory management and order entry for B2B and B2C websites. The best part about it: It comes with special ERP Ecommerce integrations with other platforms like Amazon, Ebay, Shopify and Magento.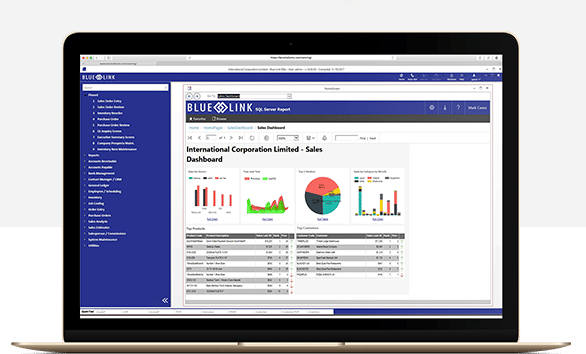 Features that Make Blue Link a Great Choice for Ecommerce Businesses
Blue Link calls itself the "all-in-one accounting and inventory ERP software". Some of its features include
Inventory Management – Blue Link inventory management features are tightly integrated with other features for an all-in-one solution.
Sales Analysis – Valuable insights on inventory sales by customer, total units, total sales and more help you make the best decisions for your business.
Warehouse Shipping – Get the best support to increase your shipping workflows.
Who Should Consider Choosing Blue Link as Ecommerce ERP Software?
The system is perfect for mid-size distributors and wholesalers.
4. Microsoft Dynamics 365
The software giant Microsoft offers an ERP solution which is dedicated to company management and process optimization. Depending on your needs, the ERP system can be stacked up with various other functions and applications from Microsoft. 
Many users love the well-known office 365 interface provided in a single cloud-based service that includes retail and Ecommerce tools. Get help you with your merchandise, post-purchase, fulfillment and retail management efforts.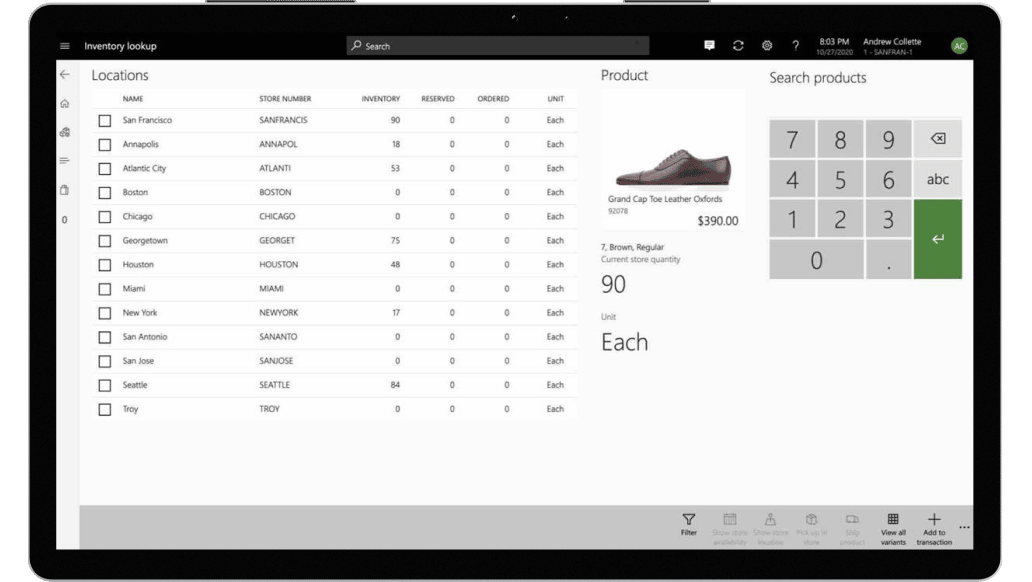 Features that Make Microsoft Dynamics 365 a Great Choice 
Purchase – Make the purchase process as convenient as possible with seamlessly connected purchasing options. Responsive tools will also help you gain customers for life.
Merchandising Features – Real-time inventory visibility and product information management provide the best overview.
Retail Operations – Make everyday work more efficient by removing redundancy and getting relevant insights.
Who Should Consider Choosing Microsoft Dynamics 365?
Microsoft's ERP solution is mostly suitable for larger companies. Especially those who are new to ERP software and need as many aspects of the business process to be covered as possible, will be happy with this solution.
5. Inform Software by DDI System
This ERP provider focuses on ERP for Ecommerce businesses. The software is available both on-premise or via the cloud.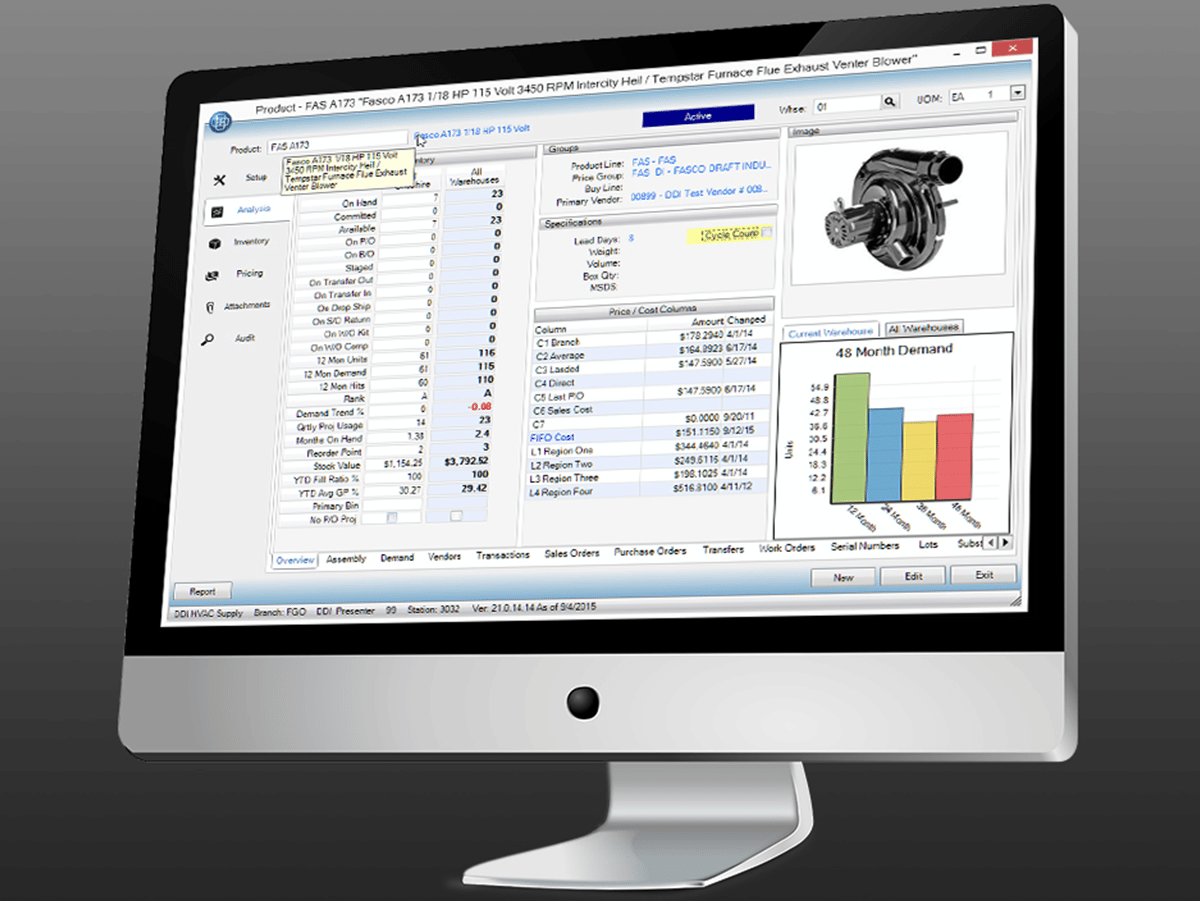 Features that Make Inform Software by DDI System a Great Choice 
Here is an overview of Inform ERP Software's core features: 
Inventory Management – With the help of advanced demand forecasting tools, you will be able to make better business decisions.
Order Fulfillment – The System helps you to streamline the ordering process to always have full control over the order process. 
Warehouse Logistics – Inform's cycle count scheduler helps keep your inventory in check by assigning products to count on a regular basis.
Who Should Consider Choosing Inform Software by DDI System?
Ecommerce and distribution-related industries are the company's target audience as most solutions focus on their industry specific needs.
Conclusion: It's Not Just a Matter of Finding the Best Ecommerce ERP Software!
In order to really benefit from an ERP solution, you not only need a system that can be tailored to your specific needs.
You also need to make sure the software you chose is used by everybody in the company on a regular basis. Therefore training with your employees is important so everybody knows exactly how the system works. Only then will you be able to get the best results!