Amazon product inserts are a touchy subject. You will find many reasons why using them makes sense but on the other hand Amazon is very strict with what is allowed and what not – so to not risk being suspended from the platform you need to make sure you stay within Amazon's guidelines.
To clear up the confusion most sellers have around this topic we have put together valuable tips on Amazon product inserts and the best practices so you can use them for your Amazon business!
What Are Amazon Product Inserts?
Amazon product inserts (or packaging inserts) are printed marketing materials that Amazon FBA or FBM sellers add to their packages before sending them to the Amazon warehouse or directly to their customers. 
Typically, they are made out of paper which is around the size of a business card and they carry some kind of marketing message. 
Packaging design companies are usually experts on this matter!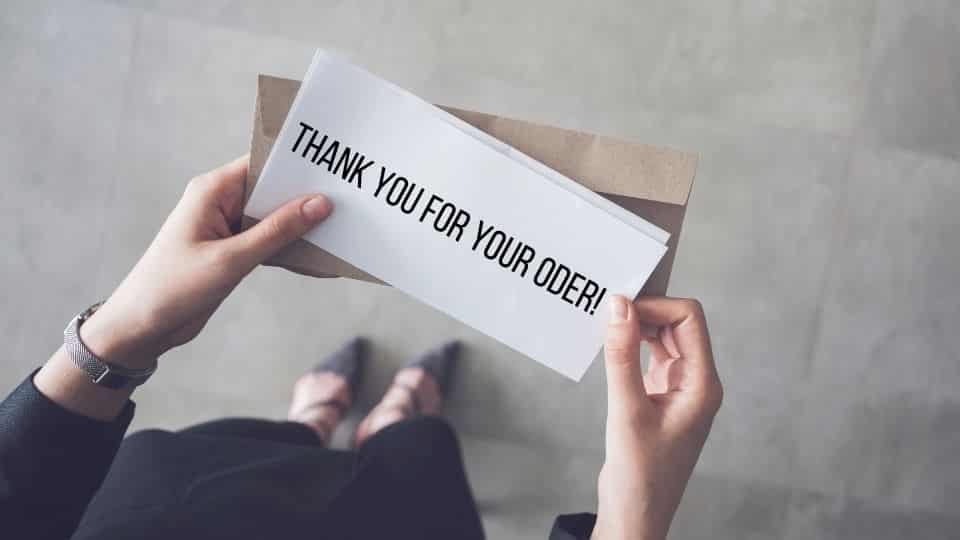 What Are the Benefits of Adding An Insert to Amazon Orders?
Obviously, it's a bit of an effort to include an Amazon product insert to your orders. You need to come up with a message, design them and have them printed – which won't only cost time but quite a bit of money as well. So you might ask yourself: Is it really worth the effort?
Including an insert to your Amazon orders has lots of potential! 
Strengthen Your Relationship with Your Customers – By directly communicating with your buyers you can strengthen your relationship with them and show them that you truly care about them. 
Offer Great Customer Service – With the help of product inserts you can offer great customer service. For example you can deliver important customer support information, like whether there is some type of warranty on your products.
Promote Other Products – Product inserts give you the opportunity to tell your customers about other products you might be selling on Amazon and that might be of interest to them.
Request Feedback and Reviews – Of course you can also request feedback and reviews but be extra careful on your phrasing here (read on to find out more on this topic).
Get Repeat Purchases – In the end, if a customer is happy they might come back to you. Maybe they will even keep the insert and one day just stumble over it – and purchase directly from your Amazon shop again.
What Is Amazon's Policy on Product Inserts?
Amazon is not generally against product inserts. However, they are strict on what you can do and can't do and some common actions are against Amazon's policies.
Customer Product Review Policies – After Amazon's customer product review policies it is prohibited to insert a request for a positive review or an incentive in exchange for a review into the product packaging or shipping box.
Selling Policies and Seller Code of Conduct – It's against Amazon's Selling Policies and Seller Code of Conduct to push customers to your own website or try to circumvent the Amazon sales process in any way.
What Are the Risks if You Violate Amazon's Policies With Your Product Inserts?
Amazon is very strict when it comes to violations to the Amazon guidelines and policies. Here are some of the most common actions:
withdrawal of the seller's selling privileges on Amazon
permanent delisting of the product from Amazon
legal action
Product Inserts Best Practices – The Dos & Don'ts 
So in order to avoid these severe consequences, what can you do and what should you avoid? Let's take a look at the rules and some of the best practices.
1. Don't Divert Customers Away From Amazon
First of all you should not try to divert customers away from Amazon. Some sellers provide links or messages that prompt users to visit their website or online shop to complete a transaction there – which is understandable as they want to find a way to get around the seller fee in order to have a bigger margin.
Amazon on the other hand wants to get their piece of the cake of every item sold. Therefore they are very strict with any links that may divert customers away from Amazon.
What you can do instead: 
Instead of linking to your own online shop, you can use the inserts to encourage customers to buy some of your other products you offer on Amazon. This way, you can at least benefit a little bit.
But can you include social media handles, add your email address or other contact details? As Amazon wants to keep visitors on Amazon, it's safest to tell them how they can reach out to you via Amazon. Generally, outside URLs are not allowed. Nevertheless sellers put other contact details on their product inserts all the time. This is very risky! If you choose to give more details, keep them as service-oriented as possible.
2. Don't Ask For Only Positive Reviews.
Of course all Amazon sellers want to get as many positive reviews as possible and prevent getting negative ones. However, you should never directly ask for a positive review. If Amazon finds out about product inserts like that you could be severely punished. Amazon wants to make sure that reviews stay authentic and help customers make informed purchase decisions. So therefore avoid words like "positive", "happy", "satisfied"and ""5-star" to not risk someone interpreting it as asking for a good review.
What you can do instead:
Request feedback and reviews from your customers in a neutral manner to allow for all types of responses. 
Some sellers include statements like "As a small business we really need your support to keep up with our competitors. We would really appreciate hearing your feedback!". If that's already pushing too far is up to you to decide.
3. Don't Offer Incentives For Product Reviews
"If you leave a positive review for this product you will receive a $10 Amazon gift card". A message like this will get you in trouble! Not only is it against Amazon's guidelines to directly ask for a positive review but also it's prohibited to offer any kind of incentive. So never offer a discount in return for a review. To be extra careful, just never ask for a review and offer a discount on the same insert.
What you can do instead:
Decide whether you want to give a discount for the next order (of course all codes must be exclusive to your Amazon store) or if you want to explain how to give a review. If you decide to give a discount for the next Amazon order, refrain from speaking about reviews at all. Better be safe than sorry! 
Conclusion On Amazon Product Inserts: Stay Within The Guidelines To Be Safe
Amazon's policies around product inserts leave a bit of room for interpretation. As a result, you cannot be 100 percent sure what is okay or what's already pushing it too far. In addition, what works for other sellers might not work for you and get you in trouble. 
Besides, you need to be aware that the rules can change constantly so always stay up to date and so you can adjust right away in case something changes.
Need a Designer for your product inserts? Browse Sermondo's directory now →