As the popularity of teaching platforms continues to soar, two names that frequently come up in this discussion are Skool and Kajabi.
While they are both popular online platforms that enable users to create, market, and sell online courses, digital products, and membership sites, they each have their own approach. 
If you want to find out whether Skool or Kajabi is the better fit for you, we've got you covered. Learn about who they are most suitable for, which features they offer, how much they cost and more. After reading this blog post, you will be able to choose the one that's best for your business.
Let's jump right in!
What Are Skool and Kajabi? 
Both Kajabi and Skool are popular online platforms that enable users to create, market, and sell online courses, digital products, and membership sites. 
Skool Introduction
Skool brings a new approach to the world of online school platforms. With its simple and intuitive interface and a strong focus on making the experience not only efficient but also enjoyable thanks to gamification features, it makes a great platform for everybody who wants to build a community, host online courses and work on projects with their team.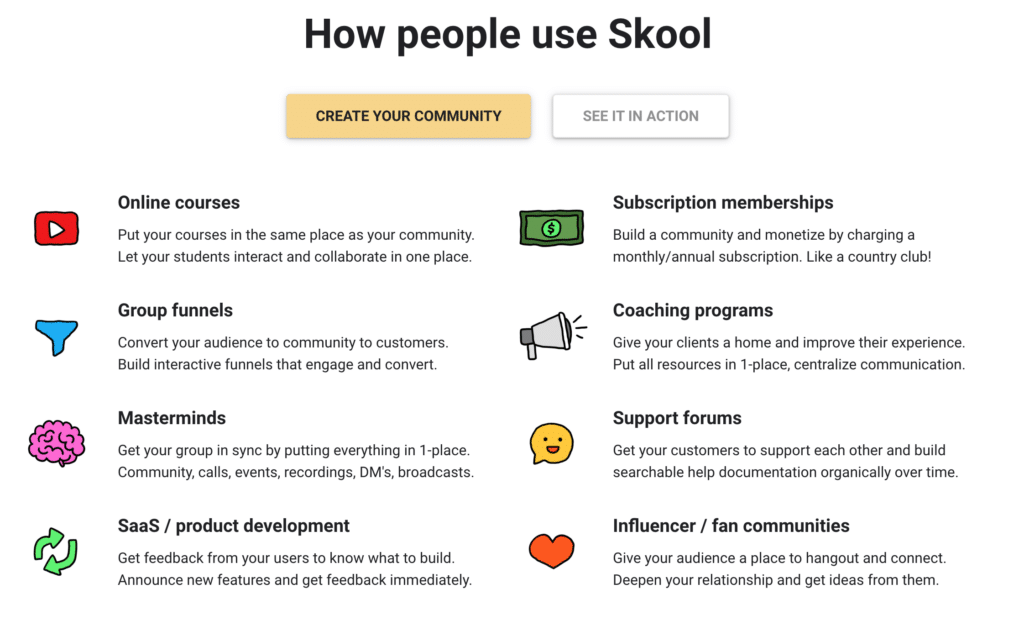 Online Courses – With Skool, you have a platform for both your online courses as well as your community. It's super simple and lets your students interact and collaborate in one place.
Group Funnels – Build interactive funnels that engage and convert your audience to community to customers.
Masterminds – Build masterminds by providing everything in one place: Community, calls, events, recordings, DMs, broadcasts.
SaaS / Product Development – With everything being so close together, you can get feedback from your users to know what to build and how to improve it.
Subscription Memberships – Build a community and monetize by charging a monthly/annual subscription. 
Coaching Programs – Create coaching programs and improve your clients' experience with providing everything at one place with centralized communication.
Support Forums – Get your customers to support each other and build searchable help documentation organically over time.
Influencer / Fan Communities – Give your audience a place to hangout and connect. This way, your relationship will become stronger and you will also be able to collect ideas directly from your clients.
Kajabi Introduction
Kajabi is an all-in-one platform that provides a range of tools and features for course creators, entrepreneurs, and businesses to easily build and manage their online presence, deliver content to their audience, and monetize their expertise. Some of the key features of Kajabi include
website building
customizable templates
course hosting
email marketing
payment processing, and
analytics.
Which Features Do Skool and Kajabi Offer?
Let's take a closer look at the range and quality of features.
Skool Features
At Skool's, everything is basically all organzed under one group with 4 main features:
Community – This is where group discussions happen through posts, likes and comments, comparable to Facebook and LinkedIn. Users can also send each other DMS and interact over the platform.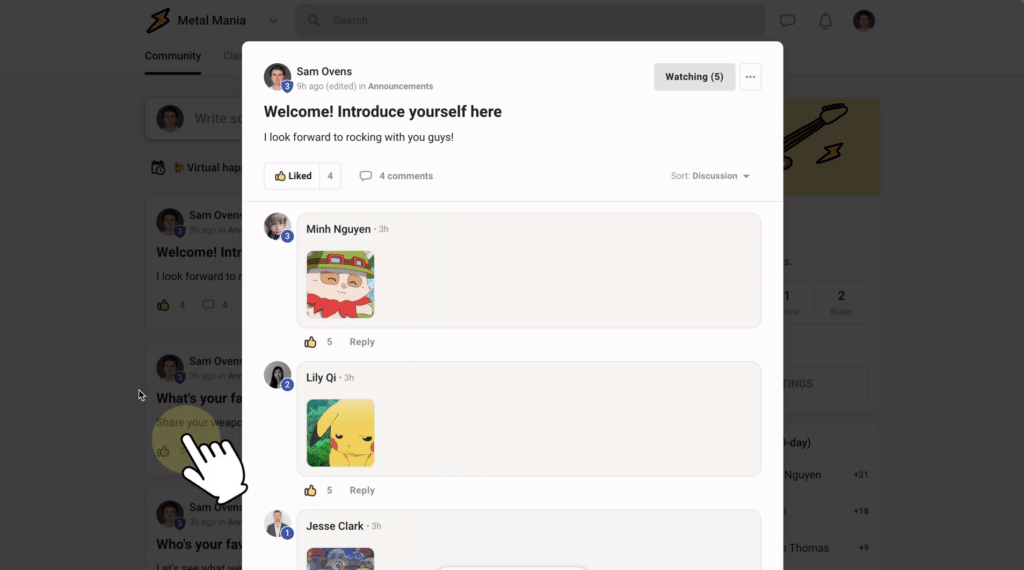 Classroom – This feature is for learning. You go through courses, watch videos and track your progress.
Calender – Here, you will be able to note down events like live streams or (in person) meetings.
Leaderboards – Skool's approach focuses on increasing engagement by making things fun. Users can earn points by interacting with others. As they gain points they unlock courses. Top members are shown on the leaderboard for everyone to see.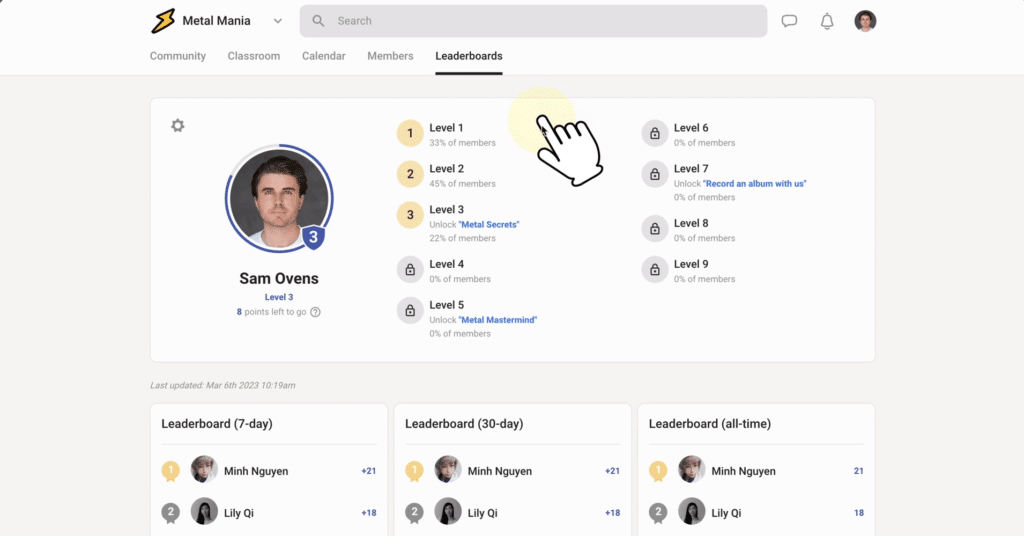 Kajabi Features
Kajabi's structure is more complex. Capabilities can be divided in the 5 categories that match 5 key elements of your business that are all organized in one dashboard and therefore easy to keep track of: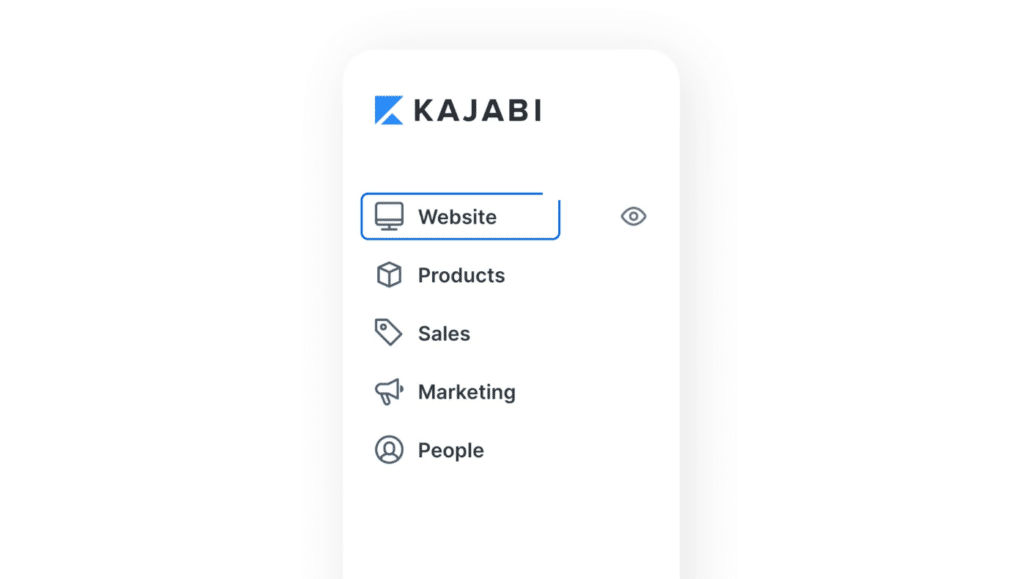 Website – Your webiste is the central hub for your business online and a must have for every online entrepreneur. Kajabi provides pre built features that can be launched easily. Simply choose from a wide range of design templates that you can also customize to your specific needs if you want. 
Products – In this category, you can create your digital products. You will find pre-designed themes to chose from or can start from scratch, whatever you feel will help your customers achieve what they are looking for. The most popular product is the "Mini Course".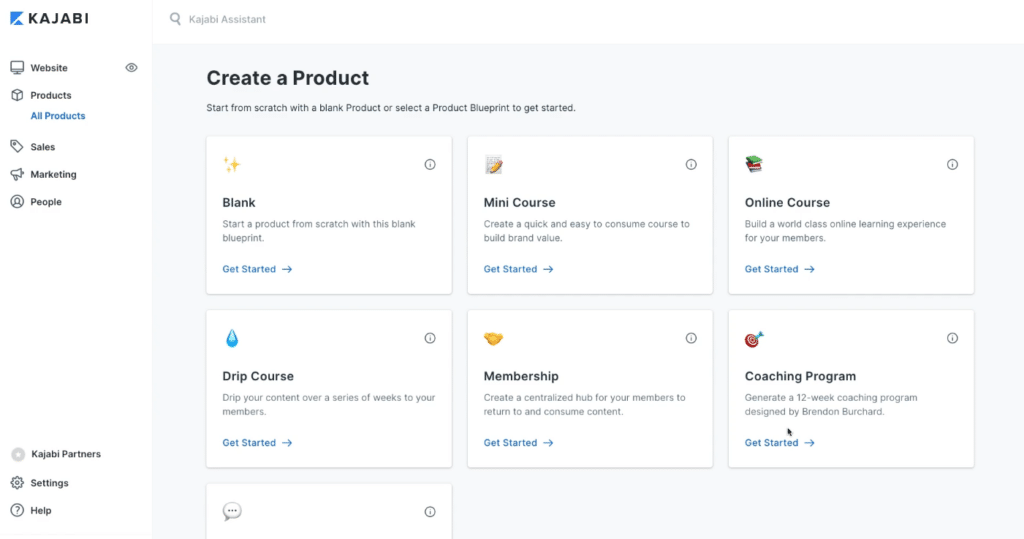 Sales – Once you have your digital products ready to go, it's time to create an offer. An offer is kind of like a package that let's users know about the price of your course, whats included etc.
Marketing – Kajabi also provides helpful marketing tools, e.g. for email marketing, pipelines that help you simplify the relationship between marketing automation and making sales by automatically blending these flows, and other automations. 
People – This category is where you can manage your customers, contacts and affiliates all in one place, filter your lists, view your customers' course progress and more. Kajabi is like a CRM that's fully integrated with everything else in your business. It makes it easier to get to know your customers and use those valuable insights for your business.
Who Is Each Platform Most Suitable For? 
As you can tell, both platforms have some things in common. However, we would say their target audience differs slightly:
Kajabi – Kajabi is ideal for experienced course creators and smaller businesses who are looking for an all-in-one platform with advanced features such as content creation, marketing, and sales to grow their business.
Skool – Skool on the other hand is very beginner-friendly and suitable for digital educators who are looking for an intuitive platform that helps them handle all aspects of online teaching without having to put a lot of effort into learning how the features of the platform work. It helps them create courses, grow a student community and promote active student engagement.
How Much Do Skool and Kajabi Cost?
Another thing that also affects the decision between those two platforms is the pricing structure.
Skool Pricing
Skool's pricing structure is simple and above all as transparent as it gets. For $99 a month, you can get access to all features with no limitations at all, including the amount of courses and members.
On top, there is a 14 day free trial period that gives you the opportunity to explore the platform without any risks. If you don't like it, you can cancel anytime within those 14 days without having to pay at all.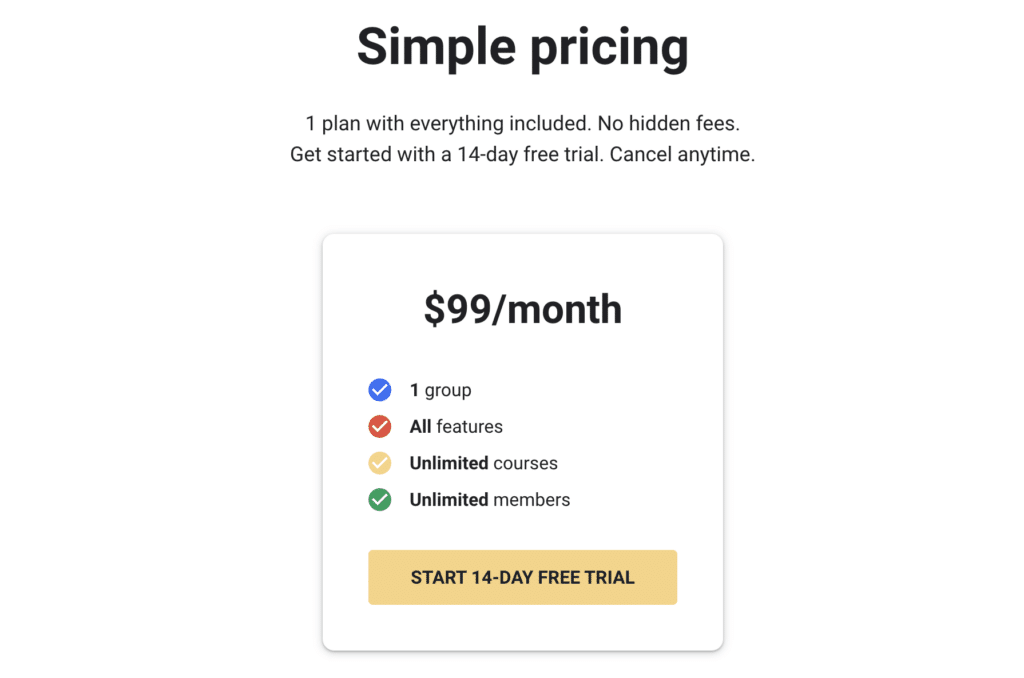 Kajabi Pricing
The pricing structure on Kajabi is a bit more complex. Depending on your business needs and the stage of your journey, you will require a different set of features. Therefore, Kajabi offers three different plans that come with a different set of features:
Basic ($149 a month)
Growth ($199 a month)
Pro ($399 a month)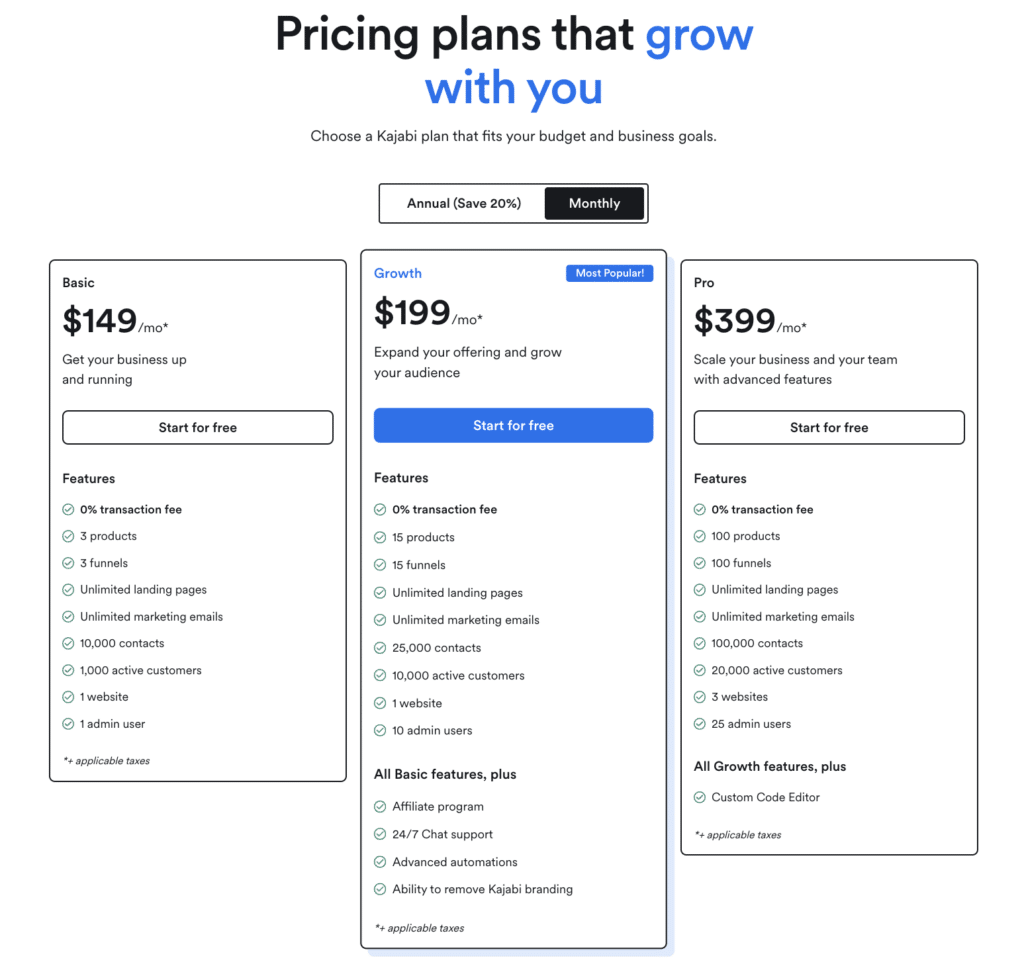 All plans include at least one website, unlimited landing pages and unlimited marketing emails. The "Growth" and "Pro" plans are more sophisticated and allow you to work with more products, contacts, customers and admin users. On top, if you are willing to spend more, you'll get more features like advanced automation and 24/7 support.
In the end, it's not really a matter of what's better, but what you are willing to spend and what fits your company size and structure more. If you are unsure which plan is best for you or if Kajabi is even the right fit, Kajabi, just like Skool, offers a 14-day free trial period that will help you make a final decision.
What's Their Interface and User Experience Like?
The first thing you see when using either platform is their interface. Once again, Skool and Kajabi have different approach here.
Skool Interface
Skool is very simple to navigate. Everything is divided in sections and labeled clearly. The design reminds a bit of LinkedIn and Facebook.
The simple design doesn't limit your options in any way, though but it helps you focus on your products!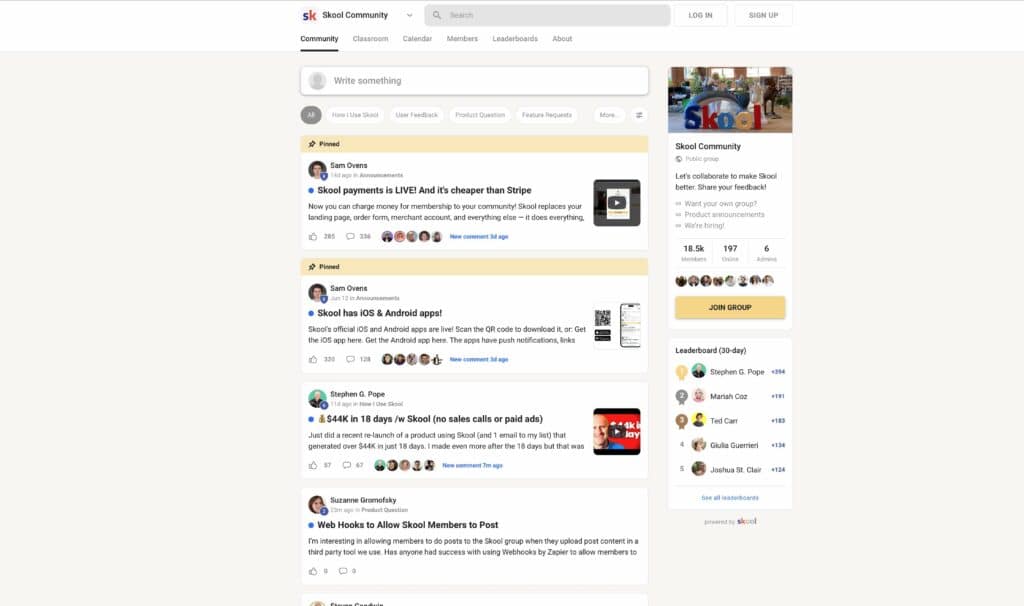 Kajabi Interface
Kajabi on the other hand has a more sleek, professional look.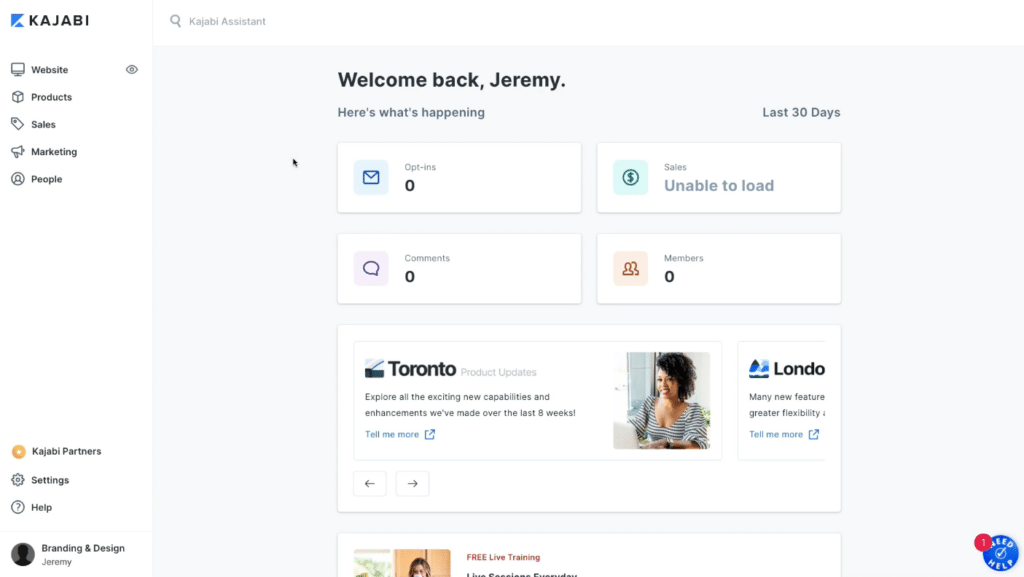 The most important categories
Website
Products
Sales
Marketing and
People
can all be found at first sight and navigated through easily. Many more tools can be found within those category pages making the platform a bit more complex overall.
Are Skool and Kajabi Compatible with Other Tools and Third-Party Apps?
In case you are missing some features within the platform, there are solutions to create a unique experience for your customers with the help of other apps.
Skool Compatibility
Skool is compatible with widely used tools allowing its users to manage their experience as efficiently as possible. Most used tools include 
Zoom 
Google Analytics
PayPal & Stripe
Additionally, the platform is constantly expanding their offer and reacting to their users' most popular demands.
Kajabi Compatibility
With Kajabi on the other hand, you can integrate a variety of popular tools, for example
MailChimp – Use custom data from your app to power timely, relevant marketing campaigns.
Stripe – Integrate Stripe with Kajabi to accept online payments from customers.
Google Analytics – Enable analytics tracking for users, or build a business intelligence tool, or a data connector.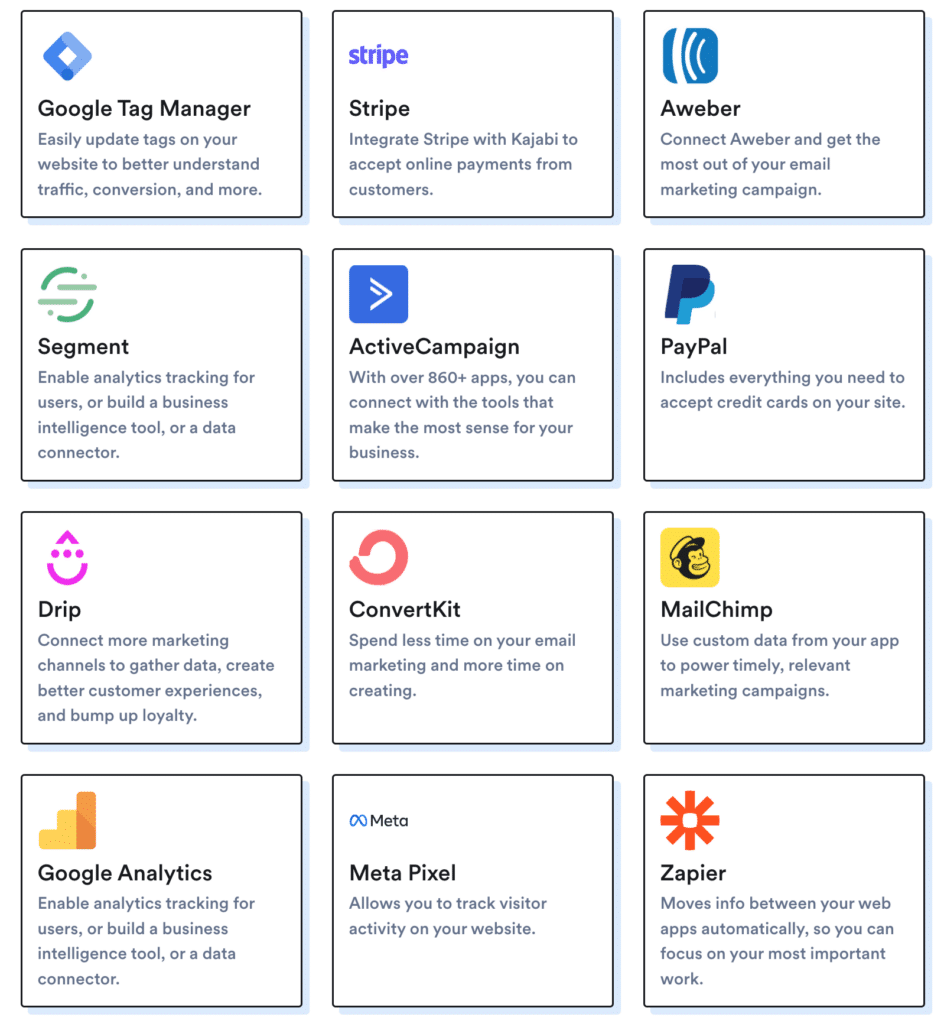 What Kind of User Support Do Skool and Kajabi Offer?
Both platforms provide strong user support.
Skool User Support
Skool's user support consists of three different levels:
Help Center – You will find a huge knowledge base filled with guides and articles on all sorts of topics where you can browse and look for solutions independently.
Email Support – If you need  personalized support, you can reach out via email.
Community Support – Lastly, the platform focuses on its community. You will find an integrated forum where users share their ideas,  solutions to problems they've encountered and learn from each other's experiences.
Kajabi User Support
With Kajabi, the kind of support depends on your plan. 
Help Center – Just like it is on Skool, Kajabi offers a help center that is available for everybody and provides lots of articles and guides.
Live Chat – Under the "Growth" and "Pro" plan, Kajabi also offers live chat support that's available 24/7.
Conclusion: Both Are Great Options – Choose the Platform that Meets Your Needs Best!
Now that we've taken a close look at both platforms, you know pretty well what they are both like.
It's hard to say which platform is "better". As always when it comes to making the right choice for your business, it comes down to your business' unique needs and goals. So therefore, focus on the features that are most important to you and which platform provides the best solutions for your needs. Don't only focus on your current situation, but also on your desired situation and what your business may develop to in the future and include these factors in your decision making process.
Fom an average user perspective, Skool is probably the better solution. Not only has this platform proven to continuously work on improving functionality and providing the best user experience there is, it also convinces with its predictable and transparent pricing structure that allows businesses to grow without having to worry about rising costs.
While Kajabi offers a great one-in-all product, it may be a bit overwhelming especially for beginners and therefore may be more suitable for experienced businesses. Skool's intuitive interface makes it easy to get started and makes the platform an appealing choice for everybody.