Logistics & Supply Chain – every Amazon FBA seller like you has to deal with this topic more intensively as soon as the demand suddenly grows. Nothing is as annoying as going out of stock with a product that sells very well.
That is why it is essential to forecast your inventory properly and to optimize your logistics if you are sourcing in China. Shipping goods from the supplier in China to the Amazon warehouse is not always easy: Products not only have a long journey ahead of them, they also have to overcome lots of (legal) hurdles. A good freight forwarder will help you with the challenges.
Here are a few things you need to think about:
In order to master your import easily, we show you how to do it properly.
Choose a Wise Product Packaging
Before thinking about importing goods, you have to choose the right packaging for your FBA products.
This does not initially mean the outer packaging of the units, but the packaging of the products itself.
One thing is sure: If you save money here, you will have various problems later. Most suppliers offer, especially in small quantities, inexpensive boxes for shipping your products.
These boxes are usually very thin, have a low quality, are sensitive to humidity and look what they are – cheap!
If your product packaging is the first thing your buyers see from you and your brand, chances are high that bad packaging will not only negatively impact your brand image, but also increase your return rate.
On top of that, these packages are very sensitive to humidity and external pressure – meaning you get a delivery with products that often arrive with a damaged package. Very annoying!
Fully Complete Your Documents
That brings us to the next topic, which you should definitely consider: the completion of your documents.
The documents that you need before shipping your goods include not only proof of payment with a consistent pro forma invoice, but also the product-specific test reports and declarations of conformity.
In addition to the requirements for mandatory labelling according to the Product Safety Act (complete manufacturer address), your products may also be affected by other EU directives/regulations, e.g. if your product comes into contact with mucous membranes or food and must meet the requirements of the German Food and Feed Code (LFGB).
In any case, you have to check whether all legal requirements regarding product safety and documentation have been fulfilled BEFORE you import products.
Why is this particularly important and what does it have to do with logistics?
When customs clearance takes place, a customs inspector will determine which tariff is applied on the basis of the documents available to him and then check whether the goods are in conformity with the requirements for the EU market according to his personal assessment.
As you know for sure, you are liable as an importer in the same way as a supplier and therefore have full documentation and manufacturer liability.
If, for whatever reason, the customs inspector thinks that your goods do NOT meet the requirements, you are obliged to provide documents proving that the products have been tested and are safe.
Common examples of import refusals:
Goods which obviously come from the category "toys" have no CE marking (and no certificates).
Products that have a chemical odour and contain e.g. phthalates/plasticizers (REACH regulation, LFGB etc.)
Electrical/electronic products without sufficient marking (CE, RoHS, EAR/WEEE according to BatterieG)
In case the import is refused, there is no customs clearance and the products are returned to China.
Anyone who has been through this before will (hopefully) try from now on to never get into such a situation again.
If the products can still pass customs, you can still get into an examination of the market surveillance authority later and expect fines and, in the worst case, an ordered recall.
So: take precautions and do not import products that have not been checked carefully for compliance with legal regulations and labeling requirements!
In addition to your EORI number, you should research and enter the appropriate customs tariff code/HS code BEFORE importing in order to avoid an expensive "misinterpretation" of the product group.
Your Pre-import Check Summary
Research on relevant directives
Creation of test reports in an accredited test laboratory such as Asia Inspection*
Drafting of declarations of conformity
High-quality and sufficiently stable product packaging
Attachment of the required markings on the product itself and on the product packaging (according to ProdSG, at least the complete manufacturer's address)
Attachment of your EORI number and the researched HS code in the documentation accompanying the research.
Choose the Right Logistics Provider for Your Import
Your goods are now ready to get imported. The preparation has been done carefully and now your items "only" need to be delivered to the Amazon FBA warehouse (or your own) and may need to be labelled.
First of all: if you only want to import small quantities or if your product is simply very small and light, then it is worthwhile to send it by airplane.
The advantages are obvious: The shipping company picks up the packages directly from the supplier, brings them by air freight from China to Germany in about 3 days, then takes care of customs clearance for you and delivers them to your front door or warehouse.
There you can create the delivery plan and send the goods to the Amazon warehouse.
Starting from 1 CBM (1 cubic meter / 1 m x 1 m x 1 m) and a higher weight the deliveries become very expensive, so that the import quickly becomes uneconomical.
Even for dealers who have achieved a very large order volume, the savings through delivery by sea freight are worthwhile.
And that's exactly what we're going to do next: normally you can choose between different delivery conditions (Incoterms).
We explain the differences and advantages/disadvantages of the two most frequently used delivery terms:
1. EXW = Ex Works
The supplier/manufacturer makes the goods available for pick-up, packed and ready for transport on an agreed date.
From the time of pick-up at the seller's warehouse, the full risk passes to the buyer.
2. FOB = Free on Board
The supplier/manufacturer must deliver the goods to the agreed port of shipment, packed and ready for transport on a fixed date.
The full risk is transferred to the buyer from the time of transfer of the goods from the supplier to the port of shipment.
The differences lie in the place where the responsibility and risk are transferred from the seller to the buyer.
By far, the most frequently used Incoterm for shipping goods from China to DE is FOB.
Why is this so?
Most shipping companies have their partners directly at the port.
This means that the freight forwarder can already handle your delivery there and load it according to the booked container cargo.
Your logistics partner thus has a high level of security and control as soon as the goods are handed over.
Shipping within China, however, often poses challenges that can be better met by your supplier.
Almost all major manufacturers/suppliers are familiar with the process of transporting their goods to the nearest port.
Also, these manufacturers usually have special agreements that allow them to offer favorable FOB conditions.
All You Need to Know About the Import and Customs Clearance of Your Transport
With FreightHub you can easily request a quote instantly, book directly and track your delivery live at any time – all in one online platform as the single source of truth for your import.
You need only the pick up location and delivery address. Depending on availability, you can choose between sea freight, air freight or rail freight to import your goods.
All you have to do is enter the CBM (cubic meters) which are the individual carton dimensions, and the weight of the shipment.
You get an offer in real time, allowing you to book immediately. Logistics couldn't be easier!
This screenshot from the Freighthub platform shows you the request form for a shipment.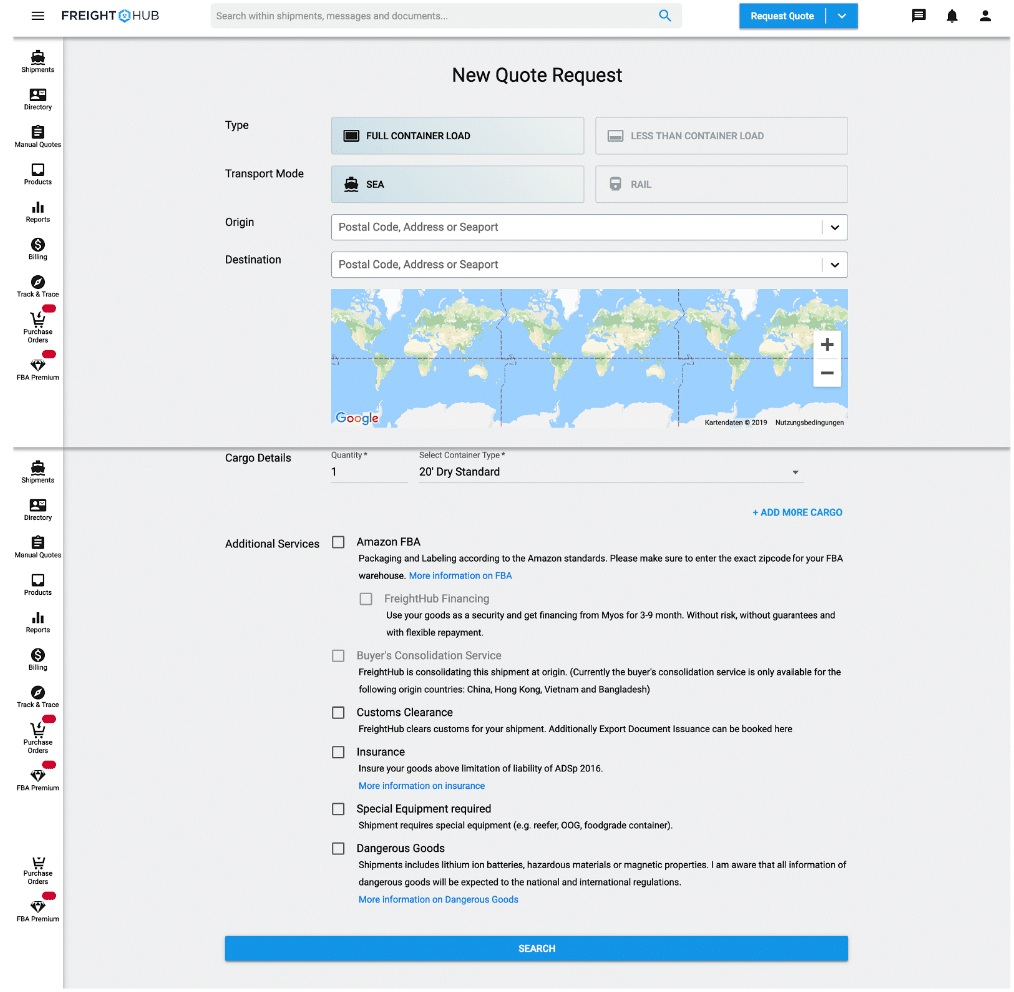 Deliver Your Goods to the Amazon FBA Warehouse
If you select the option "Amazon FBA" in your FreightHub quote request, you can have your goods repacked according to the Amazon guidelines "Amazon 5.9.2" so that they can be delivered directly to Amazon.
To do so, you must first download the labels for the pallet(s) and the outer cartons/product packaging from the Seller Central delivery planning and forward them to FreightHub.
If you have further questions about importing from China or about importing in general, feel free to contact FreightHub. Their logistics experts will advise you free of charge.