You want to get a translation for your product listings, but don't know how to find the best Amazon listing translation service?
Worry no more!
Read this guide and learn what to look for in a translation agency and how to find the right one for your Amazon business.
We'll cover:
What is an Amazon Listing Translation Service?
Amazon listing translation agencies are companies or freelancers that you can hire to – surprise – translate your listings.
They know at least two languages (obviously) and are familiar with Amazon's listing requirements.
Some only translate from one language to another, for example from English to Spanish or vice versa.
This is especially common among independently working freelancers.
Larger Amazon translation agencies usually employ many different translators with different language backgrounds and skills.
In addition, such agencies often employ not only translators but also SEO and listing experts.
They know exactly how to create a listing and copy that will win over customers and get a good ranking in the product search results.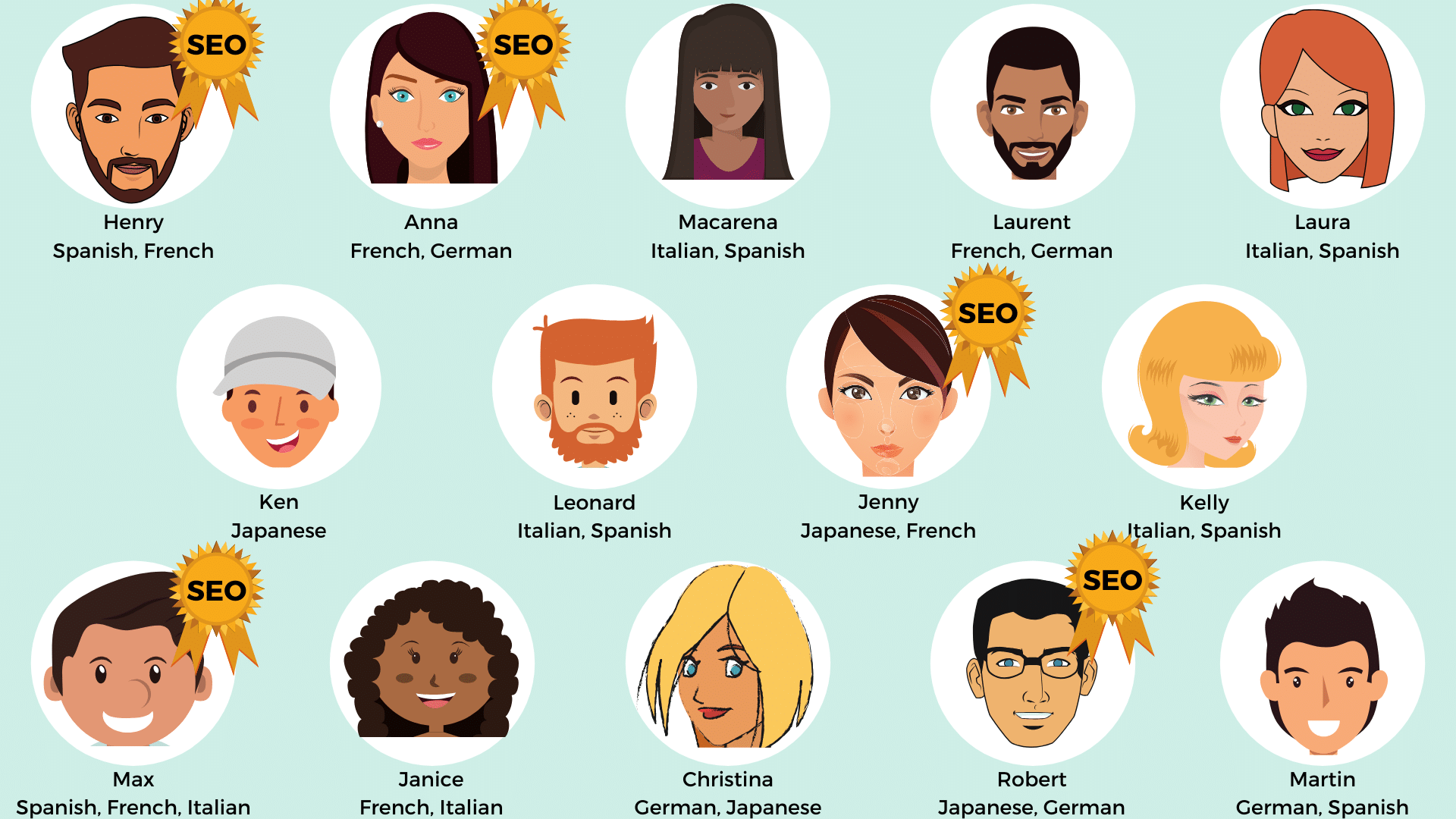 Who needs Amazon Listing Translation Services?
Whether you are already a major brand or a rising seller, Amazon listing translation is needed by anyone who wants to sell in different marketplaces and does not speak the respective languages at the native language level.
Each country has its own specific language rules.
While in English there is only "you" to address a person or group of people directly, in German, for example, there are many more pronouns.
In addition, there are different forms of addressing someone, depending on the relationship you have with your counterpart.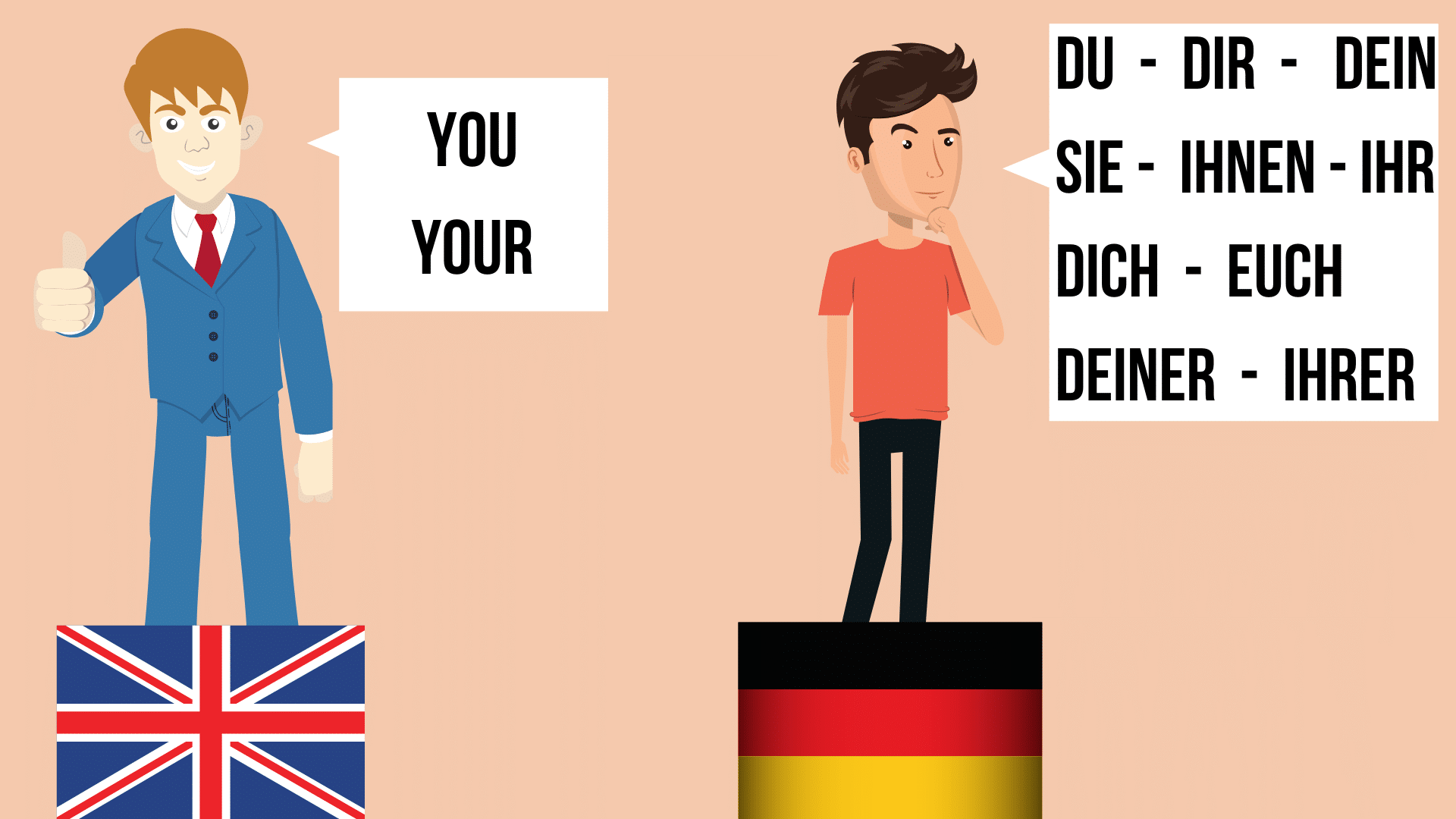 Let's take the following example: You have developed a new powerbank that is selling well in the USA.
You researched other markets and found that Germany is a very lucrative market for your product.
So you decide to sell your powerbank over there and translate your listing with Google Translate.
One part of your description is "With our new Powerbank you can now easily charge your mobile phone on the go".
Google suggests two translations to you:
1: "Mit unserer neuen Powerbank kannst du dein Mobiltelefon jetzt auch ganz einfach mobil laden"
2: "Mit unserer neuen Powerbank können Sie Ihr Mobiltelefon jetzt auch ganz einfach mobil laden"
Would you know what the correct translation is?
Probably not.
But it's crucial to your sales success.
If you want to appeal to an older, more serious target group, choosing the first one can kill your conversion.
Why?
Because the first translation is very informal and in Germany, especially older people are used to being addressed in the polite form. For them, being addressed informally by a company is considered rude and untrustworthy.
In this case, the second translation would be the right one.
If, on the other hand, you want to address a young target group, you will have far more success with the first translation.
However, you should use the word "Handy" instead of "Mobiltelefon" here, as hardly any young people use this word.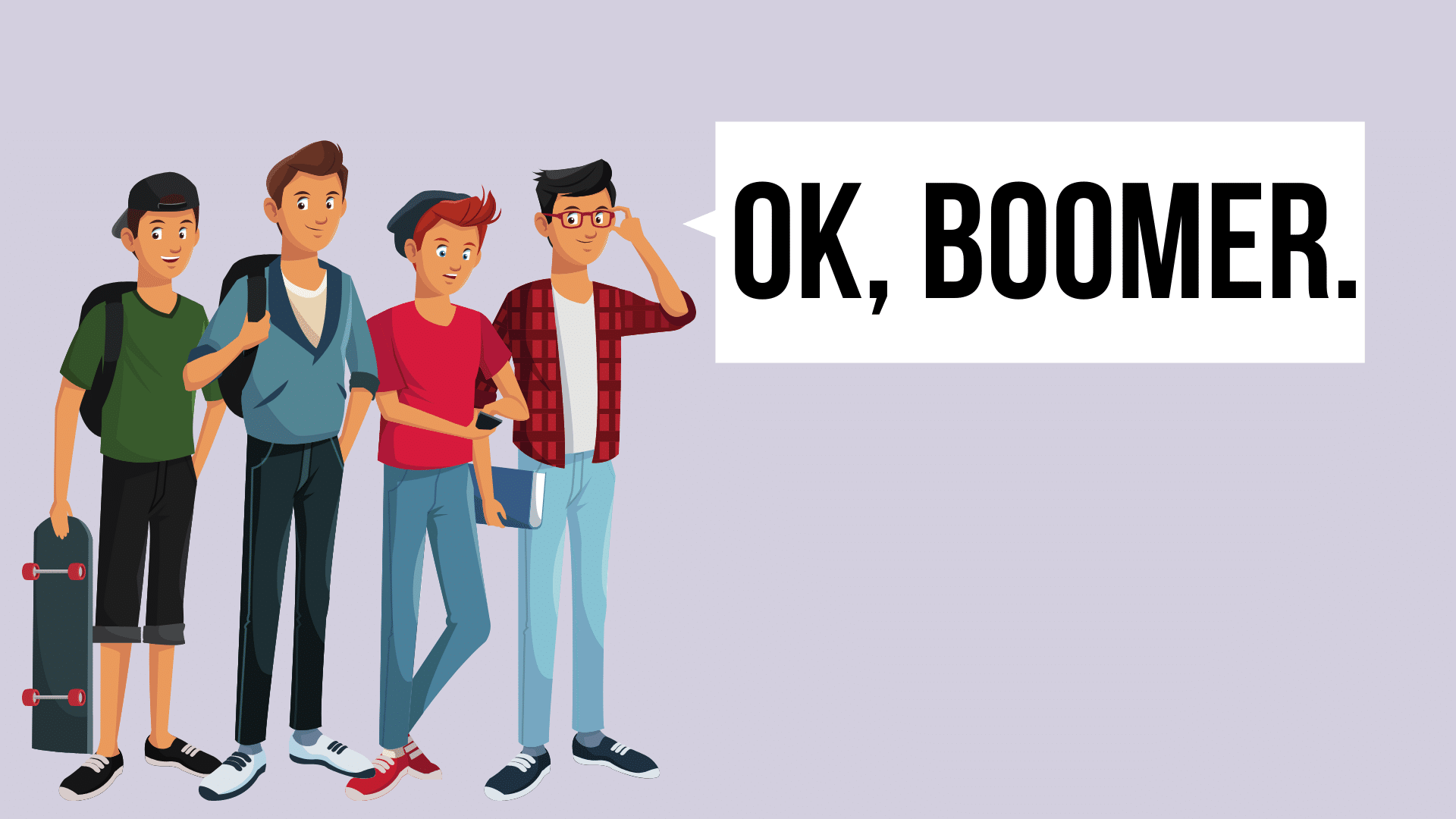 So as you can see, every single Amazon seller who does not speak the language of the target market at native language level needs a professional Amazon translator.
Why should you work with a professional Amazon Listing Translation Service?
It's always difficult to prevail against the competition.
And when you go international, it will be even harder because you will have to compete with locals sellers who know the language, the market situation and the buyers' preferences by heart.
The smallest detail in the product photos, a single bullet point or a difference of 0.1 stars can decide whether a customer will choose your product or a competing product.
If there are any spelling or grammatical errors in your bullet points, your infographics or your description, your entire listing will look dubious and therefore discourage potential customers from buying.
I mean, would you buy a product where the description sounds super sketchy?
Another reason to use a professional Amazon translator is your SEO.
Many translation agencies have SEO experts in-house.
Why is this important?
Well, it's not enough just to have your keywords translated.
Let's say you sell cell phone cases and in English, your main keyword is cell phone case.
The German translation of that keyword is "Mobiltelefon-Hülle".
Technically the translation is not wrong, but many more people search for the term "Handyhülle" because this word is used more frequently among Germans.
That's why you have to do separate keyword research for each target market.
In addition, your listing will be thoroughly proofread by a language expert.
Thus you can be sure that the texts are flawless in the end, both grammatically and spelling wise.
What makes a good Amazon Listing Translation Service?
It is obvious that you need a good translation for your Amazon product listings.
But what distinguishes the best Amazon listing translation services from the rest?
Excellent language and writing skills
The real challenge is not the word for word translation itself, but rather to work out the intention and tone of the source text and to then express the correct interpretation in the target language.
This is the only way to maintain a consistent brand image and language across different markets.
Thus, a good translator is someone who perfectly mastered both the source and the target language.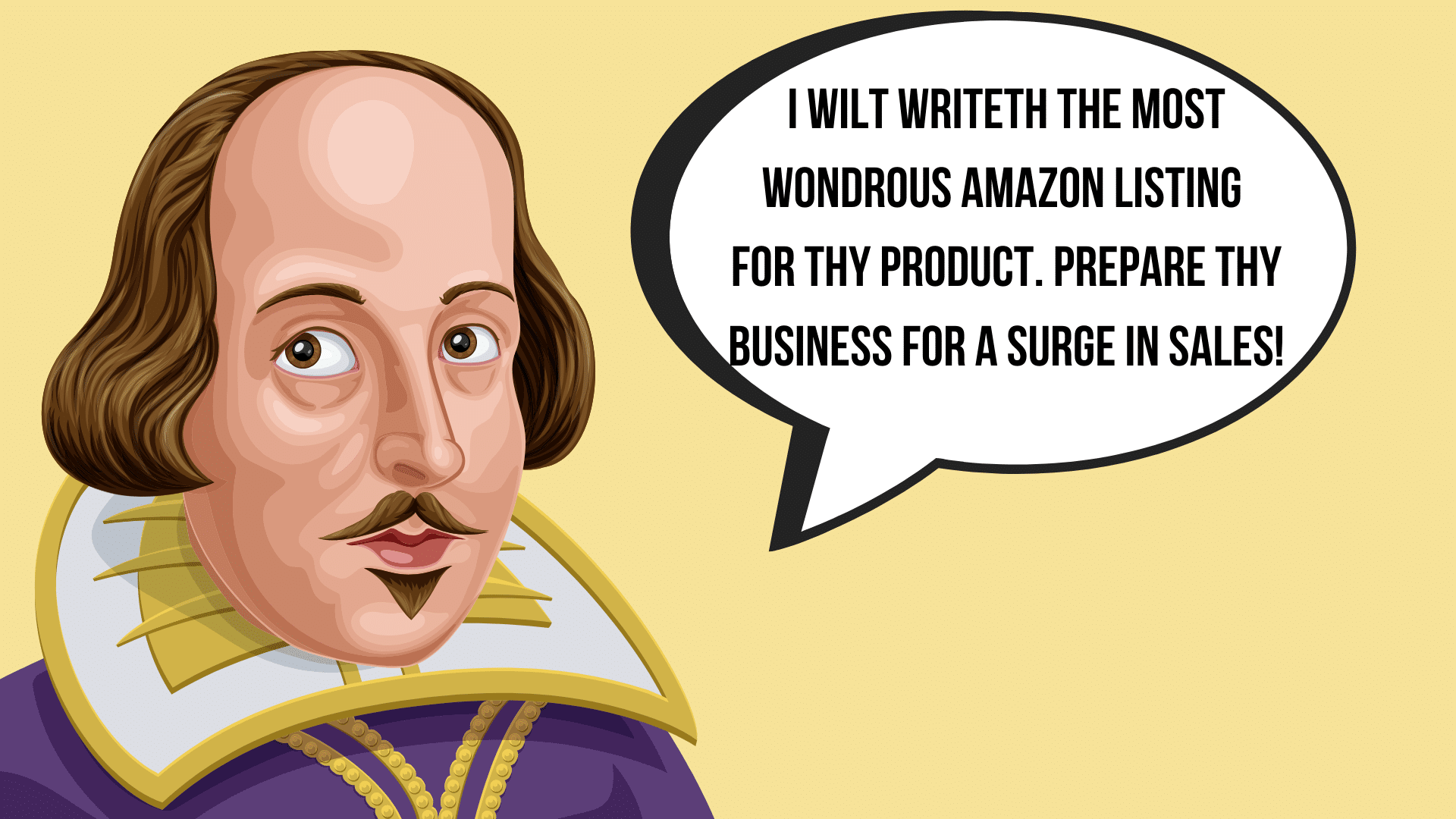 It is not a must that the target language is the translator's mother tongue.
However, he should be able to master the language like a native speaker and also know and understand the culture and customs.
In addition, a translator must also have outstanding writing skills.
Grammar, spelling, vast vocabulary and a pleasant writing style are all things that the translator should be proficient in.
Qualifications & Certifications
Nowadays anyone can easily learn languages.
Apps such as Babble, Duolingo or online courses like those available on Udemy allow anyone to learn new languages from home.
And that is great. Thank you internet.
Nevertheless, a hobby class or an app does not necessarily make you a good translator.
A good translator has had a good education, passed appropriate tests and received certifications that are linked to high standards.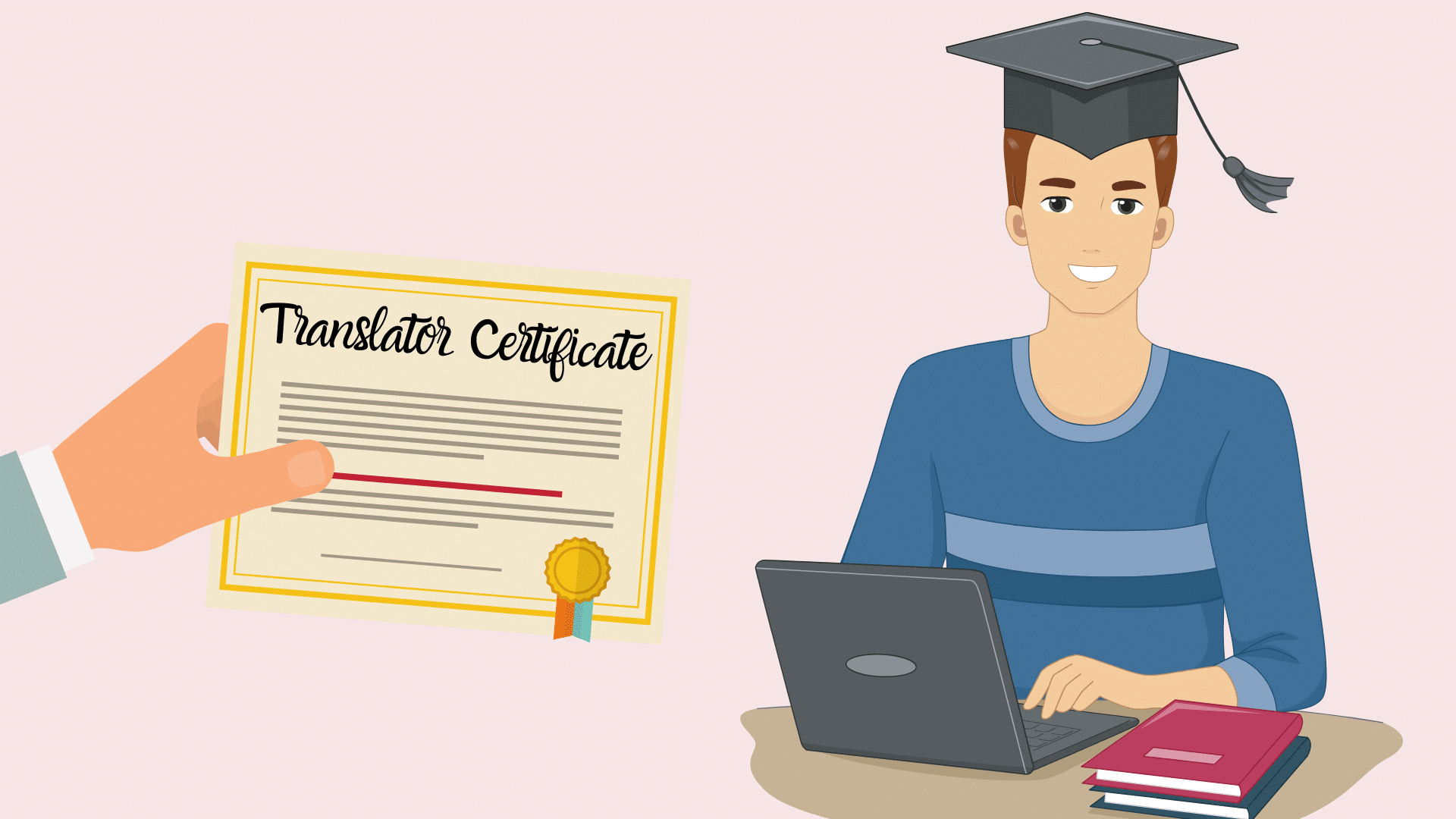 So before you contract an Amazon Listing Translation Agency, ask what training the translators have undergone and what certifications they have received.
Industry & Product Experience
Another criterion that makes a good translator for your Amazon listing is that they know the Amazon ecosystem and have experience with your type of product.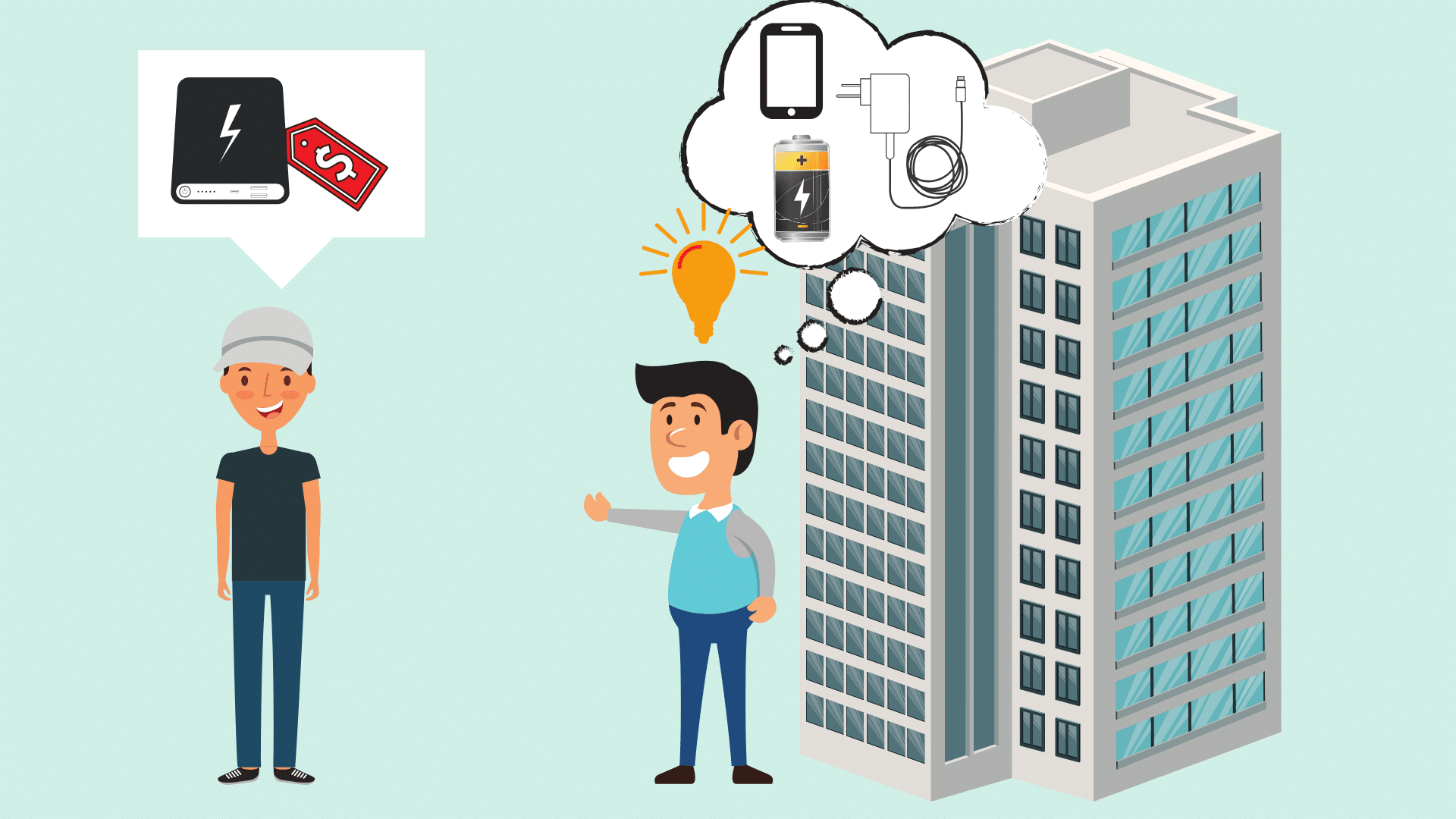 So if you are selling a power bank, they should already have experience with consumer electronics, as there are many technical terms and details that need to be translated correctly.
If the translator has absolutely no experience with your type of product, the probability of translation errors is much higher.
Tools & Software
A good translator is well equipped in terms of tools and software.
The programs you and your translator use must be compatible, so that the exchange of feedback, comments and remarks works well.
Obviously, basic tools that every translator should have installed are text and sheet software such as Word or Excel.
If you want your keyword research to be done by the translator instead of hiring an Amazon SEO agency, make sure that they use good, well-established tools.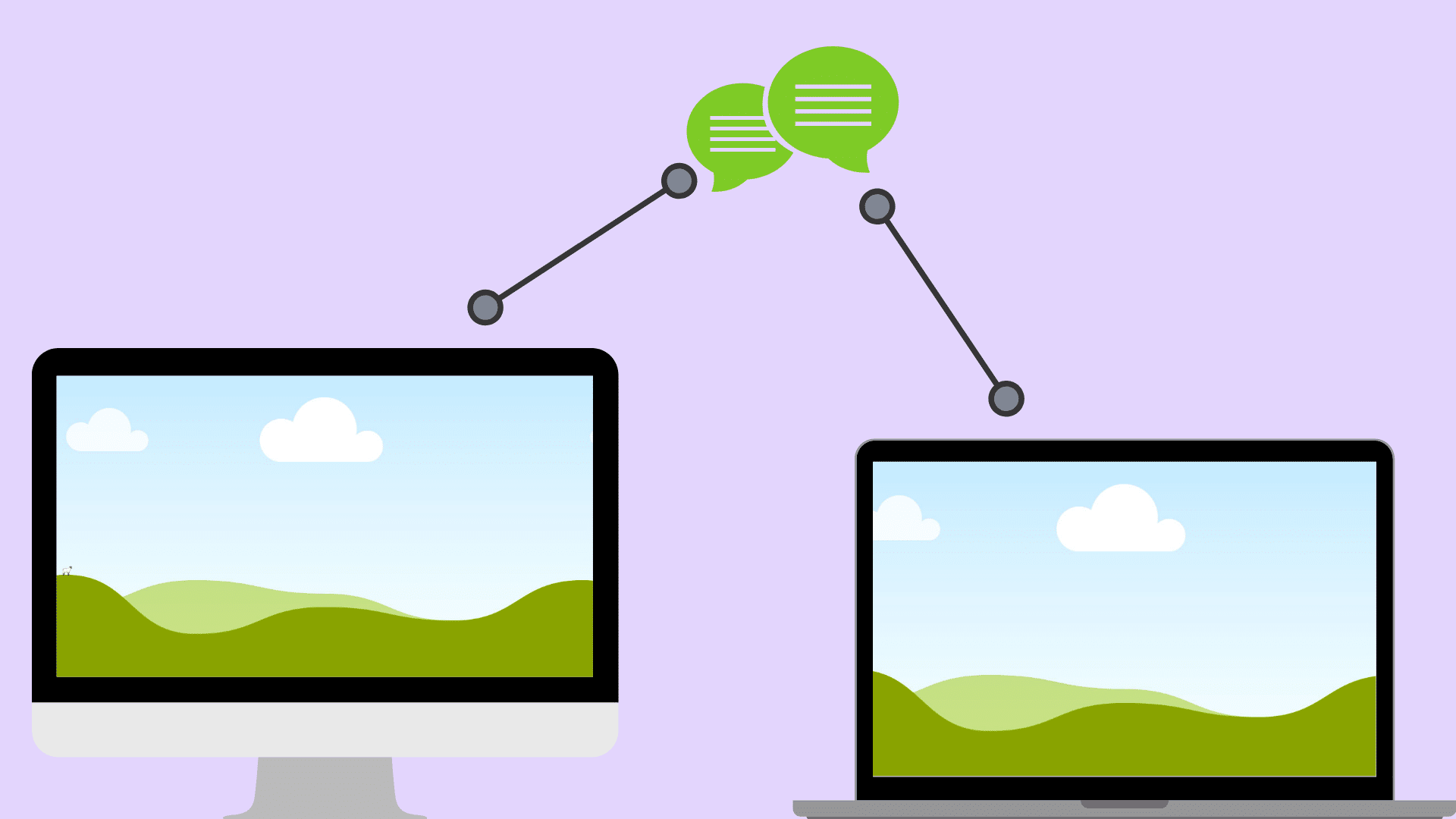 This is the only way to get the right keywords that will help you get a high ranking for your listing.
Proof Reading Skills
Every good translator is obsessed with delivering the highest quality.
This means that the translation is reviewed several times before it is delivered to you.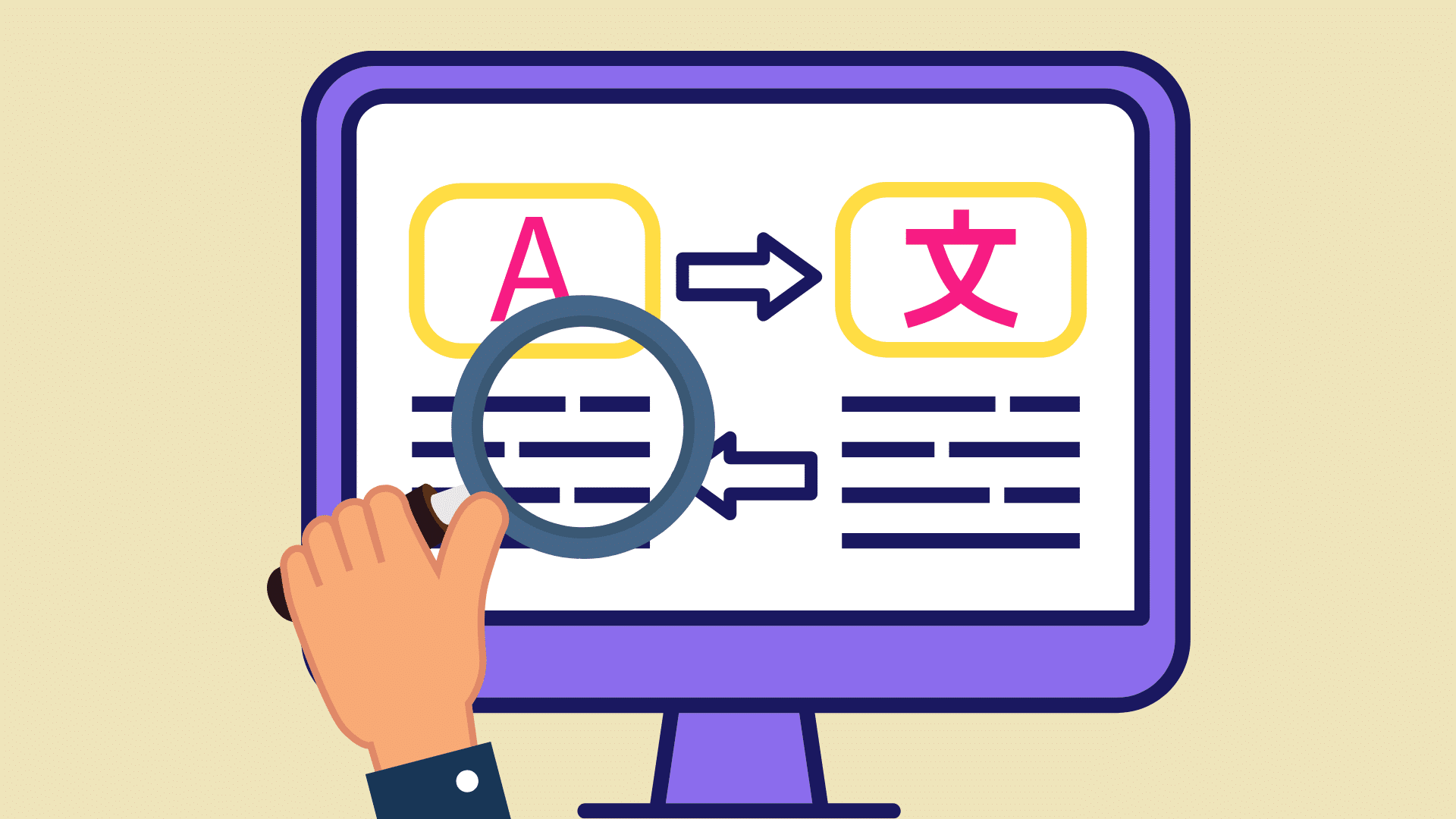 The translator uses high-quality proofreading software and pays attention to the smallest details: every comma, apostrophe and sentence is checked again and again, usually by a second translator too.
Quick Turnaround & Professionalism
The eCommerce world is moving fast, so time is often an important factor.
An Amazon listing translation expert knows that, which is why he is committed to providing a fast turnaround time.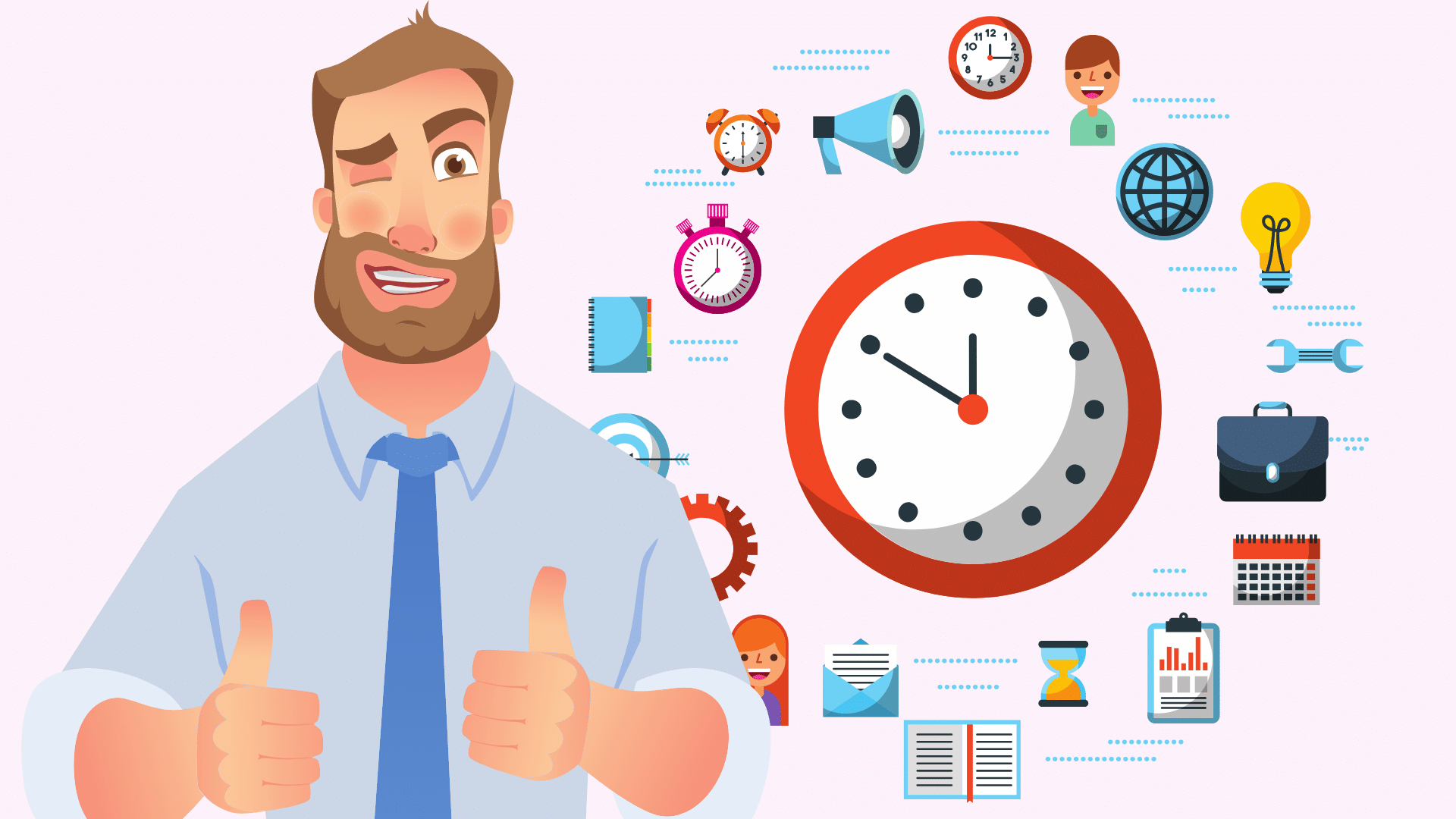 They value a professional working relationship and stick to agreed deadlines.
In addition, their professionalism is characterized by the fact that he is always open to feedback from you and can implement your wishes without feeling attacked.
Personal Contact & Communication
Another quality trait of a good translator is that communication is quick and easy.
Ideally, you should have a personal contact person who will take care of your project.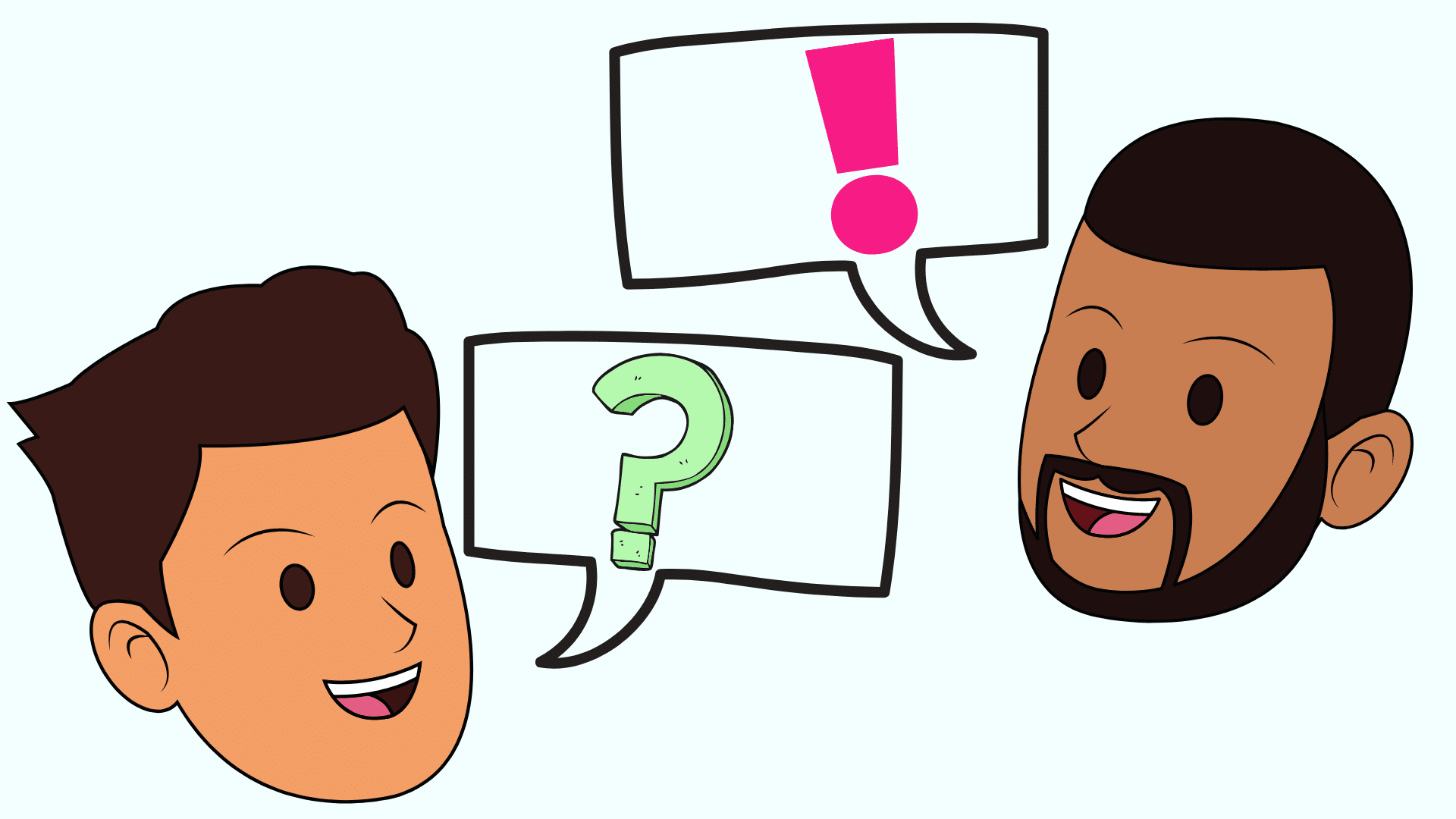 Often a document is sent back and forth between you and the translator until it is perfect and the final version of the translation is ready.
It's annoying and is a sign of poor organizational skills if it takes 5 days every time until your emails are answered or you are called back.
How much do Amazon Listing Translation Services cost?
There is no standard pricing system amongst translators, but different pricing methods.
A very common model is the one whereby payment is calculated per word.
Usually, the amount is between 5 and 30 cents per word.
Many translators also set a fixed price per listing translation.
Sometimes the turnaround time is also decisive in determining how much is charged.
Here is an example:
The translation agency charges $100 per listing translation and specifies 4-5 days for delivery.
But you already have a very badly translated listing online and want to replace it with a high-quality one as soon as possible.
For 140 dollars, i.e. 40 dollars extra charge, the agency offers the same service but delivers within 24 hours.
Where can you find qualified Amazon Listing Translation Services?
Now that you know why you need a professional Amazon Listing translation service, what makes a good translator and what prices you can expect, the question arises where to find great translation experts.
We have good news for you: you can save hours of browsing Google search results.
The easiest way to find the right amazon listing translation service is to go to Sermondo.com, the largest international Amazon-specific international service provider network out there, and fill out our matching form.
Just enter your requirements, for example from which language to which language the listing should be translated, how many listings are involved and in which product category your product falls, and hit the submit button.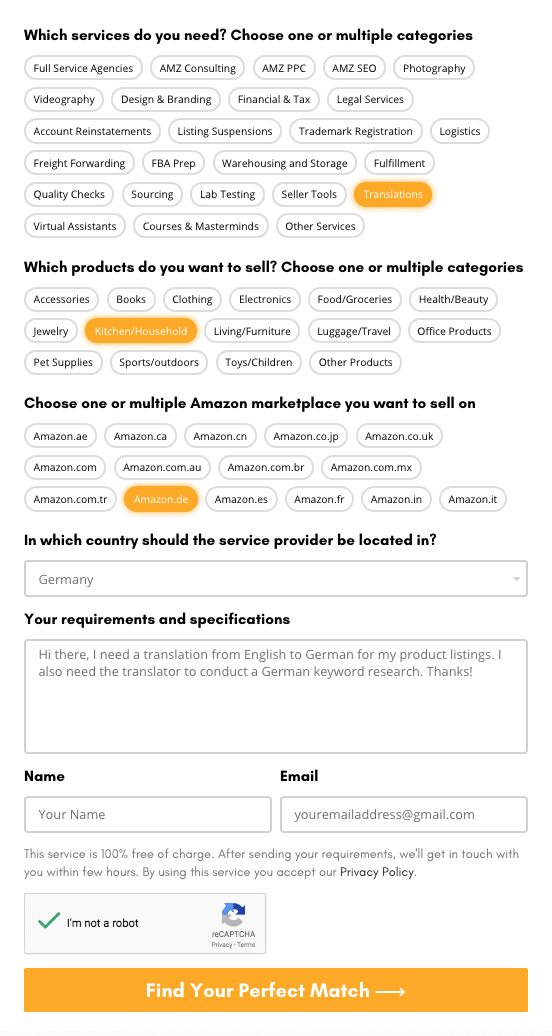 The whole process takes only two minutes.
We will then find the translation agency for you that perfectly suits you and your needs.
Alternatively, you can browse and contact the best Amazon Listing Translation services yourself.
Our handy map shows you directly where the various translation companies are located around the world.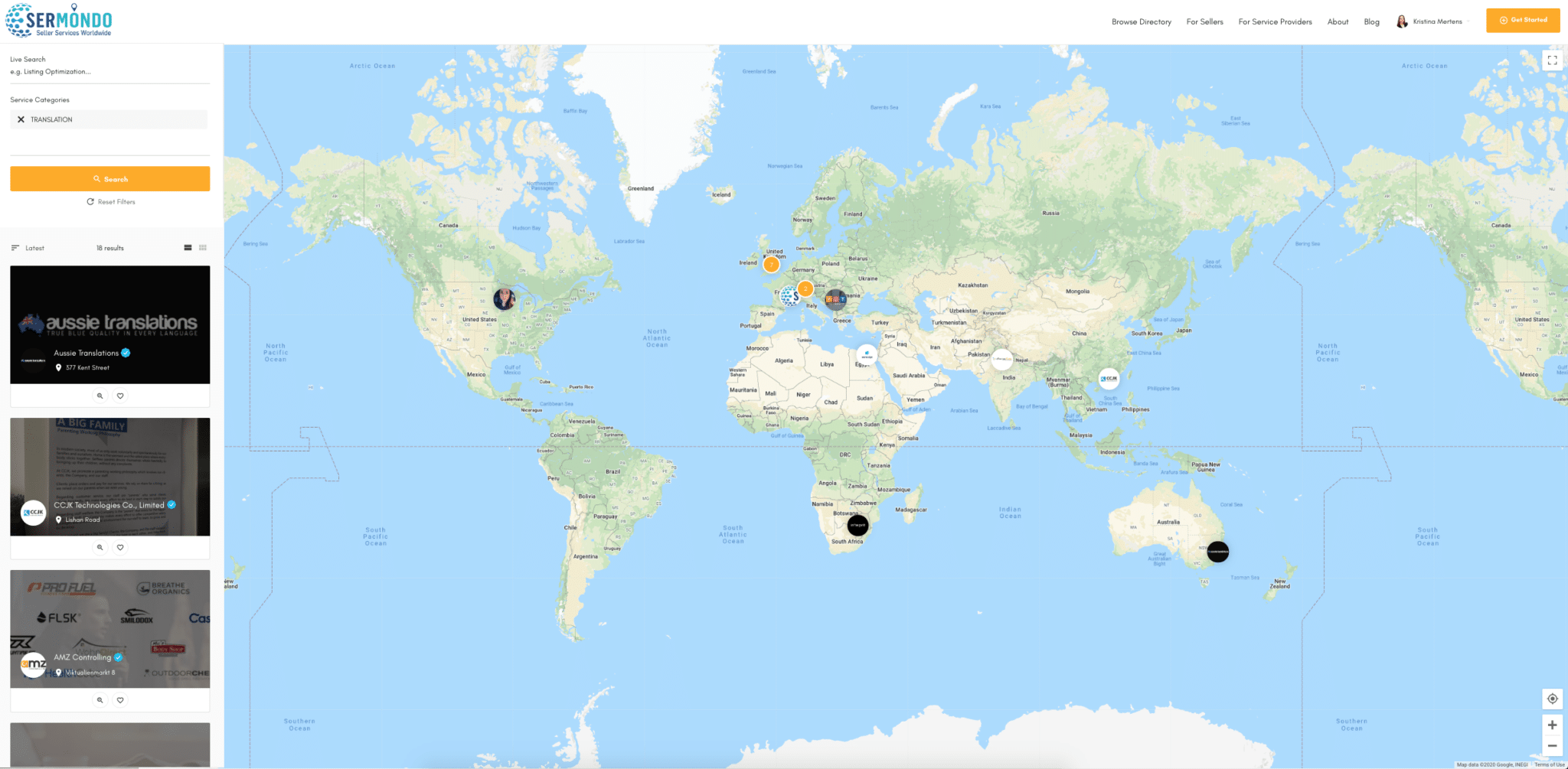 How does working with an Amazon Listing Translation Service look like?
Once you have chosen an Amazon listing translation service, it is time to work out together what exactly you need.
In the first conversation, you have probably already roughly described what services you require.
Now it is time to specify your needs and wishes.
The translation expert will be able to tell you exactly what is necessary, what is possible and what is not, and then propose a detailed plan with deadlines.
Once you have agreed on how the translation will be done, what additional services (such as keyword research) you would like to use and how much the project will cost, everything should be documented in a written agreement.
This could be a proper service contract signed by both parties or at least an e-mail exchange showing that both parties have agreed on the terms and scope of services.
This way both you and the translation agency are covered. If the service is faulty, only partially fulfilled or not fulfilled at all, you will have proof which you can refer to in case of a legal dispute.
Vice versa, if you do not pay your bill, the translation service will have a proof that you have committed to pay.
If the company refuses to confirm your agreement in writing, you should find another translation service, as this is a sign of dubious business practices and may indicate an attempt to scam you.
Afterwards the Amazon translation company will get to work.
If you work with an agency, your translation will go through several stages, especially in terms of proof reading.
When it is finished, they will send you the result.
Now a very important point:
Give your honest feedback.
If you notice something about the translation, the keyword research or anything else that you don't like, tell them immediately.
Usually, the translation company will revise your translation again at no cost.
Last but not least, we would like to encourage you to maintain a good relationship with your translation agency.
A long-term business relationship has many advantages, such as that you can trust the company with future translation projects.
Since the company already knows your brand, positioning and corporate philosophy, it is easier to work with them than with a new translation company that does not know you and your company yet.
Also, it is likely that you will be offered "friendship deals" for their services over time which means you will have to pay less.
In order to build such a good relationship, you can leave positive reviews on Sermondo, Facebook etc. for the translation company – they will highly appreciate it.
Recommend them whenever someone you know is looking for a translation service.
You can also connect with the company and its employees on platforms like LinkedIn and regularly engage with their content.
Checklist: How To Find The Best Amazon Listing Translation Service
Step 1: Specify your needs and budget
The first step is to think about what you are looking for or what is important to you.
Do you want the translation agency to be close to you or do you not care? Would you prefer to work with a freelancer or a larger agency? How many languages would you like to have your listing translated into?
Of course you also have to consider how much budget you have available.
I already mentioned at the beginning that it can make sense to have several translations done at once because you often get quantity discounts.
But if you don't have that much money, prioritize the translations according to urgency.
For example, you might have your listing translated to German and French this month and next month, when you have more money available, to Spanish and Italian.
Step 2: Search
Searching for a suitable Amazon listing translation service is actually the easiest part because – believe it or not – we will do that for you.
All you have to do is fill out our matching form with your requirements and we will start looking for a suitable translation service for you right away.
Alternatively, you can search and compare different Amazon Listing Translation services yourself and contact them individually.
Step 3: Schedule an Interview
Of course we do our best to find the perfect supplier for you.
However, we recommend that you interview the provider in person before you enter into a business relationship with them.
This way you can ask all of your questions right away and see if your vision is going in the same direction.
To make the interview process as easy as possible for you, we compiled a list of questions you should ask the translation company:
How long has the company been around?
Which languages are offered?
How does the communication look like? Do I get a personal contact person?
How do your translation process and your quality assurance processes, such as proof reading, look like?
Do you also offer keyword research?
What tools and software do you use?
Do you offer other translation services, such as translations of legal documents or packaging texts?
Are the translators native speakers?
What certificates do you have? Have the language skills been tested by an official institution?
What products or product categories do you have experience with? Have you ever done a translation similar to the one I need?
Can I take a look at old projects of yours?
What do others say about you? Can you give me the names of 2-3 customers I can ask about their satisfaction with you?
How do you charge for your services? Price per word or fixed fee?
When can I expect the results?

If you have a good impression of the company after the interview and both the scope of service and the price are right, then go for it.
As I mentioned above, you should make sure that everything you agreed during the telephone call is written down in a contract or email and confirmed by both you and the agency.
Conclusion
We hope you enjoyed reading our guide and that the checklist will help you find the best Amazon listing translation service for your business.
However, before you start looking for the best translation companies from around the world, let us know:
Have you ever worked with a translation service before? What were your experiences?
Let us know and leave a comment under this post 🙂